February 10 coronavirus news
4:21 a.m. ET, February 10, 2020
Xi Jinping inspected a coronavirus center in Beijing
Chinese President Xi Jinping inspected efforts to contain the Wuhan coronavirus in the capital Beijing on Monday, the first time he has appeared on the front lines of the fight against the outbreak.
Wearing a protective face mask, Xi visited a specially built center in the city's Chaoyang district, according to state broadcaster CCTV. The capital is gradually getting back to work Monday, after the Lunar New Year holiday became an extended voluntary quarantine for millions of people across the country.
Xi has been strangely missing in recent weeks, not appearing on front pages or CCTV's main news broadcasts, which he usually dominates even if his activities are barely newsworthy.
Speculation is rife about just why Xi has taken such a backseat visually, even as state media has been keen to emphasize that he has been guiding all efforts from behind the scenes.
The most convincing theory is that China's propaganda apparatus is trying to thread the needle of having Xi receive the credit for successful measures against the virus, while not catching any blame or fallout from myriad missteps, particularly in Wuhan.
3:44 a.m. ET, February 10, 2020
If you're just joining us, here's the latest on the Wuhan coronavirus
The total number of deaths from the Wuhan coronavirus has topped 910, officially outpacing the global death toll from the severe acute respiratory syndrome (SARS) outbreak of 2003.
More than 40,000 cases of the virus have been confirmed worldwide, with the vast majority of those in mainland China.
The country began going back to work Monday, after the Lunar New Year holiday became an extended quarantine for hundreds of millions in an effort to contain the spread of the virus. Even though businesses are gradually resuming operations, many people remain under quarantine, working from home where possible.
The largest outbreak outside mainland China is on board a cruise ship docked in the Japanese port of Yokohama, south of Tokyo. As of Monday afternoon local tinme, 136 people on board the ship had tested positive for the virus. Thousands of passengers and crew have been quarantined on board for almost a week, and continue to be tested by the Japanese health authorities.
The UK has declared the Wuhan coronavirus a "serious and imminent threat to public health," as cases were confirmed in more than 25 other countries and territories around the world.
Read more here.
3:27 a.m. ET, February 10, 2020
At least 27 foreigners in China have tested positive for the coronavirus
China's Ministry of Foreign Affairs said that as of Monday morning, a total of 27 foreigners in the country are confirmed to have been infected with the Wuhan coronavirus virus.
Two of those have died -- one a US citizen, the other a Japanese man in his 60s.
Ministry spokesman Geng Shuang said that three foreigners have been discharged following treatment, while 22 remain in hospital.
3:14 a.m. ET, February 10, 2020
UK declares coronavirus a "serious and imminent threat" to public health
The UK has declared the Wuhan coronavirus a "serious and imminent threat to public health," which gives the government additional powers to delay or prevent the further spread of the virus.
In a statement Monday, the government said, "in light of the recent public health emergency from the novel coronavirus originating from Wuhan, (the) Secretary of State has made regulations to ensure that the public are protected as far as possible from the transmission of the virus."
Two locations in England -- Arrowe Park Hospital in Merseyside, and Kents Hill Park in Milton Keynes -- have been designated as "isolation facilities," the statement added.
2:58 a.m. ET, February 10, 2020
China's massive security state is being used to crack down on the Wuhan virus
The camera hovers just above the elderly woman's head, as she looks up, her face becomes confused and worried.
"Yes auntie, this is the drone speaking to you," a voice booms out. "You shouldn't walk about without wearing a mask."
The woman hurries off, occasionally looking over her shoulder as the drone continues to shout instructions: "You'd better go back home and don't forget to wash your hands."
This is China under quarantine in 2020. In another video promoted by state media, a police drone orders men sitting at an outdoor mahjong table to "stop playing and leave the site as soon as possible."
"Don't look at the drone," it says, as a small child glances up curiously. "Ask your father to leave immediately."
As Chinese authorities struggle to contain the deadly Wuhan coronavirus, they are turning to a sophisticated authoritarian playbook honed over decades of crackdowns on dissidents and undesirables to enforce quarantines and lockdowns across the country.
2:50 a.m. ET, February 10, 2020
This is where coronavirus cases have been confirmed worldwide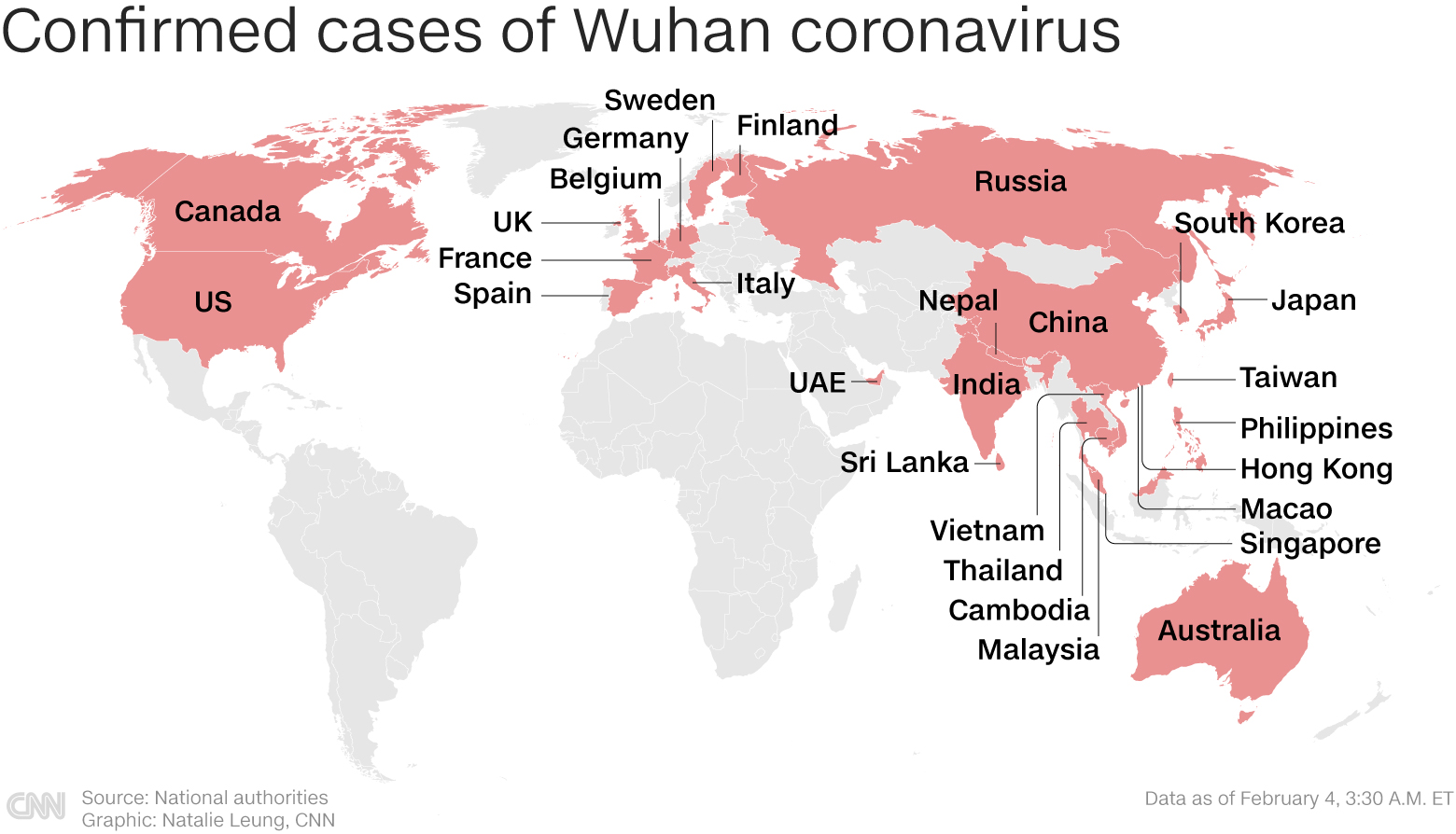 The Wuhan coronavirus has spread throughout the world since the first cases were detected in central China in December.
There are now more than 440 confirmed cases in over 25 countries and territories outside mainland China:
Australia (at least 15 cases)
Belgium (at least 1 case)
Cambodia (at least 1 case)
Canada (at least 7 cases)
Finland (at least 1 case)
France (at least 6 cases)
Germany (at least 14 cases)
Hong Kong (at least 36 cases, 1 death)
India (at least 3 cases)
Italy (at least 3 cases)
Japan (at least 162 cases, including 136 in cruise ship quarantine)
Macao (at least 10 cases)
Malaysia (at least 17 cases)
Nepal (at least 1 case)
Philippines (at least 3 cases, 1 death)
Russia (at least 2 cases)
Singapore (at least 43 cases)
South Korea (at least 27 cases)
Spain (at least 2 cases)
Sri Lanka (at least 1 case)
Sweden (at least 1 case)
Taiwan (at least 18 cases)
Thailand (at least 32 cases)
United Arab Emirates (at least 7 cases)
United Kingdom (at least 4 cases)
United States (at least 12 cases)
Vietnam (at least 13 cases)
Read more about the patients in each place.
2:28 a.m. ET, February 10, 2020
Australian researchers claim breakthrough in containing coronavirus
Experts from the New South Wales Health Pathology lab in Australia have successfully grown the live coronavirus from NSW patients -- rather than synthetic specimens --according to a health ministry statement.
"Health experts around the world will be able to contain the spread of novel coronavirus among the population faster, following a breakthrough by NSW Health researchers," the statement said.
Australian health minister Brad Hazzard said experts can now help contain the spread of the virus faster, as understanding the epidemiology of the disease is necessary to develop reliable diagnostic testing to identify and contain it.
"Early and accurate diagnosis of infectious and deadly viruses is critical because undiagnosed patients can unknowingly transmit it to others," Hazzard said.
NSW Health Pathology's director of public health pathology, Professor Dominic Dwyer, said that "this cutting-edge work will expand access to faster, reliable diagnostic testing for infected patients not just here in NSW but around the world."
He added that synthetic virus tools don't offer the same high degree of diagnostic accuracy needed to develop effective drugs to treat patients.
"We're proud to be able to share our discovery with the World Health Organization, and international researchers and clinicians, so together we ultimately help save lives," Dwyer said.
2:43 a.m. ET, February 10, 2020
136 cases confirmed on board Japan cruise ship
There are 66 newly confirmed coronavirus cases aboard the Diamond Princess ship docked in Yokohama, according to an announcement just made by the ship's captain Stefano Ravera.
That brings the total number of cases on the ship to 136, nearly doubling the previous total of 70 confirmed cases yesterday.
Ravera cautioned that this does not mean that the quarantine is not working.
"It was not unexpected, the additional cases, involving individuals exposed prior to the start of the quarantine," he said.
Japanese authorities are still testing hundreds of passengers on board the ship, which has been stuck at the harbor south of the capital Tokyo for almost a week now.
Evidence is increasingly pointing to a full blown outbreak on board the ship, the largest outside of mainland China, where the vast majority of cases have been reported until now.
2:00 a.m. ET, February 10, 2020
The view from quarantine on board the Diamond Princess
Philip and Gay Courter are among the hundreds of passengers trapped aboard the Diamond Princess cruise ship in Yokohama, a city south of Tokyo.
The couple, originally from Florida, sent these photos to CNN of the view outside of their window, as medical staff conduct thorough tests of passengers and crew, dozens of whom have been confirmed to have the Wuhan coronavirus so far.
"We need to get out of here," the couple said earlier of their quarantine. "We have a company called Medjet that we're members of the organization that they serve. And they are ready and willing and have everything that's in place to come and get us. But the Japanese government is refusing to allow us to leave."