February 13 coronavirus news
2:44 a.m. ET, February 13, 2020
Vietnam locks down entire community as 16th coronavirus case confirmed
Vietnam has placed an entire community on lockdown to contain the spread of the novel coronavirus after reporting the country's 16th confirmed case, according to a government news report.
The 50-year-old male patient is the father of a previously confirmed case at the Son Loi commune in Vinh Phuc province, about 40 kilometers (25 miles) northwest of the capital Hanoi.
This is the first lockdown of a town outside of mainland China since the start of the outbreak, and some 10,000 people are affected, according to Agence France-Presse.
Local authorities locked down the area around the commune in Binh Xuyen district, and residents will be quarantined for the next 20 days starting from today, the report said.
2:09 a.m. ET, February 13, 2020
Here's what it's like to fly from Europe to Beijing amid the coronavirus outbreak
CNN photojournalist Justin Robertson documented his flight from Frankfurt to Beijing on Tuesday, as airlines ramp up safety measures over the coronavirus.
In the video, he says everyone is wearing a mask on the Air China flight, and there are pre-recorded announcements warning people of the dangers of the virus.
"It's astonishing, I've never seen anything like it," he says.
Come mealtime, all food is served in disposable, one-time use packaging for hygiene reasons, he says. 
2:06 a.m. ET, February 13, 2020
Some coronavirus test kits shipped to US states are not working as expected, CDC says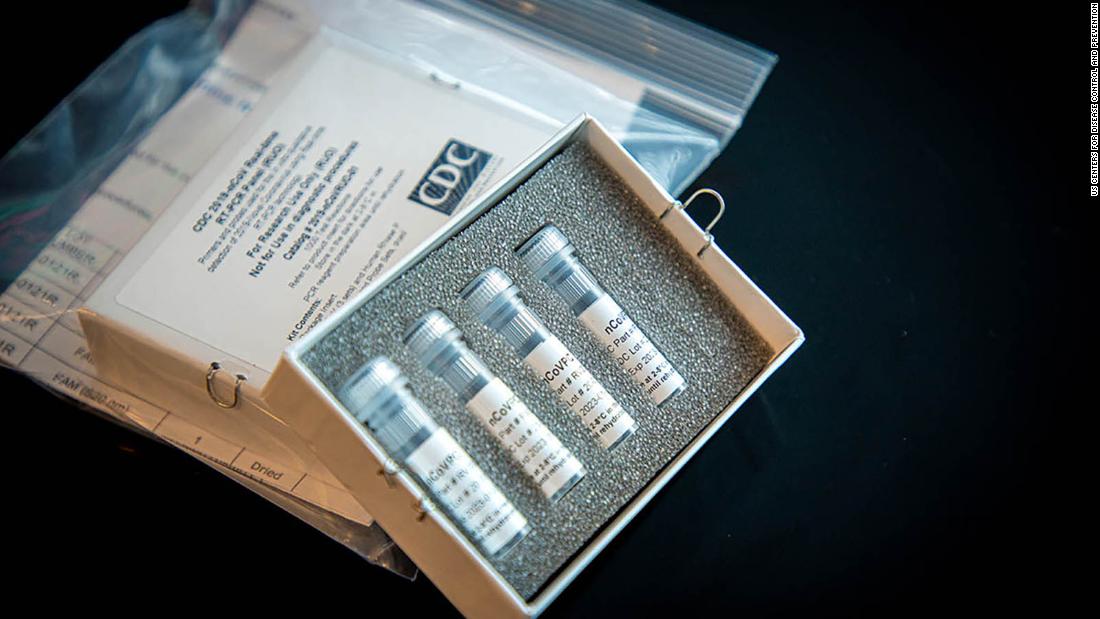 Some of the coronavirus test kits shipped to labs across the US are not working as they should, the US Centers for Disease Control and Prevention said.
As a result, the CDC is remaking parts of the test kits after some produced inconclusive test results.
The kits were sent to the states to speed up the testing process, the CDC's Nancy Messonnier told reporters Wednesday. The states found out the flaw during the verification process. For quality control, when states get any test kit, they first verify that it works.
Some states notified the CDC that they were unable to validate the test, and the agency is remanufacturing a reagent used in the test that's not performing consistently.
Not all states have been affected. 
Read more here.
1:53 a.m. ET, February 13, 2020
The WHO is providing medical supplies to North Korea, which is yet to report a coronavirus case
The World Health Organization's representative to North Korea said that there has been no cases of the novel coronavirus reported by the North Korean health ministry, in a written statement to CNN on Wednesday.
Edwin Ceniza Salvador said the WHO is working with all member states – including North Korea – to respond to the virus. North Korea, "like other countries, is taking measures to protect health of its people," Salvador said. 
The WHO is providing laboratory reagents and personal protective equipment such as goggles, gloves, masks, and gowns to the country at the request of the North Korean Ministry of Public Health, the statement added.
Outbreak prevention: Since the outbreak of the novel coronavirus, North Korea has been reporting almost daily on the regime's efforts to prevent the infection.
North Korean state-run news service, Korean Central News Agency (KCNA), reported on Wednesday that North Korea was extending its coronavirus quarantine period from 15 days to 30 days.
Nearly every country and territory in East Asia has confirmed cases of novel coronavirus. So why hasn't North Korea?
Read more here
1:37 a.m. ET, February 13, 2020
Tokyo 2020 organizer says Olympics will go ahead despite coronavirus fears
The Tokyo 2020 Olympics is definitely going ahead this summer, officials said, amid concerns over the spread of the novel coronavirus.
Tokyo 2020 president Yoshiro Mori said on Thursday that the Tokyo organizing committee is not considering cancelling the Games due to the coronavirus, according to Reuters.
"Regarding the coronavirus which started in Hubei province in China, there were irresponsible rumours," Mori told reporters in Tokyo. "I would like to clearly reiterate that cancellation or postponement of Tokyo Games are not being considered."
Mori added that the organizing committee has set up a task force that has begun "sharing information for the prevention of the infection."
A senior organizer had previously warned that the outbreak could impact Japan's preparations for the Games.
"I am extremely worried that the spread of the infectious disease could throw cold water on the momentum toward the Games," said Toshiro Muto, chief executive of the Tokyo Olympic organizing committee, according to Japanese public broadcaster NHK. "I hope that it will be stamped out as soon as possible."
Fanfare beginning: Nevertheless, the fanfare around Tokyo 2020, which is due to officially begin on Friday, July 24, is well underway.
Tokyo's new National Stadium was inaugurated last December and the Olympic torch relay is scheduled to kick off from Fukushima prefecture on March 26.
Japan's Prime Minister Shinzo Abe has also dispelled concerns that the Summer Olympics would be canceled after false rumors circulated online.
"We will take appropriate measures so that the preparation for the Olympic games will proceed without affecting them," Abe told a parliamentary committee.
1:16 a.m. ET, February 13, 2020
Diamond Princess captain gives more details on who gets to leave the ship early
In an announcement to passengers on the Diamond Princess cruise ship this afternoon, Captain Stefano Ravera gave more details on which passengers will be allowed to disembark early.
Ravera said that everybody over the age of 80 has now been tested for the novel coronavirus.
The captain said that those who will be given the option of disembarking early are:
Passengers 80 years or over with a chronic medical condition, and who test negative for the virus.
Passengers 80 years or over staying in an inside cabin, and who test negative for the virus.
Other passengers under 80 who have been given a test for any other reason, and tested negative.
Those passengers will still have to remain in a "housing facility managed by the Japanese government" until the end of the quarantine. Anyone who has been in close contact with someone who has tested positive will not be allowed to disembark.
Passengers who test positive will continue to be moved to on-shore hospitals.
2 weeks on lockdown: More than 3,700 passengers and crew are stuck on the cruise ship in Yokohama, Japan that is essentially a floating quarantine zone. The ship was placed under quarantine on February 4 and it isn't scheduled to be lifted until February 19.
Rising infections: The number of infections aboard is increasing by the day. On Thursday, another 44 people tested positive for the virus aboard the ship, bringing the total to 219.
1:03 a.m. ET, February 13, 2020
Pharmacies in Nanjing banned from selling fever and cough medicine
Pharmacies in the eastern Chinese city of Nanjing have been banned from selling all fever and cough medicine in the hope that residents with fever or coughing will seek treatment in hospitals instead, Nanjing's propaganda department posted on its official Weibo account.
This follows similar policy in the eastern city of Hangzhou, according to the statement.
Meanwhile in Beijing, pharmacies are being urged to register all customers who buy fever and cough medicine.
They are required to register their names, addresses, ID card numbers and contact information, as well as the symptoms, according to state-run news agency Xinhua.
12:46 a.m. ET, February 13, 2020
Shanghai Fashion Week canceled due to coronavirus -- as China's absence is felt on runways from Milan to Paris
The organizers behind Shanghai Fashion Week, which was scheduled to take place from March 26 to April 2, announced Monday via the Chinese social media platform WeChat that the event would be postponed due to the novel coronavirus.
"We will actively search for (new) times and ways, and maintain close communication with partners who care for and support Shanghai Fashion Week," read the post. "We will strive to promote the development of the fashion industry," the statement continued.
China Fashion Week, the country's other major fashion event in Beijing, scheduled to start on March 25, has yet to publicly announce if it will postpone or cancel its event. CNN has reached out for comment.
Shining star in the region: In recent years, Shanghai Fashion Week has grown to become one of the most ambitious fashion weeks in the region, as well as home to Asia's largest fashion trade fair, China International Fashion Fair. It has drawn international names like Vera Wang, Jenny Peckham and Vivienne Tam to show on its runways. It has also served as a platform for some of China's most notable and well-known designers
Hub for young designers: China Fashion Week is also likely to suffer if a cancellation does happen. Less internationally established, the event has recently been positioning itself as a hub for young designers, and showed new efforts to amplify its global reputation by partnering with the China edition of Women's Wear Daily (WWD).
Read more here.
12:35 a.m. ET, February 13, 2020
Wuhan Communist Party chief removed in purge of Hubei officials
Wuhan Communist Party chief Ma Guoqiang has been replaced, according to China's state-run Xinhua news agency.
Wang Zhonglin, party chief of Jinan city in Shandong province, has taken over his position.
It's the latest move in a major shakeup of provincial leadership in China as the coronavirus outbreak shows no sign of abating at the epicenter in Hubei province, of which Wuhan is the capital.
Also today, Hubei province's Communist Party chief Jiang Chaoliang was replaced with Shanghai's mayor, Ying Yong.
These replacements come after two officials in charge of Hubei's provincial health authority were sacked earlier this week.