February 14 coronavirus news
5:36 p.m. ET, February 14, 2020
Here's a look at where the coronavirus cases are throughout China
Nearly 64,000 cases of novel coronavirus have been reported in mainland China since Dec. 31.
Here's a map showing where the confirmed cases are in mainland China, according to data from the World Health Organization: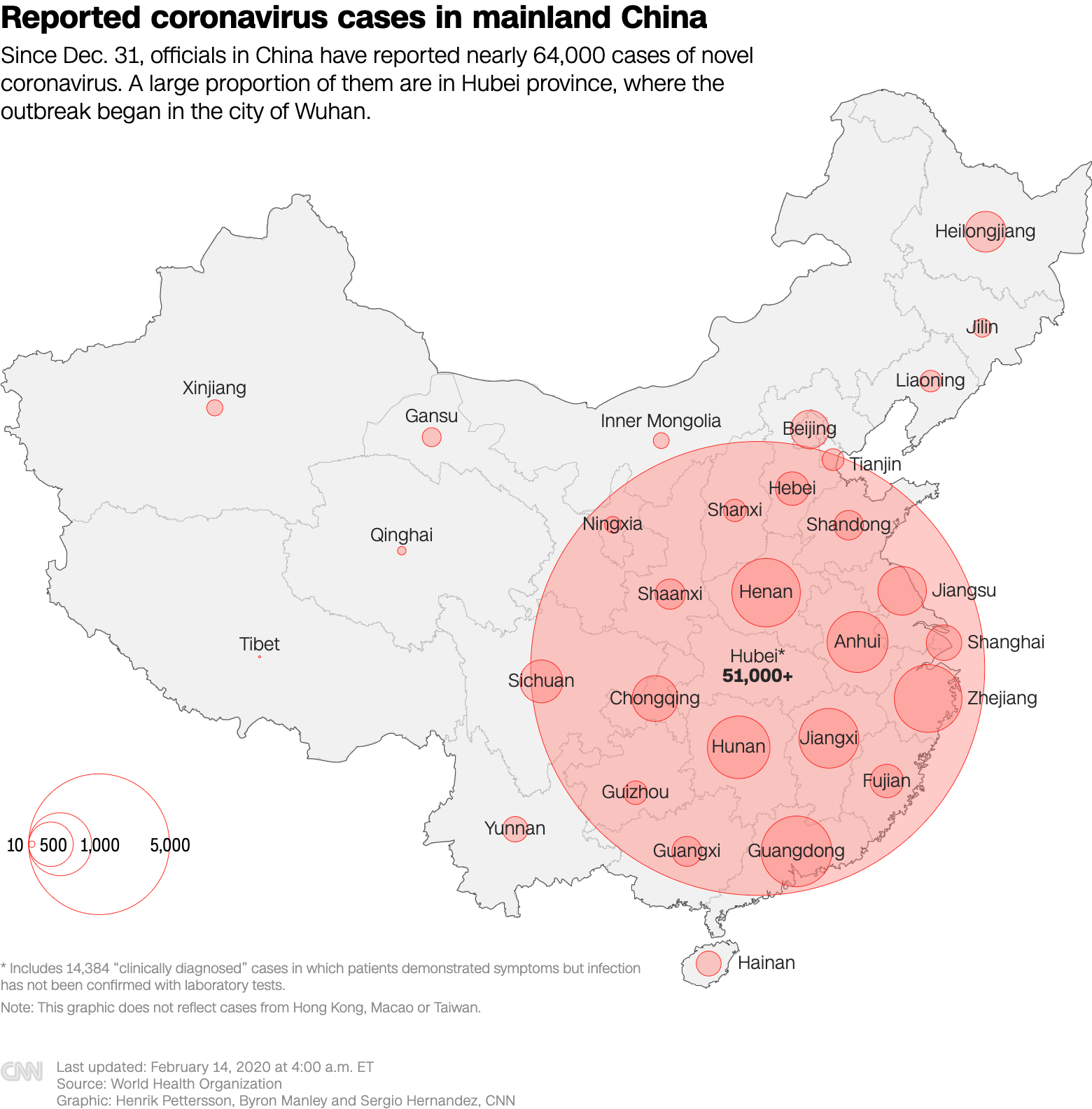 4:25 p.m. ET, February 14, 2020
Trump thanks Cambodia for allowing cruise ship to port
President Trump thanked the country of Cambodia for allowing a cruise ship to dock in the country.
The ship, which left from Hong Kong, had been rejected by several Asian ports over the last few days over fears of coronavirus.
About the ship: The Westerdam, which is owned by Carnival Corporation but sails under the Holland America brand name, was supposed to be taking a 14-day cruise around east Asia, beginning in Hong Kong on Feb. 1 and concluding Saturday in Yokohama, Japan. 
But the governments of Japan, Guam, the Philippines, Taiwan and Thailand refused the ship permission to dock over fears of the coronavirus epidemic — despite there being no confirmed cases on the ship. 
Cambodia's Prime Minister Hun Sen was on hand to welcome passengers disembarking in Sihanoukville today, and told reporters, "The real problem for Cambodia is not news of the coronavirus outbreak, now called the COVID19. But that is the sickness of fear."
Officials said "full disembarkation" will take a few days. 
4:00 p.m. ET, February 14, 2020
Trump repeats theory that coronavirus will be eliminated by seasonal change, but scientists aren't sure
President Trump on Friday repeated the theory that the novel coronavirus will die out as temperatures rise in the spring, but scientists insist it's just too soon to say for sure. 
Infectious disease experts studying the virus say it may have a seasonal variation, or it may not. Several tell CNN it's too early to tell, and nobody knows enough about the novel coronavirus to make assessments about its behavior. 
"There's a theory that in April, when it gets warm, historically, that has been able to kill the virus. So, we don't know yet. We're not sure yet. But that's around the corner, so that will be a great thing in China and other places," Trump said at a Border Patrol event at the White House.
CDC Director Dr. Robert Redfield told CNN in an interview, which aired Thursday, that the coronavirus may or may not be around past this year and it may or may not follow a seasonal variation — insisting only time will tell. 
"We don't know a lot about this virus," he said. "This virus is probably with us beyond this season, beyond this year, and I think eventually the virus will find a foothold and we will get community-based transmission."
Trump also estimated that there were "around 12" confirmed cases of novel coronavirus in the US. As of Friday, 15 individuals tested by the CDC tested positive for the coronavirus. 
3:43 p.m. ET, February 14, 2020
US officials are working on a plan for American passengers stuck on Diamond Princess cruise ship
US officials are working together to make a plan for Americans on board the Diamond Princess cruise ship docked in Japan, Dr. Nancy Messonnier, a director at the US Centers for Disease Control and Prevention, told reporters on Friday. 
There is no specific plan yet for the passengers, she said, but precautions are needed for the passengers — who may be at high risk from the novel coronavirus — and to avoid spread to others.
"It's very important to all of us that all of these people are safe and taken well care of," said Messonnier, director of CDC's National Center for Immunization and Respiratory Diseases.
2:18 p.m. ET, February 14, 2020
CDC's coronavirus test kits still not ready to ship after some were initially found to be faulty
The US Centers for Disease Control and Prevention has not yet returned to shipping coronavirus test kits to state labs after some tests were initially found to be faulty, Dr. Nancy Messonnier, director of CDC's National Center for Immunization and Respiratory Diseases, said Friday during a call with reporters.
The CDC wants to make sure that "every T is crossed before we put these kits back out, so we're taking a little extra time here," Messonnier said. She declined to give a specific timeline.
Why this matters: Earlier this week, the agency said some state labs had been unable to validate the test. The CDC is now remanufacturing a reagent used in the test that was yielding "indeterminate answers," Messonnier said. 
"What we're doing at CDC is reformulating those reagents," she said, "and we are moving quickly to get those back out to our labs" with state and local partners. 
Before it began shipping these kits, the CDC was the only lab in the United States that could test for the virus. Experts say the new test kits open the door to confirming cases earlier, thus being able to take swift action to contain any further spread in the United States.
The CDC had previously announced plans to ship roughly 200 test kits to domestic labs and another 200 to international labs. Each test kit can perform 700 to 800 patient samples.
1:30 p.m. ET, February 14, 2020
Labs in these 5 cities will look for coronavirus spread in the US
Public health labs in five cities will begin using existing flu surveillance to look for the spread of the novel coronavirus, Dr. Nancy Messonnier, director of the US Centers for Disease Control and Prevention's National Center for Immunization and Respiratory Diseases, said during a call with reporters today.
The cities are:
Los Angeles
San Francisco
Seattle
Chicago
New York City
Messonnier said this efficiently leverages the existing influenza surveillance systems to track whether the novel coronavirus is spreading in communities within the United States.
The labs will test for the coronavirus in samples that are negative for influenza. 
Results from this will provide an early warning to trigger a change in the public health response, Messonnier said.
There have been 15 cases of the novel coronavirus confirmed in seven states: eight in California; two in Illinois; and one each in Arizona, Washington, Massachusetts, Wisconsin and Texas.
12:09 p.m. ET, February 14, 2020
443 people in the US have been investigated for coronavirus
The US Centers for Disease Control and Prevention lists 443 people as under investigation for the novel coronavirus across 42 states, according to an update posted to the agency's website Friday.
Of them...
15 have tested positive
347 have tested negative
81 are still pending
These numbers are cumulative since Jan. 21 and include people with travel history to China, as well as those who have been in close contact with confirmed cases or other people under investigation.
Confirmed cases in the US include eight in California, one in Texas, one in Massachusetts, one in Washington state, one in Arizona, two in Illinois and one in Wisconsin. There are two instances of person-to-person transmission, one in Illinois and one in California.
Two California cases and the Texas case are among evacuees from China.
This is an increase from Wednesday, when the CDC listed 420 people under investigation in 41 states, including 13 positive, 347 negative and 60 pending cases. 
11:21 a.m. ET, February 14, 2020
Why we're seeing a big jump in coronavirus cases in China
On Wednesday, China reported far fewer cases of the novel coronavirus than it did the day before, signaling that the spread of the virus could be slowing.
But the numbers were back up yesterday with China announcing a major jump in both new deaths and new cases. 
There are many reasons we're seeing this phenomenon, including variances in the incubation period and more people seeking treatment.
But one of the top reasons for the variation in numbers is the constantly changing definitions of what constitutes a case in China: Is it just when someone has a lab-confirmed test? Is it when they exhibit symptoms indicative of infection? Should someone who is asymptotic be counted?
The spike is partly due to a broader definition of what constitutes a confirmed case, to include people diagnosed on the basis of their symptoms rather than testing positive.
Keep in mind: This is normal. 
"It's normal during the course of an outbreak to adapt the case definition," Dr. Sylvie Briand, director of the World Health Organization's Infectious Hazards Management Department, said during a news conference yesterday.
Here's a look at reported cases, according to World Health Organization data. Remember: These totals may differ from those reported by Chinese health officials, who report updated totals at different times than the WHO.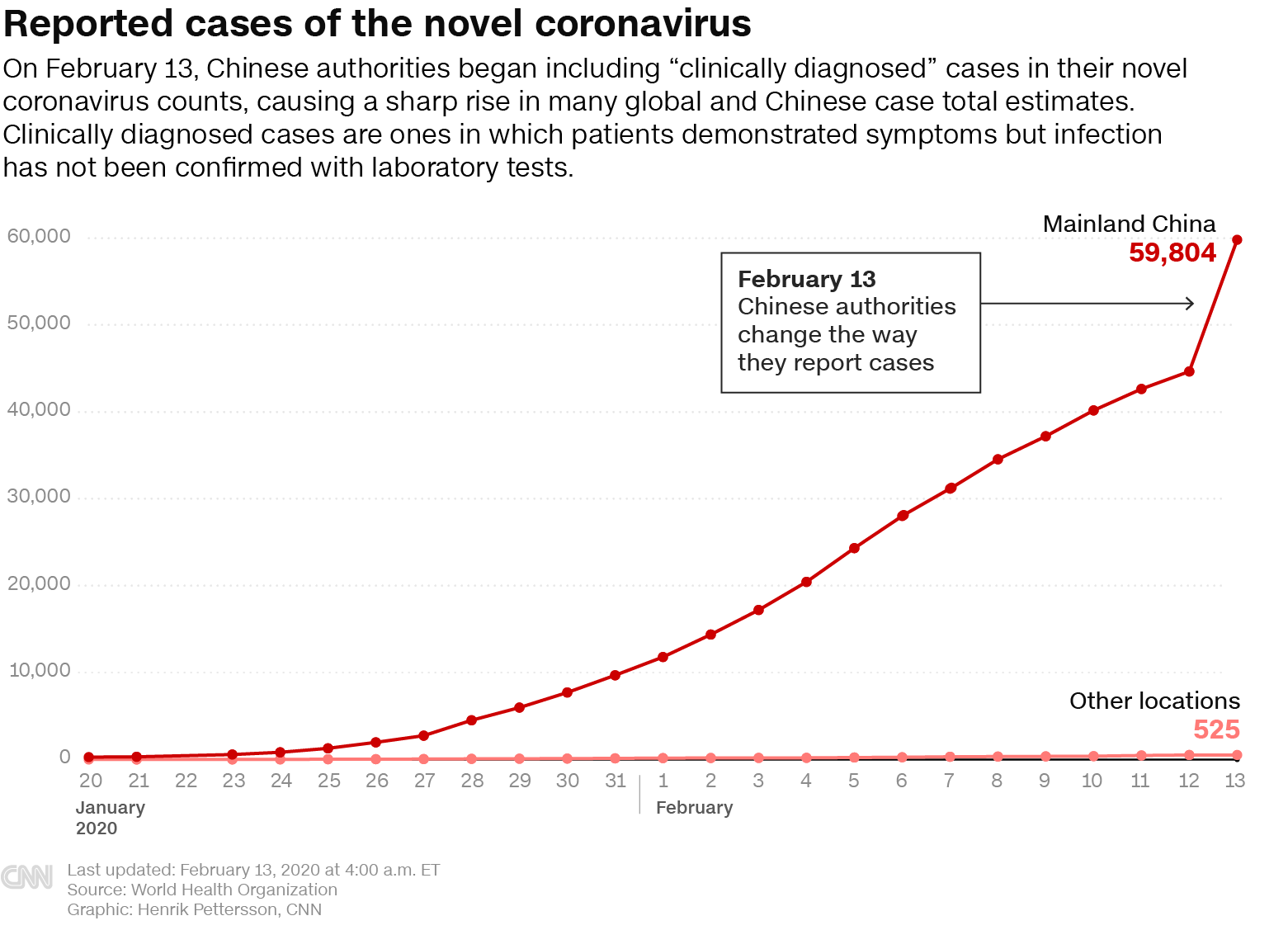 11:16 a.m. ET, February 14, 2020
No talk yet about how coronavirus could affect summer Olympics in Japan, health official says
The World Health Organization has not yet had talks with Japan about potential impacts the novel coronavirus outbreak could have on the upcoming Tokyo 2020 Olympics this summer.
The Games are due to open in less than six months.
"At this stage, there has been no specific discussion or specific decision made regarding those mass events," Dr. Mike Ryan, WHO executive director of Health Emergencies Programme, told reporters during a briefing today.
He continued:
"We are very much engaged with those institutions and with those events, and we will and obviously offer them any support and technical advice regarding their own risk assessment," Ryan said. "It's not the role of WHO to call off or not call off any event. … We offer advice on risk reduction and risk mitigation measures."