February 14 coronavirus news
By Ben Westcott, Adam Renton and Jack Guy, CNN
Updated
8:42 p.m. ET, February 14, 2020
8:42 p.m. ET, February 14, 2020
Our live coverage of the coronavirus outbreak has moved here.
7:44 p.m. ET, February 14, 2020
Beijing announces 14-day quarantine requirement for returning residents
From CNN's Taylor Barnes
All people returning to Beijing will be required to stay at home or under observation for 14 days in order to prevent the spread of the coronavirus, according to China's state-run news agency Xinhua.
The Leading Group of Beijing New Coronavirus Pneumonia Epidemic Prevention and Control Office, which made the announcement Thursday night (local time), said that any individual refusing to do so will be "held accountable according to law."
6:03 p.m. ET, February 14, 2020
This is where novel coronavirus cases have been confirmed worldwide
From CNN's Eric Cheung
The novel coronavirus has spread throughout the world since the first cases were detected in central China in December, and the World Health Organization (WHO) has declared the outbreak a public health emergency of international concern.
Meanwhile, a number of countries, such as the United States and Japan, have evacuated their nationals on flights from Wuhan, capital of Hubei p\rovince and the epicenter of the outbreak.
Here's map showing places outside mainland China with confirmed cases of the coronavirus: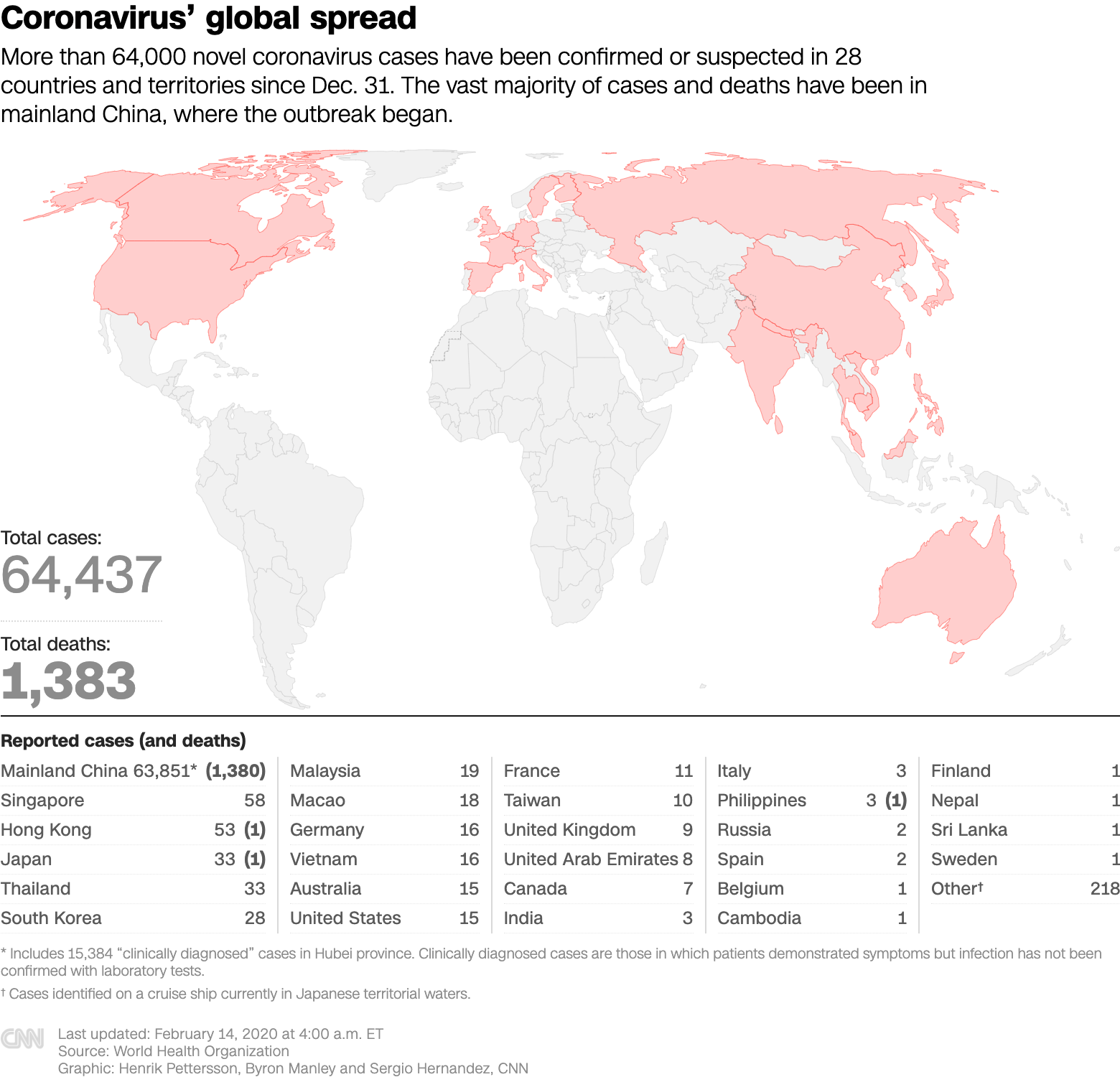 5:36 p.m. ET, February 14, 2020
Here's a look at where the coronavirus cases are throughout China
Nearly 64,000 cases of novel coronavirus have been reported in mainland China since Dec. 31.
Here's a map showing where the confirmed cases are in mainland China, according to data from the World Health Organization: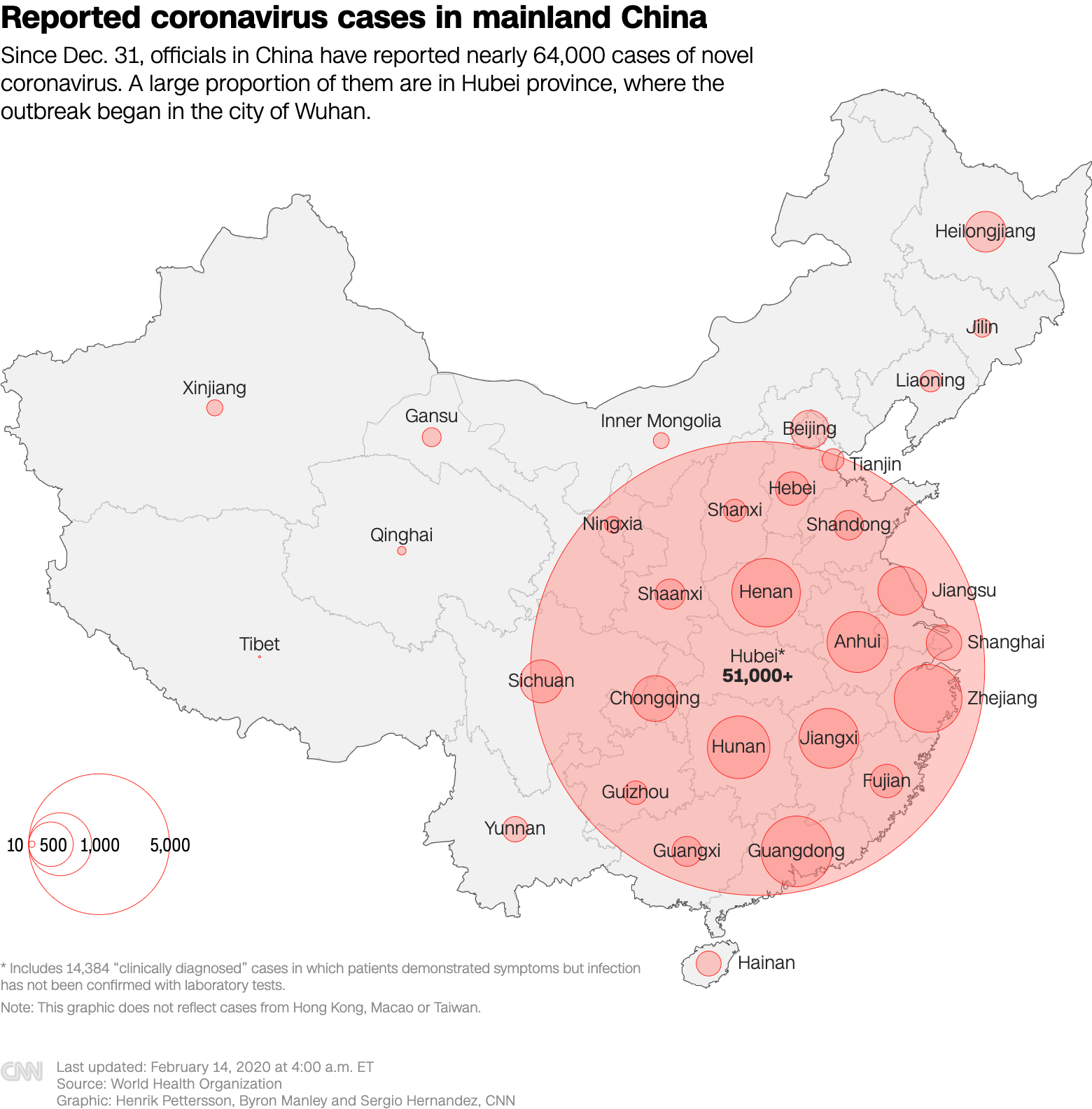 4:25 p.m. ET, February 14, 2020
Trump thanks Cambodia for allowing cruise ship to port
From CNN's Maegan Vazquez
President Trump thanked the country of Cambodia for allowing a cruise ship to dock in the country.
The ship, which left from Hong Kong, had been rejected by several Asian ports over the last few days over fears of coronavirus.
About the ship: The Westerdam, which is owned by Carnival Corporation but sails under the Holland America brand name, was supposed to be taking a 14-day cruise around east Asia, beginning in Hong Kong on Feb. 1 and concluding Saturday in Yokohama, Japan. 
But the governments of Japan, Guam, the Philippines, Taiwan and Thailand refused the ship permission to dock over fears of the coronavirus epidemic — despite there being no confirmed cases on the ship. 
Cambodia's Prime Minister Hun Sen was on hand to welcome passengers disembarking in Sihanoukville today, and told reporters, "The real problem for Cambodia is not news of the coronavirus outbreak, now called the COVID19. But that is the sickness of fear."
Officials said "full disembarkation" will take a few days. 
4:00 p.m. ET, February 14, 2020
Trump repeats theory that coronavirus will be eliminated by seasonal change, but scientists aren't sure
From CNN's Maegan Vazquez 
President Trump on Friday repeated the theory that the novel coronavirus will die out as temperatures rise in the spring, but scientists insist it's just too soon to say for sure. 
Infectious disease experts studying the virus say it may have a seasonal variation, or it may not. Several tell CNN it's too early to tell, and nobody knows enough about the novel coronavirus to make assessments about its behavior. 
"There's a theory that in April, when it gets warm, historically, that has been able to kill the virus. So, we don't know yet. We're not sure yet. But that's around the corner, so that will be a great thing in China and other places," Trump said at a Border Patrol event at the White House.
CDC Director Dr. Robert Redfield told CNN in an interview, which aired Thursday, that the coronavirus may or may not be around past this year and it may or may not follow a seasonal variation — insisting only time will tell. 
"We don't know a lot about this virus," he said. "This virus is probably with us beyond this season, beyond this year, and I think eventually the virus will find a foothold and we will get community-based transmission."
Trump also estimated that there were "around 12" confirmed cases of novel coronavirus in the US. As of Friday, 15 individuals tested by the CDC tested positive for the coronavirus. 
3:43 p.m. ET, February 14, 2020
US officials are working on a plan for American passengers stuck on Diamond Princess cruise ship
From CNN's Jamie Gumbrecht
US officials are working together to make a plan for Americans on board the Diamond Princess cruise ship docked in Japan, Dr. Nancy Messonnier, a director at the US Centers for Disease Control and Prevention, told reporters on Friday. 
There is no specific plan yet for the passengers, she said, but precautions are needed for the passengers — who may be at high risk from the novel coronavirus — and to avoid spread to others.
"It's very important to all of us that all of these people are safe and taken well care of," said Messonnier, director of CDC's National Center for Immunization and Respiratory Diseases.
2:18 p.m. ET, February 14, 2020
CDC's coronavirus test kits still not ready to ship after some were initially found to be faulty
From CNN's Michael Nedelman
The US Centers for Disease Control and Prevention has not yet returned to shipping coronavirus test kits to state labs after some tests were initially found to be faulty, Dr. Nancy Messonnier, director of CDC's National Center for Immunization and Respiratory Diseases, said Friday during a call with reporters.
The CDC wants to make sure that "every T is crossed before we put these kits back out, so we're taking a little extra time here," Messonnier said. She declined to give a specific timeline.
Why this matters: Earlier this week, the agency said some state labs had been unable to validate the test. The CDC is now remanufacturing a reagent used in the test that was yielding "indeterminate answers," Messonnier said. 
"What we're doing at CDC is reformulating those reagents," she said, "and we are moving quickly to get those back out to our labs" with state and local partners. 
Before it began shipping these kits, the CDC was the only lab in the United States that could test for the virus. Experts say the new test kits open the door to confirming cases earlier, thus being able to take swift action to contain any further spread in the United States.
The CDC had previously announced plans to ship roughly 200 test kits to domestic labs and another 200 to international labs. Each test kit can perform 700 to 800 patient samples.
1:30 p.m. ET, February 14, 2020
Labs in these 5 cities will look for coronavirus spread in the US
From CNN Health's Jamie Gumbrecht
Public health labs in five cities will begin using existing flu surveillance to look for the spread of the novel coronavirus, Dr. Nancy Messonnier, director of the US Centers for Disease Control and Prevention's National Center for Immunization and Respiratory Diseases, said during a call with reporters today.
The cities are:
Los Angeles
San Francisco
Seattle
Chicago
New York City
Messonnier said this efficiently leverages the existing influenza surveillance systems to track whether the novel coronavirus is spreading in communities within the United States.
The labs will test for the coronavirus in samples that are negative for influenza. 
Results from this will provide an early warning to trigger a change in the public health response, Messonnier said.
There have been 15 cases of the novel coronavirus confirmed in seven states: eight in California; two in Illinois; and one each in Arizona, Washington, Massachusetts, Wisconsin and Texas.