February 16 coronavirus news
10:22 p.m. ET, February 15, 2020
Xi Jinping says he knew about the virus outbreak in early January
Chinese President Xi Jinping knew about the coronavirus outbreak in early January, he said in a speech this month.
According to a transcript of the speech made on February 3, and published in the Communist Party journal Qiushi on Saturday, Xi "issued requirements for the prevention and control of the new coronavirus" on January 7.
"On January 20, I specifically issued instructions on the epidemic prevention and control work, stating that we must attach great importance to the epidemic, do our best in prevent and control work, and require Party committees, governments and relevant departments at all levels to put people's safety and health first and take effective measures, resolutely contain the epidemic," he added.
"On January 22, considering the rapid spread of the epidemic and the severe challenges faced by prevention and control work, I explicitly requested Hubei province to implement comprehensive and strict control over the outflow of people."
Previously, Xi was believed to only have learned about the extent and danger of the outbreak in late January, when he publicly intervened to order "all out efforts" to tackle its spread.
"I have, at all times, monitored the spread of the epidemic and the progress in prevention and control work , and continue to give oral orders and instructions," Xi said.
While the speech underlines that Xi has been personally directing the response to the outbreak -- something that has been repeatedly emphasized in state media -- the revelation that he knew about the virus when Wuhan officials were publicly downplaying its danger, exposes him to the risk of being blamed, along with them, for failing to properly handle the outbreak in its early weeks.
10:06 p.m. ET, February 15, 2020
Hong Kong is conducting 800 tests a day for coronavirus
Health authorities in Hong Kong are conducting around 800 laboratory tests a day as they continue to screen for the novel coronavirus.
As of Saturday, around 1,517 suspected cases had been reported to the semi-autonomous Chinese city's Center for Health Protection, 56 of whom had tested positive for coronavirus. Another 1,312 had been cleared. The remaining 149 cases remain in hospital.
Responding to an inquiry from CNN, the Hong Kong Hospital Authority said that "enhanced case surveillance" had been put in place to ensure early detection and diagnosis.
"Since 13 January 2020, HA has implemented enhanced laboratory surveillance which has its scope widened on 31 January 2020 to include any inpatient pneumonia cases," a spokesperson said. "All suspected cases, regardless of the settings where they sought medical advice or their conditions, will be arranged for testing. Suspected cases will be isolated in airborne infection isolation room (AIIR), with the implementation of contact, droplet and airborne precautions while pending test results. The testing kits (RT-PCR) currently used in Hospital Authority have been validated with adequate sensitivity as a screening tool for novel coronavirus."
The spokesperson added that currently, "around 800 tests are being conducted each day in HA laboratories."
11:05 p.m. ET, February 15, 2020
Another case of coronavirus in South Korea
South Korea has confirmed one new case of novel coronavirus, bringing the total number of infections there to 29, the national Center for Disease Control and Prevention said this morning.
The latest case is an 82-year-old South Korean man, the authorities did not provide information about where or how he got the virus.
9:53 p.m. ET, February 15, 2020
Stranded US passengers prepare to be evacuated from Diamond Princess in Japan ... but another quarantine awaits them back home
Thousands of passengers on board the Diamond Princess cruise ship, docked at the Japanese port of Yokohama, are preparing to be evacuated.
On Saturday, Japan said another 67 cases had been confirmed on board the ship, bringing the total to 286. It is the largest outbreak of the virus outside of mainland China.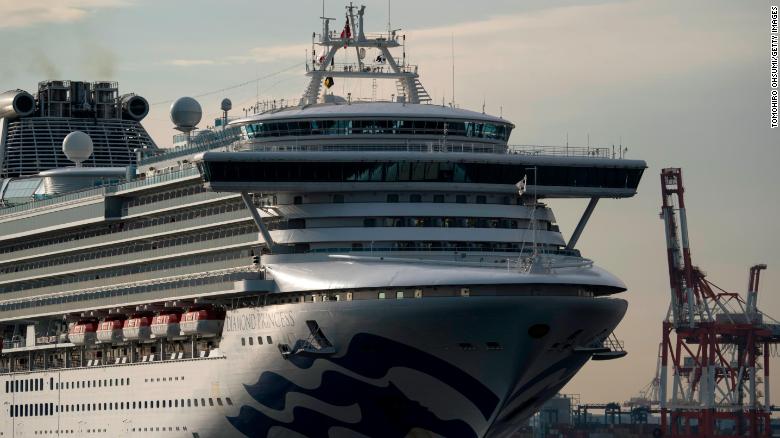 Some passengers will be able to leave Sunday, with the United States providing a charter flight to transport its citizens on board the ship home. But those who board the plane will have to endure another 14-day quarantine, this time in San Antonio, Texas, when arriving back on US soil. They will kept separately from those under quarantine in the US after returning to the country from China.
"The US government has chartered flights that will depart Yokohama to the United States on Sunday, February 16," the country's embassy in Tokyo said in a letter to passengers Sunday. "These charter flights are the only opportunity for eligible passengers to fly to the United States until March 4, 2020, at the earliest. This date is 14 days after the remaining passengers are expected to depart the ship on February 19."
The letter added that "passengers and crew members (on board the Diamond Princess) are at high risk of exposure" to the virus and the government was therefore "chartering these flights to minimize the risks to your health going forward."
"No symptomatic or infected passengers will be allowed to board," it said.
Swapping one quarantine for another: Some passengers have expressed frustration at the prospect of further quarantine.
Writing on Twitter, Matthew Smith said he was "incredibly disappointed that the US Government has decided to throw a monkey wrench into the quarantine we have maintained here on board the Diamond Princess. 
"If we stay on board through next week, we will be tested and will likely come up negative," he said. "But the US Government instead wants to take us off without testing, fly us back to the US with a bunch of other untested people, and then stick us in 2 more weeks of quarantine? How does that make any sense at all?"
Smith tweeted later that he "just found out from the Embassy that we couldn't take their evac flight even if we wanted to because we have too much luggage and carry-ons that won't fit in the plane, which have no overhead bins."
9:26 p.m. ET, February 15, 2020
"It was like a punch in the gut:" US couple can't go home after wife tests positive for coronavirus
An American couple from Oregon, who traveled on the Diamond Princess cruise ship that's docked at the Daikoku Pier Cruise Terminal in Yokohama, have had their hopes of going home dashed.
Rebecca Frasure has tested positive for the virus, which means she can't board a flight to the US and has to remain in quarantine at a nearby hospital.
Her husband, Kent, remains on the cruise ship and it's unclear what he will do.
"It was like a punch in the gut. I was so sure that this was going to come out negative. I was so sure that this was going to come out negative," Rebecca Frasure told CNN.
Getting out: The US is sending charter planes to evacuate American citizens and their families Sunday evening local time. Those who choose to fly back on the planes will be quarantined for 14 days once they arrive.
9:59 p.m. ET, February 15, 2020
Russian woman escapes coronavirus quarantine by short-circuiting hospital ward lock
A Russian woman who escaped a hospital ward where she was under quarantine for novel coronavirus is facing a lawsuit filed by heath authorities for endangering the public, according to Russian state media.
Alla Ilyina returned from China on January 31 and was undergoing observation at the Botkin Hospital for Infection Diseases in St. Petersburg, her lawyer Vitaly Cherkasov, told CNN.
She fled the hospital without permission by short-circuiting the electronic lock on the door to her ward, St. Petersburg's chief sanitary physician said in a statement Thursday.
Thursday marked the end of Ilyina's mandatory 14-day quarantine period, and Cherkasov said that his client had the right to return home.
8:35 p.m. ET, February 15, 2020
Singapore confirms five new cases of novel coronavirus, bringing total to 72
Health officials in Singapore have confirmed five more cases of the novel coronavirus, bringing the country-wide total of infections to 72.
In a statement this morning, the Ministry of Health said all of the new cases had no recent travel history to China, but are linked to previous confirmed cases in the city. Three of the new cases can be traced to the Grace Assembly of God church cluster, one case is linked to the cluster at the Seletar Aerospace Heights construction site and the remaining case had contact with the 59th confirmed case.
The outlook in Singapore: According to the Ministry of Health, 18 patients have so far made a full recovery from the virus and been discharged from the hospital. Fifty-four cases remain in hospital with six patients currently in critical condition.
8:37 p.m. ET, February 15, 2020
There were 2,009 more cases of the virus in China on Saturday, and 142 deaths
Another 142 people died from coronavirus in mainland China on Saturday, the country's National Health Commission said today. That brings the worldwide total of deaths to 1,669, all but four of which occurred in mainland China.
By the end of Saturday, 68,500 cases of the virus had been recorded in mainland China, an increase of 2,009 from the previous day. Globally, there have been 69,000 confirmed cases, with the largest outbreaks outside of mainland China being reported in Japan, Singapore and Hong Kong.
So far, almost 9,500 patients with the coronavirus have been treated and discharged from hospitals across China, the commission said.
7:57 p.m. ET, February 15, 2020
Chinese students spend billions overseas. Coronavirus travel bans will leave some countries seriously out of pocket
As novel coronavirus spreads, over 60 countries have imposed travel restrictions on Chinese citizens, hoping to limit their exposure to the virus that has killed more than 1,600 people, almost all in mainland China, and infected over 67,000 worldwide. Both Australia and the US have put temporary bans on foreign nationals who visited China in the 14 days prior to their arrival.
That has locked many Chinese students out of their studies -- leaving them trapped at home thousands of miles from their universities.
In 2017, an estimated 900,000 Chinese tertiary students studied abroad. Around half of those went to either the United States or Australia, contributing billions of dollars to their economies -- money that those countries now stand to lose.
It is not clear how many of the 360,000 Chinese students studying in the US were outside the country when the US travel ban hit on January 31, shortly before many universities were due to resume. But when Australia imposed its restrictions at the start of February, authorities estimated that 56% of Chinese students -- about 106,680 people -- were still abroad. Term was due to begin in late February or early March.
"For Australia, it couldn't have come at a worse time. It's exactly the time of the year in which people are coming from China to Australia," said Andrew Norton, a professor in the practice of higher education policy at the Australian National University. The virus outbreak coincided with the Lunar New Year -- the most important holiday in the Chinese calendar, when many students go home to see their family.