February 17 coronavirus news
9:45 a.m. ET, February 17, 2020
Almost half of China's population is living under travel restrictions
Nearly half of China's population — 780 million people — is living under some form of travel restrictions as authorities continue to contain the novel coronavirus outbreak.
According to analysis done by CNN, travel restrictions, of varying degrees are still being enforced in various provinces and cities across mainland China including Hubei, Liaoning, Beijing and Shanghai affecting over 780 million people. Restrictions include everything from self-quarantines to limits on who can come and go from neighborhoods.
Some of the strictest measures can be found in four cities in Hubei province, the epicenter of the outbreak. The cities of Wuhan, Huanggang, Shiyan and Xiaogan have completely sealed off all residential complexes and communities. The use of non-essential vehicles on local roadways is also banned. Residents in each city receive daily necessities from neighborhood and community committees as they are not permitted to leave their homes.
The novel coronavirus has infected at least 70,548 people and killed at least 1,770 people in mainland China alone by Feb. 16, according to China's National Health Commission.
CORRECTION: This post has been updated to correct the death toll in mainland China as of Feb. 16.
9:09 a.m. ET, February 17, 2020
UK considers evacuating British nationals on board the Diamond Princess
UK authorities are considering repatriating 74 British nationals on board the Diamond Princess cruise ship, docked in the Japanese city of Yokohama, a spokesperson for the UK Foreign Office (FCO) told CNN. 
We sympathize with all those caught up in this extremely difficult situation. We are urgently considering all options to guarantee the health and safety of the British people on board the Diamond Princess, in line with the latest advice from the Chief Medical Officer and the World Health Organisation, and are working closely with the Japanese authorities and our international partners," an FCO spokesperson said. 
"Our staff in Tokyo, including the Ambassador, have been in regular contact with the British passengers and crew on the Diamond Princess and we have also been speaking to families in the UK," the spokesperson added.
What the passengers are saying: In a Facebook live broadcast on Sunday, British passenger David Abel said that passengers aboard the ship were becoming "despondent" as other countries, including the US, started to evacuate their citizens.
"It feels that we have been forgotten. That you don't really care about us, and that you're actually not wanting us to come home," he said, calling on the UK government to evacuate British nationals aboard the ship. 
8:32 a.m. ET, February 17, 2020
These Americans were evacuated from the Diamond Princess. Here's what it was like.
Passengers who flew back to the US from the Diamond Princess cruise ship told CNN about their journey from the stricken cruise ship, with passenger Karey Maniscalco saying: "I don't feel as much like a prisoner."
Thousands of people have been stuck in their cabins under mandatory quarantine aboard the Diamond Princess, which is docked off the Japanese port city of Yokohama, since Feb. 3. On Saturday afternoon, the US Embassy in Tokyo sent a notice to Americans on board the Diamond Princess laying out plans to evacuate nearly 400 Americans back home.
"Every single person we encountered was the most kind and thoughtful person," Maniscalco told CNN upon arrival in California.
Maniscalco told CNN that while officials knew they were scared, "they did everything in their power to make us feel at ease. They kept saying that they knew we've been through a great ordeal and how stressed out we were and now we are safe."
Speaking about her arrival in California, she told CNN:
It's a whole different feeling already. We are not locked in a rooms anymore. We have a separate room for a TV, I have normal cell service. I don't feel as much like as a prisoner."
"Thinking of two more weeks locked up like we were on the cruise was unbearable. This is doable!"
Passenger Sarah Arana told CNN that passengers were greeted by CDC officials as they left the plane. Once they arrived at the military base in California, passengers had their temperatures taken and were assigned rooms, she said.
Watch more:
8:09 a.m. ET, February 17, 2020
Where coronavirus has been reported across mainland China
Mainland China remains the hardest hit area in the coronavirus outbreak, with the vast majority of both cases and deaths.
Here's a look at where the cases are throughout mainland China, according to World Health Organization data. These numbers may differ from those reported by Chinese health officials, who report updated totals at different times than the WHO.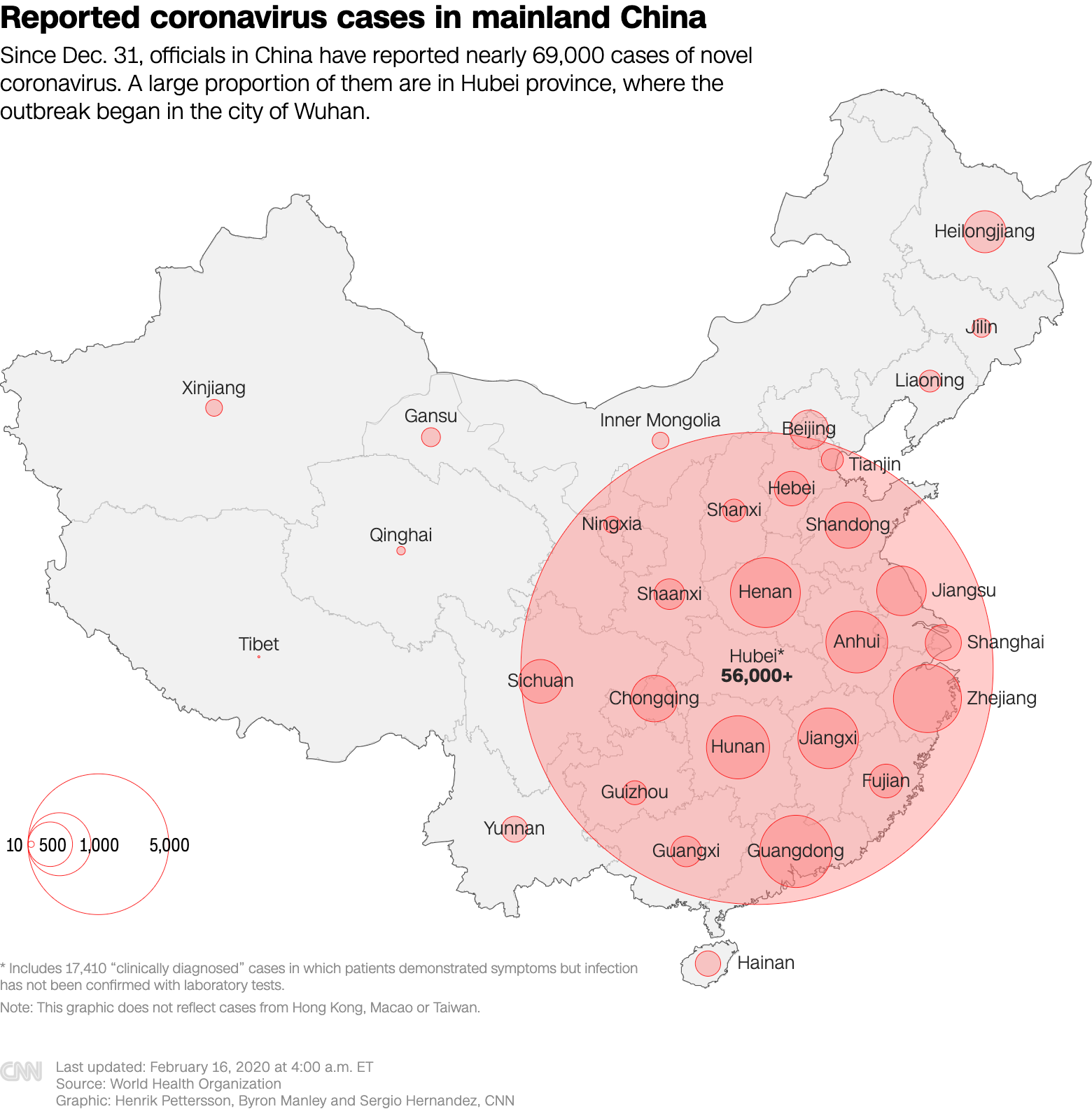 8:06 a.m. ET, February 17, 2020
Westerdam cruise ship operator will "investigate" those who had contact with an infected guest
The operator of the Westerdam cruise ship, which was stranded for days at sea before it was allowed to dock in Cambodia late last week, said it would "investigate and follow-up" with individuals who had contact with a guest who tested positive for the coronavirus.
"We are in close coordination with some of the leading health experts from around the world," Dr. Grant Tarling, the Chief Medical Officer for cruise operator Holland America Line, said in a statement on Monday. "These experts are working with the appropriate national health authorities to investigate and follow-up with any individuals who may have come in contact with the guest."
An 83-year-old American woman who had been on board the Westerdam tested positive after she and her husband were both found to have symptoms when they landed in Kuala Lumpur after flying in from Cambodia. The husband tested negative.
Search for port: The cruise ship docked in Cambodia last week after being turned away from several other ports in Asia. Several governments feared passengers on the Westerdam could have been infected with the coronavirus because the ship had previouslu docked in Hong Kong.
The Cambodian government allowed the ship to dock last Thursday, and 1,455 passengers were allowed to return to their respective countries after they successfully passed through health screenings. 
On Monday, Holland America said officials from the Cambodian Health Ministry were on board the ship testing the 255 guests and 747 crew that are awaiting clearance.
The cruise liner said that all 2,257 passengers and crew were screened for illness on February 10, and guests who disembarked in Cambodia underwent additional screening and checks.
7:55 a.m. ET, February 17, 2020
Russian woman who escaped quarantine ordered back to hospital, state media reports
A Russian woman who escaped a ward where she was under quarantine for novel coronavirus has been ordered back to the hospital, Russian state news agencies reported Monday.
Alla Ilyina fled the Botkin Hospital for Infection Diseases in St. Petersburg, where she was undergoing observation after returning from a trip to China. Local authorities subsequently filed suit, saying her escape broke quarantine regulations and potentially endangered the public.
RIA-Novosti reported Monday that the Petrograd District Court had ordered Ilyina back to the hospital. Ilyina will have to remain quarantined in the hospital until February 19 at the earliest, RIA-Novosti reported.
Ilyina's lawyer previously told CNN his client, who had undergone a mandatory 14-day quarantine period, had the right to return home.
Separately, the head of Russia's consumer protection service, Rospotrebnadzor, said the agency was ready to propose stricter measures for violating quarantine, RIA-Novosti reported Monday.
7:32 a.m. ET, February 17, 2020
Tokyo Marathon cancels entries from the public, restricts race to elite athletes
The Tokyo Marathon will only be open to elite runners due to public health concerns about the novel coronavirus, according to an announcement by event organizers on Monday.
The race, scheduled for March 1, will only allow elite runners and elite para-athletes to participate. Members of the public who were eligible to run this year will be given a slot next year without having to enter the lottery.
The Tokyo Marathon lists 64 elite runners and 18 athletes listed in the "wheelchair elite" category on its website.
Organizers say 293,275 people entered the lottery for one of the 26,370 marathon spots for this year.
Cases in Japan: Japan has 513 confirmed cases of coronavirus -- the highest number outside of mainland China -- and one death. 456 of Japan's cases are linked to the Diamond Princess cruise ship, and 57 are on land.
6:50 a.m. ET, February 17, 2020
Russian passenger on board Diamond Princess tests positive for coronavirus
A Russian passenger on board the cruise ship Diamond Princess has tested positive for the novel coronavirus, the Russian Embassy in Japan said in a statement on Facebook Monday.
During a medical examination carried out by the Japanese authorities for all passengers of the vessel for infection with COVID-19, the coronavirus was detected in a Russian citizen on board," the statement read.
"In the near future, the Russian woman will be taken to the hospital, where she will undergo a course of treatment."
The embassy said it would continue to provide Russian citizens with all necessary assistance.
6:31 a.m. ET, February 17, 2020
China is disinfecting and destroying cash to contain the coronavirus
China's central bank has implemented a new strategy to contain the coronavirus -- deep cleaning and destroying potentially infected cash.
The virus appears to survive for at least several hours on surfaces, according to the World Health Organization.
This is why buildings in affected areas are regularly disinfecting elevator buttons, door handles, and other commonly-touched surfaces -- and why people are worried about cash, which changes hands multiple times a day.
New measures: Chinese banks must now disinfect their cash with ultraviolet light and high temperatures, then store it for seven to 14 days before releasing it to customers, said the central Chinese government in a news release.
Cash that comes from high-risk infection areas, like hospitals and wet markets, will be "specially treated" and sent back to the central bank instead of being recirculated.
And in the central bank's Guangzhou branch, these high-risk banknotes may be destroyed instead of merely disinfected, according to state-run tabloid Global Times.
To make up for the supply, the bank will issue large amounts of new cash; in January, the bank allocated 4 billion yuan ($573 million) in new banknotes to Wuhan, the Chinese city where the outbreak began, said the government news release.
How dirty is cash? Each bill, passed person to person, samples a bit of the environment it comes from, and passes those bits to the next person.
The list of things found on US dollar bills includes DNA from our pets, traces of drugs, and bacteria and viruses, according to a 2017 study in New York.
That doesn't mean cash is dangerous to our health; disease transmission linked to money is rare, and no major disease outbreaks have started from our ATMs. But with new coronavirus cases being reported every day in China, the country's officials are taking no chances.
Read the full story here.