February 18 coronavirus news
9:39 p.m. ET, February 18, 2020
7:25 p.m. ET, February 18, 2020
7 new cases of coronavirus reported in Japan
From Yoko Wakatsuki in Tokyo
Japan has seven new cases of novel coronavirus, the Ministry of Health announced on Tuesday.
About the cases: The new cases include a teen in Wakayama and a male doctor in his thirties who went on board the Diamond Princess cruise ship. The doctor is a member of the disaster medical assistance team.
In Japan, a total of 613 novel coronavirus cases have been confirmed, with 545 on the Diamond Princess cruise ship and 68 outside the ship.
6:16 p.m. ET, February 18, 2020
Symptom-based screening "ineffective" at detecting travelers with coronavirus, report says
From CNN's Michael Nedelman and Nadia Kounang
German researchers called symptom-based screening to detect the novel coronavirus "ineffective" in a new analysis published Tuesday in the New England Journal of Medicine.
The researchers assessed the screening process for 126 people evacuated to Germany from Wuhan, China.
All 126 travelers, mostly German nationals, left Wuhan on February 1 and were screened for symptoms and clinical signs of infection before they were evacuated. Despite requiring travelers to undergo a multiple screenings once in Germany, two travelers were ultimately positive for the novel coronavirus. According to the researchers, "a symptom-based screening process was ineffective in detecting" the virus.
During the evacuation flight from Germany, 10 passengers were isolated: two because of contact with a confirmed coronavirus patient; six exhibited symptoms; and two passengers who had accompanied one of the six symptomatic travelers. Upon arrival, all 10 of these passengers were transferred to University Hospital Frankfurt and all tested negative for coronavirus.
The remaining 116 passengers underwent another medical assessment and one passenger had an elevated temperature and cough. This patient ultimately tested negative for coronavirus.
Of the remaining 115 patients, 114 consented to a throat swab to test for coronavirus. Of those 114 travelers, two tested positive for coronavirus. These two patients were isolated at a hospital. One patient had a faint rash and sore throat. According to the researchers, the two isolated patients were "well" and had no fever in the seven days after hospitalization. Aside from the ineffectiveness of the screening process, the authors found that the virus could potentially be spread by those who exhibited mild symptoms: "Shedding of potentially infectious virus may occur in persons who have no fever and no signs or only minor signs of infection."
Over 73,000 people around the world have been infected with the coronavirus, most of those cases in mainland China. There have been more than 1,800 deaths, including five people outside of mainland China.
7:48 p.m. ET, February 18, 2020
Global death toll for coronavirus exceeds 2,000
From CNN's Steven Jiang, Shanshan Wang and Larry Register
More than 2,000 people have died from coronavirus across the globe, according to the latest figures released Tuesday.
China's National Health Commission (NHC) reported Tuesday that 136 more people died of coronavirus in mainland China, 132 of which occurred in the Hubei province.
The latest figures brings the total number of deaths in mainland China to 2,004, and the global death toll to 2,009. There have been five deaths reported outside of mainland China with one death in Hong Kong, Taiwan, Japan, the Philippines and France.
The global number of confirmed coronavirus cases now stands at 75,117, with the majority of cases in mainland China.
China's National Health Commission is expected to release numbers for all of China's provinces later.
5:44 p.m. ET, February 18, 2020
How mainland China is working to prevent the spread of coronavirus
Since the start of the novel coronavirus outbreak in December, the disease has infected more than 70,000 people and has reached a death toll of 1,868 people in mainland China.
According to analysis done by CNN, travel restrictions, of varying degrees are still being enforced in various provinces and cities across mainland China including Hubei, Liaoning, Beijing and Shanghai affecting over 780 million people. These restrictions, which appear to be China's main effort to control the disease, include everything from self-quarantines to limits on who can come and go from neighborhoods.
Some of the strictest measures can be found in four cities in Hubei province, the epicenter of the outbreak:
The cities of Wuhan, Huanggang, Shiyan and Xiaogan have completely sealed off all residential complexes and communities.
The use of non-essential vehicles on local roadways is also banned. 
Residents in each city receive daily necessities from neighborhood and community committees as they are not permitted to leave their homes.
Despite the continuation of its spread, Tedros Adhanom Ghebreyesus, director-general of the World Health Organization, said that the virus is not as deadly as SARS or MERS, both of which are related to the current coronavirus, and more than 80% of patients "have mild disease and will recover." Reports say it could take up to 18 months before a coronavirus vaccine is available.
Here's a look at where the cases are throughout mainland China, according to WHO data. These numbers may differ from those reported by Chinese health officials, who report updated totals at different times than the WHO.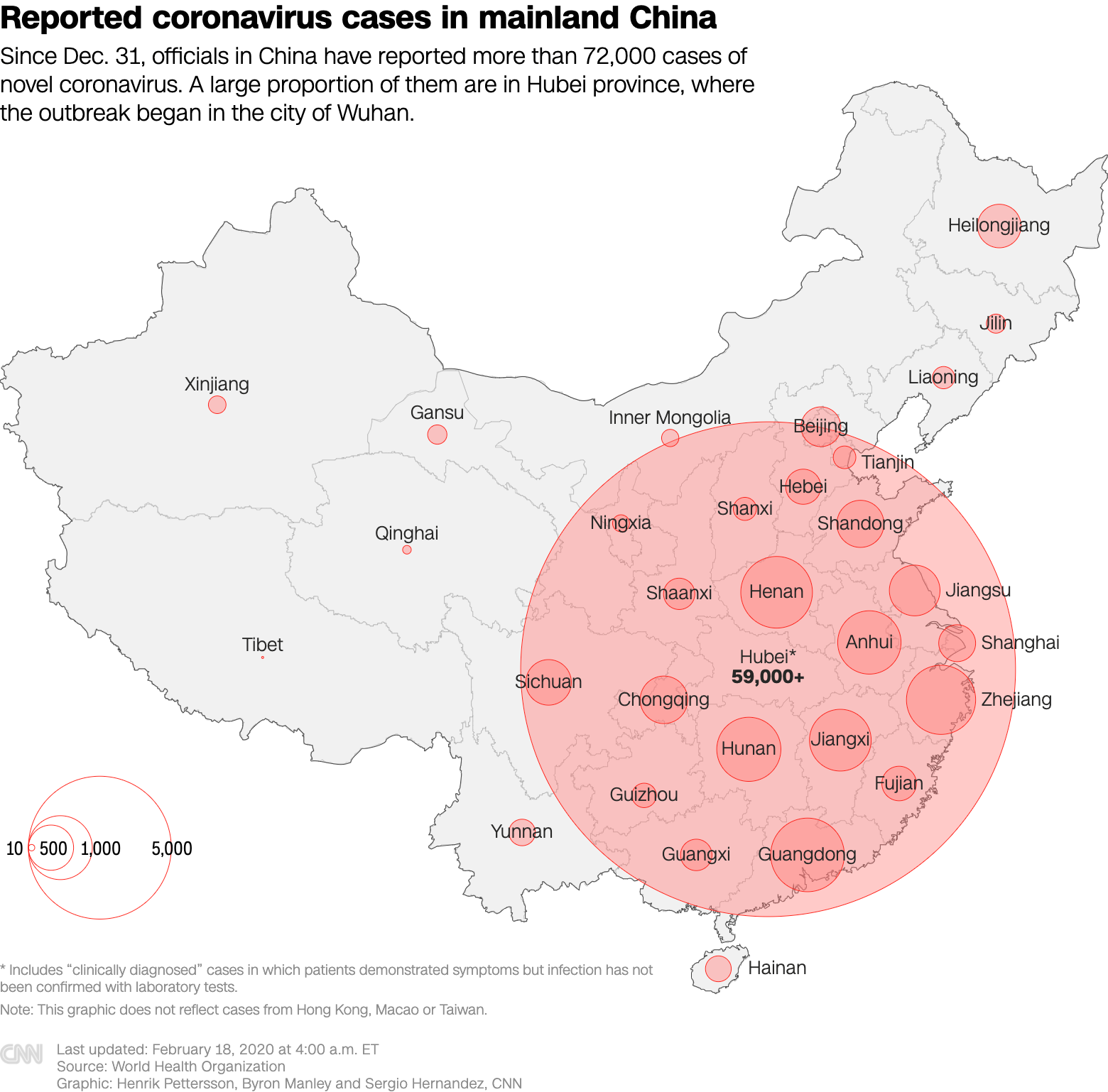 5:19 p.m. ET, February 18, 2020
CDC criticizes quarantine procedures on Diamond Princess cruise ship
From CNN's Ben Tinker
The US Centers for Disease Control and Prevention issued a statement criticizing the quarantine efforts taken on the Diamond Princess cruise ship.
"We commend the extraordinary efforts by the Government of Japan to institute quarantine measures onboard the Diamond Princess. While the quarantine potentially conferred a significant public health benefit in slowing transmission, CDC's assessment is that it may not have been sufficient to prevent transmission among individuals on the ship. CDC believes the rate of new infections on board, especially among those without symptoms, represents an ongoing risk. Therefore, to protect the health of the American public, all passengers and crew of the ship have been placed under travel restrictions, preventing them from returning to the United States for at least 14 days after they had left the Diamond Princess," the CDC said in the statement.
The CDC noted that there are still more than 100 US citizens on board the ship or in hospitals in Japan. Due to their high-risk exposure, there is the potential for additional novel coronavirus cases to occur and the remaining passengers who disembark from the ship will be subject to a 14-day quarantine.
5:49 p.m. ET, February 18, 2020
Coronavirus patients under quarantine in Nebraska are receiving supportive care
From CNN's Nick Watt and Paul Vercammen
The 13 patients who arrived at the University of Nebraska Medical Center from the Diamond Princess cruise ship are receiving supportive care, Dr. Mark Rupp, chief of the hospital's Division of Infectious Diseases, told CNN.
"They're in the chicken soup stage right now, so they're really just getting supportive care," Rupp said.
He also noted that while the mortality rate for the virus is being calculated at around 2%, he expects that number to eventually fall.
"I won't be surprised when this is all said and done to see mortality rate somewhere in the neighborhood of maybe point five or 1% rather than over 2%," Rupp said.
4:22 p.m. ET, February 18, 2020
Russia will suspend entry for Chinese citizens
From CNN's Nathan Hodge in Moscow
The Russian government announced that it would temporarily suspend entry by Chinese citizens, according to an order posted on an official state website today.
The statement said Russia would bar entry through its state border to Chinese citizens entering for work, for private, educational and tourist purposes. The order says the processing of documents, registration and invitations to Chinese citizens to enter Russian territory for those reasons would cease temporarily from midnight Tuesday; the full ban takes effect Thursday.
Some background: This announcement comes amid concerns over the novel coronavirus. Russia is a major destination and transit point for Chinese tourists, and shares a lengthy land border with China. The new restrictions will not apply to transit passengers, Russian state news agency TASS said.
The Russian government has reported two cases of the coronavirus involving Chinese citizens in Russia and confirmed that a Russian woman was diagnosed with the virus on board the cruise ship Diamond Princess.
4:28 p.m. ET, February 18, 2020
"Chilling implications" for US medical supplies made in China during coronavirus, health official says
From CNN's Michael Nedelman
With a majority of some US medical supplies coming from or originating in China, coronavirus could hold "chilling implications" by hindering that pipeline, according to Robert P. Kadlec, assistant secretary for preparedness and response at the US Department of Health and Human Services.
About timing: The US might not see the impacts just yet because American buyers typically stock up before Chinese factories slow down during the Lunar New Year, Kadlec added.
"The distributors and suppliers feel like right now they're okay," he said at a briefing today held by the Council on Foreign Relations. "How this plays out longer term is still a matter of concern."
These concerns extend not just to pharmaceuticals but also to other materials like face masks, which are frequently manufactured in China. The US Centers for Disease Control and Prevention does not recommend the use of face masks for the general American public. By buying them up in large quantities, Kadlec warned that Americans might leave fewer for some people who really need them — namely, health care workers.
Kadlec said, "We probably need to change the way we do business in these areas because of the significant risks and vulnerabilities that are being highlighted by this event." He added that the solution requires a whole-government approach in cooperation with the private — "It's everybody."
Dr. Anthony Fauci, director of the National Institute of Allergy and Infectious Diseases, agreed, saying, "We can't see them crash. If they crash, we have a problem."