February 19 coronavirus news
8:10 a.m. ET, February 19, 2020
Here's where coronavirus cases have been reported around the world
Here's a look at where the cases are throughout the world, according to World Health Organization data.
These numbers may differ from those reported by national health authorities, who report updated totals at different times than the WHO.
7:54 a.m. ET, February 19, 2020
What's happening on the Diamond Princess cruise ship?
Here's a look at the situation on board the Diamond Princess cruise ship.
The case numbers here are from World Health Organization data that may differ from those reported by national health authorities, who report updated totals at different times to the WHO.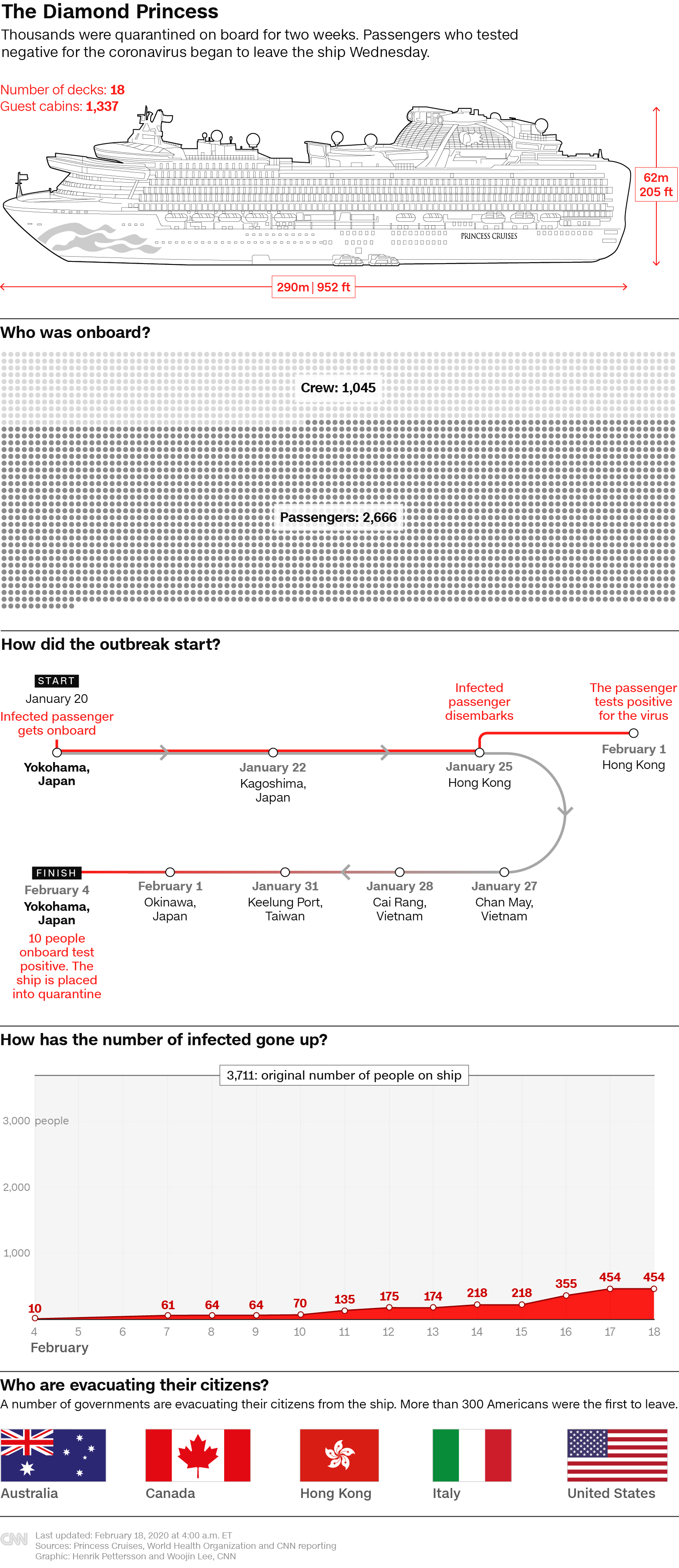 7:39 a.m. ET, February 19, 2020
Scientists slam conspiracy theories about novel coronavirus origins
Scientists around the world are slamming and debunking conspiracy theories that the novel coronavirus has its origins not in animals, but in a Chinese laboratory, according to a statement published Wednesday in the medical journal The Lancet.
"We stand together to strongly condemn conspiracy theories suggesting that COVID-19 does not have a natural origin," wrote the 27 authors, citing studies from scientists in multiple countries that have analyzed the virus' genetic makeup.
These studies "overwhelmingly conclude that this coronavirus originated in wildlife, as have so many other emerging pathogens."
CNN previously reported statements by Sen. Tom Cotton of Arkansas this week on Fox News, who said "this virus did not originate in the Wuhan animal market" and implied it may have started in a laboratory not far away.
"We don't have evidence that this disease originated there ... but we at least have to ask the question," Cotton said.
In the newly published statement, the scientists said: "Conspiracy theories do nothing but create fear, rumours, and prejudice that jeopardise our global collaboration in the fight against this virus."
7:21 a.m. ET, February 19, 2020
Iran confirms first two coronavirus cases
Iran has confirmed its first two cases of coronavirus, the country's health ministry announced Wednesday. 
"In the past two days we came across several suspicious cases of possible coronavirus in Qom. As soon soon as we received the reports our identification teams for contagious diseases were dispatched to Qom," said health ministry spokesman Kianoosh Jahanpour in a statement. 
"The suspicious cases were isolated according to protocol and medical samples taken. Several minutes ago the central laboratory confirmed that the result of the initial test of two of the suspect cases has come back positive for coronavirus," he added.
The teams for contagious disease control are in Qom, a city located about 150 kilometers (93 miles) south of Tehran, the statement adds. 
7:11 a.m. ET, February 19, 2020
Adidas says business activity in China has dropped 85% due to coronavirus
German sportswear giant Adidas released updated guidance Wednesday revealing its business activity in China has dropped 85% because of the novel coronavirus outbreak.
"Our business activity in Greater China has been around 85% below the prior year level since Chinese New Year on January 25," said the company, adding that other markets such as Japan and South Korea have also seen a decline in traffic.
Adidas said their business in China performed strongly the first three weeks of the year, but since then there has been "a material negative impact" on operations due to the outbreak.
The company has shut down a significant number of stores – both own- and partner-operated – and has observed a pronounced traffic reduction within the remaining store fleet, according to the guidance.
Another big German sports firm, Puma, also warned warned about the impact of the virus on its bottom-line.
"After a good start into 2020, February has of course been negatively affected by the outbreak of COVID-19 [a name for the disease caused by the virus]. The business in China is currently heavily impacted due to the restrictions and safety measures implemented by the authorities," the company said.
"Business in other markets, especially in Asia, is suffering from lower numbers of Chinese tourists."
Both Adidas and Puma said it is impossible to forecast the overall impact of the virus at this point in time.
6:40 a.m. ET, February 19, 2020
Here are more details on HK's second coronavirus death
The second person to die from the novel coronavirus in Hong Kong was suffering from chronic diseases before catching the virus, health officials said Wednesday.
Dr. Lau Ka-Hin, Hong Kong's Hospital Authority Chief Manager for Quality and Standards, said the second person who died was a 70-year-old male who was diagnosed on February 14.
He died on Wednesday morning local time at the Princess Margaret Hospital.
"His condition was not good before and his condition got worse this morning," Dr. Lau said. He added the deceased patient suffered some "chronic diseases such as diabetes and hypertension, his renal function was not in good order."
6:25 a.m. ET, February 19, 2020
79 new cases confirmed on Princess Cruise ship in Japan
More people from the quarantined Diamond Princess cruise ship tested positive for the novel coronavirus Wednesday, according to the Japanese Health Ministry.
The ministry said 79 new cases were confirmed, adding that 68 of the people were said to be asymptomatic.
The cases were taken from 607 samples on the cruise ship that has been docked in the Japanese port of Yokohama for two weeks. 
In Japan, a total of 692 novel coronavirus cases have been confirmed, with 624 from the Diamond Princess and 68 outside the ship.
Roughly 800 passengers disembarked the vessel on Wednesday, Japanese health ministry officials told CNN. The official did not give the exact number. 
Before the disembarkation, there were about 3,100 passengers and crew on board on Wednesday morning.
Among the remaining passengers are citizens of Canada, Australia, Italy and other nationalities who are due to fly back on chartered flights.
More than 300 Americans were evacuated over the weekend and are now in quarantine at two US bases.
Written by journalist Akanksha Sharma in Hong Kong.
5:54 a.m. ET, February 19, 2020
Hong Kong confirms another coronavirus case, bringing city total to 63
Hong Kong has confirmed another new case of the novel coronavirus on Wednesday, taking the total to number of cases to 63, according to the city's Department of Health and Hospital Authority.
The newly confirmed patient is 83-year-old female whose daughter and son-in-law were confirmed to have been infected with the novel coronavirus on February 15, the department said in a Wednesday news conference on Wednesday.
Dr. Chuang Shuk-kwan, Head of the Communicable Disease Branch of the Centre for Health Protection of the Department of Health said that the family had a meal together on January 29 and the patient's daughter and son-in-law (57th and 60th case) developed symptoms on February 7 and 8.
On February 15, the 83-year-old had a fall, fractured her hip and was admitted to the orthopedic quarter of Tuen Mun Hospital, according to Dr. Chuang.
The following day she had a hip surgery and "as the doctor became aware of the confirmed cases of her daughter and her son-in-law, a test was performed and the test result came back positive today," Dr. Chuang added.
Her husband has also been tested for the novel coronavirus and his test results are pending, Dr. Chuang said.
5:26 a.m. ET, February 19, 2020
One Westerdam passenger's "wild journey" to get home
Christina Kerby is a passenger from the Westerdam, the cruise ship that was stuck at sea for days as fears of the coronavirus grew and several ports refused permission for the vessel to dock -- even though no passenger had tested positive for the virus.
Kerby is now in a hotel in the Cambodian capital Phnom Penh, after Cambodia allowed the ship to dock, and waiting to hear if she and her mother will be able to get on a flight back home to the US.
"My husband and two kids are waiting for me and I miss them terribly and I want nothing more to be home," she told CNN in a Skype interview.
"I'm a pragmatic person and I don't want to rush things. I want those assurances along the way that it's safe for me to travel," she said. "I have been doing my best to make the best of it. We are in a beautiful 5-star hotel in Cambodia -- there's not much to complain about!"  
Uncertainty over getting home
Throwing a spanner in the works is that on Saturday, one of the ship's passengers tested positive for the coronavirus during a stopover in Malaysia. The 83-year-old American woman had been on the first charter flight taking 143 Westerdam passengers to Malaysia, from where they could fly home.
Westerdam passengers booked to leave today through Vietnam were rejected at the airport and returned back to the hotel. Kerby said her mother had a flight booked through Malaysia but when she arrived at the airport was told all travel had been halted.
The uncertainty is mounting and there is concern the window for getting on a flight could be closing.
Kerby, who has been posting regular updates about life onboard the ship on her Twitter feed, is optimistic.
"My hope is that the news today of the negative test results might open some doors for us rather than close them," she said. "I am being cautiously optimistic that we are all healthy and I am pleased to have a health declaration saying I've tested negative for the virus. So I am trying to operate on facts here and hope for the best."
Cambodian health officials confirmed on Wednesday that 781 passengers from the Westerdam had tested negative for the novel coronavirus. 
Kerby said that she is following CDC advice and is self-monitoring. She said passengers were allowed to leave the hotel freely and some people have been moving around and seeing the city.
A wild journey
Of her reception in Cambodia, after more than 10 days stuck at sea, Kerby said it was "phenomenal."
"Every Cambodian I've met has been warm and welcoming ... such gracious hosts and hospitality," she said.
She also said the Westerdam crew "are single handedly responsible for keeping our spirits up."
"They were going through this with us, they were facing the same fear. And I never once saw a crew member not smile, not greet me warmly, not share a joke," she said.
However, Kerby said she has faced stigma on social media and has been "exposed to a lot of hurtful comments" because "there is a perception and fear that I am contagious," she told CNN.
"None of us feel like our lives will ever be the same again. And it's actually a positive thing. It's given us a new sense of community ... it's opened my eyes to other parts of the world that I never would have seen," she said.
"It's been a wild journey. Not the vacation I was expecting that's for sure."