February 20 coronavirus news
6:42 a.m. ET, February 20, 2020
Patient tests positive after death in South Korea
A patient has died in South Korea, and tested positive for coronavirus after their death, according to the country's Centers for Disease Control and Prevention (KCDC).
The cause of death is still being investigated, a KCDC official said. 
The death comes amid a rapid jump in cases across the Asian nation.
According to the KCDC, there have been 22 new confirmed cases, bringing South Korea's total confirmed infections to 104 on Thursday.
Among the latest cases, 21 are from the south of the country, including five linked to a church and 13 linked to a hospital in Cheongdo County. One case is in the capital Seoul, according to the KCDC.
Patients and staff at Cheongdo Daenam hospital, where the death occurred, are being tested for the virus, and environmental disinfection is currently ongoing.
This post has been updated to more accurately reflect when coronavirus was detected in the deceased patient. 
4:35 a.m. ET, February 20, 2020
Coronavirus could cost Air France-KLM $215m
One of Europe's biggest airlines says coronavirus could cost it as much as $215 million.
Air France-KLM has suspended China operations for February and March. It also says it has seen wider demand for flights fall, especially across Asia.
Its cargo operations have also been hurt by the virus -- Air France KLM says in total the virus could cost it between $160m and $215m. That number is based on flights to China resuming in April.
Airlines around the world have responded to the coronavirus outbreak by suspending flights to and from China, severely disrupting travel by tourists and business executives in one of the world's busiest aviation markets.
4:28 a.m. ET, February 20, 2020
China stands by expulsion of Wall Street Journal reporters over critical coronavirus opinion piece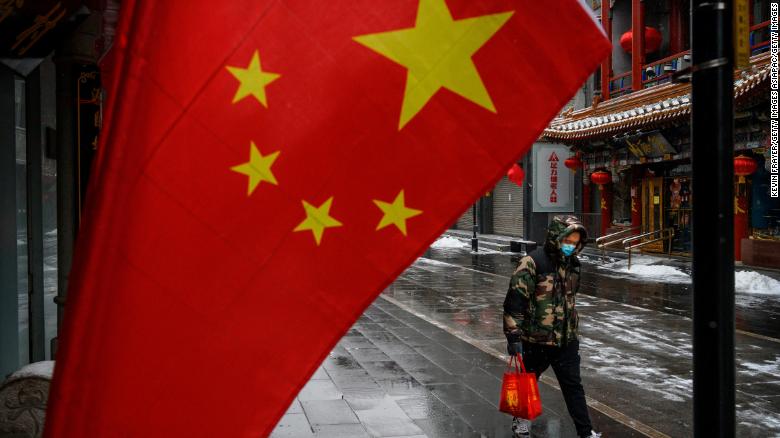 One day after announcing the expulsion of three Wall Street Journal reporters from China, the Chinese foreign ministry is standing by its decision, saying people who "maliciously smear China must pay their price."
Chinese foreign ministry spokesman Geng Shuang said yesterday that the press credentials for the three journalists would be revoked over an opinion piece titled "China Is The Real Sick Man of Asia."
It was written by a US academic and was critical of China's handling of the coronavirus epidemic, questioning what the consequences could be for the economy and political system.
Speaking today, Geng said the government was not interested when responding to a question about why the three journalists were kicked out for an opinion article they had no connection to.
"We are not interested in the structural divide at the WSJ. There is only one media agency called the WSJ, and it must be responsible for what it has said and done," he said.
"Those media who blatantly insult China, pitch racial discrimination and maliciously smear China must pay their price."
When asked, Geng didn't directly link Beijing's decision on the WSJ reporters to a US State Department move Tuesday, which requires five Chinese state media outlets to comply with rules governing foreign embassies and consulates.
3:46 a.m. ET, February 20, 2020
Diamond Princess captain tells people onboard about two passenger deaths
Diamond Princess cruise ship captain Stefano Ravera has just made an announcement onboard the cruise liner, reporting that two passengers have died of the novel coronavirus, as heard on a video recording supplied to CNN by a passenger. 
Ravera read out a Princess Cruises statement:
"Our hearts go out to the families and friends and all others who are impacted by these losses. All of us at Princess Cruises, as well as the crew of the Diamond Princess, offer our sincere condolences." 
The two passengers who died were in their 80s and had been in hospital in Japan, but no further information is known about them at this stage.
There are 624 confirmed cases of the virus linked to the stricken ship, docked in Yokohama, Japan. Passengers who tested negative are still disembarking from the ship today.
3:23 a.m. ET, February 20, 2020
Basic questions about the coronavirus, answered
There's still a lot we don't know about the novel coronavirus, officially called Covid-19, and scientists around the world are racing to gather data and develop a treatment.
Here's what we can tell you so far:
Is there a cure? There's no cure, but patients can be treated for symptoms and may recover. A vaccine could take 12 to 18 months, according to World Health Organization director general Tedros Adhanom Ghebreyesus.
What are the symptoms? Coronavirus symptoms can look like the flu -- a runny nose, cough, sore throat, possibly a headache and maybe a fever, which can last for a couple of days.
How does the virus spread? The virus is thought to spread from person to person through respiratory droplets emitted by coughing or sneezing. There's also a possibility the virus can exist in and spread through contaminated fecal matter. There's currently no evidence that the virus is airborne -- meaning, for instance, it doesn't travel across a large room.
Who is at risk of infection? People of all ages can be infected with the virus, but older people and those with pre-existing medical conditions are especially vulnerable to severe complications.
How can I protect myself? Take the same precautionary measures you would during flu season. Wash your hands often with soap and water, cover your nose and mouth when you sneeze or cough, avoid close contact with people or large gatherings, and wear a face mask.
2:53 a.m. ET, February 20, 2020
Death toll from the virus in mainland China rises again after falling
Every day, the total number of people killed by the coronavirus in mainland China grows, but it is unclear yet whether the daily increases have already peaked.
A total of 114 people in mainland China died from the coronavirus on Wednesday, according to the country's National Health Commission (NHC) -- 22 fewer deaths than the day before.
But it is still far above the double-digit figures of late January and early February.
Here's the breakdown from the NHC, as reported by the World Health Organization:
February 19: 114 deaths reported
February 18: 136 deaths reported
February 17: 98 deaths reported
February 16: 106 deaths reported
February 15: 142 deaths reported
February 14: 143 deaths reported
February 13: 121 deaths reported
February 12: 254 deaths reported
February 11: 100 deaths reported
February 10: 106 deaths reported
February 9: 97 deaths reported
February 8: 89 deaths reported
February 7: 86 deaths reported
February 6: 73 deaths reported
February 5: 73 deaths reported
February 4: 65 deaths reported
February 3: 64 deaths reported
February 2: 57 deaths reported
February 1: 45 deaths reported
January 31: 46 deaths reported
January 30: 43 deaths reported
January 29: 38 deaths reported
January 28: 26 deaths reported
January 27: 26 deaths reported
January 26: 24 deaths reported
January 25 15 deaths reported
January 24: 16 deaths reported
January 23: 8 deaths reported
Chinese authorities said 17 people had died from the virus before January 23.
2:33 a.m. ET, February 20, 2020
Novel coronavirus cases outside mainland China have passed 1,100
The novel coronavirus has spread throughout the world since the first cases were detected in central China in December.
More than 1,100 confirmed cases and 10 deaths from the virus have been recorded in 29 countries and territories outside mainland China:
Australia (at least 15 cases)
Belgium (at least 1 case)
Cambodia (at least 1 case)
Canada (at least 8 cases)
Egypt (at least 1 case)
Finland (at least 1 case)
France (at least 12 cases, 1 death)
Germany (at least 16 cases)
Hong Kong (at least 63 cases, 2 deaths)
India (at least 3 cases)
Iran (at least 2 cases, 2 deaths)
Italy (at least 3 cases)
Japan (at least 692 cases, including 624 linked to cruise ship; 3 deaths)
Macao (at least 10 cases)
Malaysia (at least 22 cases)
Nepal (at least 1 case)
Philippines (at least 3 cases, 1 death)
Russia (at least 2 cases)
Singapore (at least 84 cases)
South Korea (at least 82 cases)
Spain (at least 2 cases)
Sri Lanka (at least 1 case)
Sweden (at least 1 case)
Taiwan (at least 23 cases, 1 case)
Thailand (at least 35 cases)
United Arab Emirates (at least 9 cases)
United Kingdom (at least 9 cases)
United States (at least 15 cases)
Vietnam (at least 16 cases)
Read more about the patients in each place.
2:13 a.m. ET, February 20, 2020
Novel coronavirus appears to be stabilizing in China amid fears of new outbreak in Japan
Weeks into the novel coronavirus crisis, the outbreak finally appears to be stabilizing in central China, with the number of new cases dropping to a weeks-long low today.
Infections fell from 1,749 confirmed cases on Wednesday to just 394 on Thursday.
But there is some uncertainty of how cases are being diagnosed in Hubei, with the criteria for diagnosing the virus outside of the lab shifting in recent weeks.
Chinese authorities this week switched back to reporting only laboratory confirmed cases from Hubei, after last week allowing clinical diagnoses by doctors -- based on symptoms or more immediate tests -- to be counted towards the province's totals.
Coronavirus cases rise in Asia: Smaller outbreaks than those seen in China are quickly expanding elsewhere, especially onboard the Diamond Princess cruise liner in Japan, where two deaths were confirmed Thursday. There have been more than 600 cases diagnosed onboard.
Japan also has 68 confirmed cases of the virus outside of the cruise ship, following a spike in recent days. Other countries are beginning to see a rise too: South Korea has reported a rapid jump in infections, with 31 new cases reported in one day alone.
The global death toll now stands at 2,128, after an additional 108 deaths were reported in Hubei province as of Thursday morning. All but 10 deaths have occurred in mainland China.
Read more here.
1:54 a.m. ET, February 20, 2020
Hubei province accounts for the vast majority of coronavirus cases and deaths in mainland China
Two months after the novel coronavirus outbreak began, there are now more than 74,576 cases across mainland China. The country's death toll stands at 2,118.
By far the vast majority of cases are in Hubei province -- its capital Wuhan is the epicenter of the outbreak.
According to Hubei's health authority, 62,031 cases of the coronavirus have been recorded in the province alone, with 2,029 deaths.
There are just over 12,000 cases of the virus in mainland China outside Hubei and 91 deaths.
Here are the other worst hit provinces as of February 19:
Guangdong: 1,331 cases, 5 deaths
Henan: 1,262 cases, 19 deaths
Zhejiang: 1,173 cases, 0 deaths
Hunan: 1,008 cases, 4 deaths
Anhui: 986 cases, 6 deaths