February 25 coronavirus news
11:17 a.m. ET, February 25, 2020
World Health Organization says China has "changed the course of this outbreak" 
Dr. Bruce Aylward, team lead for the World Health Organization-China joint mission on coronavirus, addressed the possibility that the virus could become a pandemic at a news conference today.
"Folks, this is a rapidly escalating epidemic in different places that we've got to tackle super-fast to prevent a pandemic." 
Aylward and a team of 25 people visited several areas in China, including Wuhan, to see how China was addressing the virus. Aylward said China is using basic public health tools and applying them with rigor and innovation on a scale never seen in history.
"It's the unanimous assessment of the team that they have changed the course of this outbreak. What was a rapidly escalating outbreak has plateaued and then come down faster than one would have expected," Aylward said, adding hundreds of thousands of people in China did not get this because of this response.
What is a pandemic? A disease outbreak is the occurrence of disease cases in excess of what's normally expected, according to WHO. An epidemic is more than a normal number cases of an illness, specific health-related behavior or other health-related events in a community or region.
A pandemic is defined as the "worldwide spread" of a new disease. The last pandemic reported was the H1N1 flu pandemic in 2009, which killed hundreds of thousand worldwide.
Although WHO has declared the outbreak a "public health emergency of international concern," the outbreak has not met the criteria needed to be described as a pandemic when it comes to its geographical spread and impact, WHO Director-General Tedros Adhanom Ghebreyesus said during Monday.
11:34 a.m. ET, February 25, 2020
Turkish evacuation flight from Iran lands in Ankara
A special flight arranged to evacuate Turkish citizens from Iran due to the spread of coronavirus there landed in Ankara today. Passengers and crew will be quarantined for 14 days, according to a statement from Turkish Health Minister Fahrettin Koca. 
The "132 Turkish passengers and crew" onboard the Turkish Airlines flight "will be transferred to Dr Zekai Tahir Burak Hospital, which was previously evacuated and prepared as a quarantine hospital," Koca said on Twitter. "After detailed health inspections, samples collected from passengers and crew will be sent to the National Virology Lab," the statement added. 
The flight, which was scheduled to land in Istanbul from Tehran, landed in Ankara due to 17 suspected cases of coronavirus, state-run Anadolu said. "The 17 passengers are being treated as possible cases as they have higher-than-normal temperatures," it added.  
More context: Iran reported 35 new confirmed cases and 1 new death from coronavirus on Tuesday alone, according to an Iranian health official and state media.
The overall number of confirmed cases across Iran is now 96. The total official number of deaths due to coronavirus in Iran stands at 15.
11:05 a.m. ET, February 25, 2020
US stocks open higher a day after plunging on coronavirus fears
US stocks opened higher today, retracing some of their sharp losses from the start of the week.
The Dow fell more than 1,000 points yesterday, recording its worst day in two years, as coronavirus fears led global markets to plummet.
Here's how the US markets opened today:
The Dow opened up 120 points, or 0.4% before retreating into the single digits
The S&P 500 opened 0.4% higher.
The Nasdaq Composite climbed 0.6%.
11:08 a.m. ET, February 25, 2020
A coronavirus vaccine is at least a year away, US senators are told
Administration officials told senators that a vaccine was at least 12 to 18 months away, according to three senators present at today's closed briefing on coronavirus. 
When asked if we are close to a vaccine, Sen. Roy Blunt said: "We will not have a vaccine in the next 12 or 18 months." 
Sen. Joe Manchin said he asked National Institutes of Health's Tony Fauci whether they were close to a vaccine and Faucci said "no," according to Manchin. "I guess Tony should know... It's very contagious."
Senate Committee on Health, Education, Labor and Pensions Committee Chair Lamar Alexander said: "The vaccine for the coronavirus is moving more rapidly than any vaccine we have already tried to approve — but it will take a year or 18 months. The way to stop (an outbreak) is quarantine and monitoring."
"I believe it's under control," he added. "Do I think it will spread in the United States? The advice we got today is inevitably it will spread."
There were 40 senators present for the all-senators briefing, according to Alexander.
Senators also said there was concern that there have not been enough masks produced in the US to help prevent the spread of the virus.
Meanwhile: Trump continues to publicly express confidence in his administration's handling of the crisis and optimism that it will be short-lived.
"I think that whole situation will start working out. A lot of talent, a lot of brain power is being put behind it," he said on Tuesday during a news conference in New Delhi, India.
11:09 a.m. ET, February 25, 2020
These 10 Northern Italian towns are on lockdown
Italy's Lombardy region press office has issued a list of towns and villages that are in complete lockdown, inside the so-called "red zones" created to prevent the spread of coronavirus. 
They are:  
Codogno
Castiglione D'Adda
Casalpusterlengo
Fombio
Maleo
Somaglia 
Bertonico
Terranova dei Passerini
Castelgerundo
San Fioran
What "red zones" mean: Measures in "red zones" include a ban on the public from entering or leaving the zone, closure of train stations and suspension of public transportation, such as buses. 
Italy now has the highest number of coronavirus infections outside Asia, as 54 new cases were detected in the country's north overnight, bringing the total to 283, the Italian civil protection agency said today. The cases are heavily concentrated in the region of Lombardy, where 212 infections have been confirmed. Seven people have so far died from the virus in the country.
Here's a look at the 10 towns: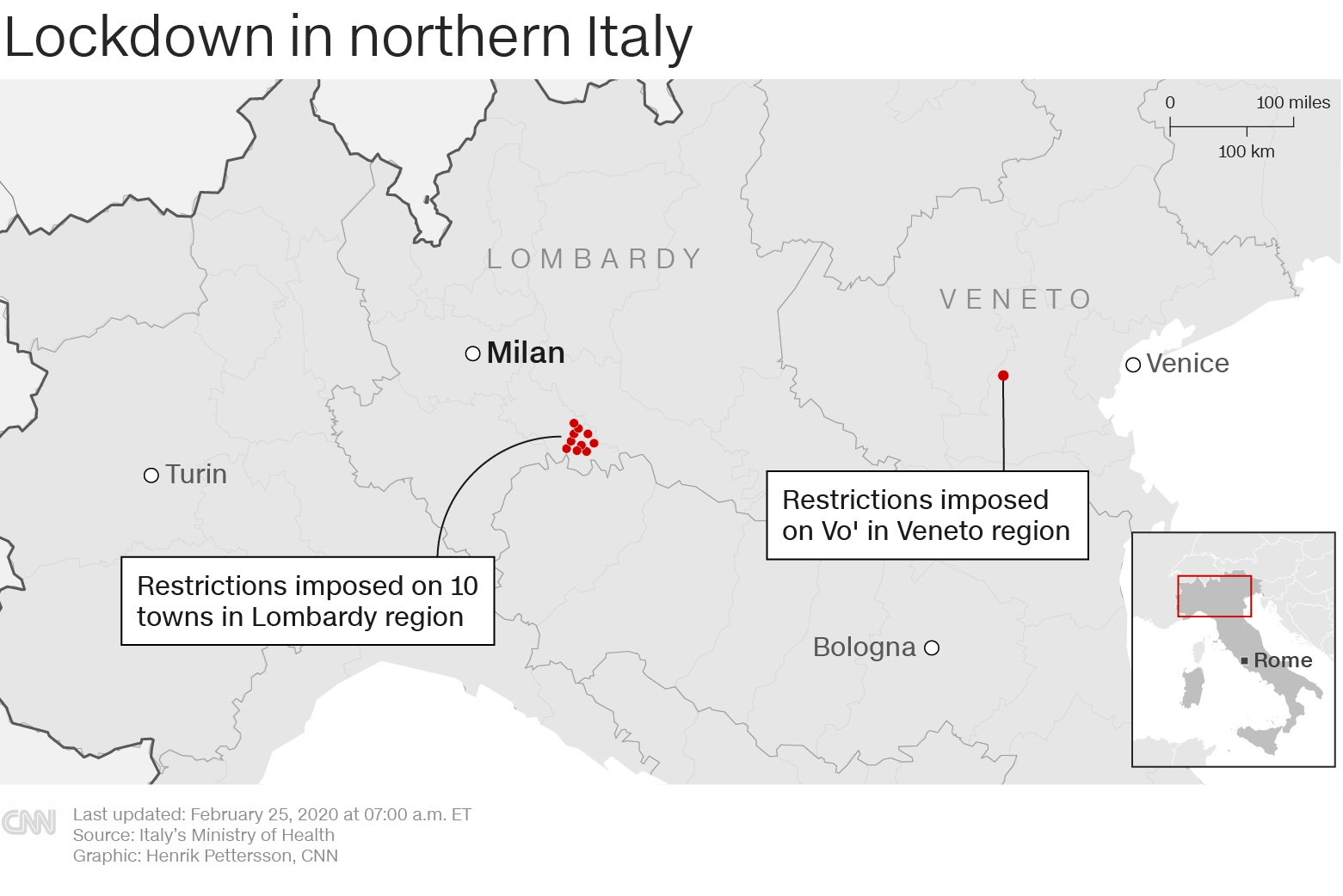 10:13 a.m. ET, February 25, 2020
At least 4 Diamond Princess passengers have died from coronavirus
Japan's Ministry of Health confirmed the death of a 80-year-old passenger from the Diamond Princess cruise ship.
The man died from coronavirus in the hospital. He's the fourth passenger from the ship to die. This also brings the total death toll in Japan to five.
11:09 a.m. ET, February 25, 2020
US senators were briefed on coronavirus today. Here's how they're reacting.
US senators had a classified briefing on coronavirus this morning.
As they left, Sens. Dick Durbin, Richard Blumenthal and Lamar Alexander all said that one aspect of the novel coronavirus that concerns them is its spread across countries around the world.
A key question, Democrat Whip Durbin said, is "whether or not [countries] will be aggressive in quarantine in cases and reduce the spread beyond their borders. We still have to wait to see."
GOP Sen. Bill Cassidy said that at the end of today's briefing, the officials present actually said "it didn't need to be" classified. Sen. Roy Blunt, a Republican, echoed that and said the senators didn't hear anything "top secret."
Durbin also said he believes the Trump administration's request for about $2 billion in additional funds to deal with coronavirus is a "wise allocation" but added that it "may not even be enough" — repeating a warning that other Democrats have also made. 
Durbin then slammed the Trump administration's budget request that cuts funds for health agencies like CDC and NIH as "completely backwards." He said he hopes the president reconsiders as "we've got to anticipate that more resources will be needed." 
GOP Sen. Mike Braun of Indiana said "panicking about this does not make sense," when asked if Americans should be panicked about the coronavirus, pointing to the fact there's only been 14 cases so far in the US — not including those from the cruise ship.
10:52 a.m. ET, February 25, 2020
This region in Italy will suspend Ash Wednesday mass 
The diocese of the Northern Italy region of Emilia-Romagna has ordered the suspension of people attending Ash Wednesday mass, according to the diocese's website.
The region currently has 23 confirmed cases of coronavirus. The number of cases across Italy is currently 283, Angello Borreli, head of Italy's Civil Protection Agency said in a briefing on Tuesday.
What this means: Churches will remain open for private prayer and a prayer will be sent to celebrate in homes at the beginning of Lent, which people can follow on a livestream.
There will be prayers for the sick in particular for people with coronavirus, the diocese's website says. 
10:52 a.m. ET, February 25, 2020
Italian authorities identify first known patient to have caught coronavirus in Lombardy 
Italian authorities have identified what they believe is the first known patient to have caught coronavirus in Italy's northern Lombardy region as a 38-year-old man called Mattia.
Mattia was originally in intensive care for respiratory problems at a hospital in Codogno, but is now at the Policlinico San Matteo in Pavia, about 35 kilometers south of Milan, Italian Civil Protection press officer Juri Pittaluga told CNN. 
Authorities don't believe that this is the case that imported the virus to the region, however. 
Mattia's pregnant wife, called Valentina, has also tested positive for coronavirus and is in the Sacco hospital in Milan, but her health condition is "not worrying at all" Pittaluga told CNN.