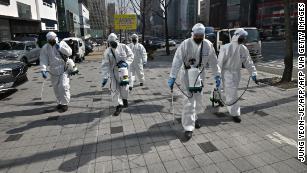 Soldiers spray disinfectant in Seoul. Jung Yeon-je/AFP via Getty Images
7:35 p.m. ET, March 7, 2020
Our live coverage has ended. You can follow more live updates here.
7:18 p.m. ET, March 7, 2020
US coronavirus cases now at 437
From CNN's Shawn Nottingham
There are 437 cases of coronavirus in the United States, according to the US Centers for Disease Control and Prevention, as well as state and local governments. 
There are 49 cases from repatriated citizens from Wuhan (3) and the Diamond Princess (46), according to the CDC. Twenty-one, meanwhile, are from the Grand Princess cruise ship being held off California.
According to CNN Health's tally of US cases that are detected and tested in the United States through US public health systems, 367 cases are in 30 states, bringing the total of coronavirus cases to 437.
This includes presumptive positive cases that tested positive in a public health lab and are pending confirmation from the CDC, and confirmed cases have received positive results from the CDC.
7:28 p.m. ET, March 7, 2020
Italian cabinet discussing proposal for coronavirus lockdown on chunk of northern Italy
From Livia Borghese in Rome and Nicola Ruotolo in Milan
The Italian Cabinet is discussing a draft proposal that could put people in the region of Lombardy and 11 other provinces in northern Italy under complete lockdown due to coronavirus, according to a close adviser to one of the ministers attending a Cabinet meeting.
The text of the draft proposal – also sent to CNN by the press office of the Lombardy regional authority – says that people in Lombardy and the other 11 provinces should "absolutely avoid any movement into and out ... as well as within the same territories ... except for travel motivated by unavoidable working needs or situations of emergency."
The draft says the police, the fire brigade and armed forces could be used to enforce these measures. 
The measures also could include:
Schools and universities being suspended until April 3.
All sporting events in those regions being suspended, with the exception of professional events. No spectators would be allowed at those professional events.
People in places of prayer standing 1 meter away from each other. 
Bars and restaurants enforcing social distancing.
Medical staff not being allowed to take a leave of absence.
"I have received the draft this evening. It seems to go in the direction of confining the spread of the virus, inviting citizens to be prudent by taking decisive measures," Attilio Fontana, governor of the Lombardy region, said through his press office. "I cannot avoid commenting on the draft. It is a bit messy and it needs, on behalf of the government, some clarification in order to allow citizens to understand what they can and cannot do."
It's unclear when or if these measure would actually be implemented, because the proposal is still being discussed and the terms could change. It could impact more than 10 million people in Italy.
6:55 p.m. ET, March 7, 2020
Kansas reports its first presumptive positive coronavirus case
From CNN's Hollie Silverman
The first presumptive positive case of coronavirus was identified in Kansas on Saturday, according to a press release from Gov. Laura Kelly's office.
The patient is a woman under the age of 50 from Johnson County, the release said.
She is home on self-isolation. The Centers for Disease Control and Prevention and local health department are trying to identify and reach people who may have had contact with the woman while she was infectious, according to the release.
"Kansas has been prepared for positive cases of novel coronavirus and will continue to work alongside local and federal public health partners in addressing the potential spread of the virus," Kelly said.
"It is our main priority to keep Kansans healthy and safe. We want Kansans educated on all aspects related to COVID-19," Kelly said.
For a state-by-state breakdown of coronavirus cases, click here.
6:53 p.m. ET, March 7, 2020
13 new coronavirus cases confirmed in New York
From CNN's Elizabeth Joseph
Thirteen new cases of coronavirus have been confirmed in New York, according to a statement from Gov. Andrew Cuomo's office.
The statewide total is now 89.
Check out CNN's state-by-state breakdown of coronavirus cases here.
6:41 p.m. ET, March 7, 2020
Neither Trump nor Pence made contact with the CPAC attendee diagnosed with coronavirus
From CNN's Kristen Holmes
There's no indication that President Donald Trump or Vice President Mike Pence "met with or were in close proximity to the attendee" who tested positive for coronavirus after attending the Conservative Political Action Conference last week, White House Press Secretary Stephanie Grisham said in a statement on Saturday.
"The President's physician and United States Secret Service have been working closely with White House Staff and various agencies to ensure every precaution is taken to keep the First Family and the entire White House Complex safe and healthy," Grisham said.
Trump spoke at the event on February 29.
6:39 p.m. ET, March 7, 2020
Pennsylvania reports two new presumptive positive cases of coronavirus
From CNN's Laura Ly
Pennsylvania announced two new presumptive positive cases of coronavirus Saturday, according to a press release from Gov. Tom Wolf.
"Both individuals are from Montgomery County, have mild symptoms, are in isolation at home and were exposed to an area of the United States where COVID-19 is present," Wolf said in the release.
There are now four presumptive positive cases in Pennsylvania.
The other two cases are individuals from Delaware County and Wayne County, according to the Pennsylvania Department of Health. Both of those earlier cases are individuals with mild symptoms and are in isolation at home, Wolf said.
6:26 p.m. ET, March 7, 2020
VP Mike Pence announces changes to cruise line industry to fight coronavirus
From Jason Hoffman and Jamie Crawford
Vice President Mike Pence announced a new plan to combat coronavirus on cruises.
There will be enhanced entry and exit screening for cruise passengers, as well as on-board testing for coronavirus, Pence said. There will also be new quarantine standards for those who took a cruise and need to be quarantined, which the Centers for Disease Control and Prevention will coordinate.
The cruise line industry is working with the CDC, Department of Homeland Security and the Coast Guard over the next 72 hours to implement the plans.
When asked about reports that he may have come into contact with an infected individual at a conference in Washington earlier this month, Pence said he has "not been tested for the coronavirus."
"We were able to confirm that I did not come in contact with that young person and we wish them and their family a swift recovery," Pence said.
6:22 p.m. ET, March 7, 2020
2 new cases of coronavirus confirmed in Ontario
From CNN's Elizabeth Joseph
Canadian officials confirmed an additional two cases of coronavirus in British Columbia on Saturday, bringing the country wide total to 59.
One of the new cases is a man in his 20s who returned from Italy on March 3 and presented himself to a Toronto hospital's emergency department, according to a provincial government press release.
The other case is of a woman in her 60s who returned from Iran on March 2 and presented herself to a Richmond Hill emergency department.
In both cases, the "hospital took all necessary precautions and followed standard operating procedures, including testing and assessment," according to the Ontario government.
Both patients were discharged the same day and remain in self-isolation, officials said.