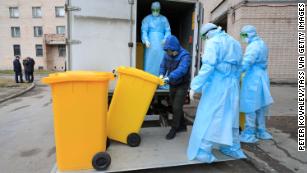 Medical workers outside Mechnikov North-Western State Medical University, where students have been place under quarantine, in St. Petersburg, Russia.
8:31 a.m. ET, March 9, 2020
Portugal's president is under self-quarantine
The Portuguese president has self-quarantined himself after it was found that a class from a school with a student confirmed to have the coronavirus visited the presidential palace last week, according to a statement issued by his office.
President Marcelo Rebelo de Sousa interacted with the class on Tuesday, according to the statement, which added that neither the student with the infection nor the student's class had visited the Belém palace.
The president will be in quarantine at his personal residence for two weeks, has canceled all public activities and will not be traveling abroad, the statement added.
8:19 a.m. ET, March 9, 2020
Malaysia, Philippines and Hong Kong confirm new coronavirus cases
Health ministries in Malaysia, Philippines and Hong Kong have all confirmed new cases of the coronavirus in their territories.
Malaysia's ministry of health confirmed 18 new infections, bringing the national tally to 117.
Philippines' health ministry confirmed 10 new cases, putting its tally to 20. All new cases are Filipinos with some reporting recent travel history to the UAE, Australia, Taiwan and Japan.
Hong Kong authorities confirmed three new cases, pushing the tally to 116 confirmed cases.
8:14 a.m. ET, March 9, 2020
Why CNN is calling the novel coronavirus outbreak a pandemic
Starting today, you will notice that CNN is using the term pandemic to describe the current coronavirus outbreak. It is not a decision we take lightly. While we know it sounds alarming, it should not cause panic.
So why now? The World Health Organization hasn't called the coronavirus outbreak a pandemic. Nor has the US Centers for Disease Control and Prevention.
But many epidemiologists and public health experts argue the world is already experiencing a pandemic because of the novel coronavirus. There are now over 100,000 cases and over 3,000 deaths attributed to this new virus. In one day last week, the number of new cases outside of China, where the virus originated, was nearly 9 times higher than the number of new cases in China. This virus has found a foothold on every continent except for Antarctica. In several countries, the number of cases continues to climb.
Some of those countries "have had sustained community transmission of a substantial sort," said Dr. William Schaffner, a Vanderbilt University professor and longtime adviser to the US Centers for Disease Control and Prevention. "Put that together, that spells pandemic."
7:51 a.m. ET, March 9, 2020
EgyptAir suspends Saudi Arabia flights
Egyptian's national airliner has suspended flights to Saudi Arabia as of Monday, as a precaution against the spread of the coronavirus, EgyptAir said in a statement.
"Flights to Saudi Arabia cities are currently suspended including Dammam, Qassim, Abha, Jeddah and Medina cities starting from today 9th of March until further notice," the statement added.
Airlines around the world have been making steep cuts in international flights due to the outbreak.  
7:47 a.m. ET, March 9, 2020
Six dead in Italy prison riots after visits suspended due to coronavirus
Six prisoners have died in a Modena prison after riots broke out in several Italian jails following the suspension of visits to curb the spread of the coronavirus, according to authorities.
Riots occurred on Sunday in Modena, Frosinone, Naples, Pavia, Alessandria and Foggia prisons, according to a statement by the Italian justice ministry. The disturbances ended on Sunday evening.
"The protests concerned the coronavirus emergency, as well as the measures issued by the government to reduce the risk of infection and protect those who lives and works within the prison," the statement wrote.
During the Modena prison riot, prisoners occupied the entire prison including the infirmary where they got hold of various drugs including methadone, the director of the Italian penitentiary system, Francesco Basentini, said in an interview Monday.
Two of the dead died of an overdose, one of inhalation of toxic smoke and three died after all the inmates were moved to another prison -- those deaths are still being investigated.
Basentini explained that a prison in Salerno, in southern Italy, was the first to riot last Saturday, leading to a "wave" of revolts.
In Modena, all inmates have been moved to nearby buildings as the prison is unusable, according to the ministry.
Italian lockdown: This comes after a Sunday decree put most of Italy's north under lockdown in a bid to contain the virus. While Modena is not affected by the lockdown, restrictions have been imposed throughout the rest of Italy, including the suspension of events at cinemas, theaters, museums and sports arenas.
This comes as Italy has recorded 7,375 cases and 366 deaths, the most fatalities outside mainland China.
7:40 a.m. ET, March 9, 2020
Japan's Nippon Professional Baseball League delays start of season
Japan's Nippon Professional Baseball League (NPB) will delay the start of the season, originally scheduled for March 20, due to the coronavirus outbreak, it said Monday.
"I personally believe that we have no choice but to postpone at this stage … We are aiming to open the season in April," NPB Commissioner Atsushi Saito said at a press conference.
The 12-team league had been playing its pre-season games without fans because of the virus.
The league last postponed the start of its season in 2011 after the Fukushima Daiichi Nuclear Plant was damaged by a tsunami.
7:30 a.m. ET, March 9, 2020
China cuts airport fees as coronavirus slams aviation industry
China has announced a range of measures to support airlines amid the coronavirus outbreak, the country's Civil Aviation Administration said in a statement today.
The policies, which will apply to all domestic and international airlines, include reducing take-off and landing fees by 10%, as well as waiving parking fees, the statement read. Airlines will also be exempted from paying the Civil Aviation Development Fund, it said.
The administration will also provide subsidies for projects aimed at expanding investment in the construction of infrastructure facilities, and will facilitate work resumption by shortening the time needed for official approval.
It will also allow airlines greater flexibility in adjusting flight plans in response to market demand, the statement added.
7:18 a.m. ET, March 9, 2020
Iran grants 70,000 prisoners temporary leave due to virus
Courts across Iran have granted eligible inmates furlough as part of the measures to contain the spread of the virus, judiciary chief Hojatoleslam Ebrahim Raeisi said according to semi-official Tasnim News Agency on Monday.
Prisoners with underlying illnesses have been given priority in being granted leave, Raeisi added.
CNN cannot verify whether the furloughs have been carried out yet.
Last Tuesday, Iran announced it would temporarily release more than 54,000 prisoners in an attempt to prevent the virus spread, according to the country's semi-official news agency ISNA citing judiciary spokesman Gholamhossein Esmaili.
7:10 a.m. ET, March 9, 2020
Evacuation flight for foreign diplomats in North Korea has landed in Russia
An evacuation flight with foreign diplomats who were quarantined in North Korea has landed in Vladivostok with 103 people onboard, a source on the flight told CNN.  
The source agreed to speak to CNN on condition of anonymity, due to the sensitivity of the situation. 
French and German embassies in North Korea will be temporarily closed, according to the British Ambassador for North Korea, Colin Crooks. Crooks tweeted that the British Embassy would remain open. 
CNN previously reported foreign diplomats had been kept in complete isolation since early February, amid concerns about the potential spread of novel coronavirus inside North Korea. The exact number of foreign diplomats stationed inside the country is unknown, but is estimated to be just a few hundred. 
North Korea has not confirmed a single case of the virus inside the country, but global health experts have warned the country is highly susceptible to an outbreak given its close proximity to China and limited medical capabilities.