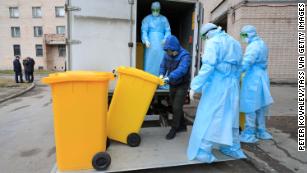 Medical workers outside Mechnikov North-Western State Medical University, where students have been place under quarantine, in St. Petersburg, Russia.
7:26 p.m. ET, March 9, 2020
More than 70% of coronavirus cases in China have recovered, WHO says
Of the 80,000 confirmed coronavirus cases reported in China, "more than 70% have recovered and been discharged," according to the World Health Organization (WHO) in a news conference on Monday. 
WHO Director-General Tedros Adhanom Ghebreyesus addressed the outbreak in his opening remarks, saying it's important to remember "of all the cases reported globally so far, 93% are from just four countries." 
The director-general emphasized that the situation can still be controlled.
"The bottom line is," Tedros said, "we are not at the mercy of this virus." 
7:24 p.m. ET, March 9, 2020
US Treasury Secretary says new economic initiatives will address coronavirus concerns
Treasury Secretary Steven Mnuchin said oil market changes were a large component in the day's earlier stock market decline.
"Today was an unprecedented move in the oil markets. So we saw an overnight reaction of over down 20% and that's obviously what had a major component today on the stock market," Mnuchin said Monday at a White House press briefing.
Mnuchin also said the US is moving into the economic bumpiness from a good place.
"We couldn't be more pleased that coming into the situation with the coronavirus the US has the most resilient economy in the world. I am in daily conversations with (Fed) Chair (Jerome) Powell. We are committed and we just had a meeting with the President and the economic team," he said.
Mnuchin described what new economic initiatives the President will propose tomorrow.
"There are parts of the economy that are going to be impacted, especially workers that have to be at home … under quarantine or taking care of their family. We'll be working on a program to address that. We will also be working with small businesses that need liquidity through SBA program. We're looking at alternatives at the IRS. We have large tax payments coming up of providing certain relief to companies and individuals for liquidity," he remarked.
"This is not like the financial crisis, where we don't know the end in sight. This is about providing proper tools and liquidity to get through the next few months," Mnuchin added.
7:12 p.m. ET, March 9, 2020
New novel coronavirus guidance will be released Monday night
The Trump administration will soon release guidance on how to keep workplaces, schools, homes and commercial businesses safe from novel coronavirus, Dr. Deborah Birx, coronavirus task force coordinator, said Monday.
She told reporters at a White House press briefing that the guidance will be provided later Monday.
Vice President Mike Pence said the guidance would be posted Monday night on Coronavirus.gov.
Pence went on to say that the administration is "working very diligently to establish a single website where people can go to track all of the cases and where they are emerging."
7:06 p.m. ET, March 9, 2020
The average age of death from coronavirus is 80, US surgeon general says
US Surgeon General Jerome Adams discussed some specific data that shows who is at risk for novel coronavirus. 
"People over the age of 60 are much more likely to develop complications from the coronavirus and to be hospitalized," Adams said, adding that the average age of death from coronavirus is 80.
Children and young adults are more likely to die from the flu than coronavirus, Adams said during brief remarks at Monday's White House press briefing. He added that people should "be reassured by that." 
However, he noted, even though young people aren't at risk for dying from coronavirus, they could potentially spread the virus to people in communities and people with chronic diseases, reiterating basic precautions to prevent community spread, such as covering coughs.
7:01 p.m. ET, March 9, 2020
Professional sports leagues limiting locker room access due to coronavirus concerns
Major League Baseball (MLB), Major League Soccer (MLS), the National Basketball Association (NBA), and the National Hockey League (NHL) have jointly announced that each league is limiting locker room access to players and essential staff. 
This policy goes into effect on Tuesday.
Here's what the leagues said in a joint statement:
"After consultation with infectious disease and public health experts, and given the issues that can be associated with close contact in pre- and post-game settings, all team locker rooms and clubhouses will be open only to players and essential employees of teams and team facilities until further notice. Media access will be maintained in designated locations outside of the locker room and clubhouse setting. These temporary changes will be effective beginning with tomorrow's games and practices.
We will continue to closely monitor this situation and take any further steps necessary to maintain a safe and welcoming environment."
6:59 p.m. ET, March 9, 2020
Pence says he doesn't know if Trump has been tested for coronavirus
Vice President Mike Pence told reporters on Monday that he does not know whether President Trump had been tested for the coronavirus, even though Trump has been in contact with individuals who have been in close proximity to people diagnosed with the virus. 
"Let me be sure to get you the answer to that. I really don't know the answer to the question, but we'll refer that question and we will get you an answer from the White House physician very quickly," Pence said. 
Pence said that he has not been tested for coronavirus.
Trump was also asked the same question, but he didn't answer as he left the White House press briefing room.
6:53 p.m. ET, March 9, 2020
Pence says coronavirus patients aboard Grand Princess ship "are being dealt with in proper isolation"
Vice President Mike Pence provided updates on the Grand Princess cruise ship during Monday's White House coronavirus briefing.
The ship docked in the afternoon in Oakland at a commercial dock, he said, and the 25 children aboard are "all healthy."
The 21 people who have been diagnosed with novel coronavirus "are being dealt with in proper isolation."
By the end of Monday, Pence said, they hope to begin to disembark California residents to Travis Air Force Base.
The US has made arrangements with Canada and the United Kingdom to take their nations' passengers back through charter flights, he said, and tomorrow, remaining passengers "will be transported again through carefully controlled environments to military bases in Georgia and Texas," where they will be tested, isolated and quarantined as appropriate.
He expressed appreciation to the governors of California, Georgia, and Texas for "strong cooperation."
Pence also said he will be meeting with hospital and health insurance CEOs on Tuesday.
6:49 p.m. ET, March 9, 2020
Trump says coronavirus "blindsided the world"
President Donald Trump said his administration will hold a briefing to discuss a possible payroll tax cut and the effects of coronavirus.
He went on to say that they will "explain what we're doing on an economic standpoint." 
"We have a very strong economy but this came — but this blindsided the world, and I think we've handled it very, very well. I think they've done a great job," he said.
6:53 p.m. ET, March 9, 2020
Trump administration to propose payroll tax cut and hourly wage relief
President Donald Trump said that members of his administration's coronavirus task force would be meeting with Congress to discuss a payroll tax cut relief and relief for hourly workers.
"We are going to be asking tomorrow, we're seeing the Senate. We're going to be meeting with House Republicans, Mitch McConnell, everybody discussing a possible payroll tax cut or relief, substantial relief," Trump told reporters at a briefing Monday.
"We're also going to be talking about hourly wage earners getting help so that they can be in a position where they're not going to ever miss a paycheck," he added.
Trump added that he is working with leaders in the cruise ship and airline industry "very strongly" for potential relief from coronavirus-related losses. 
"We want people to travel to certain locations and not to other locations at this moment," he said. "We're working with the industries."
Trump also said the administration is in communication with the hotel industry, saying that "some places actually will do very well," but others may not.