January 24 coronavirus news
11:07 a.m. ET, January 24, 2020
Movement is restricted in 11 Chinese cities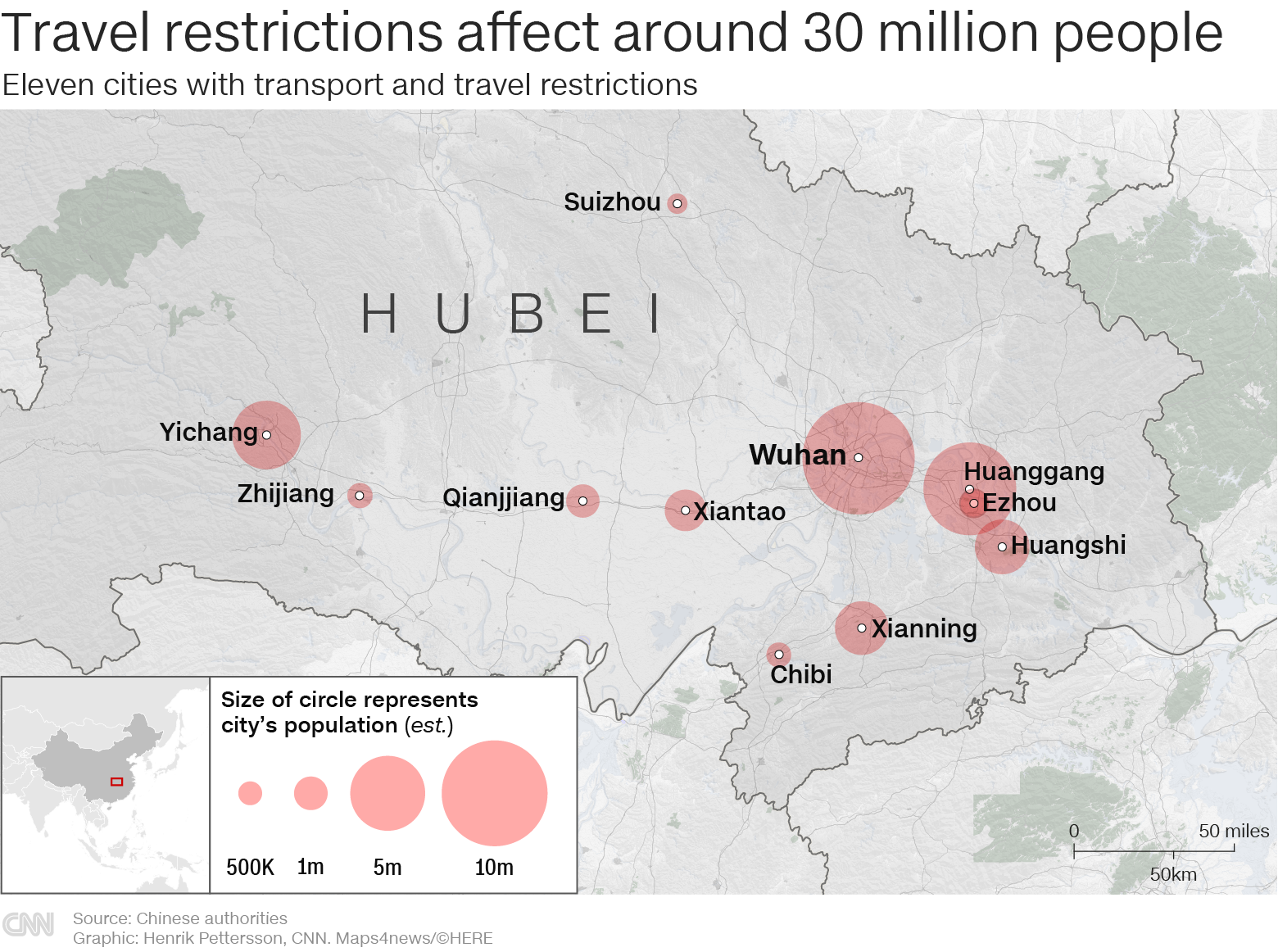 Suizhou is the 11th city in China's Hubei province to have travel restrictions imposed on it, as authorities scramble to stop the spread of the Wuhan coronavirus. 
Transport bans of varying degrees have also been placed on the following cities: Wuhan, Ezhou, Huanggang, Chibi, Xiantoa, Zhijiang, Qianjjiang, Huangshi, Xianning and Yichang.
All the cities cover a population of roughly 32.2 million people.
Restrictions include shutting down railway stations, bus stations, intercity transport links, or preventing private vehicles from driving on certain roads.
Authorities have yet to announce when these restrictions will be lifted. 
10:46 a.m. ET, January 24, 2020
All suspected cases in UK are in the clear
All 14 suspected cases of the virus in the UK have come back negative, the country's Chief Medical Officer Dr. Chris Whitty said in a statement.
"We all agree that the risk to the UK public remains low, but there may well be cases in the UK at some stage," Whitty said.
"We have tried and tested measures in place to respond. The UK is well prepared for these types of incidents, with excellent readiness against infectious diseases."
Whitty said that a "Public Health hub" will be established at Heathrow starting today, made up of clinicians and other public health officials.
10:46 a.m. ET, January 24, 2020
What it's like living in a city under lockdown
A medical student who lives in Wuhan told CNN what it is like living in a city under effective lockdown.
On Thursday, Yasin Gaardo, from Somalia, filmed videos of deserted streets and near-empty shelves in grocery stores.
"It's inconvenient to stay here in Wuhan," he told CNN Friday, on the second day of travel restrictions.
The city tends to empty out during the Lunar New Year season, but Gaardo added that the streets were more vacant than usual.
"I can say I'm worried but I'm not in panic mode right now," he said.
In one video, filmed outside a store in Wuhan's Qiaokou district, he can be heard saying:
[The] streets are a bit empty, people are stocking up. Look, I've never seen so many cars here shopping. It's getting quite serious around here, it sounded much of a joke…but well, it's not joke anymore. People are really stocking up now, it's getting really really serious."
He told CNN that during a food shop on Thursday he found it hard to hail taxis.
"I waited for 40 minutes. Public transportation is locked up and it's very risky to go in public places. 90% of Wuhan people are staying inside," he said.
"You barely see anyone in the streets. They're empty now."
10:29 a.m. ET, January 24, 2020
JUST IN: Second US case confirmed by CDC
A second case of the Wuhan coronavirus in the United States has been identified in Chicago, the US Centers for Disease Control and Preventions said in a Friday press briefing.
The patient is a Chicago resident in her 60s. She is in isolation at a hospital in the city.
The woman flew from Wuhan to Chicago on January 13. Since she was not ill while traveling, health authorities do not think she spread the virus during that time. Health authorities say she has had limited close contacts since returning to Chicago.
Sixty-three patients from 22 states are under investigation.
9:48 a.m. ET, January 24, 2020
At least 22 cases confirmed outside mainland China
Over the past couple of hours, the number of people confirmed to have the coronavirus has gone up to 22 beyond mainland China, according to government sources.
Taiwan's Center for Disease Control said there were two new cases of the virus on Friday.
Here are the latest figures:
Thailand – 5 
Singapore – 3 
Taiwan – 3
Hong Kong – 2
Macao – 2 
Japan – 2
Vietnam – 2
South Korea – 2
United States – 1
9:31 a.m. ET, January 24, 2020
State Department orders non-emergency personnel out of Hubei
The US State Department ordered non-emergency personnel and their families to depart China's Hubei province on Thursday due to the virus outbreak, according to an updated travel advisory.
There is a US consulate general in Wuhan -- the capital city of the province.
The Department also raised the travel advisory for Hubei to Level 4: Do Not Travel, warning travelers that the "US government has limited ability to provide emergency services to US citizens in Hubei province."
"Chinese authorities have imposed strict travel restrictions in the area around Wuhan. Travelers should be aware that the Chinese government could prevent them from entering or exiting parts of Hubei province. Travelers should be prepared for travel restrictions to be put into effect with little or no advance notice," the advisory notes. 
9:12 a.m. ET, January 24, 2020
Unprecedented lockdown on 10 cities and 30 million people
Authorities in China have imposed indefinite travel restrictions in 10 cities in Hubei province, the most affected area in the country, impacting an estimated 30 million people.
Wuhan, a city of 11 million, is under effective lockdown, with all public transport in and out of the city closed.
Other cities across the province are under less severe travel restrictions. They include Ezhou, Huanggang, Chibi, Xiantao, Zhijiang, Qianjiang, Huangshi, Xianning and Yichang.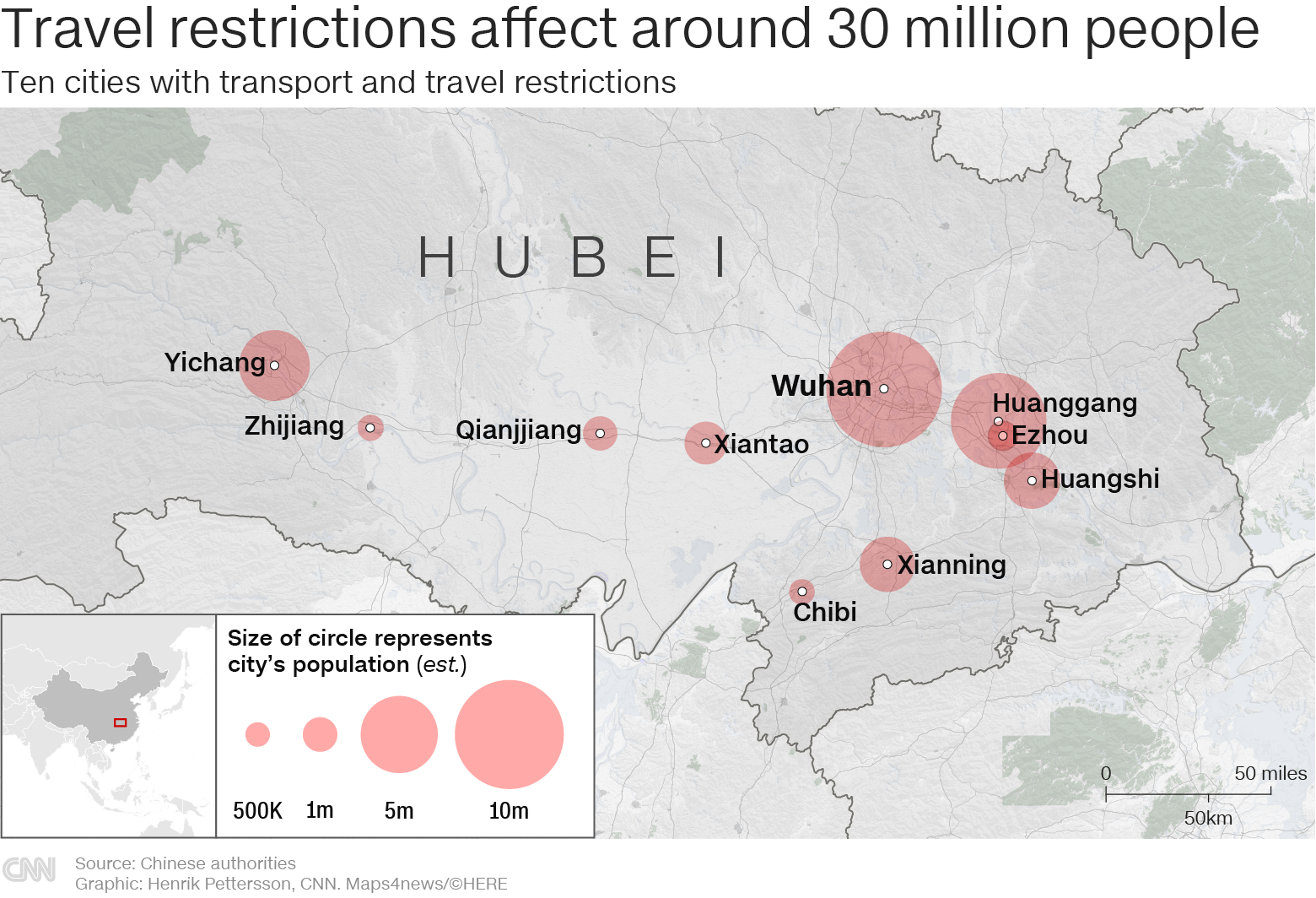 8:38 a.m. ET, January 24, 2020
From Disneyland to part of the Great Wall, here are some of the things closed due to Wuhan virus fears
Train stations, museums, an Olympic venue, a Disney resort and a major fast food chain are among the sites to have shut their doors in China as officials race to contain the spread of the Wuhan coronavirus.
Here's some of them:
Beijing
Juyongguan Great Wall Scenic Area
A section of the Great Wall of China closest to the capital city will be shut from this weekend, officials said Friday.
The wall is one of the oldest existing man-made structures. It is more than 2,000 years old and a world travel must-see that ranks alongside Egypt's pyramids and Stonehenge in the UK.
The Bird's Nest 
Beijing's National Stadium, also known as the Bird's Nest, was closed on Friday, according to Reuters.
The stadium, which was designed by Ai Weiwei, was a venue for the 2008 Olympic Games.
The Forbidden City
The Palace Museum, commonly known as the Forbidden City, is one of the capital's best-known attractions.
According to Visit Beijing, which is supervised by Beijing Municipal Culture and Tourism Bureau, the UNESCO World Heritage site will be closed for an unspecified period.
National Museum of China
The museum, which flanks Tiananmen Square in Beijing, will also be closed "in an effort to prevent and control" the virus, Visit Beijing writes.
The museum bills itself as the largest in the world. Its 48 galleries house more than 1 million exhibits featuring 5,000 years of Chinese art and culture.
Ming Tombs
The collection of mausoleums, built by the emperors of the Ming Dynasty, will close on Saturday, officials said.
The Ming Tombs sit on a plain at the foot of Tianshou Mountain. Thirteen of the dynasty's 16 emperors were buried here -- along with their empresses, princes and favorite concubines -- and prepared for the afterlife with an amazing display of wealth.
Yinshan Pagoda Forest
The forest, which contains a number of 12 century pagodas built to house Buddhist relics, will be shut.
Hubei province
McDonald's
The American fast food chain will suspend operations in five cities in Hubei province, according to a statement posted on its website Friday.
Wuhan Tianhe International Airport
On January 23, government officials announced the temporary closure of Wuhan Tianhe International Airport.
The airport is the only one in the mid-China region to have direct flights to five different continents. All train tickets in and out of Wuhan have also been suspended, while multiple international airlines have canceled flights to the city.
Shanghai
Shanghai Disney Resort
Disney is closing down its mega theme park in China over the Lunar New Year holiday.
Shanghai Disney Resort made the announcement on its official website on Friday, saying the closure was "in response to the prevention and control of the disease outbreak."
The resort said it will refund guests for admission fees, hotel bookings and other pre-purchased entertainment tickets. It did not say when the park would reopen.
8:33 a.m. ET, January 24, 2020
Fifth confirmed case in Thailand
A 33-year-old woman from China is the fifth confirmed case of the virus in Thailand, its health ministry said Friday.
Speaking to CNN, Deputy Health Minister Satit Pitutecha said the female patient is from Wuhan, and she travelled to Thailand on Tuesday.
The women complained of a fever and a cough and was admitted to a private hospital that day before being transferred to a specialized public hospital on Thursday.
As of this morning, the patient still has a low fever and will remain in isolation until her condition improves, the ministry added.