January 24 coronavirus news
8:38 p.m. ET, January 24, 2020
2:40 p.m. ET, January 24, 2020
First European cases of coronavirus confirmed in France
From CNN's Saskya Vandoorne in Paris and Anastasia Graham-Yooll in London
The first cases of coronavirus in Europe have been confirmed by French health authorities.
French Health Minister Agnes Buzyn said that one patient is being treated in Paris, and the other is in Bordeaux.
3:12 p.m. ET, January 24, 2020
Illinois coronavirus patient did not have symptoms when traveling
The Illinois's coronavirus patient was not symptomatic when flying from home from China, according to Dr. Allison Arwady, Commissioner, Chicago Department of Public Health.
The patient has had limited contact with other people. The few people she has been in contact with will be monitored but they have no symptoms at this time, Arwady said.  
The woman has not taken public transportation or had close contact with anyone outside her home since returning from China, according to Arwady. 
Transmission of the coronavirus before symptoms develop is low, Arwady said. 
3:11 p.m. ET, January 24, 2020
US Senator asks White House to consider imposing travel restrictions with China 
US Senator Josh Hawley (R-Mo.) has asked the Trump administration "when and how" it will restrict travel between the US and China, in light of confirmed coronavirus cases in the US, in a letter sent to several Administration officials.
The letter, dated January 24, was sent to Secretary of State Mike Pompeo and heads of Department of Health & Human Services, Department of Transportation and Department of Homeland Security.
The letter reads in part: 
"I appreciate that CDC has already initiated screening for the virus at major airports and would urge you to expand this program as aggressively as possible. I also appreciate that CDC has issued a travel advisory for the region. However, I believe Americans deserve advance notice of your plans to evaluate more aggressive limitations on travel between the U.S. and China and of any additional considerations that might lead you to refrain from such measures."
Hawley asks for a response to his letter within a week.
1:03 p.m. ET, January 24, 2020
Chinese students given quarantine warning by UK university
From CNN's Tara John and Nada Bashir in London
Chinese students have been warned by a British university that they risk being quarantined on their return to the UK, if they travel home to celebrate the Lunar New Year.
The quarantine advice from the University of Chester was issued before travel restrictions were imposed by Chinese authorities.
The University of Chester has a relatively small Chinese student cohort and they are being appropriately supported. All students have been advised they must not interrupt their studies to return to China at this point."
British universities are "monitoring the coronavirus situation as it unfolds and universities with students in affected areas are working to identify appropriate actions," according to Universities UK.
It added that universities will continue to follow travel advice by the UK Foreign Office "and to monitor the situation, which is evolving rapidly."
Chinese nationals make up the biggest proportion of international students for higher education institutions in the UK, according to the Higher Education Statistics Agency (HESA).
In the 2017-18 academic year, there were a total of 106,530 Chinese nationals studying in the UK.
12:00 p.m. ET, January 24, 2020
Second US virus victim is "doing well"
From CNN's Melissa Alonso.
The latest Wuhan coronavirus patient in the US is a "single travel associated case, not a local emergency," according to Dr. Allison Arwady, Commissioner, Chicago Department of Public Health.
The woman, who is in her 60s, is doing well and is in stable condition, Arwady said at a briefing Friday. 
She traveled to Wuhan, China in late December and returned home on January 13, Arwady said.
The patient "began to feel unwell" a few days later and called in to her doctor's office. The doctor referred her to a hospital with infection control capabilities after instructing her to put a mask on, Arwady said.
The woman remains in the hospital for infection control reasons, Arwady added.
11:54 a.m. ET, January 24, 2020
More than 2,000 travelers screened for virus at US airports
From CNN Health's John Bonifield
The US Centers for Disease Control and Prevention (CDC) has screened more than 2,000 travelers to the US, about 200 flights, for Wuhan coronavirus as of Thursday.
It hasn't found any cases of the virus among those travelers, but one person was sent to the hospital for additional medical evaluation.
The CDC recently began health screenings for travelers from Wuhan at five airports: John F. Kennedy International Airport in New York, Los Angeles International Airport, San Francisco International Airport, Hartsfield-Jackson Atlanta International Airport and Chicago O'Hare International Airport.
On Friday, the CDC noted that both confirmed US patients were asymptomatic and fever-free when they arrived in the United States, although they arrived before airport screenings were in place.
As China has restricted travel for millions, the CDC is evaluating how to proceed with entry screenings.
"Those circumstances have clearly changed and so we are re-evaluating that approach," Dr. Martin Cetron, director of the CDC's division of global migration and quarantine, said Friday. 
This comes a day after the CDC raised its travel notice for Wuhan to its highest level, recommending "that travelers avoid all nonessential travel" to the central China city.
11:34 a.m. ET, January 24, 2020
China is being "quite transparent," says NIH head
From CNN's Ellie Kaufman
Anthony Fauci, from the US National Institutes of Health (NIH), spoke briefly to reporters ahead of the coronavirus briefing on Capitol Hill Friday. 
Fauci, who is the director of the national institute of allergies and infectious diseases at the agency, said that he feels China is being more transparent with the world this time than it was during previous outbreaks, such as the 2003 SARS outbreak.  
"This time around from my perception they look like they're being quite transparent," he said. 
Fauci said that China's decision to shut down travel may not have a huge impact on containing the spread, but "it's their judgment that this is something that in fact is going to help." 
"That's something that I don't think we could possibly do in the United States, I can't imagine shutting down New York or Los Angeles, but the judgement on the part of the Chinese health authorities is that given the fact that it's spreading throughout the provinces... it's their judgement that this is something that in fact is going to help in containing it. Whether or not it does or does not is really open to question because historically when you shut things down it doesn't have a major effect."
11:07 a.m. ET, January 24, 2020
Movement is restricted in 11 Chinese cities
From CNN's Natalie Thomas in Beijing and journalist Isaac Yee in Hong Kong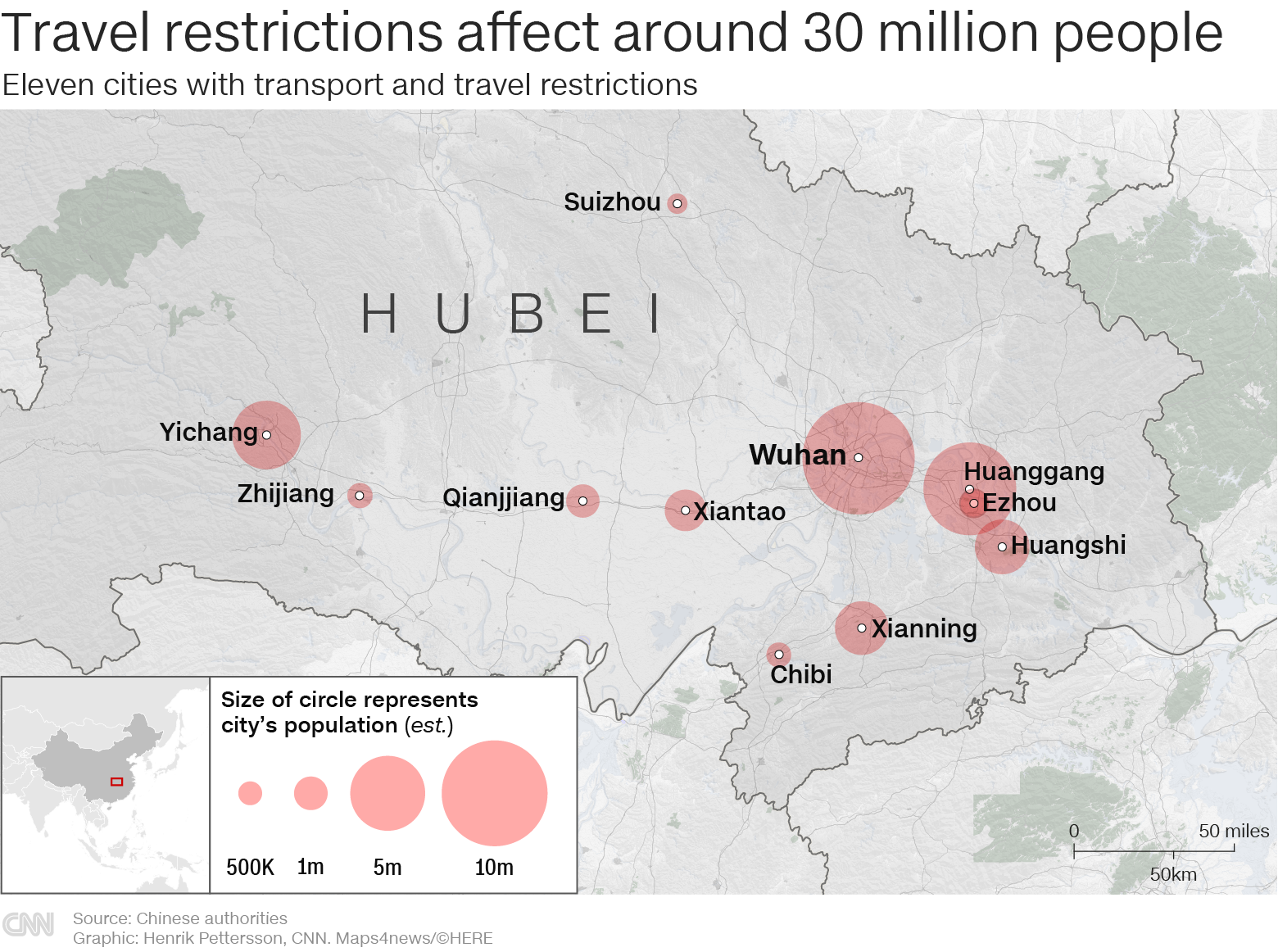 Suizhou is the 11th city in China's Hubei province to have travel restrictions imposed on it, as authorities scramble to stop the spread of the Wuhan coronavirus. 
Transport bans of varying degrees have also been placed on the following cities: Wuhan, Ezhou, Huanggang, Chibi, Xiantoa, Zhijiang, Qianjjiang, Huangshi, Xianning and Yichang.
All the cities cover a population of roughly 32.2 million people.
Restrictions include shutting down railway stations, bus stations, intercity transport links, or preventing private vehicles from driving on certain roads.
Authorities have yet to announce when these restrictions will be lifted.