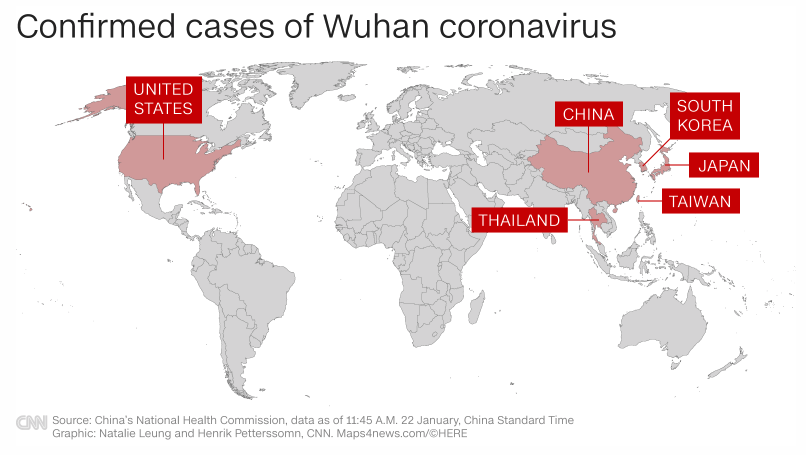 What started as an unknown virus last month in Wuhan, China, has now killed at least 17 people and infected hundreds more around the world.
If you're just joining us now, here's what you need to know:
What is the virus? First identified in Wuhan in mid-December, the novel coronavirus (2019-nCoV) is in the same family of infections as severe acute respiratory syndrome (SARS) and Middle East respiratory syndrome (MERS).
What are the symptoms? Coronavirus symptoms can look like a common cold -- a runny nose, cough, sore throat, possibly a headache and a fever. For those with a weaker immune system, the virus could cause a more serious respiratory tract illness like pneumonia or bronchitis.
How is it transmitted? Coronaviruses are transmitted by animals and people, and this Wuhan strain has been linked to a market selling seafood and live animals. Chinese officials said human-to-human transmission of the virus has been confirmed.
What are the casualties? So far, 17 people have been confirmed dead in China, and 598 cases have been confirmed in the mainland.
Where has it spread? Cases have been reported in nearby territories Macao and Taiwan. There have been confirmed cases in the US, South Korea, Thailand and Japan, and suspected cases detected in Hong Kong and Australia.
Is there a vaccine? International scientists are trying to create a vaccine for the new virus -- but it probably won't come anytime soon. It will take at least a few months before clinical trials start and more than a year until a vaccine might become available.
So what are authorities doing? China adopted Class A prevention and control measures, typically used for major outbreaks like plague. Wuhan is under lockdown, and airports around the world are screening passengers. The World Health Organization is still deciding whether the disease constitutes a "public health emergency of international concern," and what recommendations should be made.