January 23 coronavirus news
10:57 a.m. ET, January 23, 2020
Beijing scraps all large-scale New Year Celebrations
Authorities in Beijing have canceled all large-scale Chinese New Year celebrations in an effort to contain the growing spread of Wuhan coronavirus.
"In order to control the epidemic, protect people's lives and health, reduce the mass gathering and ensure people to have a harmonious and peaceful Spring Festival, it is decided to cancel all the large-scale events, including temple fairs, in Beijing as of today," read a Thursday statement from the governmental Beijing Culture and Tourism Bureau.
"Citizens shall strengthen the preventative measures and support the decision. We will notify the policy changes with the epidemic development ... And wish all citizens a happy Spring Festival," the statement continued.
Chinese New Year 2020 runs from Saturday 25 through February 8.
6:48 a.m. ET, January 23, 2020
What do we know about Wuhan?
Wuhan, where the coronavirus outbreak originated, is the capital city of Hubei province in Central China.
It is the 10th most populated city in China, with 8,837,300 residents in 2018, according to the National Statistics Bureau.
The city is widely referred to as having a population of 11 million. This includes migrant workers and other residents who do not have Wuhan residency registration, and who are hence not included in the national census.
The city is home to some of the top universities in China, including Huazhong University of Science and Technology (ranked ninth in the country), Wuhan University (ranked 12th) and China University of Geosciences (23rd in China).
Tennis player Li Na hails from the city, which is also famous as the birthplace of the 1911 armed uprising that eventually overthrew China's last imperial dynasty.
In 2018 the city had 398 hospitals and 17 centers for disease control and prevention out of a total 6,340 medical institutions. 
Wuhan has a total number of 95,300 beds in hospitals and community clinics, and 136,300 people are employed in its medical institutions. 
The average life expectancy in the city is 81.29 years.
6:32 a.m. ET, January 23, 2020
A second city has been placed under lockdown
Huanggang, a neighboring city about 80 kilometers (50 miles) east of Wuhan, will be effectively locked down due to risks associated with the spread of the Wuhan coronavirus, Chinese state media reported.
The Hubei Huanggang New-type Coronavirus Pneumonia Prevention and Control Command, a task force set up to deal with the crisis, said in a statement that at midnight, the city's subway and train stations will close, per a report in the People's Daily, a state-run newspaper. All theaters, internet cafes and indoor public culture, tourism and entertainment facilities in the city will also stop business, People's Daily reported.
Like Wuhan, Huanggang is located on the banks of the Yangtze River. The entire administrative area of Huanggang has a population of 7.5 million, but People's Daily reported that the lockdown only applies to the urban area, which is only a part of the total population.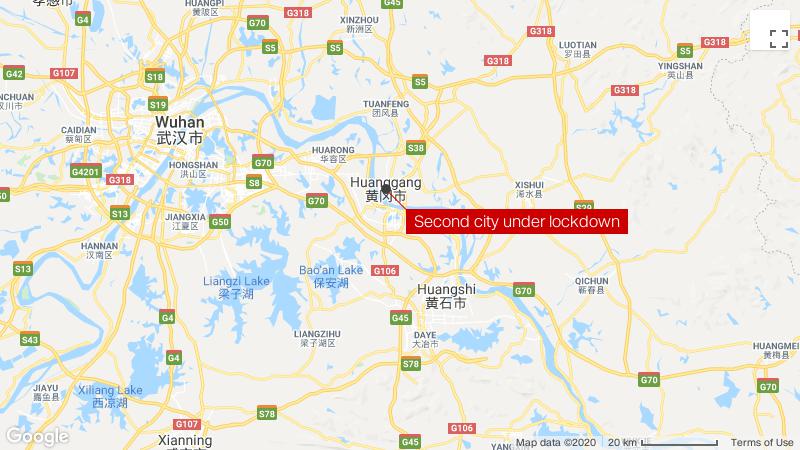 5:28 a.m. ET, January 23, 2020
More cases confirmed throughout China
Regional health authorities in China have confirmed 13 new cases of the Wuhan coronavirus, bringing the total number of cases in mainland China to 611.
Eight more cases were confirmed in Beijing. Shaanxi Province and the Xinjiang Autonomous Region confirmed three and two cases, respectively.
Those are the first cases that have been confirmed in Xinjiang and Shaanxi -- meaning that of the 22 provinces, five autonomous regions, two special administrative regions and four municipalities under the control of the People's Republic of China, only five have not reported confirmed cases of the Wuhan coronavirus as of midday Thursday.
They are:
Inner Mongolia Autonomous Region
Tibet Autonomous Region
Gansu Province
Qinghai Province
Hong Kong
The Hong Kong government has not formally confirmed the presence of the virus in the city, but said it is investigating two "highly suspected" cases. Preliminary tests of the first individual were positive for the virus.
The self-governing island of Taiwan has reported a confirmed case of the coronavirus.
4:57 a.m. ET, January 23, 2020
"People aren't sure when shops will be going back to normal," Wuhan resident says
The Wuhan New-type Coronavirus Pneumonia Command -- a task-force set up to deal with the crisis -- said in a statement that Wuhan has a sufficient supply and reserve of food, medical supplies and commodities.
"There is no need for the general public of the city to panic or hoard in order to prevent unnecessary wastes," the command said.
However, there is still unease among many in the city.
Jan Renders, a 29-year-old PhD student in Wuhan, told CNN that many shops are closing for the Lunar New Year holiday, so many people had already been stocking up on supplies. Renders, who has lived in Wuhan for the last two and a half months, said he was able to stock up on food for at least a week.
"But of course people aren't sure whether shops will be going back to normal soon," he said.
Another man in Wuhan sent CNN a picture inside a grocery store Thursday morning that showed several empty shelves. The man, who asked not to be identified, said most of the food was sold out.
4:32 a.m. ET, January 23, 2020
Wuhan is a London-sized city
Wuhan, the city where the outbreak originated, is home to more than 11 million people -- that's as big, or bigger than London, the largest city by population in the European Union.
It's the biggest city in all of central China -- and unsurprisingly, is considered the political, economic and transport capital of the region.
Located in Hubei province on the confluence of the Yangtze River and its largest tributary, the Han River, the city is often referred to as "jiu sheng tong qu," meaning it's considered the main thoroughfare of nine provinces.
In other words, Wuhan is huge and densely populated, with people coming and going every day -- making the outbreak and lockdown a nightmare for authorities, especially ahead of Lunar New Year this weekend.
To put it in perspective: The lockdown is like closing down all transportation for a city more than three times the size of Chicago, two days before Christmas.
More about Wuhan: Wuhan is a major manufacturing city with a heavy focus on automobile and medical equipment: Bosch and PSA both relocated their China headquarters to Wuhan recently.
The city, spanning 8,494 square kilometers, has played a major role in the government's plan to rejuvenate the nation's central region for more than a decade.
But the city's historical importance can be traced back more than 3,000 years. Wuhan is listed as one of the Famous Historical and Culture Cities by the state and is home to the ruins of Panlong City.
10:55 a.m. ET, January 23, 2020
The Chinese government announced the highways out of Wuhan are closed
The Wuhan New-type Coronavirus Pneumonia Command -- a Chinese task-force set up to deal with the crisis -- has announced the closure of highways out of the city, a move it called a "necessary act to stop the spreading of the epidemic."
However, minutes later the announcement was removed from the website. It's unclear why.
The decision to effectively cut off Wuhan from the rest of the world has sparked fears among some on social media about the availability of food and medicine inside the city.
Flights out of Wuhan had already been suspended and public transport in the city has stopped.
3:53 a.m. ET, January 23, 2020
People are apparently trying to get out of Wuhan -- and Chinese social media users are not happy about it
Fear and anxiety is mounting in China, with controversy on social media over residents who apparently fled Wuhan ahead of the partial lockdown enforced on Thursday.
On the microblogging platform Weibo, people shared their fears over the virus, as well as cautionary warnings. "Don't panic and try not to go out," one person warned.
Another person posted they had thought about fleeing Wuhan. "I was thinking about my parents and children -- if I bring them, where can we escape to?" read the post.
"Tomorrow will there be a line to snatch supplies? Will the next step be to send troops here to maintain order? By spring, will this explode into an epidemic? Or by May, will Wuhan have been restored to peace and goodness?"
Controversy over evacuees: On early Thursday morning, train stations in Wuhan were packed with people trying to get out of the city before the blockade went into effect. Crowds jammed together, trying to get on the last few trains out of the city of 11 million people.
The rush to get out has even got its own hashtag on Weibo -- #EscapeFromWuhan.
But the mass exodus has been met with anger from many Weibo users, who accused people leaving Wuhan of being selfish and irresponsible as they could then potentially spread the virus.
"Wuhan people, get out of Shanghai," one person posted. "Don't sneak in and spread chaos."
3:33 a.m. ET, January 23, 2020
China's instructions on how to deal with coronavirus patients
China's National Health Commission has publicized a lengthy series of technical instructions it is giving to medical facilities dealing with the Wuhan coronavirus.
Here is some of what's being advised:
Suspected or confirmed patients should be treated and taken care of by dedicated staff. Medical workers unrelated to the case should be restricted from entering treatment zones.
Suspected and confirmed patients should be kept separate.
Suspected patients should be kept in individual rooms for quarantine, but patients who have contracted the virus can be kept in shared rooms.
Patients being discharged from the hospital must change into clean clothes and carry out disinfectant procedures in accordance to existing regulations.
If a suspected or confirmed patient dies, his or her body must be dealt with rapidly. Use cotton balls or gauze containing 3,000mg/L or 0.5% peracetic acid to close all of the body's orifices -- including the mouth, nose, ears and anus. Wrap the body with double-layered cloth sheets and put the body in two layers of body bags. Then transport it using designated vehicles to specified cremation centers.