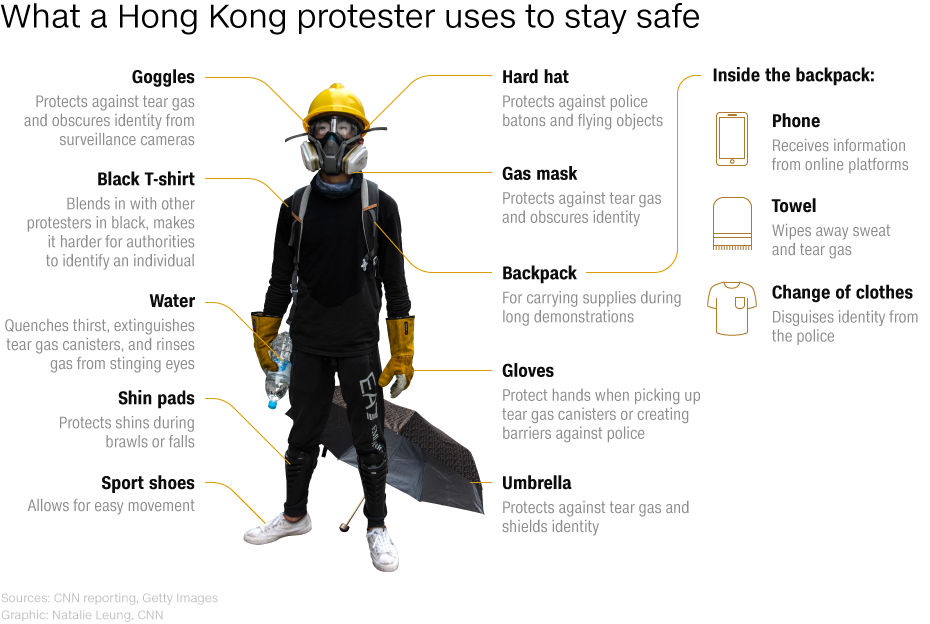 Protesters have been on the streets for more than two months now, facing off against police, tear gas, rubber bullets, and pepper spray nearly every week.
By now, the protesters -- mainly young people and students -- are seasoned pros, and arrive at protests decked out in gear. Here are some of the items to bring and wear if you want to stay safe at a protest:
Goggles protect your eyes from tear gas, which irritates and burns the skin and eyes. These are also useful if you don't want to be easily identified.
Gas masks aren't cheap but they provide crucial protection against tear gas.
Hard hats also offer protection against police batons and flying objects -- protesters have thrown everything from bricks to plastic bottles during clashes with police.
Water is a must -- heat stroke and dehydration are real threats in the sweltering summer. Water can also extinguish tear gas canister and rinse the gas from your eyes during clashes.
Umbrellas have become a protest symbol, perhaps inspired by 2014's months-long pro-democracy protest, dubbed locally as the "Umbrella Revolution." They can act as shields against tear gas and unwanted cameras.
Sport shoes, shin pads, gloves, towels, and a change of clothes aren't a must -- but they add small degrees of comfort during unpleasant protests.