Flights resume after second night of chaos at Hong Kong airport
1:26 a.m. ET, August 14, 2019
Airlines are flying today and rescheduling passengers
Nearly 200 flights were canceled on Monday, and dozens were canceled yesterday after thousands of protesters occupied Hong Kong airport.
Flights have now resumed and airlines are reaching out to confused, stranded passengers.
Cathay Pacific, Hong Kong's flagship carrier, said today that flights and check-in services are operating as usual, but "there is potential for further flight disruptions at short notice." The airline said all charges and fare differences will be waived for certain ticket changes, and passengers whose flights were canceled have been re-booked onto new flights. Those who booked directly with Cathay are allowed one free ticket change.
Many airlines haven't released updates since yesterday, when they announced flight cancellations -- but the airport's website shows that flights across various airlines are on schedule to depart today.
The airlines listed as operating on the website include Eastar Jet, Asiana Airlines, Hong Kong Airlines, AirAsia, Cathay Dragon and more.
The airport told CNN that it had implemented a flight rescheduling system yesterday, but was unsure how long it will take to clear the backlog.
Check the list of departing and arriving flights here.
1:14 a.m. ET, August 14, 2019
Comedian Bill Bailey was among the travelers caught up in airport tumult
Hundreds of passengers had their flights postponed or canceled last night -- including British comedian Bill Bailey.
The actor -- famous for his roles in "Black Books" and "Never Mind the Buzzcocks" -- found himself caught up in the chaos, and went about documenting what he saw on Twitter.
Initially, he posted pictures of Hong Kong protest art that he saw at the airport.
About midnight, he tweeted that protesters were concerned for passengers' safety.
"They offered water and apologized for the inconvenience," he tweeted. "Police arrived try [sic] to enter Terminal 1 but were hugely outnumbered and retreated.
"Riot police turned up and it kicked off."
12:35 a.m. ET, August 14, 2019
Families who slept in the airport overnight catching flights out of city, as normality resumes
Many stranded travelers whose flights were canceled yesterday slept at the airport overnight, with families and children sleeping in and around the deserted check-in desks and luggage belts.
As the airport slowly returns to normal this morning, the departure board shows a handful of canceled flights -- but the majority seem to be going ahead and on schedule.
People are finally getting out.
Hundreds of travelers are in the departures hall, with more arriving and checking in as usual.
The airport has been cleaned up. Lennon walls -- spaces covered in colorful Post-it notes bearing protest messages -- have been taken down and the graffiti has been covered up.
It's like last night never happened ... almost.
12:25 a.m. ET, August 14, 2019
The airport has got a court injunction to stop protests. But what will it do?
Hong Kong International Airport, which has been occupied by thousands of protesters for two days in a row, released a statement this morning saying it has obtained an injunction to prevent more disruption today.
What this means: In theory, the injunction will allow the airport to "restrain persons from unlawfully and willfully obstructing" airport services -- but it's not immediately clear what effect this will have in practice. The airport had previously tried to implement security measures, such as only allowing passengers with boarding passes into the departures hall. But thousands of protesters quickly overwhelmed airport staff and entered the hall anyway.
The airport authority has said it will publish the injunction once it obtains the sealed copies, potentially clarifying what it will mean in practical terms.
Read the airport's statement here: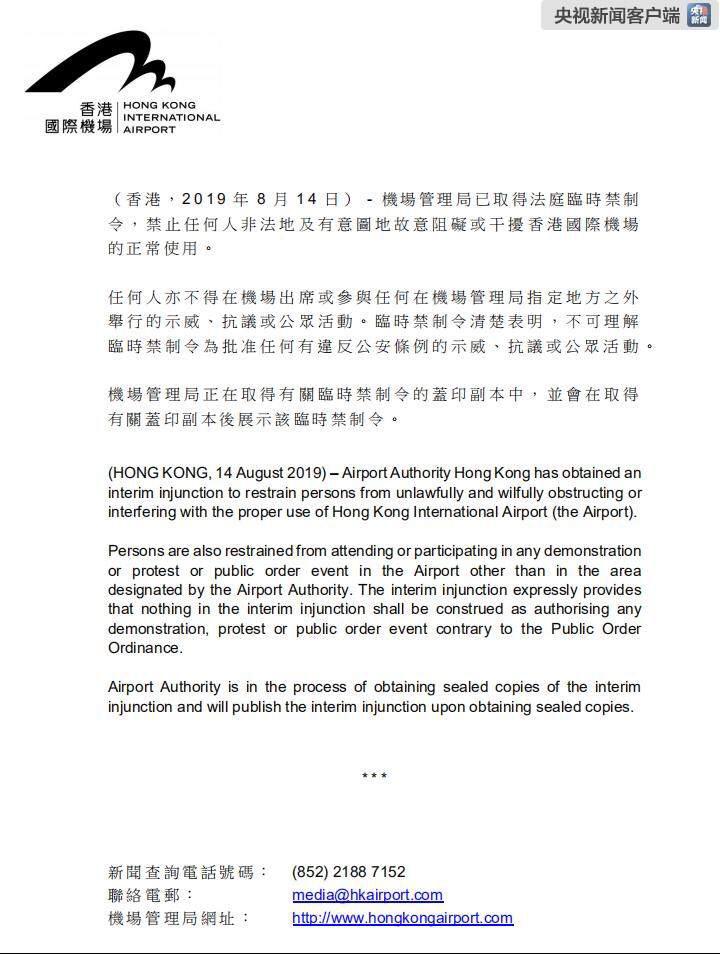 11:55 p.m. ET, August 13, 2019
Hong Kong airport makes 5% of the city's GDP. Canceled flights will bruise the economy
Airlines have canceled hundreds of flights out of Hong Kong this week because of the protests -- terrible news for companies operating in the financial hub.
Hong Kong airport is one of the busiest in the world. More than 74 million passengers traveled to and from the hub last year, and it serves about 200 destinations around the world. It also handles 1,100 passenger and cargo flights each day.
The airport contributes 5% to Hong Kong's GDP, directly and indirectly, said Frank Chan, Hong Kong's transport secretary.
Experts worry that travelers will now avoid Hong Kong. "This is a disaster for Hong Kong that will cost tens of millions of dollars," said Geoffrey Thomas, editor in chief and managing director of AirlineRatings.com, a website that monitors airlines.
It's still too early to assess the economic impact of the shutdowns -- but fewer tourists could hit a range of businesses hard, from those in retail to restaurants and hotels.
11:26 p.m. ET, August 13, 2019
6 hospitalized after last night's airport clashes
At least 6 people were hospitalized after violent clashes at Hong Kong's International Airport last night, according to the city's Hospital Authority.
Three of those people have been discharged, while the others are in a stable condition.
Last night, two people were held by protesters and accused of being undercover police officers. One appeared to be unconscious and was eventually evacuated by paramedics. There were also scuffles later on, when police tried to leave after evacuating the man.
11:01 p.m. ET, August 13, 2019
Here's what countries are saying about the protests
As the protests continue, countries and international groups are chiming in. Some have expressed support for the protesters, others have condemned the violence -- nearly all have called for calm.
Here's what the world is saying:
China: Beijing has condemned the protests, calling demonstrators "criminals" and "separatists" who are showing "signs of terrorism."
The United States: President Donald Trump called the unrest a "tough situation," and said he hopes it will work out "for everybody, including China." A senior US official added that the administration encourages "all sides to remain calm, safe, and peaceful."
The United Kingdom: UK Foreign Minister Dominic Raab said Monday he is concerned by what's happening in the former British colony, and "the worrying pictures of clashes between police and protesters at the airport." Another British politician called for Hong Kong citizens to be given full British nationality.
Canada: Prime Minister Justin Trudeau said he was "extremely concerned" about the violence and warned China to be "very careful and very respectful" in dealing with the protests.
Australia: Prime Minister Scott Morrison has urged Hong Kong's leaders to "listen carefully" to the protesters and "work towards a peaceful and calm resolution."
The European Union: A spokesperson said it was "crucial that all sides exercise restraint, reject all kinds of violence, and take urgent steps to de-escalate the situation."
The United Nations: The UN High Commissioner condemned "any form of violence or destruction of property." He urged the protesters to be peaceful and the city's leaders to "listen to the grievances of the people" and investigate police brutality.
10:47 p.m. ET, August 13, 2019
It's morning in Hong Kong. Here's what you need to know
It's been a chaotic 48 hours in Hong Kong. Last night thousands of protesters showed up at the airport, grounding departing flights for the second consecutive evening and bringing chaos to the normally orderly hub.
It's now morning local time and life is slowly returning to normal -- but tensions are still running high and there's little indication whether tonight will descend into chaos again.
If you're just tuning in, here's what you need to know.
What happened: On Monday night, thousands sat in at the airport, leading to nearly 200 flights being canceled. There was no violence that night. But protesters returned last night, canceling flights again -- and this time, things got ugly.
Protesters divided: Protesters held a man for several hours, accusing him of being an undercover cop. They tied his wrists up and wouldn't allow paramedics through, even when the man appeared to lose consciousness. Some protesters tried to get the man help, only to be pushed back by others -- showing just how fractured the leaderless movement has become. He was eventually evacuated by paramedics.
Arrests made: Police have arrested 5 people. Two police officers have been injured, according to a statement by the police today.
What now? The airport was cleared out and cleaned, and flights are returning to normal. But it feels like the city is holding its breath, unsure whether there will be another occupation, clashes with riot police and more canceled flights this evening.
Here's the bigger picture: This is the 11th consecutive week of protests. They began as relatively peaceful marches in opposition to a now-shelved bill that would have allowed extradition to China.
But as recent protests have shown, it's not just about the bill anymore -- protester demands now include calls for greater democracy, the resignation of Hong Kong's leader, and an independent investigation into alleged police brutality.
Protesters are getting angrier and more volatile as fear and suspicion spread, and police ramp up arrests and crackdowns. Violence has been escalating for weeks -- and nobody is sure where it's all going.
5:56 p.m. ET, August 13, 2019
Flights appear to be on schedule at Hong Kong International Airport
The Hong Kong International Airport returned to normal operations Wednesday following clashes between protesters and police, according to a CNN team there.
Most flights appeared to be running on schedule based on one of the departure boards at the airport and hundreds of travelers were in the departures hall.
According to the CNN team, the airport was cleaned up and graffiti was covered up with white sheets of paper.