Flights resume after second night of chaos at Hong Kong airport
2:56 a.m. ET, August 14, 2019
Security tightens at airport departures hall in an effort to keep protesters out
Hong Kong airport officials have started checking boarding passes and passports at the entrance to the departures hall today, after protesters yesterday filled the huge space causing major flight disruption.
Timothy Wu, an airport spokesperson, told CNN that only the departures entrances would be monitored for now. Two of the entrances have been closed -- two remain open.
There is now also an additional barrier to protesters who may want to occupy the airport again -- a court order, published today, which threatens the punishment of imprisonment or fines.
2:39 a.m. ET, August 14, 2019
The airport has a court order banning people from illegally protesting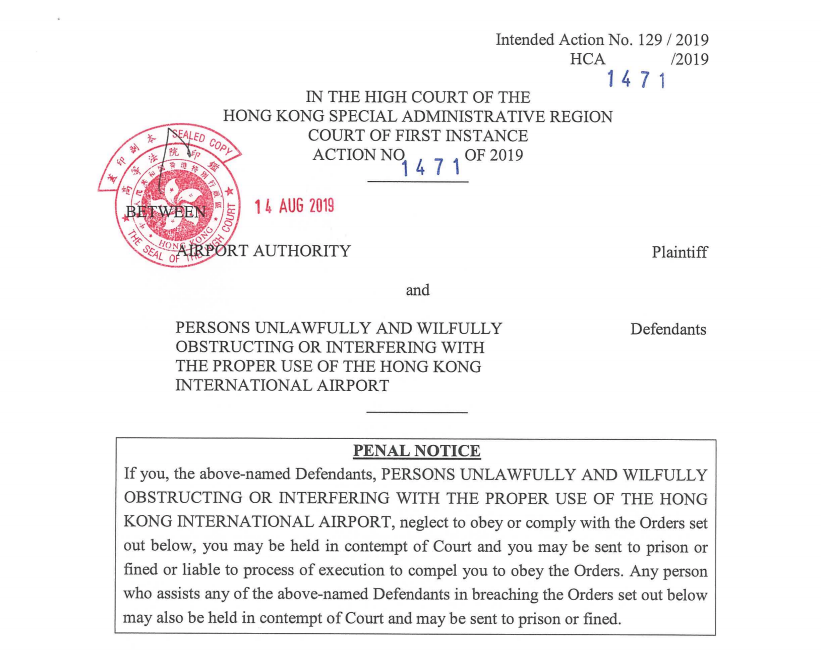 The Hong Kong Airport Authority has published its interim court injunction, which decrees that protesters unlawfully obstructing the airport may be imprisoned or fined.
It says protesters may be held in contempt of court if they:
UnlawfulIy and willfully obstruct "the proper use" of the airport
Obstruct any road, passageway, entry or exit point, or access control point in or near the airport
Protest in unauthorized areas of the airport (the Airport Authority designated a "protest area")
Obstruct airport staff and security trying to enforce the rules
Incite others to break the rules
The court order also authorizes police officers to arrest anybody "reasonably believed" to be violating the rules.
Read the full order here.
2:22 a.m. ET, August 14, 2019
Beijing says two Chinese residents were injured at the airport, calls for more arrests
The Chinese central government has condemned Monday and Tuesday's airport protests, calling for Hong Kong police to arrest the demonstrators.
Things got ugly last night, with protesters holding three people accused of being undercover police officers. One was released after he showed identification, one was later confirmed to be a reporter and was released, and one was held for several hours, bound by zip ties even as he appeared to fall unconscious.
Xu Luying, a spokesperson of the Hong Kong and Macao Affairs Office, said today that the protesters had seriously injured two mainland Chinese residents. The unconscious man was a Shenzhen resident who had been "illegally imprisoned" and "abused" by the protesters. He and the reporter, also a Chinese resident, are still in the hospital.
"We express our strongest condemnation of this tantamount to terrorism and express our deepest condolences to the injured mainland compatriots and the Hong Kong police officer," said the spokesperson.
This is not the first time the Beijing government has used the word "terrorism" -- on Monday, another Chinese spokesperson said the protests showed "signs of terrorism." But it marks a new escalation in the increasingly hostile rhetoric from Beijing, which labeled the protesters separatists and criminals.
2:03 a.m. ET, August 14, 2019
Chinese state media is painting Hong Kong as a war zone. This is why it's wrong
Out-of-control mobs beating up police. Crazed separatists throwing petrol bombs and vandalizing government buildings. The symbols of the country insulted and humiliated. Local authorities overwhelmed and in need of assistance.
This is the picture Chinese state media has been painting of the Hong Kong protests. There's some truth to it -- but it's still a highly selective and incomplete take.
Here's why it's wrong: Crucially, it distorts the reasons behind the unrest. Protests were initially sparked by opposition to a now-shelved extradition bill, but demands have since expanded to an investigation into police brutality and calls for political reform.
It also ignores the many peaceful marches and the reciprocal, seemingly self-perpetuating cycle of violence, with both protesters and police deploying increasingly forceful tactics.
Yes, there is escalating violence. Yes, many Hong Kongers are concerned and inconvenienced. But there is little sense of danger in the city beyond the protest front lines, and it is far from the war zone depicted in Chinese state media.
Hear what Beijing has said about the protests:
1:47 a.m. ET, August 14, 2019
Airlines are working to help passengers but say "the situation is beyond our control"
With flights grounded yesterday and passengers stranded, many are taking to social media to air out their grievances -- after all, many airlines are still scrambling to reschedule flights and rebook passengers.
"My connecting flight from Hong Kong to Guam was cancelled due to the protests, and I have nowhere to go for the day. I thought in situations like these you get a complimentary room at least?" tweeted one passenger who was booked for United Airlines.
Another passenger whose flight from Hong Kong to Bangkok was canceled last night tweeted at her airline, Emirates Airline: "What is the rescheduling/compensation/travel options?"
The airline offered to look into her options, but added, "The situation is beyond our control."
Some travelers are now trying to avoid flying into Hong Kong, asking their airlines to reroute their connecting flights to other locations for fear of violence at the airport.
One person tweeted, "Hong Kong Airport not safe and I don't want to take a risk to travel with my 3 year old baby because of this protesters clash."
Airline response: Some airlines are responding quickly -- Cathay Pacific has put out a statement telling passengers their flights are being rebooked, and that it will be free of charge for certain ticket changes -- but others are being more opaque.
There aren't statements from many local and international airlines whose services were affected yesterday -- the latest updates from their social media and website still show yesterday's cancellations, leaving many passengers frustrated with no idea what's happened to their travel plans.
1:26 a.m. ET, August 14, 2019
Airlines are flying today and rescheduling passengers
Nearly 200 flights were canceled on Monday, and dozens were canceled yesterday after thousands of protesters occupied Hong Kong airport.
Flights have now resumed and airlines are reaching out to confused, stranded passengers.
Cathay Pacific, Hong Kong's flagship carrier, said today that flights and check-in services are operating as usual, but "there is potential for further flight disruptions at short notice." The airline said all charges and fare differences will be waived for certain ticket changes, and passengers whose flights were canceled have been re-booked onto new flights. Those who booked directly with Cathay are allowed one free ticket change.
Many airlines haven't released updates since yesterday, when they announced flight cancellations -- but the airport's website shows that flights across various airlines are on schedule to depart today.
The airlines listed as operating on the website include Eastar Jet, Asiana Airlines, Hong Kong Airlines, AirAsia, Cathay Dragon and more.
The airport told CNN that it had implemented a flight rescheduling system yesterday, but was unsure how long it will take to clear the backlog.
Check the list of departing and arriving flights here.
1:14 a.m. ET, August 14, 2019
Comedian Bill Bailey was among the travelers caught up in airport tumult
Hundreds of passengers had their flights postponed or canceled last night -- including British comedian Bill Bailey.
The actor -- famous for his roles in "Black Books" and "Never Mind the Buzzcocks" -- found himself caught up in the chaos, and went about documenting what he saw on Twitter.
Initially, he posted pictures of Hong Kong protest art that he saw at the airport.
About midnight, he tweeted that protesters were concerned for passengers' safety.
"They offered water and apologized for the inconvenience," he tweeted. "Police arrived try [sic] to enter Terminal 1 but were hugely outnumbered and retreated.
"Riot police turned up and it kicked off."
12:35 a.m. ET, August 14, 2019
Families who slept in the airport overnight catching flights out of city, as normality resumes
Many stranded travelers whose flights were canceled yesterday slept at the airport overnight, with families and children sleeping in and around the deserted check-in desks and luggage belts.
As the airport slowly returns to normal this morning, the departure board shows a handful of canceled flights -- but the majority seem to be going ahead and on schedule.
People are finally getting out.
Hundreds of travelers are in the departures hall, with more arriving and checking in as usual.
The airport has been cleaned up. Lennon walls -- spaces covered in colorful Post-it notes bearing protest messages -- have been taken down and the graffiti has been covered up.
It's like last night never happened ... almost.
12:25 a.m. ET, August 14, 2019
The airport has got a court injunction to stop protests. But what will it do?
Hong Kong International Airport, which has been occupied by thousands of protesters for two days in a row, released a statement this morning saying it has obtained an injunction to prevent more disruption today.
What this means: In theory, the injunction will allow the airport to "restrain persons from unlawfully and willfully obstructing" airport services -- but it's not immediately clear what effect this will have in practice. The airport had previously tried to implement security measures, such as only allowing passengers with boarding passes into the departures hall. But thousands of protesters quickly overwhelmed airport staff and entered the hall anyway.
The airport authority has said it will publish the injunction once it obtains the sealed copies, potentially clarifying what it will mean in practical terms.
Read the airport's statement here: