Flights resume after second night of chaos at Hong Kong airport
6:45 a.m. ET, August 14, 2019
Protesters: "We apologize for our behavior but we are just too scared"
After the chaos at the airport last night, some protesters are saying they're sorry.
On Telegram -- an encrypted messaging app popular with protesters -- some are sharing images apologizing for last night. But it's unclear how widespread these feelings are within the movement, because only a small handful of people have posted these sentiments.  
One person, who posted anonymously in a Telegram group with more than 34,000 members, explained that people had become more aggressive after police posed undercover as protesters.
"This has led to our unsuppressed anger and overly aggressive way to respond," the person wrote.
Another post on the app was of a picture featuring a yellow hard hat -- something protesters often wear to demonstrations as a safety measure -- alongside this message:
Joshua Wong, who was a leader of the 2014 Umbrella Movement, also tweeted an apology, saying that: "Hong Kong is sick."
"We thank you for your tolerance and understanding," he said.
The Telegram channel's admin group is anonymous, and no group or spokesperson released these messages. The protest movement does not have a centralized leadership that conveys messaging.
In addition to the apologies, a handful of other posts appear to show protesters urging their fellow demonstrators not to apologize.
"Whoever apologized means they are breaking off their relationship with front-line protesters," wrote one user of LIGHK, an online forum that is considered Hong Kong's answer to Reddit.
5:54 a.m. ET, August 14, 2019
Hong Kong police condemn last night's protests
At a press conference today, the Hong Kong police condemned last night's protests and said the airport was not the place for protests.
Police accused protesters of assaulting and imprisoning one man, and preventing medics from assisting him. Mak Chin-ho, the assistant commissioner of police, said it took a few hours to reach the injured man because "some protesters made roadblocks and used laser pointers on our colleagues and stopped us from going forward."
Mak said one police officer pulled out a gun in defense after "protesters pushed him to a corner to beat him up, and grabbed his pepper spray and baton."
Five men, aged from 17 to 28, were arrested for unlawful assembly, assaulting police officers, and possession of weapons. They are still in custody.
Police warned that carrying out illegal activities at airports could incur heavier penalties up to life imprisonment.
The airport has also received a court order banning protesters from illegally protesting there again. The order also authorizes police officers to arrest those "reasonably believed" to be violating the rules set out by the court.
6:27 a.m. ET, August 14, 2019
New security checks at Airport Express causes long lines
It's normally a smooth ride from Hong Kong to the airport on the Airport Express train -- it runs every 12 minutes, and you simply buy a ticket and hop on.
But today, the train is running at 25-minute intervals.
And once passengers get off the train at the airport, there are security measures in place -- only passengers with boarding passes and passports are being let into the terminals.
Long lines are forming as passengers wait to show their documents.
Some of the new measures are in line with a court injunction, published by the airport earlier today, which bans illegal protests at the airport. Anybody who obstructs airport services or transit systems can be held in contempt of court and may be fined or imprisoned.
5:30 a.m. ET, August 14, 2019
A passenger who was stranded: "The airline was pretty terrible at communicating"
Britt Carroll, a 29-year-old New Zealander who lives in Australia, was set to fly to Melbourne with Qantas airlines at 10.30 p.m. local time on Monday, after a holiday in Hong Kong.
Around midday, she saw reports of a protests at the airport. Qantas sent her a message saying there might be disruption at the hub, but her flight remained scheduled on time.
As scores of flights were canceled and thousands of passengers descended on the airport, she heard nothing more from the airline. Then 90 minutes before departure, the flight was canceled. "The airline was pretty terrible at communicating with passengers," she says.
Carroll, who hadn't yet left for the airport, was left to organize her own hotel for Monday and Tuesday in Hong Kong. Qantas has said it will reimburse her for food and accommodation for those nights.
Despite the inconvenience, Carroll isn't upset with the protesters.
"I have no ill-will towards the protesters. I haven't felt unsafe in Hong Kong," she says.
"My frustration -- and that of other travelers I've spoken with -- lies with the airlines, airport and government ... it's frustrating that authorities were not better prepared."
Her flight is now scheduled for Wednesday evening.
Carroll says whether she would return to Hong Kong depends on how the government handles the political situation. "If China and the Hong Kong government pursue further legislative changes that impact on the Hong Kong people, I'm not sure I would feel safe," she says.
CNN has reached out to Qantas for comment.
5:06 a.m. ET, August 14, 2019
What would happen if China's military cracked down?
The idea of China's People's Liberation Army (PLA) on the streets of Hong Kong seemed unthinkable just a few weeks ago. Now it is being considered a possibility as violence escalates -- but it would have lasting ramifications for the city's economy, reputation and diplomatic ties.
PLA deployment would crash the economy:
Hong Kong's stock market, the fifth-largest in the world by market capitalization, would likely drop sharply as soon as the PLA appeared. That could wipe billions of dollars off the value of companies.
Given the serious damage to the city's reputation as a place where businesses are more or less free to operate without Beijing's interference, the stock market might not recover. Companies could look to relocate major operations.
A mass exodus could follow, likely crashing the property market too. Hong Kong's trade status with other countries could be negatively affected.
Diplomatic fallout:
Hong Kong is a major destination for expatriates from across the world. Hundreds of thousands of citizens of Australia, France, the UK and the US could be affected by a crackdown in Hong Kong.
"The diplomatic and reputational hit to China would be huge if there's another Tiananmen-like incident, because it would be broadcast and live-tweeted to the world," said Ben Bland, research fellow at Sydney's Lowy Institute, an Australian think tank.
4:49 a.m. ET, August 14, 2019
If you're traveling today, here's what you need to know
Hong Kong International Airport has implemented a series of new measures after last night's protests.
If you're a traveler heading to or from the airport, here's what you need to know:
Passengers are advised to arrive 3 hours before their flight for security checks.
Only departing passengers with boarding passes and passports or airport staff with identification will be allowed to enter the terminals for the next 24 hours.
Access control points have been set up at departure curbs of Terminal 1 and 2, at platforms of the Airport Express train, and at the ramps leading down to ground transportation.
The Airport Express train is running at 25-minute intervals
Those not flying -- who may be accompanying or greeting travelers at the airport -- should not go to the airport "unless absolutely necessary."
Starting tomorrow, parking lots 1 and 4 will be closed, while others remain open.
4:48 a.m. ET, August 14, 2019
Cathay Pacific says protests and violence are "unacceptable"
Cathay Pacific, Hong Kong's flag carrier, has condemned the airport protests that grounded flights and left passengers stranded yesterday.
"We believe such actions are unacceptable. Not only do they seriously harm Hong Kong's status as an international aviation hub, they also damage the reputation of Hong Kong as a whole," the airline statement said.
The statement said 272 flights coming in and out of Hong Kong have been canceled in the past two days, with more than 55,000 passengers affected.
The airline reiterated support for the Hong Kong government, chief executive and police.
Earlier this week, Cathay warned its staff that those who "support or participate in illegal protests" in Hong Kong could be fired in a "zero tolerance" approach. This came days after Beijing took steps to prevent Cathay workers who protested from flying to mainland China or passing through the country's airspace.
Read Cathay's full statement: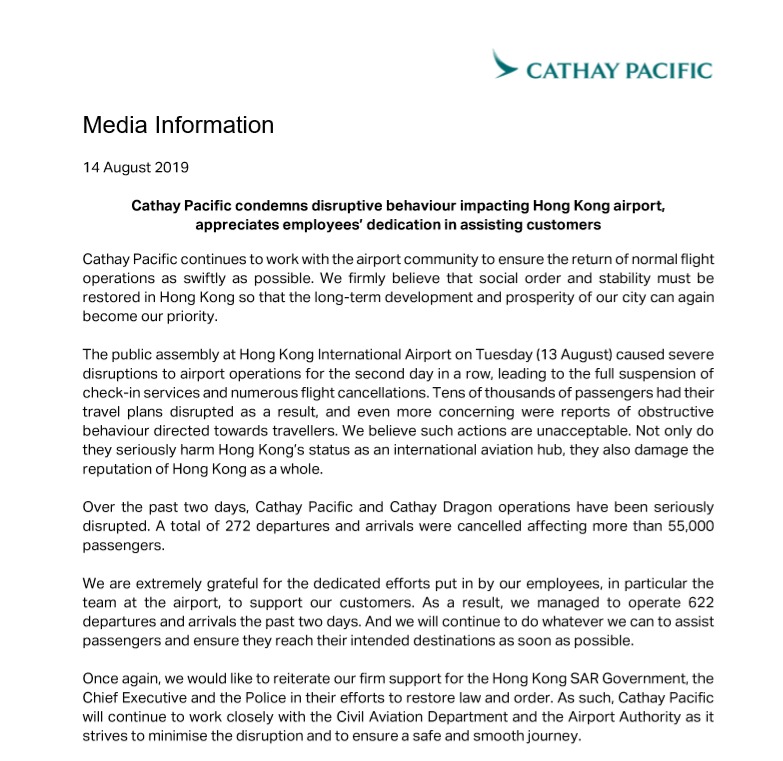 4:32 a.m. ET, August 14, 2019
China's changing strategy in dealing with the protests
The Beijing government has used a combination of propaganda and its vast online censorship system to construct a narrative of its own choosing when it comes to the Hong Kong protests -- and this strategy has evolved significantly over the past two months.
It began with censorship: Initially, almost all mention of the protests was censored. Stories that did appear played up local support for the now-shelved extradition law.
Then, Beijing began highlighting and widely spreading images of violent clashes between police and protesters, which began in mid-June. Protesters were depicted as "violent mobs" solely responsible for the conflict.
Foreign interference: Senior Chinese officials added to the fray with allegations that the US and other foreign governments were "meddling" in the protests to attack China.
As the protests continued, violent mobs became "criminals" and "separatists," pursuing not greater democracy or an investigation into police violence, as they have demanded publicly, but Hong Kong independence.
On Monday, this gradual rhetorical escalation reached a new stage, with a Chinese spokesman saying the protests showed "signs of terrorism."
"Hong Kong's radical demonstrators have repeatedly attacked police officers with extremely dangerous tools. They have already constituted serious violent crimes and have begun to show signs of terrorism. This is a gross violation of the rule of law and social order in Hong Kong, which is endangering the lives and safety for Hong Kong citizens," the spokesman said.
Read more about China's response here.
4:17 a.m. ET, August 14, 2019
Confused about the protests? Let's break it down
The Hong Kong protests, now in their 11th week, have been chaotic and nonstop. The protests have been fast and fluid, and they can be hard to follow.
Let's break down what's happening:
Airport protests: Thousands of protesters occupied the airport on Monday and Tuesday, grounding hundreds of flights and leaving passengers stranded. Protesters accused three people of being undercover police officers, holding one for hours even when he appeared to lose consciousness. He was eventually evacuated and the airport cleared, but not before scuffles between police and protesters.
Why they're protesting: This is a tricky one. Protests in June started over a controversial extradition bill, but protesters are now also calling for greater democracy, the resignation of Hong Kong's leader, an independent investigation into alleged police brutality, and more. With such a wide range of demands, it's hard to determine exactly which motivations are driving which demonstrations.
Summer of discontent: Almost 700 people have been arrested since the protests began on June 9, according to police, for a range of offenses including "taking part in a riot," unlawful assembly, assaulting police officers, resisting arrest and possession of offensive weapons.
Where it's all going: Nobody really knows. Protesters are getting angrier and more volatile as fear and suspicion spread, and police ramp up arrests and crackdowns. Violence has been escalating for weeks, and it could continue if all sides refuse to give ground.