Hong Kong grounds all flights as protest paralyzes airport
7:45 a.m. ET, August 12, 2019
Traveler tells protesters: "You are ruining your own country"
Some travelers in Hong Kong support the protesters -- one told CNN the protesters were performing their civic duty -- but others are getting tired of the inconveniences.
"This is ridiculous. If you want to fight the issues, that's fair, but you are making the people turn against you," said one woman traveling with a child.
"You are ruining your own country and you all have to live with this. In 20 years it will be China whether you like it or not. You may want to be careful about how you go about things," she said.
"I'm all for fighting for your rights but this has gone beyond it. You are going to stop people from coming into your country, your economy is finished."
7:34 a.m. ET, August 12, 2019
There are Australian consulate officials at the airport to help Australian tourists
The Australian Consulate in Hong Kong has sent a team of officials to the airport to help Australian tourists.
The officials are wearing green vests that read "Australian official."
The airport is filled with confused, scared tourists -- check-in counters and currency exchange counters are closed, trains and buses heading into the city are packed with people, and the one information desk available is helmed by frazzled looking staff.
7:30 a.m. ET, August 12, 2019
A history lesson for one tourist
With few airline or airport staff available to help passengers navigate the massive delays, some tourists in Hong Kong are getting into heated confrontations with the remaining protesters.
One man stamped his foot and shouted at protesters in the arrivals hall that "this is unfair, we are trying to get to our lives and you are giving us shit!"
Another man got into an argument with protesters over their demands, accusing them of supporting Hong Kong independence.
Protesters responded that they have five clear demands, and pointed him to the many flyers being handed out and pasted on walls. They also attempted to give him a history lesson about "one country, two systems," the arrangement under which Hong Kong was handed over from British to Chinese rule in 1997.
"You are angry because your flight is canceled," one protester told the man.
7:31 a.m. ET, August 12, 2019
Hundreds of protesters left at the airport have no plan
The hundreds of protesters remaining at Hong Kong International Airport say they have no plan.
They are milling around, and passing the time by sticking up flyers and aiming laser pointers at the ceiling.
Some travelers and protesters are sitting behind check-in counters, which staff have left empty. Nobody is being checked in.
Travelers seem frustrated there are few people around to help them. One information counter is open, but the line is backed up and the staff there look frazzled.
The protesters say they're afraid of police action, but want to make sure everyone leaves the airport together.
"We don't know how long that will be," a protester said.
7:20 a.m. ET, August 12, 2019
Travelers arriving in Hong Kong met with protester warnings
Hundreds of protesters remain in the arrivals hall waving signs and maps -- they are the first thing travelers still landing in Hong Kong see as they leave baggage reclaim.
Many of the signs warn of police brutality and tell travelers to "be careful." In English, the protesters call out: "Don't trust the police" and "Save Hong Kong."
Confused and scared travelers: Many travelers are stranded or confused, with several even asking CNN journalists for help. One young girl traveling by herself needed to get foreign currency, only to find the exchange desk closed. She said she had no idea how to get out of the airport.
Others have asked about whether they should leave because of the police and if tear gas will be fired inside.
This is what the arrivals hall looks like for travelers:
7:15 a.m. ET, August 12, 2019
Chinese propaganda sends a message: We are ready to crush the protests
Videos have been circulating in Chinese state media of exercises in Hong Kong's neighboring city of Shenzhen conducted by the People's Armed Police (PAP), a paramilitary group under the direct control of the Central Military Commission, headed by Chinese President Xi Jinping.
This is part of a highly coordinated government propaganda campaign aimed at reinforcing its message that the Chinese military or armed police can be sent in to quash riots or violence if the protests in Hong Kong get out of the control of local authorities.
The video itself is no shaky cell phone footage that has spontaneously surfaced online. It is slickly produced, showing rows of armored vehicles moving on the expressways of Shenzhen and assembling in a service area, complete with smooth drone shots and menacing music tracks. There are a few different versions posted by different state media outlets -- but they are obviously all cut from the same source material. Some clips contain Chinese subtitles that spell out the relevant Chinese law that authorizes the use of the People's Armed Police (PAP) to "handle riots, unrest, severe violent criminal activities, terrorist attacks and other public safety incidents."
The Chinese government and military have been saying for days/weeks that they can be called upon by the Hong Kong government to preserve security and stability in Hong Kong if needed. This latest video is the clearest message yet from Beijing as it hardens its rhetoric with the protests in Hong Kong showing no sign of abating.
7:13 a.m. ET, August 12, 2019
We answer your FAQ about the protests
Thousands of protesters occupied the Hong Kong International Airport today, and though most of them have dispersed, a few hundred still remain. Almost 200 flights coming in and out of the city have been canceled, and the airport's exit points are packed with people trying to leave.
Here's what you need to know:
Why are protesters at the airport? Protesters are targeting the airport to take their message directly to global travelers and the international community. They've sought international support before -- ahead of the G20 Summit, protesters urged foreign consulates to back the movement, and took out full-page ads in the New York Times. It's also a comparatively safe protest space that has yet to attract the attention of the police.
What about the flights? 123 flights departing from Hong Kong and 73 arriving flights have been canceled, according to flight tracking site Flightaware.com. Of those, two were directly linked to the United States -- one departing from Los Angeles and the other slated to land in Seattle.
What sparked today's protests? There is widespread outrage over alleged police brutality -- especially after a widely-circulated image of a woman whose eye was injured yesterday night as riot police attempted to disperse crowds.
What is this all about? This is the 11th consecutive week of protests in Hong Kong. It all started in June over a controversial bill that would have allowed extradition to China -- but it has since been shelved, and protester demands have expanded to include calls for greater democracy and an independent investigation into police brutality. Violence has been steadily escalating -- which may be why protesters are hurrying to leave the airport now in case riot police show up.
7:05 a.m. ET, August 12, 2019
Christian group staying in airport to keep the peace
A group of Christian pastors and priests are remaining at Hong Kong airport for now, even as many protesters head for the exits, in order to keep help the peace and ensure the safety of those still in the terminal.
There are about a dozen of them, wearing orange vests emblazoned with Christian fish symbols. Paul Lamb, a member of the group, told CNN they were supporting the protesters through peaceful action.
"We are Christian, we would like to do a prayer here," he said. "We would like to stay with all (the protesters) here to show them what Christians are."
The vibe in the airport has changed dramatically since the tense, packed scenes earlier. Some of the remaining protesters are cheering and chanting slogans at passengers in the international arrivals hall, but most are sitting around quietly.
7:00 a.m. ET, August 12, 2019
Crowds thinning dramatically as most protesters head for the exists
The crowd of protesters at Hong Kong airport has begun to seriously thin amid rumors of impending police action. 
Only a few hundred protesters are left of from the huge crowds which earlier had succeeded in shutting down one of the world's busiest airports. 
Of those who are left, most are chanting at the new arrivals who touch down. 
Hayden Smyth, a tourist from Australia, said it was a "bit of a different welcome than I'm used to."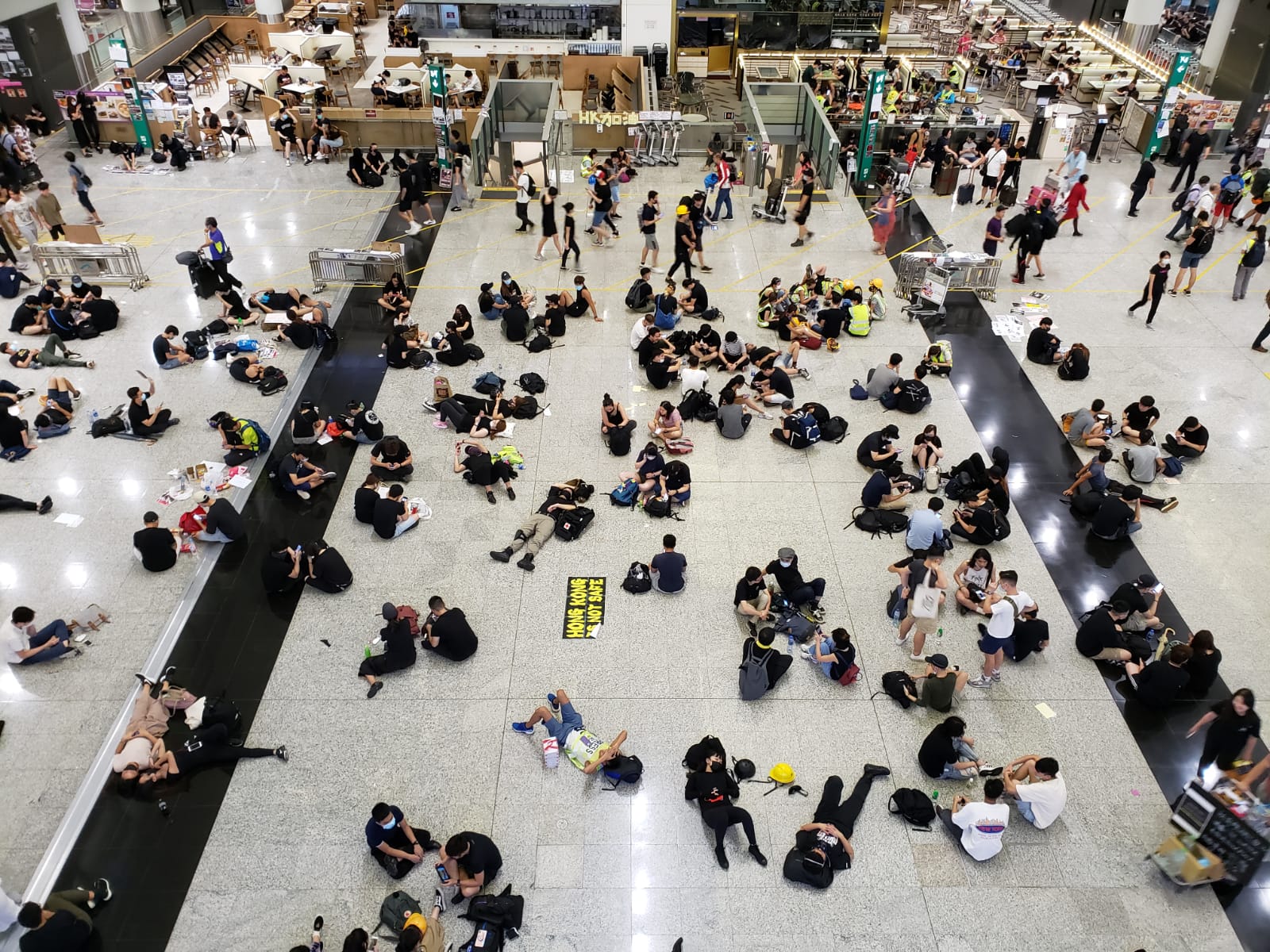 One 20-year-old protester, who had decided to stay, said he didn't think the police would conduct a major clearance operation at this point, given the reduced crowd size.
There had been fears that police would use tear gas and rubber bullets, as they have at other protests. The airport had attracted many protesters precisely because it was seen as a safer location.
Frank Chan, Hong Kong's Secretary of Transport, told reporters this was "not the first time there's a protest at Hong Kong airport."
"As long as protesters can quickly evacuate, I don't think there needs to be any clearance operation," he said.