Hong Kong grounds all flights as protest paralyzes airport
5:57 a.m. ET, August 12, 2019
Airport protesters: "Sorry for the inconvenience but we're fighting for survival!"
Protesters have plastered posters, flyers and even spray-painted graffiti all over the airport.
One makeshift sign reads: "Sorry for the inconvenience but we're fighting for survival!"
Another says: "Shame on the cops." The sign refers to the police officers who protesters are accusing of brutality, corruption, inaction, and use of excessive force.
All departing flights, and several incoming flights, have been canceled because of the airport shutdown.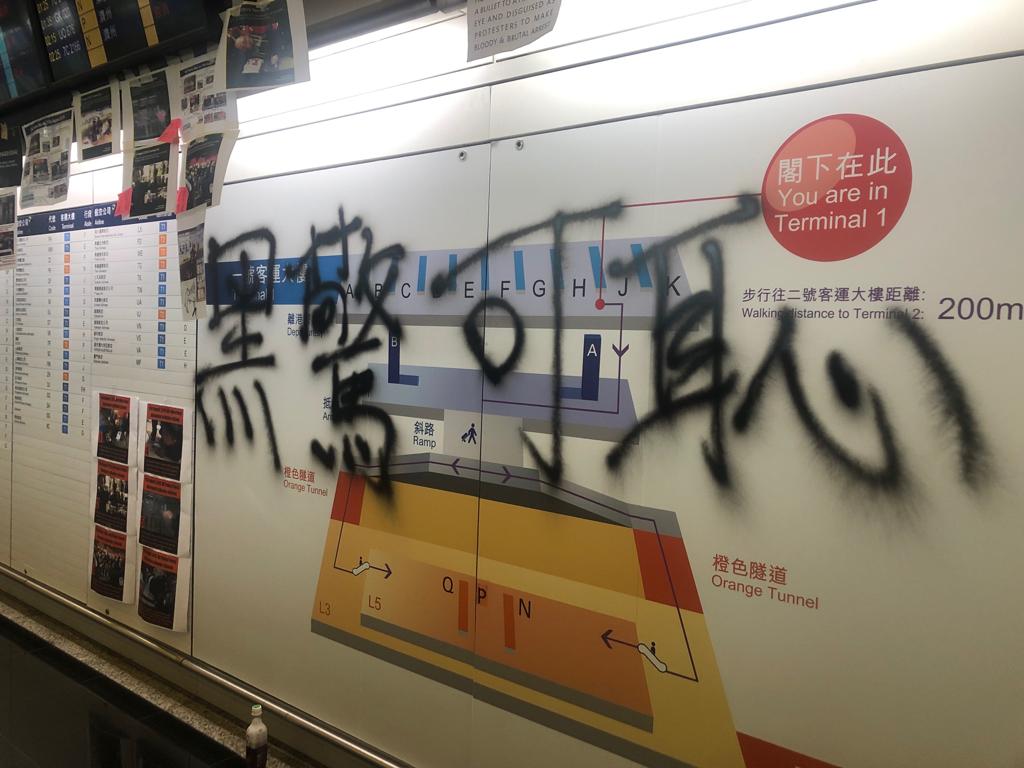 5:55 a.m. ET, August 12, 2019
Why Hong Kong's young protesters feel they're running out of time in fight for democracy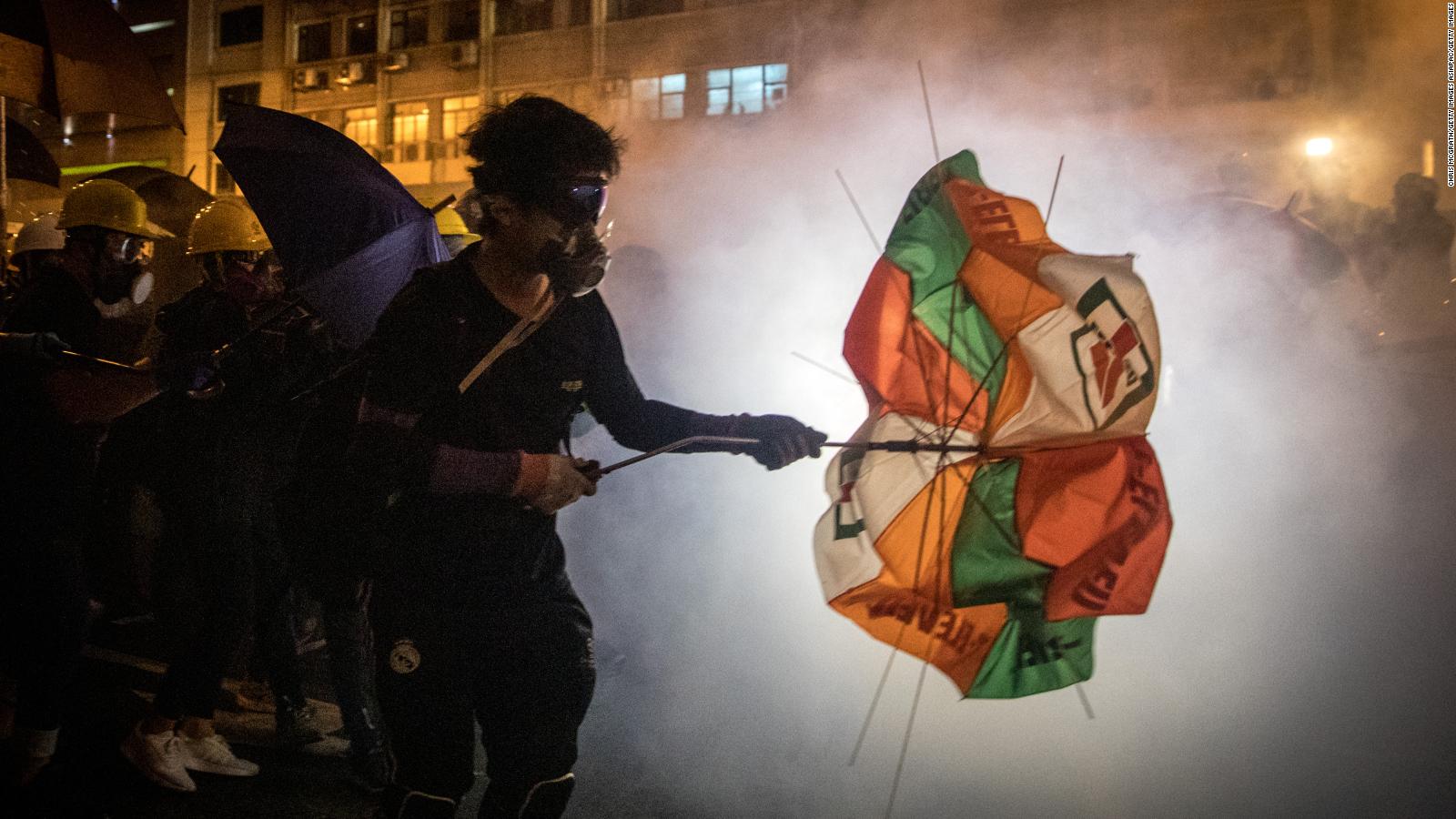 When protesters in Hong Kong targeted the Chinese government's headquarters in the city last month, social media users in China were united in outrage.
"The dignity of our motherland won't be allowed to be trampled," one person wrote on Weibo, the country's highly-censored equivalent to Twitter, while another warned the young protesters that "playing violently is how you seek death."
A third commenter sought to reassure others, writing that "the central government promised that Hong Kong won't be changed for 50 years. There's only 28 years left before Hong Kong becomes part of (China)."
A looming deadline: That 2047 deadline, on which the clock began ticking after the United Kingdom handed Hong Kong over to China in 1997, is at the forefront of the minds of the mostly young protesters who have been taking to the streets for over two months now, in increasingly violent confrontations with police and pro-government groups.
What began as protests over a now-suspended extradition bill have broadened to cover a host of demands, including calls for greater democracy and more government accountability, that many feel they are running out of time to achieve.
Even as democratic values have increasingly come under threat around the world, and many voters in democracies are increasingly expressing apathy or despair, young Hong Kongers are determined to continue a fight for freedom which began decades ago under British rule, before time runs out and Hong Kong becomes just another Chinese city.
"Liberate Hong Kong, the revolution of our times," the slogan of the protests has become.
5:54 a.m. ET, August 12, 2019
Cathay Pacific warns staff of "zero tolerance" with protests
Cathay Pacific, Hong Kong's flag-carrier airline, has told its employees that it has "has a zero-tolerance approach to illegal activities" and will comply with China's ban on staff who have protested.
The memo from the company's CEO, Rupert Hogg, warned that "there will be disciplinary consequences for employees who support or participate in illegal protests. These consequences could be serious and may include termination of employment."
On Friday, China's Civil Aviation Administration ordered Cathay to ban staff who have participated in and support the protests from doing "all air transport duties related to flights to and from the mainland."
Hogg's memo also warned employees against posting protest-related content on social media, saying: "You should not post anything that breaches privacy of colleagues, constitutes bullying or harassment or could bring Cathay Pacific Group into disrepute."
5:47 a.m. ET, August 12, 2019
Tourists stranded without information
Milling about among the thousands of protesters at Hong Kong's international airport are many confused passengers who don't know what's happening with their flights, dozens of which have been cancelled this evening.
Hong Kong permanent resident Lawrence Hahn said he had arrived to find his flight canceled and no Cathay Pacific staff to be found. 
"There's not a single Cathay staff member here," he said. "Not a single one."
He was supposed to be flying to New York. 
Fitness worker Rachel Moon said she supported the protesters but shutting down the airport was too "extreme."
Kim Macaranas, from Brisbane, shared Hahn and Moon's frustration. Her family's flight has been cancelled and they are just waiting for news.
"We are devastated there are no staff here to tell us what to do. Thats the worst of it. Stuck trying to ring our airlines and family in Australia trying to rebook. Got told to come early but they should have known and told us. Have had to put data on -- no signal," she told CNN.
There are long queues for the toilets and 7/11 convenience stores, with few places to get water or other supplies.
"We are waiting to hear what's happened, do we get on a flight later? Do we wait? Family in Australia are trying to find out," she said, adding that airline staff were "very rude."
"There are no loudspeakers giving us information," Macaranas said. "We love Hong Kong but it does change our whole perspective. I understand the protests but this is not helping tourism."
5:42 a.m. ET, August 12, 2019
Flights to Hong Kong are also being canceled
Flights departing from Hong Kong have been grounded -- but incoming flights are also being diverted or canceled.
At Bangkok Airport, this sign is notifying travelers that Cathay Pacific flights CX708 and CX704, scheduled to depart at 5:30 p.m. and 6:55 p.m. Hong Kong time, have been canceled due to the Hong Kong airport shutdown.
5:39 a.m. ET, August 12, 2019
Why are protesters targeting the airport?
Hong Kong's international airport -- one of the busiest in Asia -- had emerged as a key protest target before today's mass gathering, as anti-government demonstrators looked to take their message directly to the international community.
At the airport over the weekend, leaflets in Chinese, English, French, Korean, Japanese and other languages were handed out to arriving international visitors, explaining the causes of the unrest -- as protesters see it -- and the demands of the opposition movement.
Showcasing the slick design that has characterized the protests, other pamphlets and posters also advertised planned demonstrations as "new tourist spots," handed out airline tickets "to freedom" and advised tourists what to do if they were caught in the protests during their visit.
The economy takes a hit: While China is Hong Kong's most important trading partner, the city is an international business and financial hub, and the economy is already showing signs of hurting as a result of the protests.
Businesses, both international and local, in Hong Kong have also faced pressure and accusations of acting in concert or sympathizing with the protesters. Cathay Pacific, Hong Kong's flagship carrier and a major local employer, has been ordered by Chinese aviation authorities to ban staff who took part in protests from traveling to China.
The PR battle: By appealing to the international community, and making sure it is their message that most foreigners are seeing, protesters have shown themselves adept at public relations. Meanwhile despite carrying out regular press briefings, the Hong Kong government has at times appeared at a loss as to how to engage with residents and protesters.
5:36 a.m. ET, August 12, 2019
Here's what the airport looks like right now
More than 5,000 people have been camping out at the Hong Kong airport all day.
For now, the atmosphere remains relaxed -- with many of the young protesters standing around in small groups chatting.
Some have sprawled out on the airport floor, which has been covered with protest signs and banners -- most of which take aim at the police, who protesters accuse of using excessive brutal force.
5:26 a.m. ET, August 12, 2019
Thousands of protesters wearing black are occupying the airport -- and hundreds more are coming
Thousands of demonstrators in black are sitting in the airport, while hundreds more are walking over to join the protest.
Earlier today, there were baggage carts and barriers blocking access to the check-in area -- but protesters broke through and are now in both the arrivals and departures hall.
Travelers have been caught in the mix -- but protesters are trying to help them out. This afternoon, they cleared the way and opened a path in the crowd every time a passenger needed to get through to the check-in counters.
Still, the sheer number of protesters has thrown the airport into chaos. Even if protesters can get through the crowds, check-in services are now shut down and all departing flights have been canceled.
Hong Kong's airport is one of the busiest in the world, handling 1,100 passenger and cargo flights daily, with services between the city and about 200 international destinations.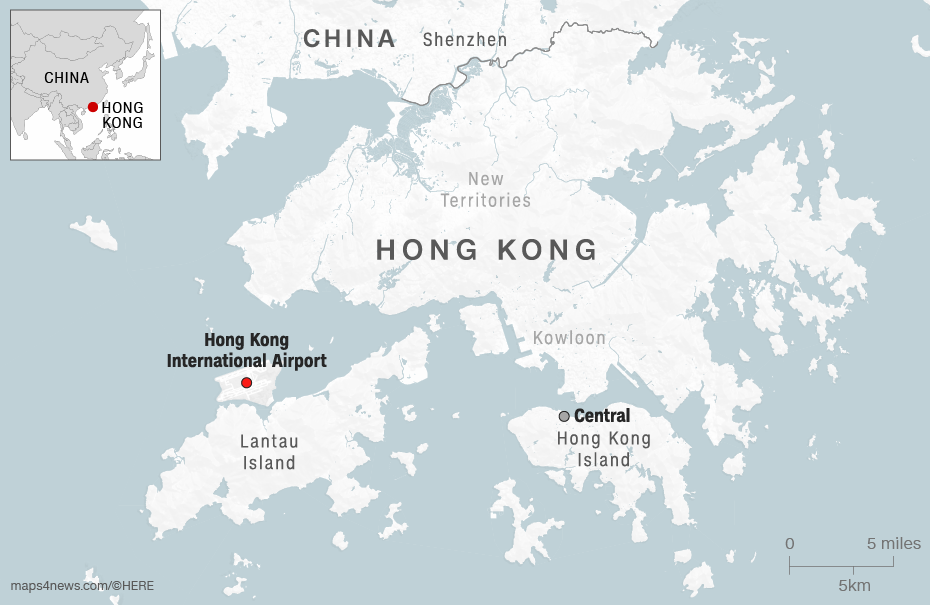 5:16 a.m. ET, August 12, 2019
180 flights from Hong Kong to Boston, Taipei, and more are canceled
Around 180 flights leaving Hong Kong International Airport from now until the early hours of Tuesday morning have been canceled, according to the airport's website. The first scheduled departure now shown is a Hong Kong Airlines flight to Haikou, China, at 7 a.m. tomorrow.