Hong Kong grounds all flights as protest paralyzes airport
7:15 a.m. ET, August 12, 2019
Chinese propaganda sends a message: We are ready to crush the protests
Videos have been circulating in Chinese state media of exercises in Hong Kong's neighboring city of Shenzhen conducted by the People's Armed Police (PAP), a paramilitary group under the direct control of the Central Military Commission, headed by Chinese President Xi Jinping.
This is part of a highly coordinated government propaganda campaign aimed at reinforcing its message that the Chinese military or armed police can be sent in to quash riots or violence if the protests in Hong Kong get out of the control of local authorities.
The video itself is no shaky cell phone footage that has spontaneously surfaced online. It is slickly produced, showing rows of armored vehicles moving on the expressways of Shenzhen and assembling in a service area, complete with smooth drone shots and menacing music tracks. There are a few different versions posted by different state media outlets -- but they are obviously all cut from the same source material. Some clips contain Chinese subtitles that spell out the relevant Chinese law that authorizes the use of the People's Armed Police (PAP) to "handle riots, unrest, severe violent criminal activities, terrorist attacks and other public safety incidents."
The Chinese government and military have been saying for days/weeks that they can be called upon by the Hong Kong government to preserve security and stability in Hong Kong if needed. This latest video is the clearest message yet from Beijing as it hardens its rhetoric with the protests in Hong Kong showing no sign of abating.
7:13 a.m. ET, August 12, 2019
We answer your FAQ about the protests
Thousands of protesters occupied the Hong Kong International Airport today, and though most of them have dispersed, a few hundred still remain. Almost 200 flights coming in and out of the city have been canceled, and the airport's exit points are packed with people trying to leave.
Here's what you need to know:
Why are protesters at the airport? Protesters are targeting the airport to take their message directly to global travelers and the international community. They've sought international support before -- ahead of the G20 Summit, protesters urged foreign consulates to back the movement, and took out full-page ads in the New York Times. It's also a comparatively safe protest space that has yet to attract the attention of the police.
What about the flights? 123 flights departing from Hong Kong and 73 arriving flights have been canceled, according to flight tracking site Flightaware.com. Of those, two were directly linked to the United States -- one departing from Los Angeles and the other slated to land in Seattle.
What sparked today's protests? There is widespread outrage over alleged police brutality -- especially after a widely-circulated image of a woman whose eye was injured yesterday night as riot police attempted to disperse crowds.
What is this all about? This is the 11th consecutive week of protests in Hong Kong. It all started in June over a controversial bill that would have allowed extradition to China -- but it has since been shelved, and protester demands have expanded to include calls for greater democracy and an independent investigation into police brutality. Violence has been steadily escalating -- which may be why protesters are hurrying to leave the airport now in case riot police show up.
7:05 a.m. ET, August 12, 2019
Christian group staying in airport to keep the peace
A group of Christian pastors and priests are remaining at Hong Kong airport for now, even as many protesters head for the exits, in order to keep help the peace and ensure the safety of those still in the terminal.
There are about a dozen of them, wearing orange vests emblazoned with Christian fish symbols. Paul Lamb, a member of the group, told CNN they were supporting the protesters through peaceful action.
"We are Christian, we would like to do a prayer here," he said. "We would like to stay with all (the protesters) here to show them what Christians are."
The vibe in the airport has changed dramatically since the tense, packed scenes earlier. Some of the remaining protesters are cheering and chanting slogans at passengers in the international arrivals hall, but most are sitting around quietly.
7:00 a.m. ET, August 12, 2019
Crowds thinning dramatically as most protesters head for the exists
The crowd of protesters at Hong Kong airport has begun to seriously thin amid rumors of impending police action. 
Only a few hundred protesters are left of from the huge crowds which earlier had succeeded in shutting down one of the world's busiest airports. 
Of those who are left, most are chanting at the new arrivals who touch down. 
Hayden Smyth, a tourist from Australia, said it was a "bit of a different welcome than I'm used to."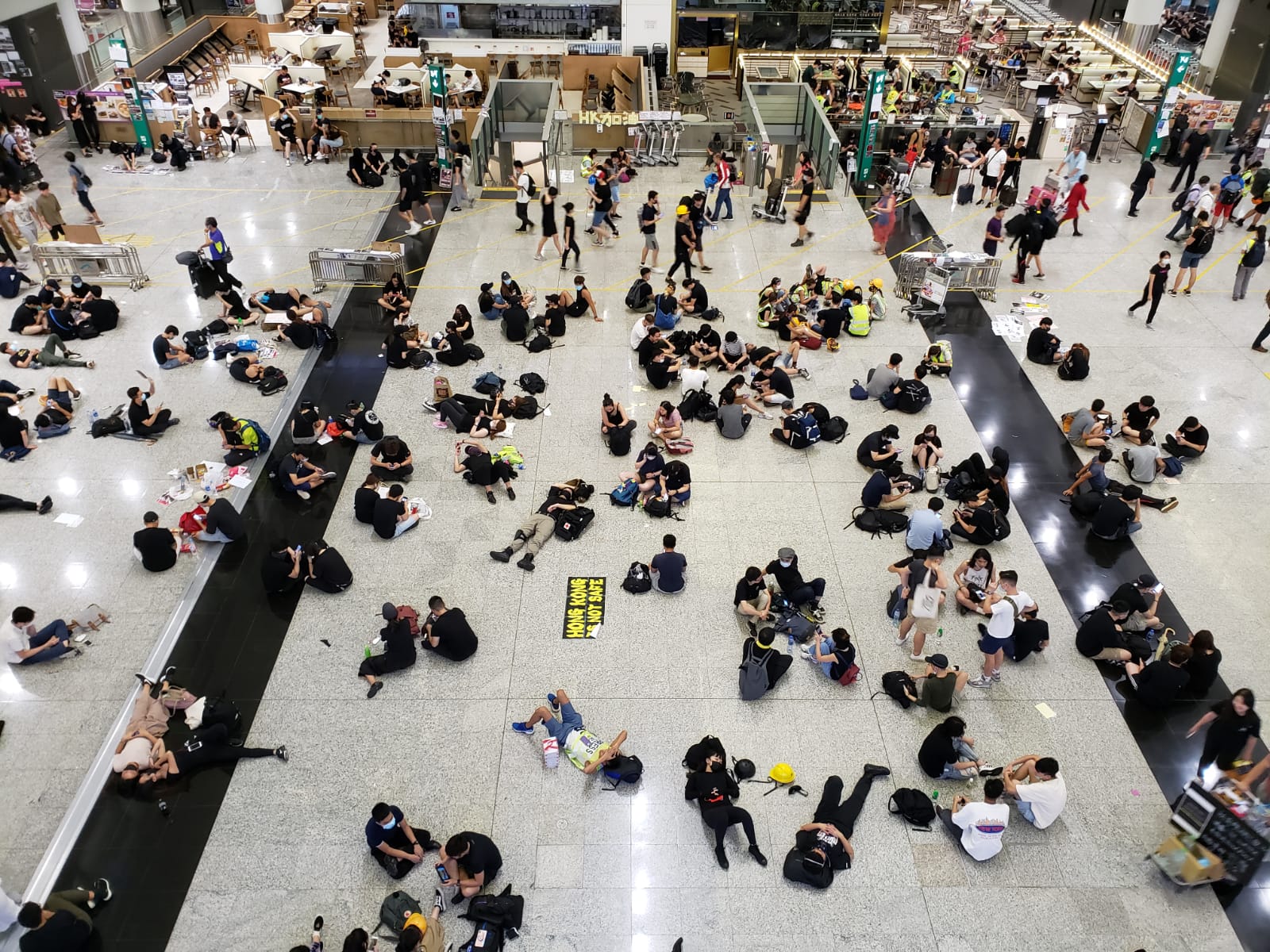 One 20-year-old protester, who had decided to stay, said he didn't think the police would conduct a major clearance operation at this point, given the reduced crowd size.
There had been fears that police would use tear gas and rubber bullets, as they have at other protests. The airport had attracted many protesters precisely because it was seen as a safer location.
Frank Chan, Hong Kong's Secretary of Transport, told reporters this was "not the first time there's a protest at Hong Kong airport."
"As long as protesters can quickly evacuate, I don't think there needs to be any clearance operation," he said.
6:51 a.m. ET, August 12, 2019
China said Hong Kong protests are showing signs of "terrorism." That's a concerning rhetorical escalation
Use of the terrorism label for the Hong Kong protests, even in a somewhat backhanded way, is a major rhetorical shift in how China has described the protests, and could foreshadow an escalation in Beijing's handling of them.
Earlier today, a top Chinese official said the protests -- now in their eleventh week -- had "begun to show signs of terrorism." In recent years, that term has only been used in a domestic Chinese context to refer to the actions of alleged Islamist groups, particularly in Xinjiang, the predominantly Muslim northwest region of China. Beijing has cracked down heavily in Xinjiang in recent years, establishing a massive system of so-called "re-education camps" in which millions of Muslims have been detained.
In domestic propaganda, there has been a major shift in recent weeks in how the protests are covered. Reports initially barely mentioned them, amid heavy censorship, as is usual for anti-government actions anywhere in China, but increasingly they have emphasized the violent side of the protests -- and sought to paint the protesters as separatists being controlled by the United States and other foreign "black hands."
Suggesting those protesters are also committing acts of terror could open the door for Beijing to crack down on Hong Kong, either by ordering the local police to escalate their use of force, or even by deploying the People's Liberation Army (PLA) in the city.
The PLA can be deployed in Hong Kong if the local government requests it, in order to assist with a major breakdown in public order. Local officials have previously refuted any suggestion they would do so.
Earlier Monday, police showed off a riot control vehicle with water cannon, previously never used in Hong Kong. Across the border in Shenzhen, the People's Armed Police, a paramilitary organization, conducted major exercises seen as a potential signal to protesters in Hong Kong.
6:32 a.m. ET, August 12, 2019
The airport's bus, train, and taxi exits are packed with people trying to leave
Hong Kong International Airport, famed for its efficiency, has been thrown into chaos as frustrated travelers and protesters try to leave all at once.
Bus, taxi and train exits at the airport are now packed. There is a sense of fear among the protesters, amid speculation that riot police may arrive to disperse the crowds.
Some protesters are holding up signs directing others towards various exits, complete with estimated waiting times.
One organizer told CNN most people are going home, and that many want to stay safe today instead of clashing with police.
"I wish the people who want to leave can leave safely and I can't stop people who want to stay," another protester told CNN.
Meanwhile, small groups of protesters remain at the arrivals hall, shouting, "Stand with Hong Kong."
Take a look at the bus line outside the airport:
6:28 a.m. ET, August 12, 2019
Stranded traveler: "It took an hour to get out of the arrivals hall"
Ben, a British expat who landed in Hong Kong at 4.20 p.m. on a Cathay Pacific flight from Cebu in the Philippines, said airport staff gave no warning of the chaos awaiting travelers trying to leave the airport. 
"It was wall-to-wall people chanting, 'Don't trust HK police' and providing maps of MTR stations that had been attacked in the last couple of days, and where people had been beaten up by the police," he said. 
Once through customs, Ben, who asked that CNN withhold his full name, said it took him an hour to battle through the arrivals hall. "Normally, it takes 10 minutes," he said.
Travelers stranded at the airport: The taxi stand was shut and Ben couldn't get on the Airport Express train, leaving him with few options to leave the airport.
"If you're waiting for that train, you're going to have to wait for an hour-plus, if not more," he said, describing a huge crowd waiting to catch the train, which takes 25 minutes to reach the city center.
"We weren't given any advice (after landing)," he said. "I'd seen on various WhatsApp groups what was going on, but there was nothing from airport staff warning what we were going to face." 
In the end, Ben left the airport terminal and walked up to the highway until he saw a taxi that dropped someone off.
6:24 a.m. ET, August 12, 2019
Chinese government condemns "terrorism" in Hong Kong
China's top office in charge of Hong Kong affairs issued a stern warning to the city on Monday, following violent clashes between protesters and police over the weekend.
Speaking at a press conference in Beijing, Yang Guang, a spokesman for the Hong Kong and Macao Affairs Office, claimed "heartless" protesters had thrown petrol bombs at police.
"Hong Kong's radical demonstrators have repeatedly attacked police officers with extremely dangerous tools," he said. "They have already constituted serious violent crimes and have begun to show signs of terrorism. This is a gross violation of the rule of law and social order in Hong Kong, which is endangering the lives and safety for Hong Kong citizens."
Use of the term "terrorism" in describing the most recent protests caused considerable alarm among many in Hong Kong. Central government and local officials have so far ruled out the People's Liberation Army (PLA) intervening to help control the protests, but all pointed to a section of the city's de facto constitution which allows the Hong Kong government to request their help for the "maintenance of public order."
6:15 a.m. ET, August 12, 2019
Airport crowds begin trickling out, but thousands still remain
With many expecting the police to show up at the airport, protesters are beginning to trickle out, and it's now a little easier to move around.
But thousands still remain, with crowds of people in both the arrivals and departures halls.
Many tell CNN they are trying to head home. There is a widespread fear of clashing with police -- which may be heightened after a weekend of intense violence, when police fired tear gas to disperse protesters in several parts of the city.