Hong Kong grounds all flights as protest paralyzes airport
8:34 a.m. ET, August 12, 2019
The power of protest art
Hong Kong's airport, now largely empty of protesters hours after hundreds of flights were cancelled, is plastered with posters, flyers, and drawings -- examples of the widely-disseminated protest art that informs, inspires and, at times, offers light relief.
The political art has taken on a distinct style, from design to distribution. Banners are not just plastered onto main roads -- they are sent directly to residents via Bluetooth and Wi-Fi almost immediately after they are created.
The graphics serve multiple purposes; some advertise upcoming protest marches, others contain subversive criticism of the authorities and many encourage unity and stamina.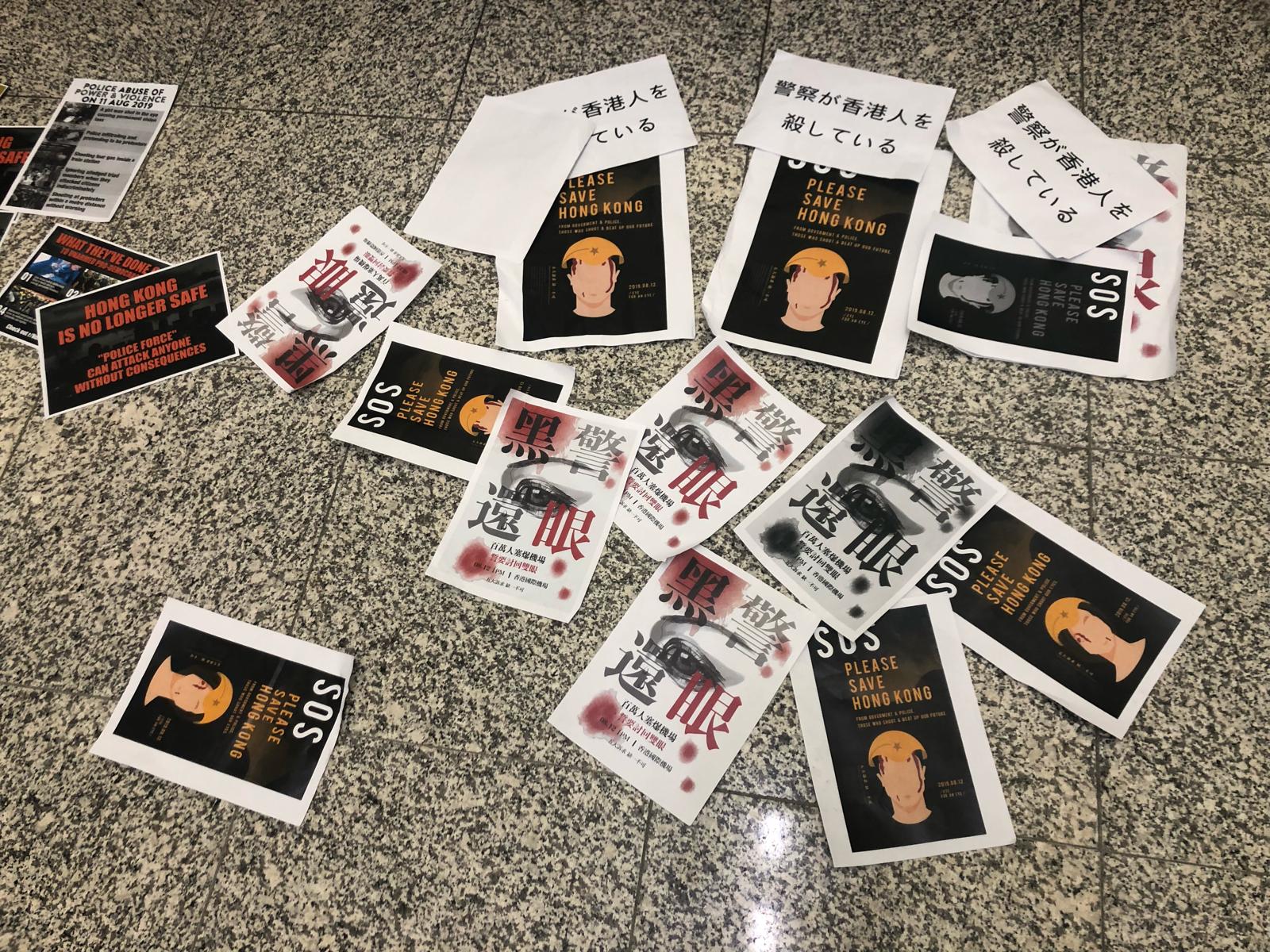 "Be water": A key theme of protesters' posters is the ability to "be water," a phrase inspired by martial arts icon Bruce Lee that encourages fluidity and adaptability to any situation. This is in stark contrast to the 2014 protests, which remained in one area of the city as protesters set up camp against the authorities.
"An eye for an eye": A newly emerging poster theme depicts a woman with an eye missing, a reference to an injury suffered during Sunday night's clashes with police. Many protesters at the airport on Monday also wore eyepatches in reference to the woman's injury.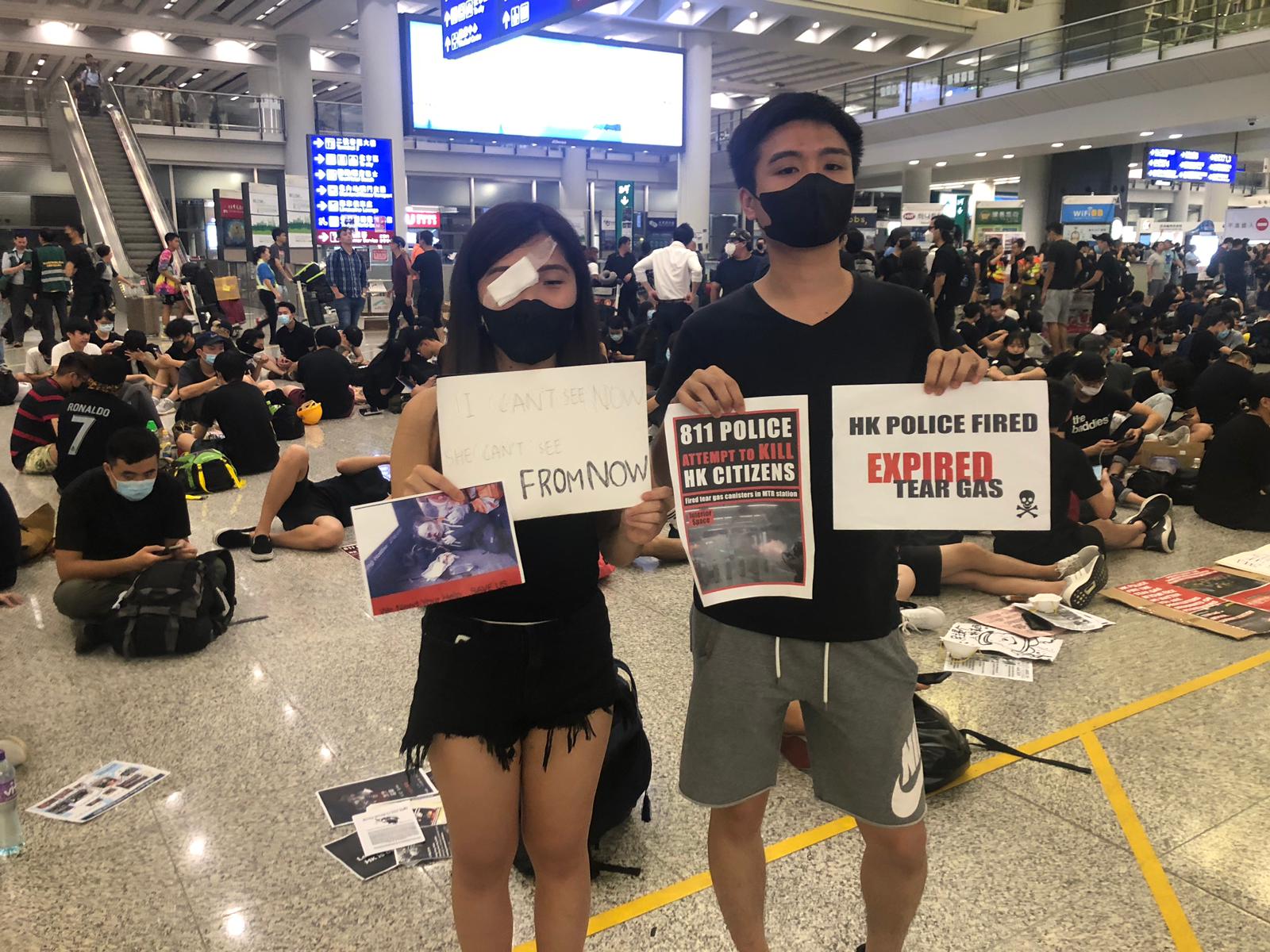 8:26 a.m. ET, August 12, 2019
A small crowd of protesters have gathered in Wan Chai
Most protesters have cleared out of the airport, with only a few hundred left, but some others are now gathering in the district of Wan Chai on Hong Kong Island.
Police on scene are warning through a loudspeaker that this gathering constitutes an unlawful assembly, and that protesters should leave -- to which protesters shout back that they're not causing any harm.
The small crowd say they're planning to submit a letter to the Hong Kong police commissioner, and are chanting, "Stop firing tear gas."
"Your whole family and kids would be ashamed for what you have done," one protester shouted at the police.
One police officer came out to meet the protesters and receive the letter, even posing for a photo with the protesters.
There is widespread anger at the police today, after a female protester was injured in the eye yesterday night during clashes with police who were trying to disperse crowds. Many posters, flyers, and pieces of protest art today showed a bloody eye, or faces with one eye covered or missing.
8:29 a.m. ET, August 12, 2019
Protesters and passengers hunker down at the airport McDonald's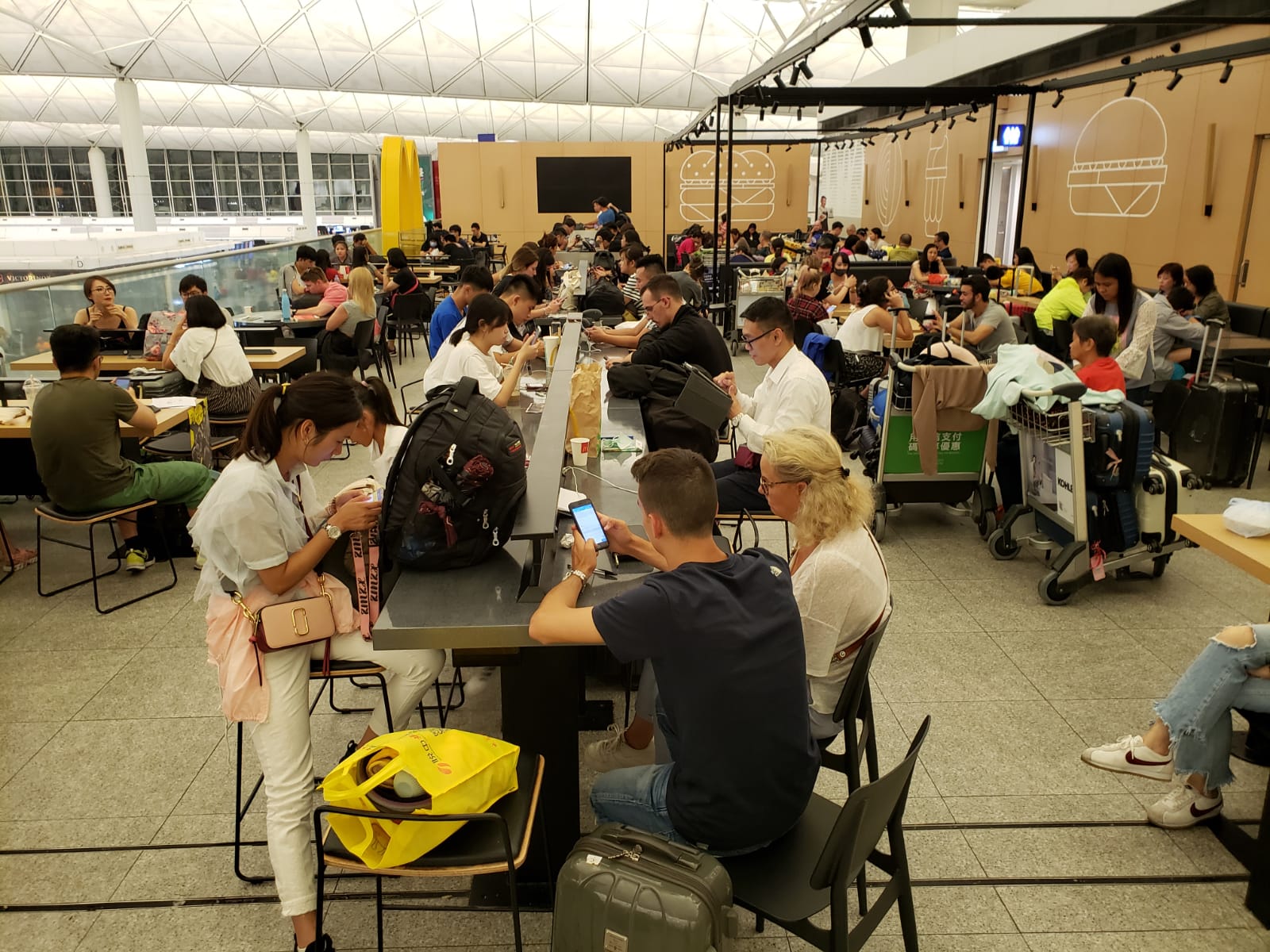 There are a few hundred protesters still at the airport, and they show no signs of leaving.
Many have congregated at the McDonald's -- one of the only sources of water right now, with other shops and restaurants largely closed.
Protesters and passengers take a break, charge their phones, and grab a bite. Earlier, some travelers told CNN they didn't know how to leave the airport, with lines for public transit packed full and no airport staff around to help.
Other protesters have even set up a portable television, and are sitting on the floor watching the feed.
It's not clear what they're waiting for -- earlier, some protesters told CNN they had "no plan." Others said they were afraid of possible confrontations with the police, but wanted to make sure nobody was left behind.
7:45 a.m. ET, August 12, 2019
Traveler tells protesters: "You are ruining your own country"
Some travelers in Hong Kong support the protesters -- one told CNN the protesters were performing their civic duty -- but others are getting tired of the inconveniences.
"This is ridiculous. If you want to fight the issues, that's fair, but you are making the people turn against you," said one woman traveling with a child.
"You are ruining your own country and you all have to live with this. In 20 years it will be China whether you like it or not. You may want to be careful about how you go about things," she said.
"I'm all for fighting for your rights but this has gone beyond it. You are going to stop people from coming into your country, your economy is finished."
7:34 a.m. ET, August 12, 2019
There are Australian consulate officials at the airport to help Australian tourists
The Australian Consulate in Hong Kong has sent a team of officials to the airport to help Australian tourists.
The officials are wearing green vests that read "Australian official."
The airport is filled with confused, scared tourists -- check-in counters and currency exchange counters are closed, trains and buses heading into the city are packed with people, and the one information desk available is helmed by frazzled looking staff.
7:30 a.m. ET, August 12, 2019
A history lesson for one tourist
With few airline or airport staff available to help passengers navigate the massive delays, some tourists in Hong Kong are getting into heated confrontations with the remaining protesters.
One man stamped his foot and shouted at protesters in the arrivals hall that "this is unfair, we are trying to get to our lives and you are giving us shit!"
Another man got into an argument with protesters over their demands, accusing them of supporting Hong Kong independence.
Protesters responded that they have five clear demands, and pointed him to the many flyers being handed out and pasted on walls. They also attempted to give him a history lesson about "one country, two systems," the arrangement under which Hong Kong was handed over from British to Chinese rule in 1997.
"You are angry because your flight is canceled," one protester told the man.
7:31 a.m. ET, August 12, 2019
Hundreds of protesters left at the airport have no plan
The hundreds of protesters remaining at Hong Kong International Airport say they have no plan.
They are milling around, and passing the time by sticking up flyers and aiming laser pointers at the ceiling.
Some travelers and protesters are sitting behind check-in counters, which staff have left empty. Nobody is being checked in.
Travelers seem frustrated there are few people around to help them. One information counter is open, but the line is backed up and the staff there look frazzled.
The protesters say they're afraid of police action, but want to make sure everyone leaves the airport together.
"We don't know how long that will be," a protester said.
7:20 a.m. ET, August 12, 2019
Travelers arriving in Hong Kong met with protester warnings
Hundreds of protesters remain in the arrivals hall waving signs and maps -- they are the first thing travelers still landing in Hong Kong see as they leave baggage reclaim.
Many of the signs warn of police brutality and tell travelers to "be careful." In English, the protesters call out: "Don't trust the police" and "Save Hong Kong."
Confused and scared travelers: Many travelers are stranded or confused, with several even asking CNN journalists for help. One young girl traveling by herself needed to get foreign currency, only to find the exchange desk closed. She said she had no idea how to get out of the airport.
Others have asked about whether they should leave because of the police and if tear gas will be fired inside.
This is what the arrivals hall looks like for travelers:
7:15 a.m. ET, August 12, 2019
Chinese propaganda sends a message: We are ready to crush the protests
Videos have been circulating in Chinese state media of exercises in Hong Kong's neighboring city of Shenzhen conducted by the People's Armed Police (PAP), a paramilitary group under the direct control of the Central Military Commission, headed by Chinese President Xi Jinping.
This is part of a highly coordinated government propaganda campaign aimed at reinforcing its message that the Chinese military or armed police can be sent in to quash riots or violence if the protests in Hong Kong get out of the control of local authorities.
The video itself is no shaky cell phone footage that has spontaneously surfaced online. It is slickly produced, showing rows of armored vehicles moving on the expressways of Shenzhen and assembling in a service area, complete with smooth drone shots and menacing music tracks. There are a few different versions posted by different state media outlets -- but they are obviously all cut from the same source material. Some clips contain Chinese subtitles that spell out the relevant Chinese law that authorizes the use of the People's Armed Police (PAP) to "handle riots, unrest, severe violent criminal activities, terrorist attacks and other public safety incidents."
The Chinese government and military have been saying for days/weeks that they can be called upon by the Hong Kong government to preserve security and stability in Hong Kong if needed. This latest video is the clearest message yet from Beijing as it hardens its rhetoric with the protests in Hong Kong showing no sign of abating.