Hong Kong protests over China extradition bill
9:31 a.m. ET, June 12, 2019
At least 22 people injured in Hong Kong protests
A spokesman for Hong Kong's Hospital Authority said that 22 people had been injured in the protests on Wednesday, as of 6 p.m. local time.
He said there had been 16 men and 6 women injured, some of whom were still undergoing treatment while others were stable.
Separately a spokesman for the Information Services Department said 10 of the injured were stable, and six had already been discharged. The condition of six others was "unknown."
So far, there have been no fatalities reported from Wednesday's divisive protests.
The health authority spokesman said he didn't know how badly the injured had been hurt or whether they were predominantly police or protesters.
Currently they are located at two hospitals in central Hong Kong -- the Queen Mary and the Ruttonjee.
8:20 a.m. ET, June 12, 2019
Hong Kong Chief Executive Carrie Lam: It is "undeniable that this law is controversial"
On the same day that protestors took to the streets of Hong Kong and a second reading of the Hong Kong bill was stalled, Carrie Lam, the Chief Executive of Hong Kong, said it is "undeniable that this law is controversial."
In an interview with Hong Kong's TVB, Lam conceded that "whether to set up this law or not for the good of Hong Kong, our view is like this: It is undeniable the law is controversial, allowing more explanations and discussions will be helpful, but it will not eliminate worries and controversies concerning the law completely."
When asked about the protests, Lam said:
"I am worried that youngsters are engaged in this. I am sad to see many have joined this because Hong Kong has always been a calm and sensible society."
"They say I sold out Hong Kong, how could I?" she added. "I am born here and I live here with everyone I have sacrificed myself to Hong Kong."
7:59 a.m. ET, June 12, 2019
It's 8 p.m. in Hong Kong. Here's where the protests stand now.
It's 8 p.m. local time in Hong Kong, where protesters have been rallying all day against a controversial extradition bill.
Here's what you need to know about the protests:
What the protesters want: They're demonstrating against a proposed law that would allow Hong Kong to extradite fugitives to territories where it doesn't have formal extradition deals, including mainland China, Taiwan and Macau. 
What the bill could mean: Opponents of the bill say it could mean democracy activists, journalists and foreign business owners could be surrendered to mainland China. Remember: Hong Kong is a semi-autonomous city, which has a separate legal system and political system to mainland China. It allows citizens to enjoy freedoms not protected on the mainland.
How police have reacted: Police have used tear gas and rubber bullets to push back against the protests. Hong Kong Police Commissioner Steven Lo Wai-chung classified the demonstrations as "a riot," saying the police have "no choice but to start to use force."
What happens next? Hong Kong's Legislative Council postponed a second debate of the contentious bill, blaming road blockage around the Legislative Council building due to tens of thousands of protesters.
7:30 a.m. ET, June 12, 2019
Exhausted police rest after day of protests
Images from CNN's Rusty Foulkes show Hong Kong police officers with their riot gear resting in the Legislative Council building.
Some 5,000 police officers were deployed to control the protesters today.
7:23 a.m. ET, June 12, 2019
Local restaurant hands out hotdogs to hungry protesters
Desperate protesters pushed back by Hong Kong police were given some reprieve on Wednesday night, thanks to a local restaurant.
The chef came out with free hotdogs for protesters, telling the hungry Hong Kongers to take as many as they wanted.
"Take them so I can come back with some more," the chef told them.
7:12 a.m. ET, June 12, 2019
Crowds of protesters now in Hong Kong's Central district
Thousands of protesters have now moved west to Hong Kong's Central district, the city's business and retail heart.
They have been pushed away from the Legislative Council building by police but say they will keep protesting here.
Crowds can be seen on Queens Road Central, with huge numbers sitting alongside supplies.
Most of these roads were empty earlier, as the point of the protest was to surround the Legislative Council building, not to disrupt the city's Admiralty and Central districts.
On the Connaught and Pedder Street overpass, crowds have gathered and are yelling down to traffic below.
6:46 a.m. ET, June 12, 2019
Police push protesters away from government complex
Protesters on Cotton Tree Drive are slowly being pushed uphill by police.
They are yelling at people on the walkway to leave before they get trapped by advancing law enforcement. The main crowd here is retreating up Cotton Tree Drive, which runs perpendicular to Harcourt Road and Queensway away from the government complex area.
One protester holds a radio to hear live updates from local media.
6:33 a.m. ET, June 12, 2019
Ambulances rush to the scene of the protests
There is no official number of injured yet from the protests but reports are coming in of people being removed from the scene on stretchers.
Three ambulances were seen rushing towards Harcourt Road, the main site of Wednesday's protests.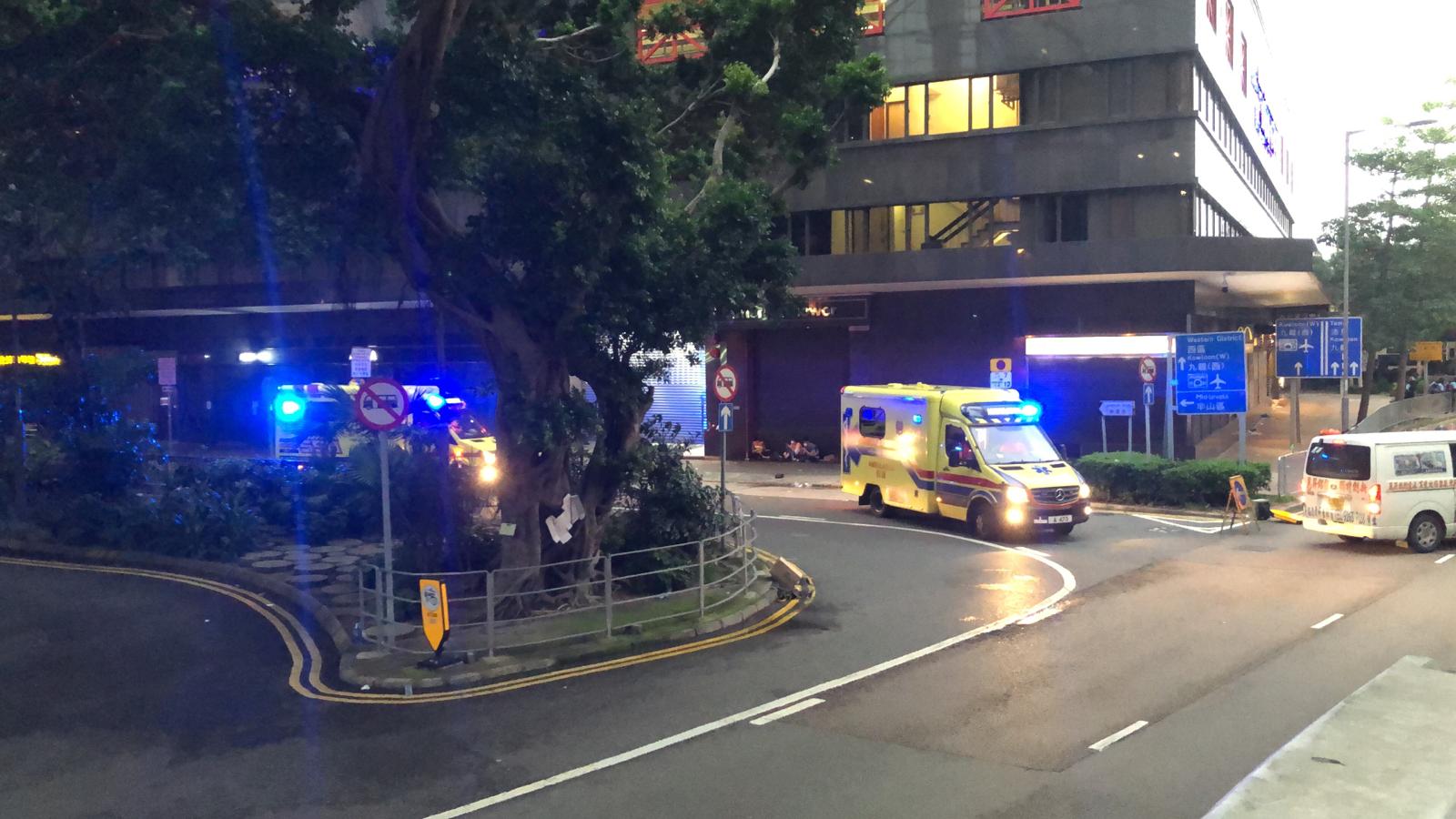 They struggled to get through the large numbers of Hong Kong police on the scene.
Elsewhere a man on a stretcher was seen being wheeled off past the high-end Pacific Place mall, which runs alongside the protest site.
Earlier in the day, Hong Kong Police Commissioner Steven Lo Wai-chung said an unspecified number of officers had been injured.
6:28 a.m. ET, June 12, 2019
Tear gas cans litter main protest road
Protesters appear to have been cleared from much of Harcourt Road after police fired tear gas and rubber bullets to push them back.
The image above shows an empty canister of CS -- or tear gas.
Umbrellas, plastic bottles and other bits of debris can also be seen littering the ground.