Hong Kong protests over China extradition bill
7:12 a.m. ET, June 12, 2019
Crowds of protesters now in Hong Kong's Central district
Thousands of protesters have now moved west to Hong Kong's Central district, the city's business and retail heart.
They have been pushed away from the Legislative Council building by police but say they will keep protesting here.
Crowds can be seen on Queens Road Central, with huge numbers sitting alongside supplies.
Most of these roads were empty earlier, as the point of the protest was to surround the Legislative Council building, not to disrupt the city's Admiralty and Central districts.
On the Connaught and Pedder Street overpass, crowds have gathered and are yelling down to traffic below.
6:46 a.m. ET, June 12, 2019
Police push protesters away from government complex
Protesters on Cotton Tree Drive are slowly being pushed uphill by police.
They are yelling at people on the walkway to leave before they get trapped by advancing law enforcement. The main crowd here is retreating up Cotton Tree Drive, which runs perpendicular to Harcourt Road and Queensway away from the government complex area.
One protester holds a radio to hear live updates from local media.
6:33 a.m. ET, June 12, 2019
Ambulances rush to the scene of the protests
There is no official number of injured yet from the protests but reports are coming in of people being removed from the scene on stretchers.
Three ambulances were seen rushing towards Harcourt Road, the main site of Wednesday's protests.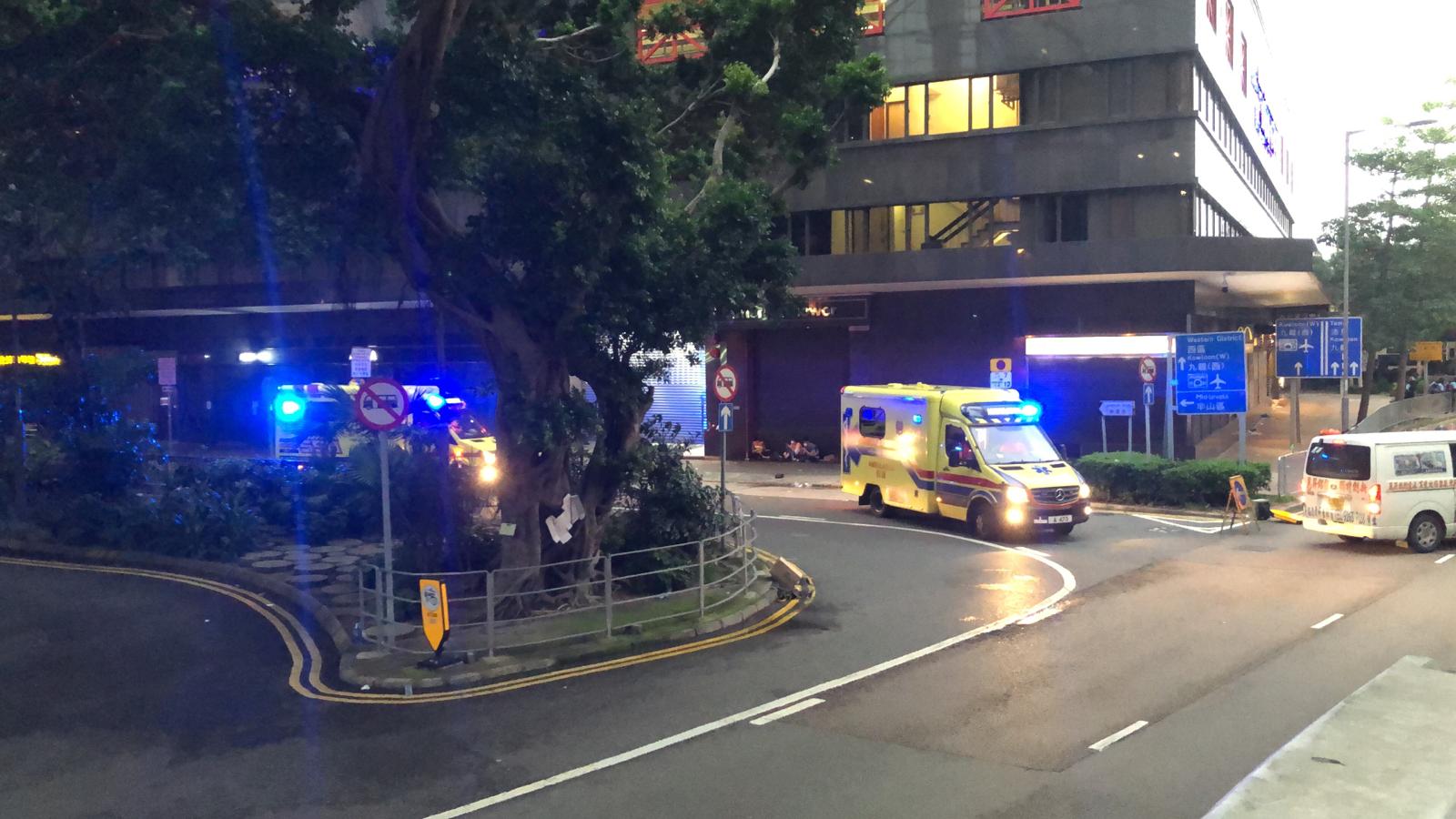 They struggled to get through the large numbers of Hong Kong police on the scene.
Elsewhere a man on a stretcher was seen being wheeled off past the high-end Pacific Place mall, which runs alongside the protest site.
Earlier in the day, Hong Kong Police Commissioner Steven Lo Wai-chung said an unspecified number of officers had been injured.
6:28 a.m. ET, June 12, 2019
Tear gas cans litter main protest road
Protesters appear to have been cleared from much of Harcourt Road after police fired tear gas and rubber bullets to push them back.
The image above shows an empty canister of CS -- or tear gas.
Umbrellas, plastic bottles and other bits of debris can also be seen littering the ground.
6:18 a.m. ET, June 12, 2019
'Scary and outrageous' to use tear gas
Patrick Kar-Wai Poon told CNN he thought it was "scary and outrageous" that police are using tear gas on what he said were peaceful protesters.
"I was observing the peaceful assembly on the road from the footbridge. Suddenly, I heard a great sound and immediately lots of white fumes appeared.
Many people were very scared, including people who were also standing on the footbridge like me. A lot of young people and some older people were around. Everybody felt uncomfortable.
I felt some pain on my eyes and in my nose. As there were many people around, we had to slowly go down from the footbridge, but we were in very good order.
It's scary and outrageous to see how the police suddenly used tear gas to people in the area when all people were so peaceful. Simply no clue."
6:18 a.m. ET, June 12, 2019
Police appear to target journalists
Video appears to show police using long range pepper spray on a photojournalist who got too close to them.
Galileo Cheng told CNN he took the video while standing on Harcourt Road Flyover with his photographer friends.
"Basically, police first tried tear gas -- no use as Hong Kongers are used to it. Then they took out AR15 (rifles) and fired at people getting too close. I couldn't tell the type of bullet but mostly rubber bullets or paint bullets. Bean bags is not used near PLA (Chinese People's Liberation Army Forces Hong Kong) headquarters. Crowd scattered now and gathered near Admiralty Centre side. I'm now at AIA tower near central. Situation is calmer now."
6:06 a.m. ET, June 12, 2019
Protesters shelter in high-end mall
The glitzy, high-end Pacific Place mall is packed with young protestors, many wearing black shirts and face masks, and yelling in the usually quiet mall foyer.
Hundreds of protestors were driven back into the mall by the police's use of tear gas outside.
Now Pacific Place is packed with people, and there's a sense of restlessness and frustration. Many have red eyes or faces from the gas outside, and groups are staying close to one another, trying not to lose each other in the tide of people. 
Chi Chan, a 30-year-old office clerk, was one of the people pushed back from a walkway into Pacific Place. Sirens were ringing in the mall as she entered, set off by the gas outside.
Her boss let her leave work early to join the protest, and she arrived at 2.30 p.m., right before the gas began to fly.
She said she had come because was concerned by the Chinese legal systems' lack of transparency, and said in the last five years Beijing had tried to influence Hong Kong too much.
Although Wednesday looked like it could be the beginning of another Umbrella movement, she said it would be more difficult for protestors to pull it off this time around -- the government and authorities had learnt from past experience.
"It's not that easy," she said.
6:27 a.m. ET, June 12, 2019
Police push protesters back along Harcourt Road
The use of force by the Hong Kong police has succeeded in driving back protesters from Harcourt Road in front of the Legislative Council, the center of the unrest earlier in the day.
On Wednesday morning, this was the scene in the center of Harcourt Road.
By dusk, it was an altogether different image, as police fired tear gas and rubber bullets to push the crowds back, away from the government complex.
6:26 a.m. ET, June 12, 2019
Tear gas enters subway station
Images on social media appear to show panic in Hong Kong's Admiralty station as tear gas begins to drift into the subway, effecting passengers during the peak rush hour period.
The district where the protest is taking place is in the heart of the downtown area, close to the city's financial hub.
Police have cautioned residents to stay away from the protest area, but due to the relatively small size and compact nature of Hong Kong, this isn't always possible.