Hong Kong police surround university as violent standoff with students continues
5:45 p.m. ET, November 18, 2019
Our live coverage has ended, but you can scroll through the posts below to read more.
2:24 p.m. ET, November 18, 2019
Photojournalist: These were the "heaviest clashes I've seen so far"
From CNN's Nilly Kohzad
American photojournalist Bing Guan spoke with CNN's Becky Anderson on Monday regarding the escalated tension with Hong Kong university protesters.
In the interview, Bing stated that "clashes last night were heaviest seen so far."
Guan went on to describe the chaotic scene.
"SWAT vehicles rushed line of protesters who were holding onto umbrellas and barricades," he said. "Makeshift barricades with chairs were used as defense from authorities."
Guan noted that the Hong Kong police are "unpredictable" and there is a lot of uncertainty at the moment. He said Hong Kong is preparing for the worst.
"No one wants to be here. They rather be doing normal things that kids their age do. They really feel that the government action and police force brutality forced their hand," he said.
11:42 a.m. ET, November 18, 2019
How one protester escaped the campus standoff
From CNN's Bex Wright
A 23-year-old protester told CNN said he and his girlfriend escaped Hong Kong's Polytechnic University campus after hiding under a bridge and sprinting to safety.
He said he knows about 50 people who have escaped from the campus as protesters remain in a standoff with police.
The protester said he had to climb up a hillside, and then wait under a bridge. After that, he climbed up to a road before running about 50 meters, or about 160 feet to a waiting car.The cars then had to speed away to avoid stop and search.
"It was like prison break," he told CNN.
He said other people escaped by abseiling down a rope to waiting motorbikes or running along train tracks.
"You will never prepare for being arrested until you have to face it. Early in the revolution, everyone said we had to be prepared for being arrested, but you never think about it properly until it nearly happens to you," he told CNN.
10:59 a.m. ET, November 18, 2019
Some protesters are launching fireworks
From Eric Cheung
It's almost midnight in Hong Kong, and protesters and police remain at a standstill.
Video from showed that as riot police moved onto Ferry Street, protesters apparently shot fireworks.
Watch more:
1:44 p.m. ET, November 18, 2019
Protests began 6 months ago, and there's no clear end in sight
From CNN's James Griffiths, Rebecca Wright, Ben Westcott and Helen Regan
The Hong Kong protests began in June over a controversial extradition bill, which sparked massive marches across the city.
In September, Hong Kong's embattled leader Carrie Lam fully withdrew the bill, which allowed extradition to mainland China.
But the protests have continued as the movement's focus expanded to include complaints of police brutality and wider calls for democracy.
Escalating protests last week after the death of the HKUST student saw a traffic police officer shoot a protester during a clash in the early hours of November 11, and a man set on fire after he argued with protesters. A 70-year-old man also died after being struck on the head with a brick during a clash with protesters. Police said they were treating that case as a murder investigation.
With both the government and protesters refusing to back down, there is no immediate end in sight to the unrest. Attempts to create a venue for dialog or even background talks have so far failed to get off the ground, hampered in part by the leaderless nature of the protest movement, which makes it difficult to say who, if anyone, could take part in negotiations with the government.
9:25 a.m. ET, November 18, 2019
Protesters made barricades out of bamboo to keep police away
From CNN's Eric Cheung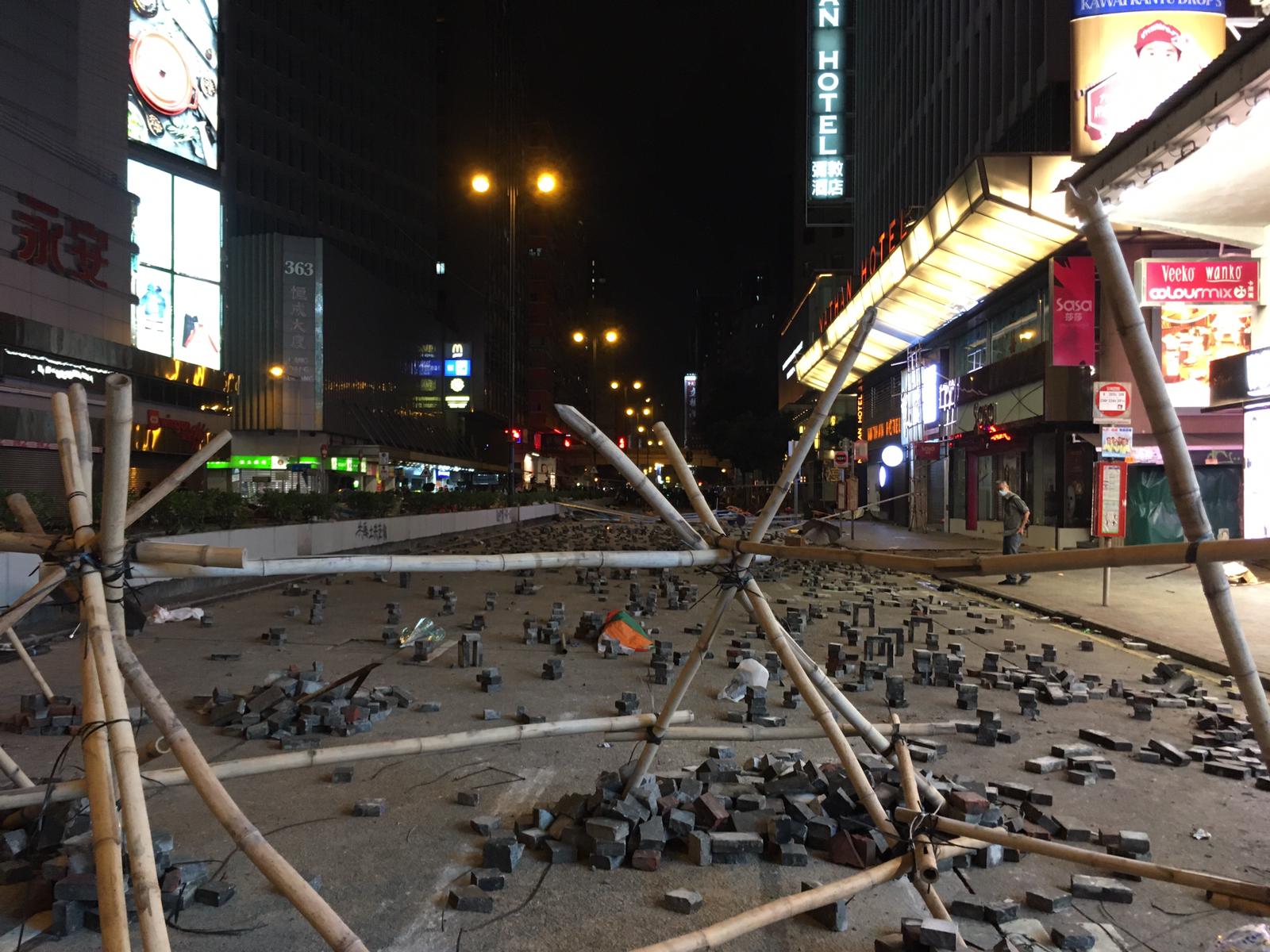 Protesters have erected bamboo scaffolding along Nathan Road in Hong Kong to stop police from advancing toward Hong Kong Polytechnic University, which some protesters are still occupying.
Here's a look at the scene:
8:39 a.m. ET, November 18, 2019
It's 9:30 p.m. in Hong Kong. Here's what you need to know.
Hong Kong has seen almost six months of protests — but over the past week, the clashes between police and protesters have become more violent.
Protesters have occupied the Hong Kong Polytechnic University, and despite police orders to leave, there is a small group — between 100 to 1,000 protesters — still inside.
Here is the latest:
Campus battle: Protesters have occupied the university since early Thursday, and police have been trying to clear them since Sunday morning. It's now Monday evening, and though many protesters have fled, some still remain inside.
Anxious parents: Parents of students who are believed to be on the campus have gathered near the school to hold a sit-in and urge police to release their children immediately, according to a post on Facebook by pro-democracy politician Jeremy Tan.
Violent clashes: At least 66 people have been injured today. Police allowed Hong Kong Red Cross onto campus to treat the injured, and six of the people they treated were taken to hospital.
Assault rifles: Police have been spotted carrying assault rifles — a rare sight in Hong Kong. A police spokesman said they have live rounds inside and police will use them if necessary.
Protest diversions: Demonstrators have gathered in other areas to try to distract police and help their fellow protesters who are on campus to escape. There have been a number of clashes in Jordan, where police have fired tear gas.
Next week's elections: Hong Kong is set to hold local elections next week, but a government official said the chances of them being held had been reduced.
8:21 a.m. ET, November 18, 2019
Here's how many people have been injured in today's violence
An 84-year-old is among at least 66 people to have received hospital treatment for injuries related to protests in multiple locations across Hong Kong today, according to health authorities.
Some people were injured at Hong Kong Polytechnic University, which protesters have occupied for days -- and which has been under siege by police for more than 24 hours.
Police allowed Red Cross to enter the campus this afternoon to treat those hurt in the ongoing clashes.
A Red Cross spokesperson told CNN the group treated up to 50 injured protesters inside the campus on Monday -- and six of those were sent to hospital.
It's not clear whether the six hospitalized were included in the Hospital Authority's figures.
According to the spokesperson, all of those treated were teenagers or young adults.
According to its website, the Red Cross has helped more 2,100 people with first aid and psychological support since the unrest began in June.
7:44 a.m. ET, November 18, 2019
Protesters are trying to lure police away from university siege
From CNN's Helen Regan and Anna Coren in Jordan
Hundreds of protesters are trying to provoke police in the streets of Kowloon in a bid to lure them away from the nearby siege at Polytechnic University.
It's unclear if their plan is working, but it's a tense scene on Nathan Road in Jordan. Police have fired tear gas, and protesters have thrown petrol bombs and chanted, "Hong Kong people, take revenge!"
As many as 1,000 protesters are estimated to be holed up on the university campus. One Nathan Road protester -- who asked to be called Josh -- said he was hoping to distract police.
"We don't want to leave anyone behind," he told CNN. "We hope to save our friends in Polytechnic University.
"I want to use my actions to tell them they are not alone ... We don't want them to lose any hope."
Another protester -- a woman dressed in black and wearing a pink gas mask -- said she had been out for hours.
"We don't have a masterplan but all of the decisions we make, we try and be safe, and we still want to save them (inside PolyU) and need to distract the police."
On Monday, police spokesman Kwok Ka-chuen said it was "saddening to see our society being torn apart."
"Hong Kong's rule of law has been pushed to the brink of total collapse as masked rioters recklessly escalate their violence under the false hope that they can get away with it," he said. "Please join us to put an end to violence before it is too late."