Flights canceled, major roads blocked as Hong Kong protests escalate
1:40 a.m. ET, August 5, 2019
More than 2,300 aviation workers are on strike
2,330 aviation workers have joined Hong Kong's citywide strike as of 7 a.m. local time today, according to the Hong Kong Confederation of Trade Unions.
95 affiliate members of the Confederation called for strike action, according to Chairwoman Carol Ng. The aviation sector was the first to join the call for strike, Ng said, partially paralyzing the airport. 
Here's the breakdown of aviation workers on strike:
About 30 air traffic controllers
1,200 Cathay Pacific staff (including cabin crew and pilots)
600 Dragon Air staff
200 Hong Kong Airlines staff
300 ground operation staff from Jardine Aviation Services
It's not just aviation workers: Ng said other unions have also called for a strike, including unions for catering, security, property management, teachers, and builders. The Builders Union have told Ng that "a number of buildings sites are closed today" due to the strike. 
Ng added that nearly 14,000 people from the engineering sector joined Monday's strike.
1:34 a.m. ET, August 5, 2019
Protesters used umbrellas to block train doors from closing
Protesters across Hong Kong blocked trains from leaving subway stations, forcing umbrellas or even standing between the doors.
The worst disruptions came in the morning, when people were traveling to work, with up to eight subway lines obstructed -- including the Island Line, perhaps the most crucial as it contains stops for Central and Admiralty, where many people work.
Train services on the Island Line, Tsuen Wan Line, Kwun Tong Line, West Rail Line, East Rail Line and Tung Chung Line are now "gradually resuming," according to the MTR subway site.
1:02 a.m. ET, August 5, 2019
Pro-democracy lawmakers blame Lam for Hong Kong's political crisis
Pro-democracy lawmakers criticized Hong Kong's leader Carrie Lam as "out of touch," speaking about an hour after Lam gave a press conference, Monday.
"If Hong Kong had universal suffrage, we wouldn't have chosen a chief executive like this. If we had universal suffrage, Carrie Lam wouldn't have been so firm to push forward the extradition bill after a million people protested," said legislator Claudia Mo.
How Hong Kong's leaders are picked: Hong Kong is a semi-autonomous Chinese city, but it does not have full democracy -- its leader is chosen by tiny election committee drawn mostly from Hong Kong's elite.
The committee is dominated by pro-establishment voters, who typically follow the wishes of the central Chinese government in Beijing.
When Lam was elected, the committee included Hong Kong's richest man Li Ka-shing, pro-Beijing politician Regina Ip, as well as Hong Kong deputies to China's National People's Congress and the Chinese People's Political Consultative Conference.
Pro-democracy complaints: "Young people are fighting for rule of law and human rights, and the government has been completely out of touch," Mo added.
Another pro-democracy lawmaker, Fernando Cheung, placed the blame on Lam, stating, "The entire situation is created by her. If she didn't push ahead with the Fugitive Ordinance, we wouldn't be here today."
The Ordinance refers to a controversial extradition bill that would have allowed extradition to China. The bill, which started protests in June, has since been suspended -- but protester demands have evolved to include calls for broader democracy.
12:51 a.m. ET, August 5, 2019
The airport runway capacity has been reduced by 50%
The Hong Kong airport's airspace and runway capacity has effectively been reduced by 50% for all airlines, according to an internal memo sent to staff of the Cathay Pacific airline.
More than 100 flights have been canceled today, with affected airlines including Cathay, China Airlines, and Hong Kong Airlines. Photos from earlier this morning showed long lines of people at check-in counters, and crowds of travelers stuck at the airport.
12:34 a.m. ET, August 5, 2019
The extradition bill is suspended -- so what do protesters still want?
When the protests first started in June, it was in opposition to a now-suspended bill that would have allowed extradition to China. But now, protester demands have expanded, and organizers have issued five demands in the wake of the unrest.
A widely circulated poster announcing Sunday's protest in Hong Kong listed those five demands as:
Investigation: A third-party investigation into police abuse of power
Withdrawal: Fully withdraw the extradition bill
Retraction: Retract the government's use of the word "riot" in characterizing protests
Charges: Drop all charges for arrested protesters
Voting: Implement genuine universal suffrage
The five demands haven't always been exactly the same, and they shift depending on which organizer group you ask at what time. Some have included the resignation of Hong Kong leader Carrie Lam as one of the five demands.
10:13 p.m. ET, August 19, 2019
$1 million HKD reward for information on protester who removed the Chinese flag 
During protests in Hong Kong on Saturday, a protester removed a Chinese national flag that was flying in front of a building in Tsim Sha Tsui and threw it into the sea, sparking outrage among state officials. 
Now, the former Hong Kong Chief Executive CY Leung has offered $1 million Hong Kong dollars (about $128,000) to anybody who can provide clues about the "maniac who threw the national flag into the sea." 
His offer states that the person will receive their reward once the "maniac" is convicted by the court. 
12:12 a.m. ET, August 5, 2019
The Hang Seng Index just had its biggest drop in almost ten months
Hong Kong stocks rallied 6% in June as investor sentiment received a boost after the tentative trade truce reached at the G20 summit in Osaka, Japan.
But it has slid nearly 9% since its recent peak on July 2, as the ongoing mass protests and renewed trade war tensions both weighed heavily on the market.
Last Monday, Hong Kong's Hang Seng Index had its worst drop in a week, as stocks for property developers, shopping mall owners and retailers all sank.
Today, the Hang Seng Index tumbled 3.1% in the morning trade, the biggest drop in almost ten months, as local property developers and airline operators took a hit. Property developers that are listed on the Hang Seng in particular are being slammed.
11:57 p.m. ET, August 4, 2019
Almost 5 million people take Hong Kong's subway everyday -- and the major lines are down today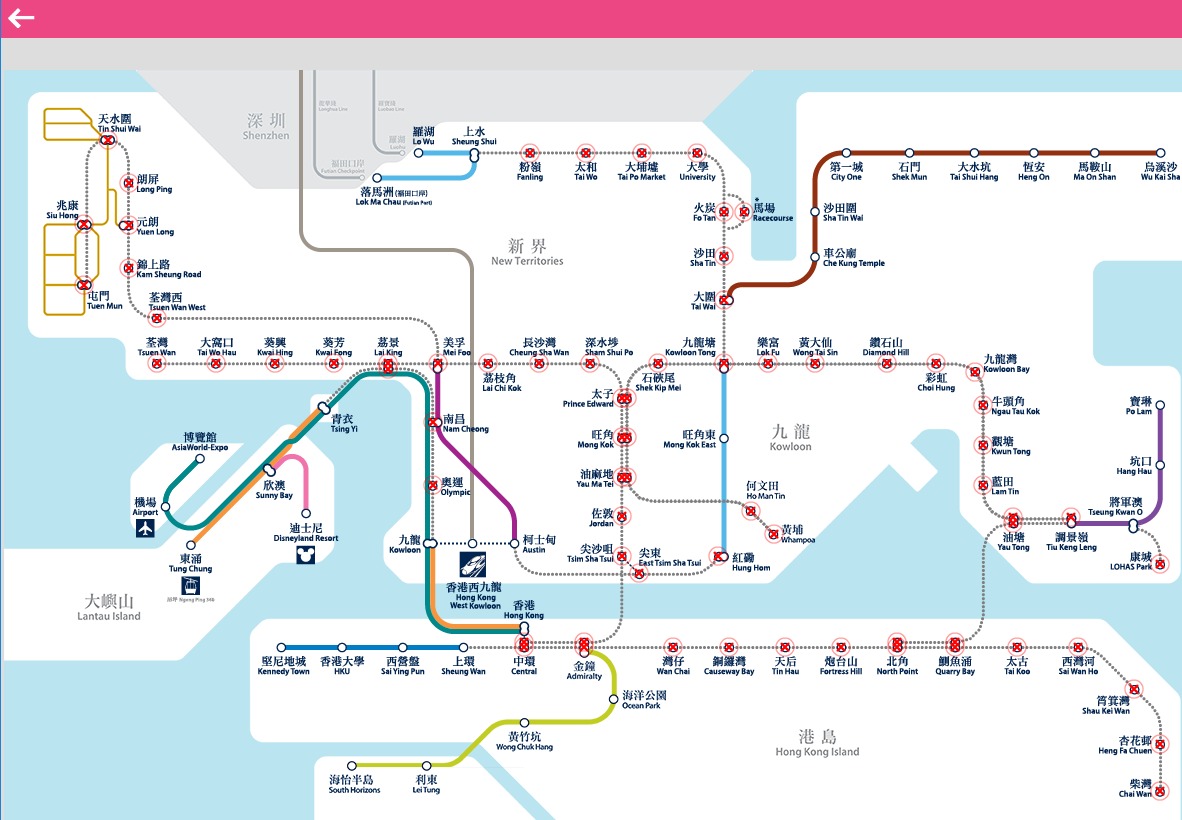 Hong Kong's subway system is crucial to the city's daily life -- and today, much of it is down.
Protesters are blocking trains from leaving, and some trains were delayed in stations for more than 40 minutes.
Major subway lines like the Island Line have been obstructed -- meaning people can't get to Central and Admiralty, a major business hub, where many international offices and workplaces are based.
Central in particular is the city's financial center, and the location of several international banks, including Standard Chartered, HSBC and CITI.
The American Chamber of Commerce has announced its closure for the day due to "public safety concerns."
Millions affected: An average of 4.84 million passengers ride the subway every day, according to the Hong Kong Transport Department, that's equivalent to half of the city's total population.
It's not just the subway -- protesters are also holding up traffic on roads and highways. That also raises the number of people affected -- 12.7 million passengers travel on public transit every day, including trams, buses, and taxis.
11:42 p.m. ET, August 4, 2019
Hospital Authority says patients may not be able to make appointments because of disrupted transit
Patients with hospital appointments may not be able to attend due to the traffic disruptions, said a spokesperson from the Hong Kong Hospital Authority.
"They can call the clinics to reschedule the appointments later and there is no need to worry and rush for the consultation appointments. Services at the Accident and Emergency Departments at public hospitals remain normal at the moment," the statement said.
The statement also asked hospital supervisors to be flexible with staffing since many staff many not be able to report for duty.