Vladimir Putin and Kim Jong Un hold first summit
4:38 a.m. ET, April 25, 2019
What's for dinner for Putin and Kim?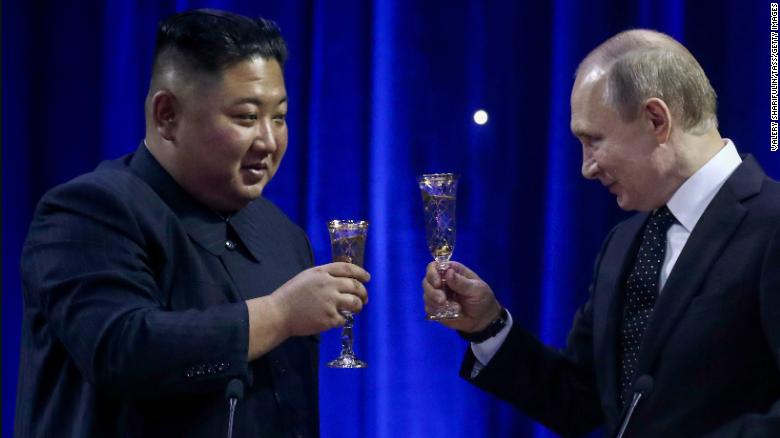 Putin is treating Kim to a host of classic Russian dishes for dinner, according to a copy of the menu posted by the Russian state news agency TASS.
The two will be eating:
Crab salad
Pelmeni (Russian dumplings) with deer
Borscht
Caramelized apple sorbet
Cod fillet with dill sauce,
Khabarovsk beef with baked eggplants
Chocolate cake
4:08 a.m. ET, April 25, 2019
Putin-Kim meetings end after 3-plus hours
Talks between North Korean and Russian officials have ended after about three and a half hours, according to Russian state news agency TASS.
The two leaders will now attend a formal reception, followed by dinner.
3:23 a.m. ET, April 25, 2019
Is Putin's summit Trump's loss?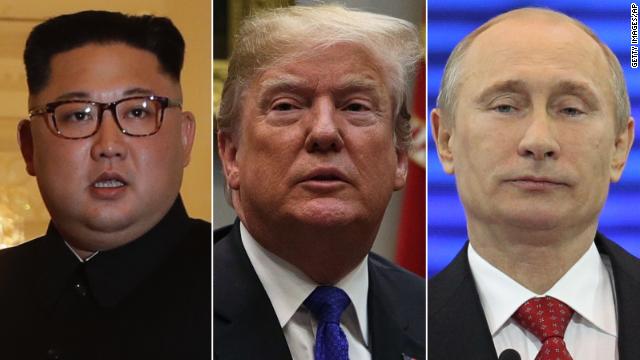 Some analysts believe that Putin's meeting with Kim is something of a coup, following the collapse of the Hanoi summit and the current tenuous status of North Korea-US talks.
"Putin has been trying to get the North Korean leader to Russia for a long time," said Andrey Kortunov of the Russian International Affairs Council.
But Robert Kelly, a professor of international relations at South Korea's Pusan National University, thinks Kim is "shopping around for a deal -- playing the various actors off each other, looking for wins and bargains along the way."
"That we all seem to think it's all about Trump is our own American blindness. Russia can't give Kim much -- beyond a safe place to park illicit income. The trip is more about stirring other interlocutors into renewed talks/concessions," Kelly said.
3:18 a.m. ET, April 25, 2019
Kim says visit to Russia an opportunity to exchange opinions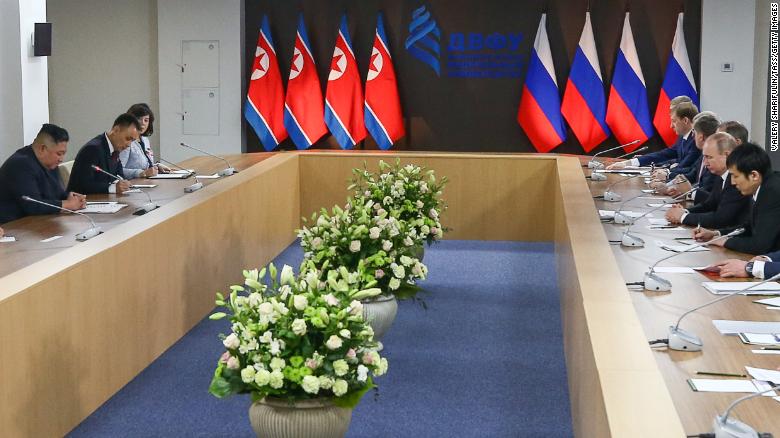 Kim Jong Un called his visit to Russia "a great joy" during the two leaders' summit Thursday, as the two sides' delegations prepared to meet behind closed doors.
He continued:
"I would like to offer again a sincere gratitude to Mr. President for making time in his busy schedule and come thousands of miles from the capital city of Moscow to here to give us time for a great conversation."
"We are visiting Russia this time to meet in person with President Putin and exchange our opinions. It is to exchange our mutual views on Korean Peninsula and this region's political landscape which is a great focus of the world's attention. It is also to work for stabilization of this regions political landscape and to deeply share opinion on issues that pertains to jointly managing the political landscape in the future. Another purpose was to exchange opinions on the issues like growing and developing our two nation's traditional relationship into one that is more solid and constructive according to the demand of the new century."
2:46 a.m. ET, April 25, 2019
Analyst: Russia doesn't have a lot of leverage on denuclearization
Philip Yun, the executive director of the anti-nuclear weapons NGO Ploughshares Fund, said he was surprised that denuclearization was high on the agenda for the Putin-Kim summit because Russia has little leverage in dealing with North Korea.
He described the summit as "long on symbolism."
"Kim Jong Un is trying to figure out what his options are and trying to increase his leverage with the United States," Yun told CNN.
Yun said the summit offers Putin an opportunity to insert Russia into the conversation when it comes to resolving the North Korean nuclear crisis, as Moscow risked being left on the sidelines after last year's flurry of diplomatic activity between North Korea, South Korea, the United States and China.
2:29 a.m. ET, April 25, 2019
Putin calls talks with Kim "thorough"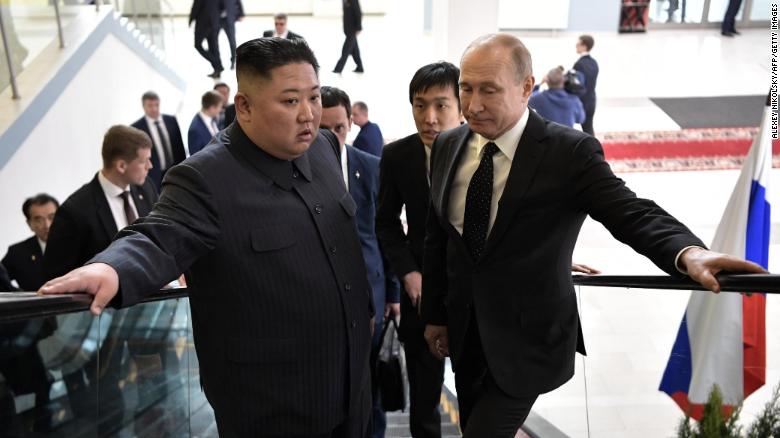 Russian President Vladimir Putin said he and North Korean leader Kim Jong Un had "thorough one-on-one talks" to kick off their summit in Vladivostok.
Speaking before the North Korean and Russian delegations, Putin said the two leaders spoke about "about the history of relations between our countries, about today and perspectives of development of our bilateral relations.
"We discussed about the situation on Korean Peninsula. We exchanged with opinions about what and how needs to be done, so that the situation would have a great perspective for improvement," he said.
1:02 a.m. ET, April 25, 2019
Putin: Meeting will clarify "the ways we can help to settle the situation on the Korean peninsula"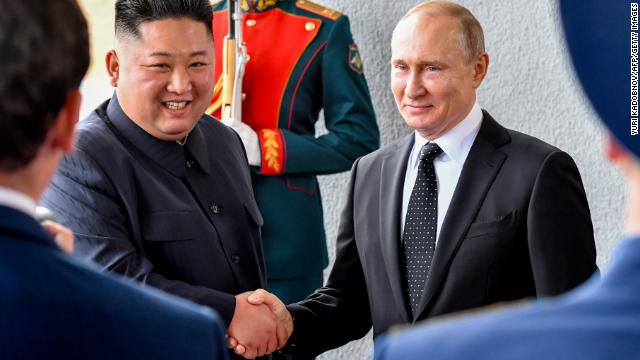 Putin said he believed Kim's visit would help "our bilateral relations and will help us to understand the ways we can help to settle the situation on the Korean peninsula, what can be done together, what Russia can do to support the positive processes that are taking their place now."
Here's what else Putin said:
I'm very happy to have you in Russia. Our colleagues have agreed about it a long time ago. First of all, I'd love to congratulate you with being elected on a high role -- as a head of DPRK. I sent you a letter, but I'm happy to congratulate you with this now in person. I'd like to say that last year we celebrated 70 years of diplomatic ties between our countries.
I'm sure your visit to Russia will also help to develop our bilateral relations and will help us to understand the ways we can help to settle the situation on the Korean Peninsula, what can be done together, what Russia can do to support the positive processes that are taking their place now. We welcome your efforts on developing inter-Korean dialogue and your efforts on normalizing the US-North Korean relations. And of course, in terms of bilateral agenda, we need to achieve a lot to develop trade and economic ties and humanitarian ties