Dozens killed in Christchurch mosque attack
4:48 p.m. ET, March 15, 2019
New Zealand's prime minister vows to change country's gun laws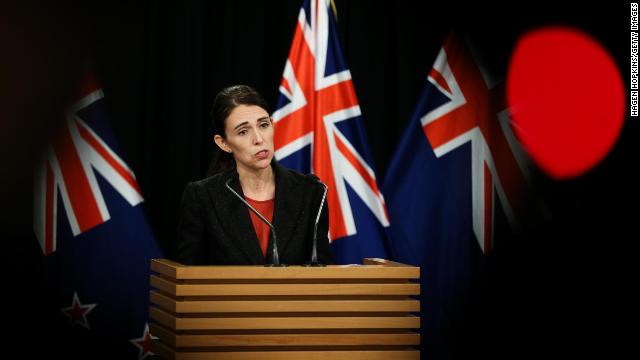 New Zealand's prime minister Jacinda Ardern announced that the country's gun laws will change in response to a hate-filled terror attack targeting two mosques in Christchurch.
"There were five guns used by the primary perpetrator. There were two semi-automatic weapons and two shotguns. The offender was in possession of a gun license. I'm advised this was acquired in November of 2017. A lever action firearm was also found," she said at a news conference in Wellington early Saturday local time.
She continued:
"While work is being done as to the chain of events that lead to both the holding of this gun license and the possession of these weapons, I can tell you one thing right now. Our gun laws will change."
4:27 p.m. ET, March 15, 2019
Terror suspect "did not develop his hatred" in New Zealand, mayor says
Christchurch Mayor Lianne Dalziel said the suspect who carried out a terror attack on two mosques in Christchurch on Friday targeted New Zealand for its reputation for being a safe space.
"I think the reason that we have been targeted — and this was, as I understand it, a deliberate decision to target our city and our country — was because we are a safe city and a safe country," Dalziel said at a news conference.
Dalziel also emphasized that the suspect is not from New Zealand.
"This sort of extremism is not something that we've seen here. But he is not from here," she said. "He came here with hate in his heart and intention to kill in his mind. So he did not develop his hatred here. He came here to perform this act of terrorism."
4:31 p.m. ET, March 15, 2019
President Trump on white nationalism: Not a rising threat around the world 
President Trump said Friday he does not see white nationalism as a rising threat around the world. 
"I don't really. I think it's a small group of people that have very, very serious problems, I guess. If you look what happened in New Zealand, perhaps that's the case. I don't know enough about it yet…But it's certainly a terrible thing," Trump said.
He was asked about the topic after a shooter in New Zealand killed at 49 people, leaving behind a manifesto with white nationalist writing.
Trump said he had not seen the manifesto.
4:08 p.m. ET, March 15, 2019
One suspect charged with murder, two others still in custody, police say
New Zealand Police Commissioner Mike Bush said three people were arrested following the mass shooting in Christchurch:
"A 28-year-old man will appear in Christchurch District Court today charged with murder. Two others remain in custody. Our investigations are in their early stages and we will be looking closely to build a picture of any of the individuals involved and all of their activities prior to this horrific event."
4:09 p.m. ET, March 15, 2019
New Zealand police commissioner says 42 people were injured in attack
Forty-nine people were killed and 42 were being treated for injuries following the mosque terror attacks, New Zealand Police Commissioner Mike Bush said.
New Zealand police also said that two of those injured are critical and include a 4-year-old child. Police said 41 people were killed at the Deans Avenue mosque, and seven at the Linwood Avenue mosque. One has since died in hospital.
Bush went on to say police officials are continuing to make inquiries after the tragic events in Christchurch.
"As the Prime Minister stated yesterday, this has been designated a terrorist attack," Bush said on a message posted on New Zealand police's Twitter account.
3:34 p.m. ET, March 15, 2019
Here's what we know about the suspected New Zealand shooter
The suspected New Zealand shooter live streamed video of the attack and posted a manifesto online under the name Brenton Tarrant. CNN has not confirmed this is his real name. This is the name he called himself online. New Zealand police have not publicly identified the shooter.
Here's what we know about the suspect:
He is 28 years old.
Just before the attack, an account believed to belong to the gunman posted a link to an 87-page white nationalist manifesto online. The unsigned manifesto is filled with anti-immigrant and anti-Muslim sentiments, as well as explanations for an attack.
In the manifesto, he identifies himself as a white man, born in Australia, and lists the white nationalists who have inspired him. 
He will appear in court Saturday morning local time.
3:32 p.m. ET, March 15, 2019
Trump tweets he spoke to New Zealand PM and offered help
President Trump tweeted that he just spoke with New Zealand Prime Minister Jacinda Ardern, and told her that the US stands "in solidarity with New Zealand – and that any assistance the U.S.A. can give, we stand by ready to help."
"We love you New Zealand!" the President tweeted.
3:14 p.m. ET, March 15, 2019
Muslim groups raised $200,000 after the Pittsburgh synagogue shooting. Now, a Jewish group is returning the gesture.
The Jewish Federation of Greater Pittsburgh is reciprocating the generosity it received from the Muslim community after a mass shooting at the Tree of Life synagogue last year.
Last October, Muslim groups raised more than $200,000 for the Pittsburgh shooting victims. A gunman stormed into the Tree of Life Synagogue and killed 11 people in what was the deadliest attack ever on Jews in the United States.
The Jewish organization is now working to help the Muslim community after a terror attack on two mosques in New Zealand killed at least 49 people.
In a statement today, the Jewish Federation of Greater Pittsburgh said it is accepting donations.
"Unfortunately, we are all too familiar with the devastating effect a mass shooting has on a faith community," said Meryl Ainsman, chair of the board of the Jewish Federation of Greater Pittsburgh. "We are filled with grief over this senseless act of hate. May those who were injured heal quickly and fully, and may the memories of the victims forever be a blessing."
3:12 p.m. ET, March 15, 2019
US congresswoman: "I hugged my two brown, Muslim boys a little tighter and longer" this morning
Rep. Rashida Tlaib, the first Palestinian-American to serve in the US House, and one of the first two muslim women elected to US Congress in the last election, issued an emotional statement detailing how she hugged her two children this morning "a little tighter and longer."
She also wrote she was "so angry at those who follow the 'white supremacy' agenda" in the US, which she said "sends a signal across the world that massacres like this is some kind of call to action."
Read her full statement:
"A church, a masjid (mosque), a temple and synagogue — we can all recount a horrific event that has happened in each of those places while people were worshipping. From Charleston, to Pittsburgh, Texas, Oak Creek, New Zealand and many places in between, white supremacists are targeting places of worship to push their violent, racist and terrorist agenda.
"This morning I tried to hold back tears as I hugged my two brown, Muslim boys a little tighter and longer. The painful loss of life based on hate makes me so angry. I am so angry at those who follow the "white supremacy" agenda in my own country that sends a signal across the world that massacres like this is some kind of call to action. 
"Today, is Jumu'ah (Friday) prayer for Muslims across our nation, and as each one kneels to worship Allah (yes, it means God), I pray that they are protected and can find some kind of peace. I hope that our children don't become numb to this, and that this is not their new normal."