Dozens killed in Christchurch mosque attack
12:42 a.m. ET, March 15, 2019
Witnesses describe gunman
Local resident Robert Weatherhead told CNN affiliate, NEWSTALK, that he took in people who escaped from the Masjid al Noor mosque on Deans Avenue.
He described the gunman as "white, aged in his 30s or 40s and wearing a uniform," but he had not been able to ascertain what the uniform was.
Benjamin Jellie said he ran outside when he heard gunshots. Oakward Close is the Christchurch neighborhood where the Masjid al Noor mosque is located.
"I saw people jumping over the back fence of the mosque into Oakward Close. I heard at least 20 (gunshots)."
"I heard about eight at the start and then it went quiet for about 30 seconds or a minute and then it started again. I heard about eight more and then there was another minute and another eight."
"Those coming over the fence, all adults and including at least three men, were screaming and crying."
Mark Nichols, manager of Premium Tyres and Auto in Linwood, the location of the second mosque shooing, said a gunman ran past his shop.
"I seen a guy with a gun running up the road. He's been firing about five shots, I think we heard."
12:42 a.m. ET, March 15, 2019
Still no death toll from police, identity of victims not known
New Zealand police commissioner Mike Bush said again there have been "multiple fatalities" but couldn't say at this point how many. "It is significant," Bush said.
Bush added the identities of all the victims weren't known at this stage.
The New Zealand police press conference has now wrapped up. Bush said there would be more information available soon.
12:39 a.m. ET, March 15, 2019
Explosive devices were attached to vehicles
New Zealand police commissioner Mike Bush told reporters that there were multiple improved explosive devices attached to vehicles as part of the attack.
Bush said these had been "made safe by the defense force."
"This goes to the seriousness of the situation," he said.
He said that police were not assuming the situation was limited to Christchurch at this stage.
12:39 a.m. ET, March 15, 2019
New Zealand police have four people in custody
New Zealand police commissioner Mike Bush said police have arrested four people in the wake of Friday's attacks on two Christchurch mosques.
Three of those in custody were men and one was a woman, Bush said.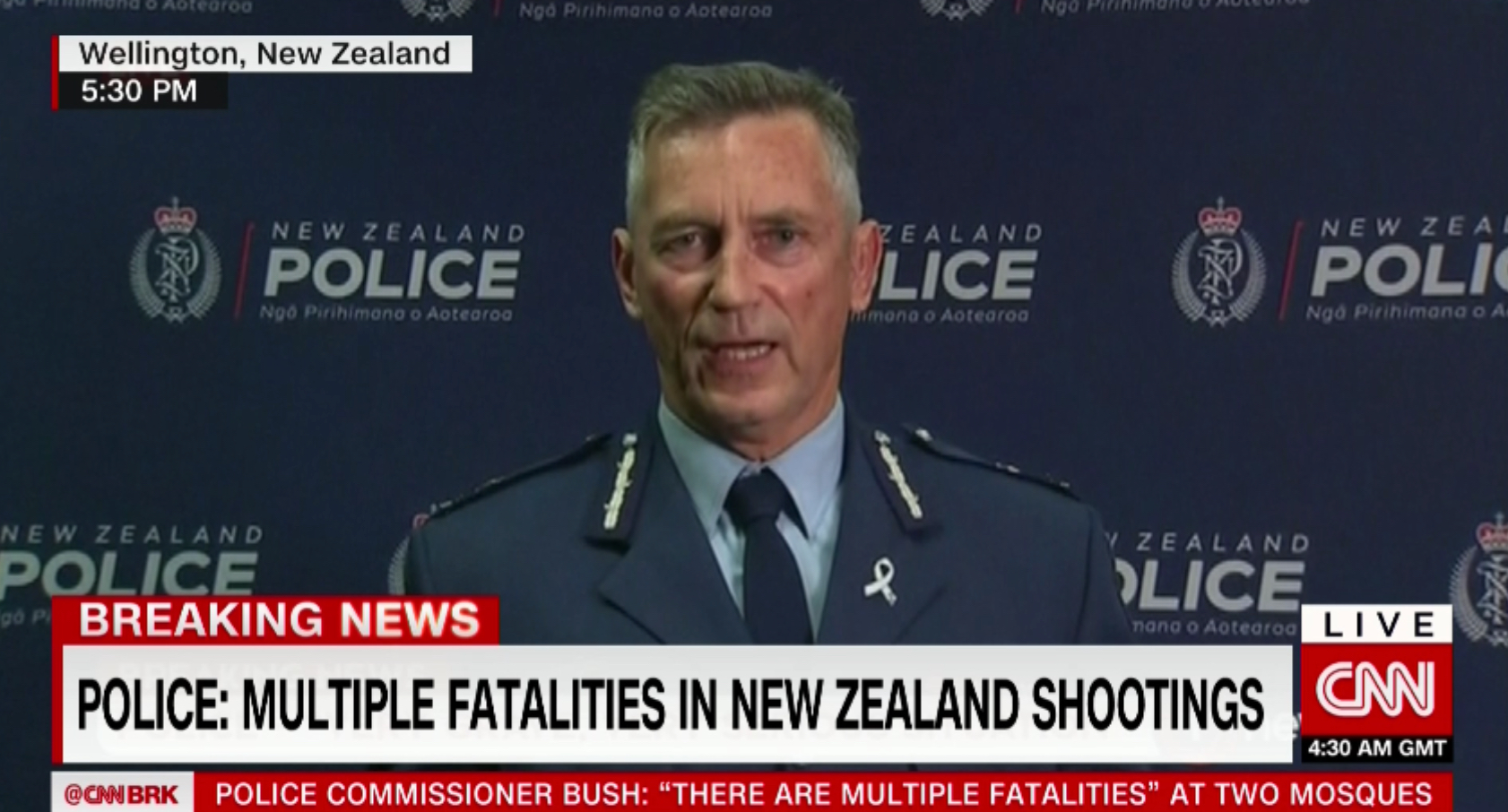 12:27 a.m. ET, March 15, 2019
What we know so far about the Christchurch mosque shootings
New Zealand police are expected to hold a press conference in under ten minutes, but here is the information we have so far of the Friday afternoon attacks in New Zealand.
Two mosques were attacked by at least one gunman in Christchurch, beginning at around 1.40 p.m. local time, causing multiple fatalities.
Police say they have one man in custody but can't rule out other gunmen still on the run. They say it is still an "active situation."
Witnesses said one gunman was "white, aged in his 30s or 40s and wearing a uniform."
Police have not released a death toll yet. They are telling mosques across New Zealand to shut their doors until told the situation is safe.
Christchurch is on shut down with no people being allowed in or out of government buildings or schools. People are being told to stay off the streets.
Prime Minister Jacinda Ardern has described the shootings as "one of New Zealand's darkest days."
Police have asked social media users to not share a video believed to show one of the shootings in graphic detail.
12:17 a.m. ET, March 15, 2019
Christchurch mayor: "This is still an active situation"
In a message posted to Facebook, Christchurch mayor Lianne Dalziel has said all government facilities remain on lockdown.
"This is still an active situation, the police are still doing everything that they can to get the situation under control," she said.
"We're not letting people in and we're not letting people out," she said.
Dalziel assured all parents whose children were inside the city's school that they were safe.
"There's a lot of speculation happening right now and all we can do is trust the police to do what they do best," she said.
1:04 a.m. ET, March 15, 2019
"The biggest mosque in all of Christchurch," says local journalist
Journalist Chris Lynch, a radio host on New Zealand station ZB Radio, told CNN that one of the shootings had occurred at "the biggest mosque in all of Christchurch" and described it as "very peaceful."
Lynch went on to describe how there is "literally nobody on the street" right now, adding that the scene was "quite stunning in some respects."
He described Christchurch as a "very peaceful city" that is still getting over the devastating 6.3 magnitude earthquake that hit in 2011.
"That (earthquake) brought all the skyscraper buildings down and this is one of the reasons why people are fearful, I feel," he told CNN.