Dozens killed in Christchurch mosque attack
10:04 p.m. ET, March 16, 2019
Our live coverage has moved
The latest updates on the aftermath of the Christchurch terror attack can be found here.
8:55 p.m. ET, March 16, 2019
Many victims required multiple surgeries, head of surgery says
From Susanna Capelouto
Thirty-four patients are still receiving treatment at Christchurch Hospital and two were discharged on Sunday, Christchurch Hospital Head of Surgery Greg Robertson said in a press conference.
"Twelve remain in intensive care and one girl was transferred to a children's hospital," Robertson said, adding "Many patients require multiple surgeries."
6:36 p.m. ET, March 16, 2019
Police aren't saying yet whether any other suspects were involved in the attack
From Susanna Capelouto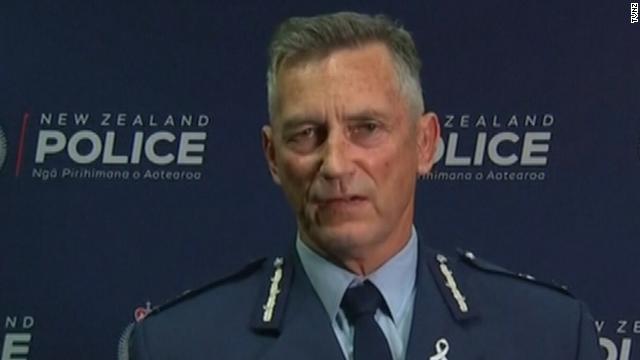 So far, only suspected shooter Brenton Tarrant has been charged with murder for the attack on two mosques in Christchurch on Friday, according to New Zealand Police Commissioner Mike Bush.
Bush said at a press conference Sunday that others had been arrested but that police did not believe they were involved in the attack.
"I will not be saying anything conclusive until we are absolutely convinced as to how many people were involved, but we hope to be able to give that advice over the next few days," Bush added.
Two other people were apprehended, Bush said, and police seized a firearm from them. The woman was released without charge, while the other man was charged with firearms offenses.
One additional man was also arrested in the aftermath of the shooting, but police said they don't believe he was involved in the attack either. Bush said the man was helping get children to safety but that he armed himself, "which is not the right approach."
6:18 p.m. ET, March 16, 2019
A father of four chased off the shooter during the attack
From Matthew McKew for CNN
Abdul Aziz Wahabzadah says he was inside Linwood Islamic Centre in Christchurch, New Zealand, when a gunman opened fire.
Wahabzadah grabbed a credit card reader and ran outside the building. He threw the credit card reader at the suspect while shouting at him in an attempt to distract the shooter away from the mosque.
"I was screaming at the guy, 'Come here, I'm here'," Wahabzadah told CNN. "I just want him to put more focus on me than go inside the masjid ("mosque"). But unfortunately, he got himself to the masjid."
Wahabzadah's four children were inside the mosque.
Wahabzadah said the shooter then dropped his weapon and ran back to his car. Wahabzadah said he thought the shooter went to get more weapons from his car.
Wahabzadah told CNN he ran after the shooter and picked up a discarded weapon of the gunman, which he described as a "shotgun." He threw it at the gunman's car, shattering his window.  
"When he sees me I am chasing with a gun, he sat in his car", Wahabzadah said. "And I just got the gun and throw it on his window like an arrow and blast his window. He thought probably I shot him or something and then he drive off."
Wahabzadah didn't stop there. He said he continued chasing after him but the shooter did a U-turn and raced off. 
It was then that Wahabzadah said he returned to the mosque to discover the scope of the violence.
4:50 p.m. ET, March 16, 2019
Death toll rises to 50
Fifty people were killed and 50 others were wounded in the attack, New Zealand Police Commissioner Mike Bush told reporters.
The death toll had been previously reported as 49.
A Syrian refugee and his teenage sons, a Pakistani academic and a blossoming student are among the victims of Friday's attacks, the biggest massacre in New Zealand's modern history.
As authorities begin to release information on the victims, here's what we know so far.
4:45 p.m. ET, March 16, 2019
SOON: New Zealand police give an update on the attack
New Zealand Police Commissioner Mike Bush is about to speak to reporters in Wellington to provide an update on the Christchurch attack.
2:43 p.m. ET, March 16, 2019
49 prayer mats for the 49 victims
A group of people in Melbourne, Australia, took part in a vigil for the victims of the attacks at two Christchurch, New Zealand, mosques, according to Zahraa Albadri.
They put out 49 prayer mats with candles for the 49 victims.
Here's a photo from the scene:
1:34 p.m. ET, March 16, 2019
Survivor posts video from hospital bed
Wasseim Alsati, who survived the Christchurch terror attack, posted a Facebook video from his hospital bed on Friday thanking people for their support.
In the caption, Alsati says he was shot three times and "was in a lot of pain."
Watch here:
Here's what he said:
Hi guys, how are you? I'm very sorry to miss your calls and text messages. I will not be able to answer anyone for now. I am really tired. Okay, guys? Please pray for my son, for me and for my daughter. Hopefully she will be so much better. Okay? I'm just posting this video to show you that I am fully okay. Okay, guys? It's been a pleasure to know you all, guys. Thank you for all the support and all the help that you have given me so far. God bless you all.
1:00 p.m. ET, March 16, 2019
Candles burn outside one of the New Zealand mosques
This photo was taken at 2:45 a.m. across the street from the Al Noor mosque, where 41 people were killed on Friday.
Flowers line the area behind the police tape and candles are burning to remember the victims.
In a video on Twitter, police officers were seen earlier taking flowers from a memorial into their police car so they could place them outside the mosque.