North and South Korean leaders hold historic summit: Highlights
6:08 a.m. ET, April 27, 2018
BREAKING: North and South Korea vow to end Korean War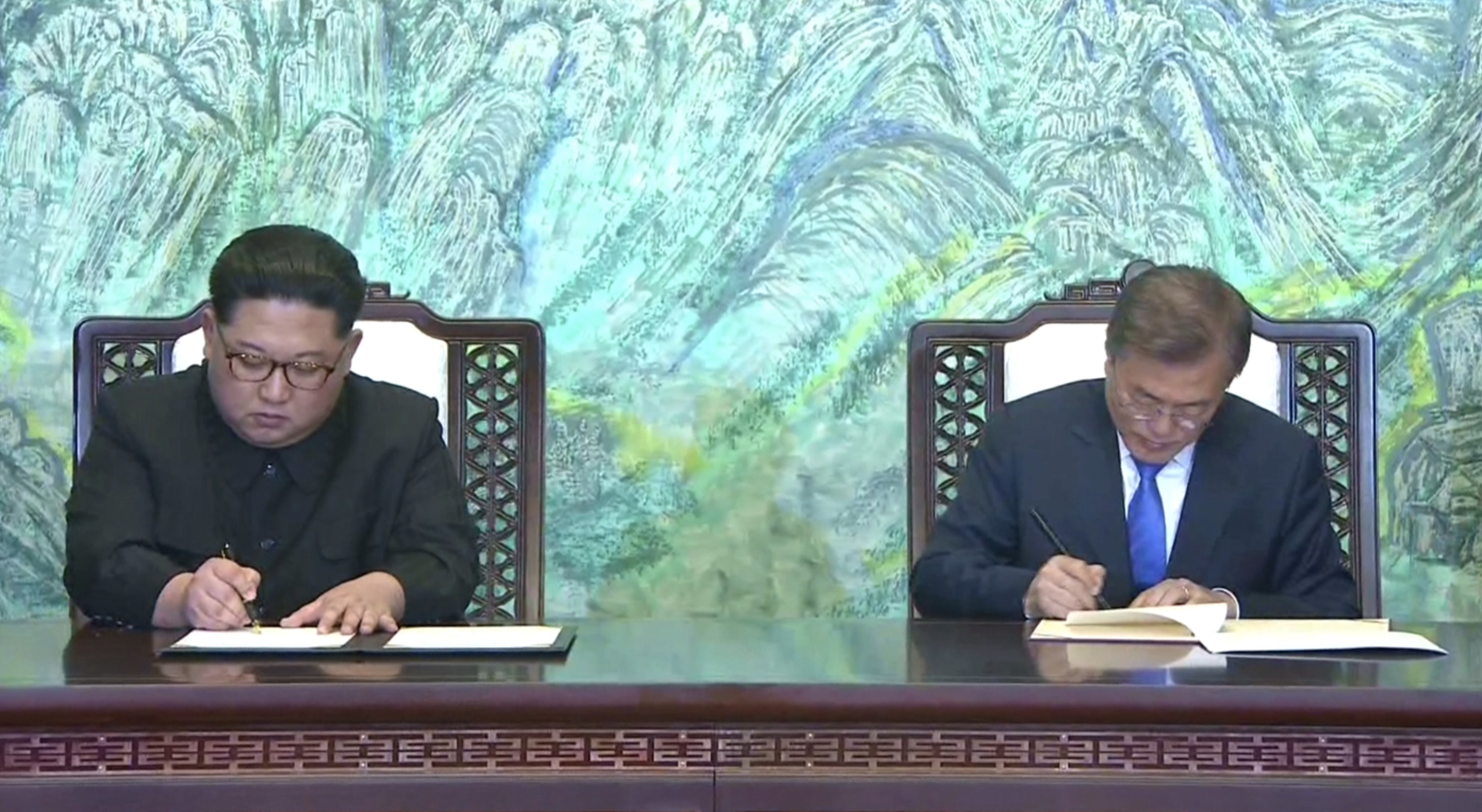 North and South Korea vowed to formally end the Korean War, 65 years after hostilities ceased, the two countries announced in a joint declaration Friday.
The document, formally called the "Panmunjom Declaration for Peace, Prosperity and Unification of the Korean Peninsula," was revealed after a full day of meetings and a 30-minute private conversation in the past hour between Kim Jong Un and Moon Jae-in.
"The two leaders solemnly declared before the 80 million Korean people and the whole world that there will be no more war on the Korean Peninsula and thus a new era of peace has begun," the declaration said. 
Fighting in the Korean War ended in 1953 in stalemate, after which an armistice agreement was signed. But a peace treaty never followed, and the two sides are still technically at war. 
"There will not be any more war on the Korean Peninsula, a new era of peace has begun," Moon said after signing the declaration.
"Chairman Kim Jong Un and I have agreed that complete denuclearization will be achieved, and that is our common goal."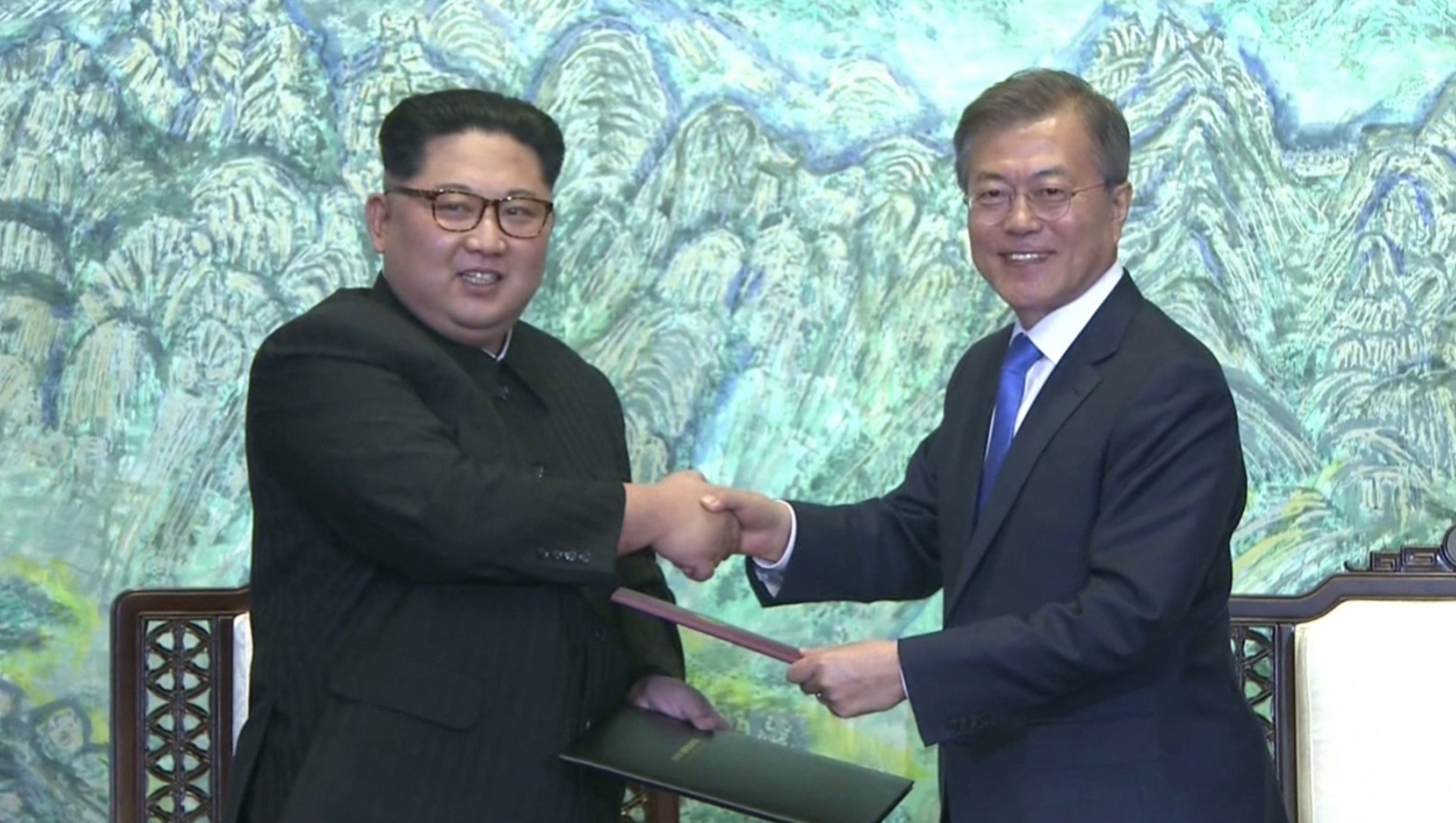 This post has been updated to clarify the translation.
4:49 a.m. ET, April 27, 2018
China on summit: 'Disasters are never powerful enough to separate real brothers'
A spokeswoman for China's Foreign Ministry said Friday that Beijing applauds "the North and South Korean leaders for taking this historic step, and commend their political judgment and courage."
"An ancient Chinese poem says: 'Disasters are never powerful enough to separate real brothers, and a smile is all they need to eliminate the hard feelings.' We hope they take this historic meeting at Panmunjom as an opportunity to further launch a new path leading to lasting peace and security on the Korean Peninsula," she said.
China and North Korea are historic allies who boast an alliance forged in blood -- more than 130,000 Chinese troops, including the son of Mao Zedong, died defending the North during the Korean War. They still maintain a mutual defense treaty, but the relationship has always been an uneasy one.
Though Mao once called the two countries as close as lips and teeth, their bond has become strained since Kim took power in 2011. Kim has purged several key officials with close ties to Beijing, including his uncle, Jang Song Thaek, and continued to test missiles and nuclear weapons in defiance of China's wishes.
Kim had never traveled abroad as leader of his country until last month, when he met with Chinese President Xi Jinping in Beijing.
North Korea is still dependent on China for economic support -- some 90% of its imports come from across the Yalu and Tumen rivers that divide the two countries -- but China is worried that Pyongyang could strike a deal that brings it closer to Beijing's adversaries.
4:34 a.m. ET, April 27, 2018
Summit meetings resume
Moon and Kim have returned from their walk and are back in the Peace House for afternoon meetings.
6:20 a.m. ET, April 27, 2018
Moon and Kim hold private conversation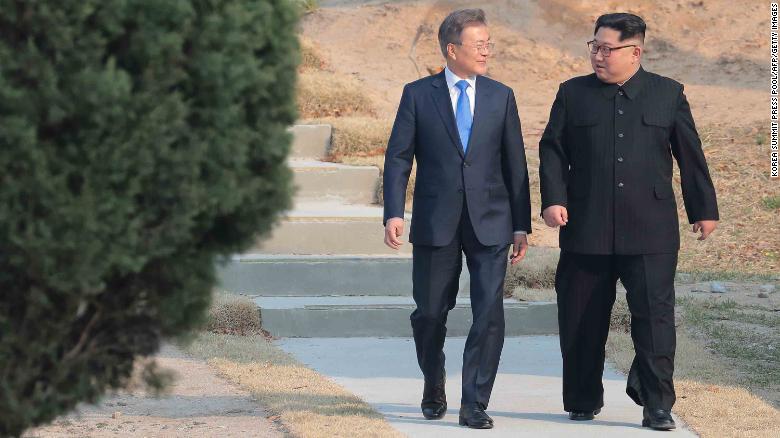 After the ceremonial tree planting, Moon Jae-in and Kim Jong Un took a friendly stroll through the DMZ to a footbridge that was recently repainted the same blue seen on the Korean Unification Flag.
They walked past an old, rusted sign which indicates the military demarcation line.
Kim and Moon sat down on chairs that were set up there and held a roughly half hour one-on-one conversation.
What they talked about is unknown as of now. None of their aides were in attendance and it was just the two of them, save for some photographers and videographers.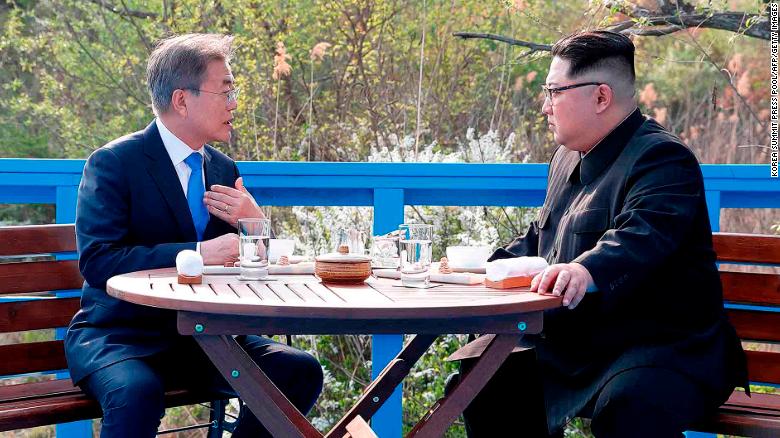 4:16 a.m. ET, April 27, 2018
Kim and Moon hold ceremonial tree-planting
Kim Jong Un and Moon Jae-in kicked off the afternoon portion of the summit with a ceremonial tree-planting ceremony in the demilitarized zone.
Kim arrived in the DMZ in his limousine, again with his bodyguards running alongside the vehicle.
After Kim shook hands with Moon, the two shoveled some soil onto a pine tree that was already in the ground before the leaders arrived.
The tree is from 1953, the year the Korean War armistice was signed. Kim used soil from a mountain on the southern island of Jeju while Moon used earth from Mount Paektu in the north.
Each leader watered the tree with water from the other's territory.
After the tree planting, they each revealed a stone that commemorated the occasion, with the phrase "peace and prosperity planted" on it. The leaders' names and the date was also printed on the stone.
3:11 a.m. ET, April 27, 2018
More details about the inter-Korean banquet revealed
We're learning more about the banquet dinner that will take place tonight following the summit meetings, including the fact that Kim Jong Un and Moon Jae-in will crack dome-shaped chocolates with mallets.
Eleven North Korean singers, actors and other artists will attend the banquet.
Twenty-sixth North Koreans and 34 South Koreans will attend the dinner.
Earlier this week, the South Korean presidential office released details on 10 dishes that will be served at the banquet on Friday night, and each dish is stuffed with symbolism.
The food is sourced from across from the Korean Peninsula. A highlight is Pyongyang Naengmyun, a dish of cold noodles beloved by many Koreans but perfected by the North Koreans.
The dish is so good that the North is dispatching its top chef to the border, along with a noodle-making machine, to serve it up tonight.
2:49 a.m. ET, April 27, 2018
What's happened at the inter-Korean summit so far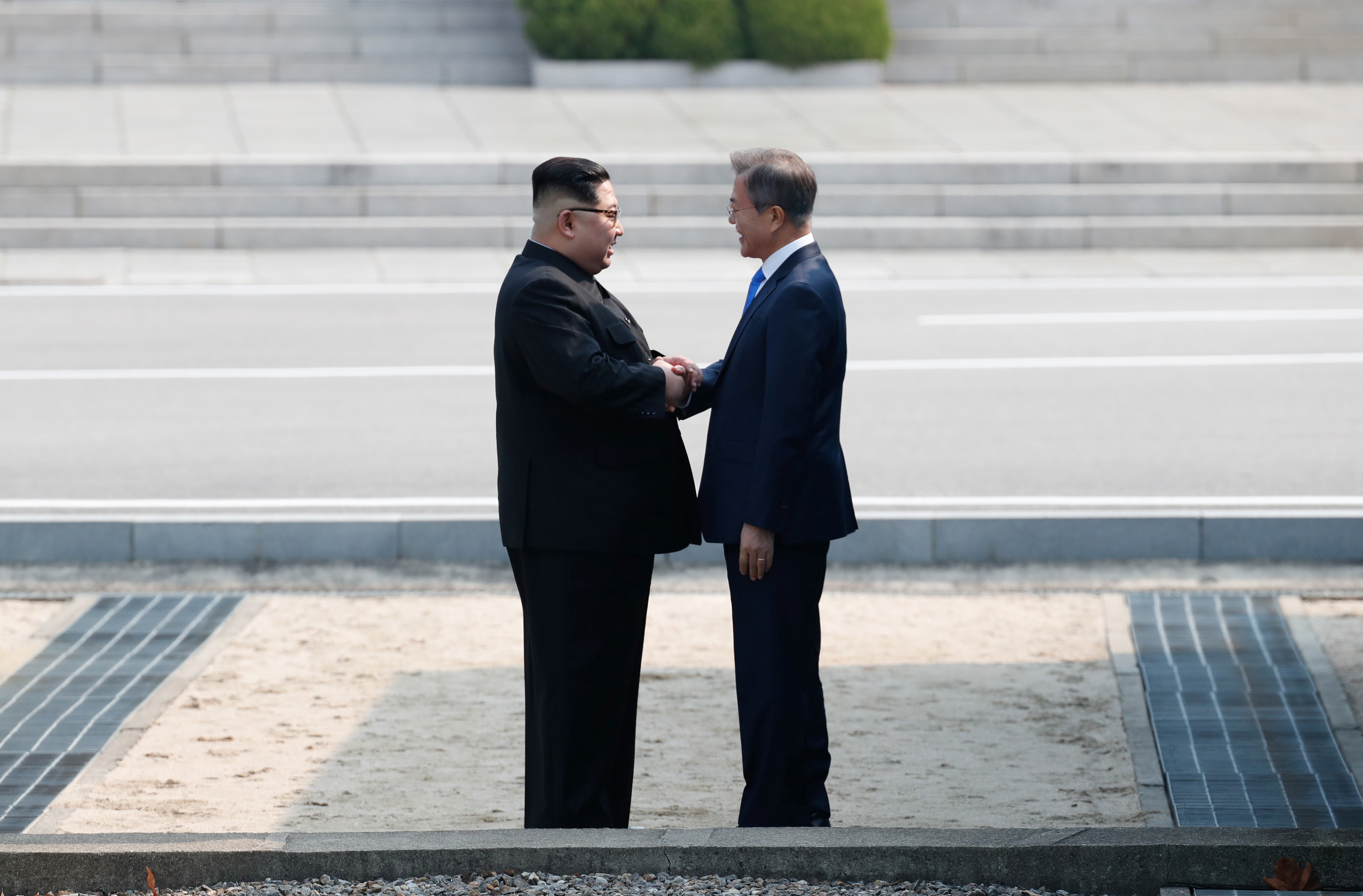 For parts of the world that are just waking up, here's what you need to know.
It's been a busy morning on the Korean Peninsula.
North Korean leader Kim Jong Un appeared at about 9:30 South Korean time for his historic summit with South Korean President Moon Jae-in.
He walked up to the demarcation line that divides the two countries and shook hands with Moon.
The pair shared pleasantries and, in an impromptu moment, briefly crossed to the north side of the demarcation line for a photo op before walking back into the southern side.
Here's video of the moment:
After a welcoming ceremony filled with pomp and circumstance, the leaders then retreated to the Peace House, where Kim Jong Un signed the guestbook.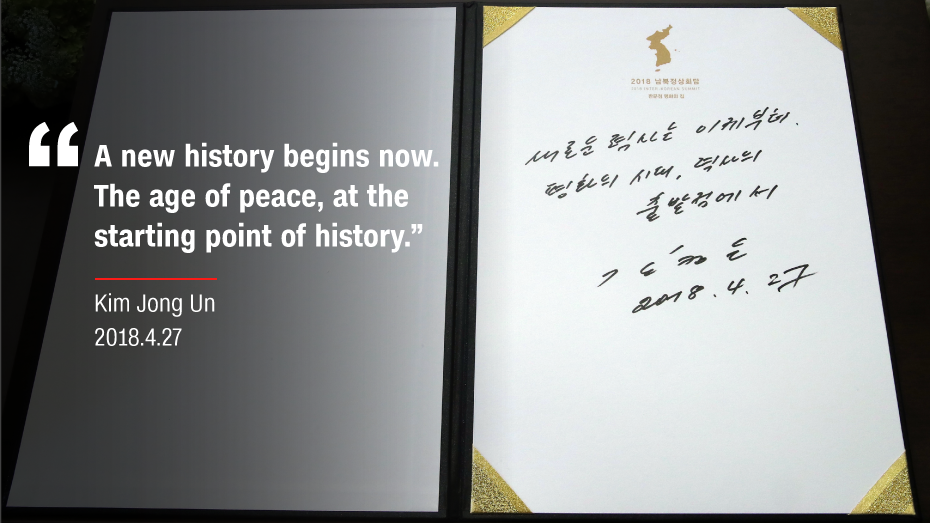 They then entered the recently redesigned meeting room and gave statements on camera before the media was kicked out for the closed-door talks, which lasted for two hours.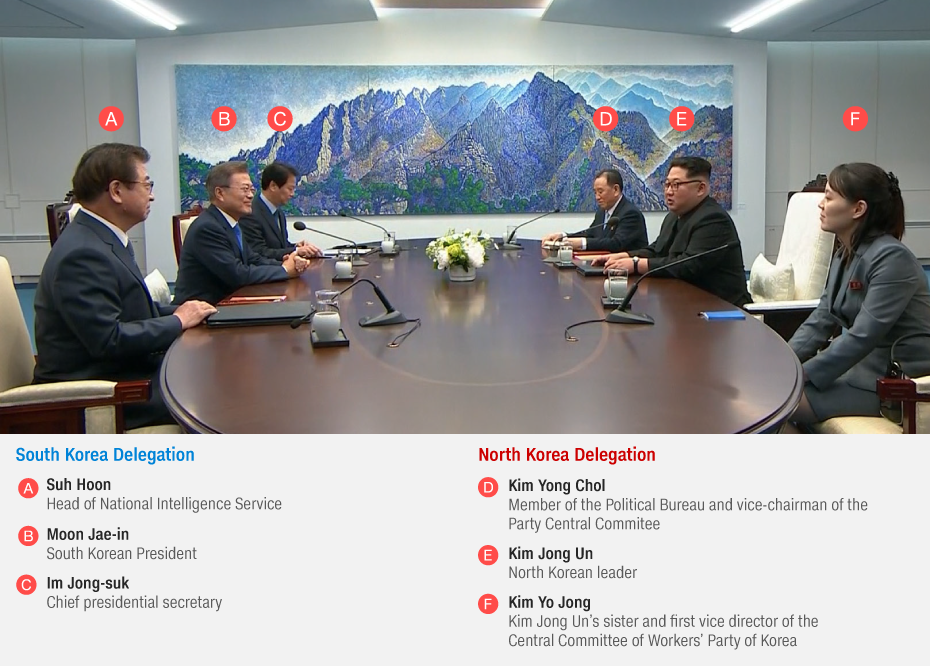 Kim then traveled back to the northern side of the DMZ in a limousine surrounded by body guards as both delegations retired for lunch.
That happened about two hours ago, and now we're waiting for the North Korean leader to cross south again for the afternoon portion of the summit.
2:12 a.m. ET, April 27, 2018
Kim and Moon talked denuclearization this morning, South Korea says
The two Korean leaders spoke for 100 minutes during their morning meeting, South Korean presidential spokesman Yoon Young-chan said.
During their conversation, Yoon said Kim and Moon addressed the three top agenda items for the summit: denuclearizing the Korean Peninsula, improving relations, and seeking a formal peace settlement.
Yoon also said the two sides are in the process of drafting a joint declaration.
While there is no expectation that North Korean leader Kim Jong Un will immediately dismantle his nuclear arsenal follow talks with South Korea's President Moon Jae-in, analysts say South Korea is likely pushing for some agreement or wording that will give the world a better idea of how serious he is about disarming.
In recent months, the North Korean leader has spoken publicly about "denuclearization," but experts told CNN it isn't clear Kim is talking the same language as the US and South Korea.
Many observers are skeptical that Kim would ever relinquish the nuclear weapons his regime has spent so much time and money on.
Read more about what denuclearization means to each side here
1:54 a.m. ET, April 27, 2018
Wives of Kim and Moon will attend banquet, South Korea says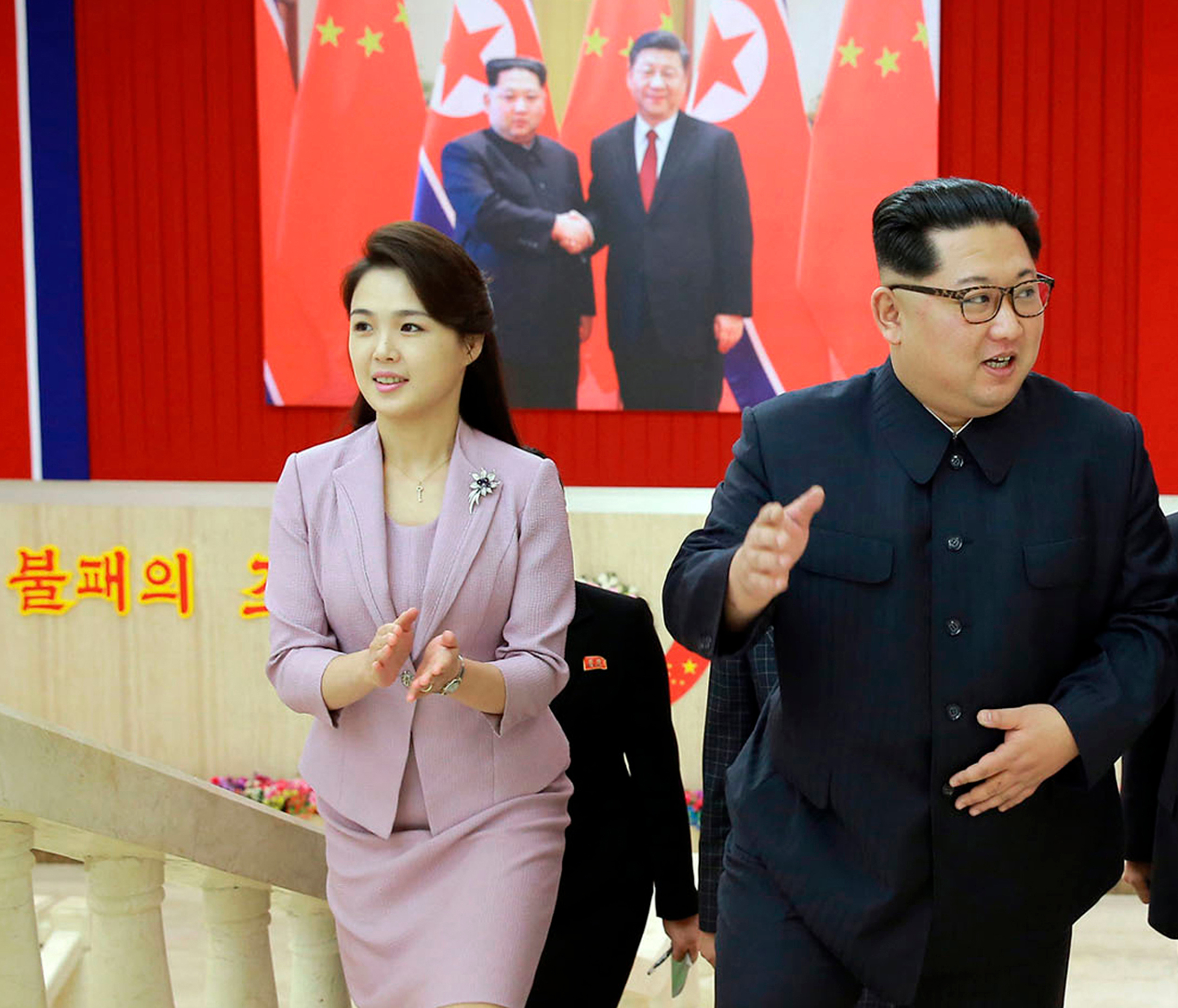 The spouses of Moon Jae-in and Kim Jong Un -- Kim Jung-sook and Ri Sol Ju, respectively -- will attend the banquet tonight after the summit meetings conclude, a South Korean presidential spokesman said at an afternoon briefing.
Ri is expected to arrive at Panmunjom this evening.