Sri Lanka mourns as investigation into deadly blasts continues
6:34 a.m. ET, April 23, 2019
This man and his family overslept on Easter Sunday. It might have saved their lives
Akshat Saraf was vacationing with his wife and young child over the Easter holidays in Sri Lanka. Having enjoyed a restful holiday, the family overslept on Sunday morning in the room on the 25th floor of the Shangri-La Hotel in Colombo. 
We were just getting ready to go downstairs for breakfast was when I heard the first explosive noise," Saraf told CNN via Skype from his home in Bangalore, India. "At that point I wasn't sure what the nature of the sound was. I personally thought it was a loud thunderstorm … the entire room started shaking." 
A few seconds later they heard another boom. Looking out the window, he noticed a group of bystanders turn and start pointing at the building.
"That's when I realized probably the sound, the explosive noise, did come from our building and I asked my wife to pick up the passports and we immediately left the room.," said Saraf.
6:00 a.m. ET, April 23, 2019
Video shows suspected bomber briefly stopping to pat child on the head
Footage provided to CNN shows a man identified as a suspect by Sri Lanka state TV SLRC walking around St. Sebastian's church on Easter Sunday morning, shortly before it was rocked by an explosion.
The blast at the crowded service in Negombo was one in a series of coordinated attacks -- which targeted churches and luxury hotels within minutes of each other -- across the country.
What you can see: The suspect can be seen carrying a large backpack as he makes his way across the courtyard towards where the busy service is already underway.
At one point, the alleged bomber can be seen briefly stopping to pat a child on the head before continuing on his way.
Making his way through the throngs of people perched outside the service, he enters a side door of St. Sebastian's, close to the altar.
The next frame, according to police but not provided publicly, shows the suspect detonating his bomb.
Sri Lanka police said they would not comment on the video until the conclusion of the investigation. 
5:10 a.m. ET, April 23, 2019
State Defense Minister: Bombings were retaliation for Christchurch killings
Islamic extremists carried out Sunday's coordinated attacks in retaliation for a March attack on two mosques in New Zealand, said Ruwan Wijewardana, the Sri Lankan State Defense Minister.
Addressing parliament today, Wijewardana said that initial investigations showed "the chain of bombings" was carried out by "a radical Islam group" which he named as the National Tawheed Jamath (NTJ).
No group has yet claimed responsibility.
Last month's mosque attack in Christchurch, New Zealand, saw at least 50 people murdered in a shooting rampage by a white supremacist. The rampage began at lunchtime on a Friday, when mosques were full of worshippers.
4:14 a.m. ET, April 23, 2019
BREAKING: Death toll rises to 321
Sri Lanka Police tell CNN the death toll has now risen to 321 in the Easter Sunday bombing attacks.
4:50 a.m. ET, April 23, 2019
Priest who narrowly avoided bombing urges Christians not to retaliate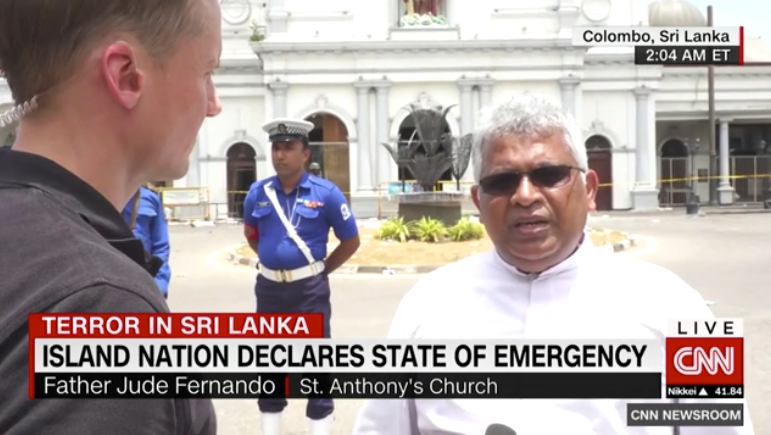 CNN's Will Ripley is at St. Anthony's Shrine in Colombo, the scene of one of Sunday's bombings. It remains an active crime scene and the interior is so badly damaged that investigators haven't been able to examine it all yet.
Ripley spoke to Fr. Jude Fernando, the administrator of the holy site, who said that when the blast went off around 8.45 a.m., he was in his office and just about to walk into the church.
"I came inside the church and I saw people screaming, crying and I started, with the help of the community, and staff and priest, to send each and every one to the hospital," he said.
He said the church was packed because it was Easter Sunday -- around 1,000 devotees were in attendance, he estimated.
Fernando appealed to Sri Lankan Christians to "please be calm and quiet and pray, because our God is not a god of revenge, he's a god of love, he's a god of peace... let's follow our master and spread the good news.
"Continue to pray for one another, and don't do any harmful acts," he said.
Watch the video here.
3:59 a.m. ET, April 23, 2019
South Korea joins countries issuing travel advisories on Sri Lanka
South Korea joined the US, Australia and China today in cautioning its citizens about travel to Sri Lanka. 
The country's Ministry of Foreign Affairs raised the Sri Lanka travel-alert level to "highly cautious."
"We ask our citizens who are residing in Sri Lanka to take extra caution and our citizens who plans to travel the region to carefully consider the need to travel," it said.
From CNN's Jake Kwon in Seoul
3:39 a.m. ET, April 23, 2019
Expert: Sri Lankan attack designed to shock
Global headlines about the attacks will have likely delighted the perpetrators, said Anne Speckhard, director of the International Center for the Study of Violent Extremism, who also noted that the coordinated explosions fit the "ISIS and Al Qaeda playbook."
"They want to make a big press presence, a big statement, here's what we're capable of doing, here's how much we hate you, they even like the backlash, they think it unites Muslims to their cause," she told CNN.
Speckhard expressed concern that the attacks could inspire copycat actions.
4:00 a.m. ET, April 23, 2019
Funerals in St. Sebastian's postponed
Funerals at St. Sebastian's Church were suspended today, after services for 16 victims had already taken place. A priest at the church in Negombo, a city to the north of the capital Colombo, told CNN's Ivan Watson that a funeral procession had been planned, but was stopped. No official explanation has been given.
Bishop Maxwell Silva told Watson that the attacks had changed the dynamic for Sri Lanka's Christian community and that they "have to talk precautions now." 
He said that new security measures could include developing "our own security system"—for example, "we can ask people not to bring their purses to church." 
"At this time we are speechless. We never had any communal violence," another church official, Father Cyril Gamini Fernando, told CNN.
He said that because police had asked not to have large crowds of people, "I feel there must be a threat," and added that he did feel like a target.
Most of the crowds have left the church grounds now, where the funerals had been taking place.
Inside the damaged building, CNN staff could see police personnel in medical scrubs and surgical masks. There are still police lines still around the church compound. 
3:08 a.m. ET, April 23, 2019
Has Islamist extremism arrived in Sri Lanka?
Information provided by Sri Lankan officials linked Sunday's attack to a small and little-known extremist outfit named National Tawheed Jamath (NTJ).
But, as regional expert Michael Kugelman writes for CNN, "NTJ is no jihadist juggernaut; it's an entity mostly known for defacing Buddhist statues." To pull off such a catastrophic attack, it would have needed help, he argues—but from whom?
He continues:
Al-Qaeda and ISIS would be logical partners; both have carried out attacks like Sunday's in the past. However, these groups have been badly degraded. They do each boast a South Asia affiliate, with some reach beyond the Afghanistan-Pakistan region where they're largely based.
But they're not known to have a track record, much less a footprint, in Sri Lanka.
Furthermore, had al-Qaeda or ISIS been involved, one would have expected a claim of responsibility. There was none. For that matter, NTJ didn't claim credit either.
Several other things don't make sense. In recent years, Sri Lanka has seen some anti-Muslim sentiment, fueled by Buddhist extremists, and it has led to episodic attacks on Muslim targets. But Sri Lanka doesn't have a history, past or present, of problems with Islamist radicalization.
Furthermore, if an Islamist radical group wants to stage an attack in Sri Lanka, one would expect it to hit out at the Buddhists with whom Muslims have clashed -- and not the Christians targeted in Sunday's strikes.
Read the rest here.