Sri Lanka mourns as investigation into deadly blasts continues
8:13 a.m. ET, April 23, 2019
ISIS claims Sri Lanka attacks, but offers no evidence of direct involvement
ISIS has claimed responsibility for the Easter Sunday attacks in Sri Lanka, according to a statement put out by the terrorist group's news agency Amaq.
"The attackers who targeted citizens of the (anti-ISIS) coalition state members and Christians in Sri Lanka the day before yesterday were fighters of the Islamic State," the claim stated.
The statement offered no evidence to support the claim, and there is no direct evidence yet that the terror group was involved. Some of their claims have been false in the past.
7:21 a.m. ET, April 23, 2019
Sri Lanka's social media ban: Necessary or 'undemocratic knee-jerk reaction?'
There was plenty of praise for Sri Lanka's shutdown of many internet services in the wake of terrorist attacks which rocked the country on Easter Sunday. But little of it came from Sri Lankans, many of whom were cut off from means of communicating with relatives and forced to rely on a government-friendly media for information.
Yudhanjaya Wijeratne, a Colombo-based data and social media researcher, told CNN Business that journalists, activists and policymakers were acting "like hammers looking for nails."
"The government block of social media is seen as some kind of positive response to curb (Facebook boss Mark) Zuckerberg's empire, instead of what it actually is -- an undemocratic knee-jerk reaction that helps spread fear, uncertainty and doubt," Wijeratne said.
While the Sri Lankan government has justified the ban on the grounds of tackling "false news reports" and preventing the spread of material which could inflame ethnic tensions, Wijeratne and others have pointed to the role of traditional media in inflaming such tensions in the past.
Read more from James Griffiths' report here.
7:05 a.m. ET, April 23, 2019
Police on high alert for vehicles carrying possible explosives
All police stations in the Sri Lankan capital of Colombo have been advised to be on high alert for a truck and van suspected to be carrying explosives, a Colombo Police spokesperson told CNN.
6:34 a.m. ET, April 23, 2019
This man and his family overslept on Easter Sunday. It might have saved their lives
Akshat Saraf was vacationing with his wife and young child over the Easter holidays in Sri Lanka. Having enjoyed a restful holiday, the family overslept on Sunday morning in the room on the 25th floor of the Shangri-La Hotel in Colombo. 
We were just getting ready to go downstairs for breakfast was when I heard the first explosive noise," Saraf told CNN via Skype from his home in Bangalore, India. "At that point I wasn't sure what the nature of the sound was. I personally thought it was a loud thunderstorm … the entire room started shaking." 
A few seconds later they heard another boom. Looking out the window, he noticed a group of bystanders turn and start pointing at the building.
"That's when I realized probably the sound, the explosive noise, did come from our building and I asked my wife to pick up the passports and we immediately left the room.," said Saraf.
6:00 a.m. ET, April 23, 2019
Video shows suspected bomber briefly stopping to pat child on the head
Footage provided to CNN shows a man identified as a suspect by Sri Lanka state TV SLRC walking around St. Sebastian's church on Easter Sunday morning, shortly before it was rocked by an explosion.
The blast at the crowded service in Negombo was one in a series of coordinated attacks -- which targeted churches and luxury hotels within minutes of each other -- across the country.
What you can see: The suspect can be seen carrying a large backpack as he makes his way across the courtyard towards where the busy service is already underway.
At one point, the alleged bomber can be seen briefly stopping to pat a child on the head before continuing on his way.
Making his way through the throngs of people perched outside the service, he enters a side door of St. Sebastian's, close to the altar.
The next frame, according to police but not provided publicly, shows the suspect detonating his bomb.
Sri Lanka police said they would not comment on the video until the conclusion of the investigation. 
5:10 a.m. ET, April 23, 2019
State Defense Minister: Bombings were retaliation for Christchurch killings
Islamic extremists carried out Sunday's coordinated attacks in retaliation for a March attack on two mosques in New Zealand, said Ruwan Wijewardana, the Sri Lankan State Defense Minister.
Addressing parliament today, Wijewardana said that initial investigations showed "the chain of bombings" was carried out by "a radical Islam group" which he named as the National Tawheed Jamath (NTJ).
No group has yet claimed responsibility.
Last month's mosque attack in Christchurch, New Zealand, saw at least 50 people murdered in a shooting rampage by a white supremacist. The rampage began at lunchtime on a Friday, when mosques were full of worshippers.
4:14 a.m. ET, April 23, 2019
BREAKING: Death toll rises to 321
Sri Lanka Police tell CNN the death toll has now risen to 321 in the Easter Sunday bombing attacks.
4:50 a.m. ET, April 23, 2019
Priest who narrowly avoided bombing urges Christians not to retaliate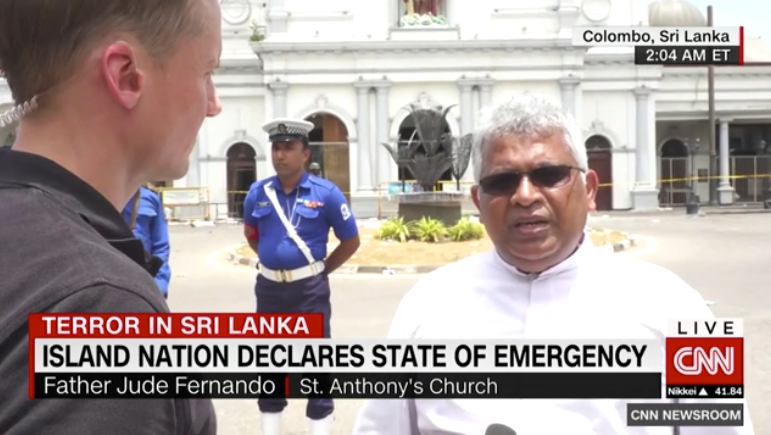 CNN's Will Ripley is at St. Anthony's Shrine in Colombo, the scene of one of Sunday's bombings. It remains an active crime scene and the interior is so badly damaged that investigators haven't been able to examine it all yet.
Ripley spoke to Fr. Jude Fernando, the administrator of the holy site, who said that when the blast went off around 8.45 a.m., he was in his office and just about to walk into the church.
"I came inside the church and I saw people screaming, crying and I started, with the help of the community, and staff and priest, to send each and every one to the hospital," he said.
He said the church was packed because it was Easter Sunday -- around 1,000 devotees were in attendance, he estimated.
Fernando appealed to Sri Lankan Christians to "please be calm and quiet and pray, because our God is not a god of revenge, he's a god of love, he's a god of peace... let's follow our master and spread the good news.
"Continue to pray for one another, and don't do any harmful acts," he said.
Watch the video here.
3:59 a.m. ET, April 23, 2019
South Korea joins countries issuing travel advisories on Sri Lanka
South Korea joined the US, Australia and China today in cautioning its citizens about travel to Sri Lanka. 
The country's Ministry of Foreign Affairs raised the Sri Lanka travel-alert level to "highly cautious."
"We ask our citizens who are residing in Sri Lanka to take extra caution and our citizens who plans to travel the region to carefully consider the need to travel," it said.
From CNN's Jake Kwon in Seoul