Sri Lanka investigates Easter bombings
2:13 a.m. ET, April 24, 2019
Around 60 arrests made: Police spokesman
Around 60 people have been arrested for possible links to the multiple attacks carried out on Easter Sunday. Of them, 32 are in custody with the Criminal Investigation Department (CID). All of those arrested are of Sri Lankan nationality, officials said at a press conference today.
2:08 a.m. ET, April 24, 2019
St. Sebastian Church opens new cemetery for bomb victims
Over 100 people were killed in a blast on Easter Sunday at St. Sebastian's Church in Negombo, a city to the north of the capital Colombo.
So far, 31 of those have been buried in a new cemetery prepared for the victims so far, and a further 25 more are expected to be interred today.
The church's priest is urging people to leave quickly after their loved ones are buried due to security fears around large groups gathering.
2:33 a.m. ET, April 24, 2019
Defense Minister: One of the suicide bombers studied in the UK
Speaking at a press conference today, Sri Lanka's State Defense Minister Ruwan Wijewardene revealed that the majority of Sunday's suicide bombers were from well-heeled families. They were also well-educated, including at least university graduate who had studied abroad.
"Most of them are well-educated, and come from maybe middle- or upper-middle-class. So they are financially quite independent and their families are quite stable financially," .
He added, "We believe that one of the suicide bombers studied in the UK and maybe later on did his post-graduate in Australia, before coming back to settle in Sri Lanka."
1:41 a.m. ET, April 24, 2019
"We are not against any kind of religion," says lawmaker calling to debate a burqa ban
Ashu Marasinghe, a Sri Lankan member of parliament, told CNN that he called yesterday for a parliamentary debate on banning "the burqa, niqab and any other religious face covering."
He said he believes face coverings are a threat to national security because they make it difficult to identify people, adding that facial covering was not traditional in Sri Lankan Muslim communities. No date has been set for his proposed debate.
People have their own reasons for wearing face coverings but they are all threats to national security. We need to start the discussion in parliament and we can move toward a ban of face coverings.
Face coverings would be banned in public places. This is the point we should discuss in parliament. Some restaurants and shops are already placing signs up asking their customers to remove their burqa or niqab. This is not good for social harmony, for the Muslim community or any other community. There should be one rule which covers all places.
I fully respect peoples religious freedom and freedom of expression, but this is a different angle. We are facing international terrorism for the first time in Sri Lanka – and face coverings are a security issue.
1:25 a.m. ET, April 24, 2019
US Embassy closes to the public
"The US Embassy and all American Spaces in #SriLanka will be closed to the public through April 26," the embassy in Colombo tweeted this afternoon.
1:23 a.m. ET, April 24, 2019
Hotel bans facial coverings, including the burqa
At least one Sri Lankan hotel has banned facial coverings in the aftermath of the attacks.
A British guest at Ella Flower Garden Resort in the small mountain town of Ella, about 200 kilometers (about 125 miles) east of Colombo, told CNN that the rule began on Tuesday, and described it as "a hijab and burqa ban."
Signs on the hotel's glass door depict a variety of banned facial coverings, including icons of a helmet, an eye mask, a balaclava, an eyeless full-figure shroud, and an apparent Islamic burqa.
Kosala Dissanayake, the hotel's director of sales, confirmed the rule, and emphasized to CNN that the ban extended to all face coverings.
"We mention on signs in here about full-face helmet and fully-covered jackets," he said. "Because of the current situation going on Sri Lanka, we have to take some tough decisions," he added.
The hotel's ban follows allegations that Muslim extremists were responsible for the coordinated attacks, which killed at least 359 people in churches and luxury hotels.
The Sri Lankan government has warned that attackers could still be at large, and several countries have issued travel warnings for the country.
12:47 a.m. ET, April 24, 2019
Sri Lankans turn to VPNs in massive numbers as social media ban continues
Facebook and WhatsApp are still blocked in Sri Lanka, days after the Easter Sunday terrorist attacks. 
Many Sri Lankans are turning to VPNs to get around the ban, with a massive uptick in searches for VPNs and information on how to get around the blocks, according to Simon Migliano, head of research at Top10VPN.com. 
The problem is that for most Sri Lankans, Facebook is the internet and how friends and family communicate. Given how integral the social network is to their daily lives, it's to be expected that Sri Lankans are finding ways around the shutdown, such as by using Virtual Private Networks (VPN).
What is surprising however is the sheer size of the spike in demand: our global monitoring data shows that over the two days following the attack the daily average number of VPN searches surged by over 12,000% compared to daily searches over the 30 days prior.
Experts and locals have criticized the ban as counterproductive and illiberal, and questioned the government's justification for the ban as preventing the spread of "false information."
"As facts are developing it's becoming clearer that the government of Sri Lanka has a lot to explain owing to its failure in keeping its citizens secure," said Mishi Choudhary, legal director at the Software Freedom Law Center.
"Shutting down social media at such a time when people whose loved ones have died are seeking answers seems selfish and politically motivated," she added.
12:24 a.m. ET, April 24, 2019
Counterintelligence expert: "The first question you have is imminent threat"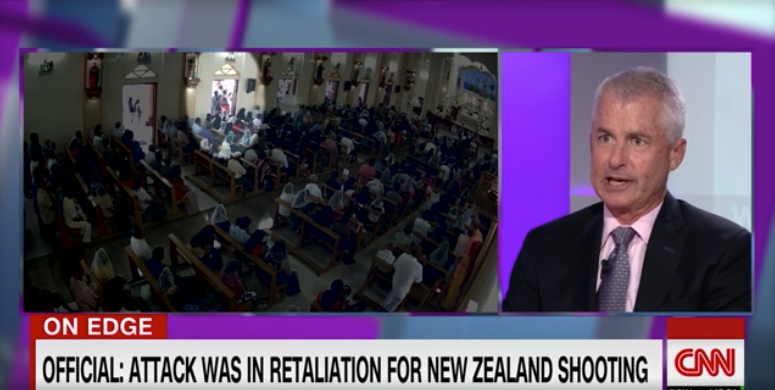 Former FBI Senior Intelligence Adviser and CNN contributor Phil Mudd warned on Tuesday that focusing on local group National Tawheed Jamath (NTJ), which has been accused of carrying out the blasts, could leave the country open to another attack.
NTJ has not claimed the attacks. Meanwhile, ISIS did claim responsibility for the bombings last night, but its involvement has not been proven.
"If you have an ISIS claim of responsibility, given ISIS and what they've done, in places like Europe, the Middle East and elsewhere, you gotta sit back and take it seriously," he said.
Mudd later added:
If you're talking about an attack of this magnitude, the first question you have is imminent threat. Are there other people running around with detonators who are going to kill people? You can speculate later on what the motivation is… but right now, focus on the threat, motivation comes later.
Sri Lankan Prime Minister Ranil Wickremesinghe told reporters on Tuesday that there were "still people on the run with explosives."
Watch the whole exchange here.
11:45 p.m. ET, April 23, 2019
"Maybe I should have stayed and covered them with my body": Father who lost two teenage kids
Matt Linsey lost two of his children in the Shangri-La hotel bombing. The London-based investment banker fled the hotel restaurant as the first bomb exploded, shepherding his children Daniel, 19, and Amelie, 15, out of the room.
But a second explosion detonated near the elevators on the third floor of the upmarket hotel, and killed them both.
His face peppered with minute scars from shrapnel and debris, Linsey is tormented by what he could have done differently.
"Maybe I should have stayed and covered them with my body," he told CNN.
"They both were unconscious," he said. "My daughter seemed to be moving. My son wasn't. A woman offered to take my daughter downstairs to the ambulance. I needed help moving my son." Thinking his daughter was in safe hands and less injured, Linsey traveled with his son in the ambulance to the hospital.
There he tried to revive his son, unsuccessfully. "I tried to massage his heart," the father said.
He tried to find his daughter, he explains, his voice a hoarse whisper of exhaustion. "This was the worst part... because I yelled for help. That's why I've lost my voice." Amid the overflowing hospital, Linsey found a lifeless Amelie under a hospital sheet.
Read his story here.