Sri Lanka investigates Easter bombings
12:24 a.m. ET, April 24, 2019
Counterintelligence expert: "The first question you have is imminent threat"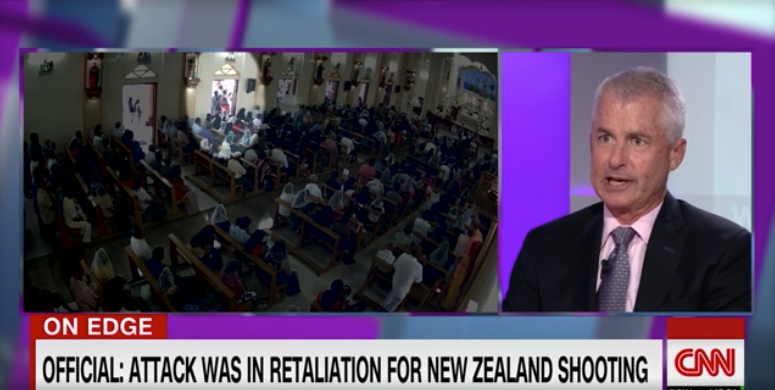 Former FBI Senior Intelligence Adviser and CNN contributor Phil Mudd warned on Tuesday that focusing on local group National Tawheed Jamath (NTJ), which has been accused of carrying out the blasts, could leave the country open to another attack.
NTJ has not claimed the attacks. Meanwhile, ISIS did claim responsibility for the bombings last night, but its involvement has not been proven.
"If you have an ISIS claim of responsibility, given ISIS and what they've done, in places like Europe, the Middle East and elsewhere, you gotta sit back and take it seriously," he said.
Mudd later added:
If you're talking about an attack of this magnitude, the first question you have is imminent threat. Are there other people running around with detonators who are going to kill people? You can speculate later on what the motivation is… but right now, focus on the threat, motivation comes later.
Sri Lankan Prime Minister Ranil Wickremesinghe told reporters on Tuesday that there were "still people on the run with explosives."
Watch the whole exchange here.
11:45 p.m. ET, April 23, 2019
"Maybe I should have stayed and covered them with my body": Father who lost two teenage kids
Matt Linsey lost two of his children in the Shangri-La hotel bombing. The London-based investment banker fled the hotel restaurant as the first bomb exploded, shepherding his children Daniel, 19, and Amelie, 15, out of the room.
But a second explosion detonated near the elevators on the third floor of the upmarket hotel, and killed them both.
His face peppered with minute scars from shrapnel and debris, Linsey is tormented by what he could have done differently.
"Maybe I should have stayed and covered them with my body," he told CNN.
"They both were unconscious," he said. "My daughter seemed to be moving. My son wasn't. A woman offered to take my daughter downstairs to the ambulance. I needed help moving my son." Thinking his daughter was in safe hands and less injured, Linsey traveled with his son in the ambulance to the hospital.
There he tried to revive his son, unsuccessfully. "I tried to massage his heart," the father said.
He tried to find his daughter, he explains, his voice a hoarse whisper of exhaustion. "This was the worst part... because I yelled for help. That's why I've lost my voice." Amid the overflowing hospital, Linsey found a lifeless Amelie under a hospital sheet.
Read his story here.
11:32 p.m. ET, April 23, 2019
New Zealand and France spearhead efforts to end use of social media for acts of terrorism
New Zealand and France are convening world leaders and tech giants to end the use of social media platforms for organizing and promoting terror acts. The meeting, co-chaired by New Zealand Prime Minister Jacinda Ardern and French President Emmanuel Macron, will take place in Paris on May 15, the New Zealand government has announced.
The meeting was prompted by the March terror attack on mosques in the New Zealand city of Christchurch, and aims to get tech giants pledge to "eliminate terrorist and violent extremist content online," a statement says.
Social networks were also blocked in Sri Lanka after Sunday's attacks, with the government citing "false reports." Facebook and Whatsapp continued to be unavailable on Wednesday, say CNN staffers on the ground.
Ardern has urged tech companies to get on board with the initiative:
The March 15 terrorist attacks saw social media used in an unprecedented way as a tool to promote an act of terrorism and hate. We are asking for a show of leadership to ensure social media cannot be used again the way it was in the March 15 terrorist attack.
We're calling on the leaders of tech companies to join with us and help achieve our goal of eliminating violent extremism online at the Christchurch Summit in Paris.
11:05 p.m. ET, April 23, 2019
BREAKING: Death toll rises to 359
Sri Lankan police tell CNN the death toll has jumped to 359, up from a previous count of 321 people.
10:24 p.m. ET, April 23, 2019
CNN exclusive: ISIS suspect gave advance warning of Sri Lanka bombings, Indian official says
Early warnings from India's intelligence services to Sri Lankan officials ahead of the Easter Sunday bombings were based on information gleaned from an ISIS suspect, CNN has learned.
Delhi passed on unusually specific intelligence in the weeks and days leading up to the attacks, Sri Lankan officials have said, and at least some of it was gleaned from material obtained during interrogations of an ISIS suspect arrested in India, an Indian official told CNN.
The suspect gave investigators the name of a man he trained in Sri Lanka, who is associated with a local extremist group implicated in the bombings, the source said. The man, Zahran Hashim, was identified in a video of the purported attackers released Tuesday by ISIS, which claimed responsibility for the Easter Sunday killings.
In a statement published by the ISIS-affiliated news agency Amaq, the group said the attackers were "fighters of the Islamic State."
The involvement of a foreign organization would explain how a previously marginal domestic extremist group blamed for the attacks, National Tawheed Jamath (NTJ), could have pulled off one of the worst terrorist atrocities since 9/11.
10:32 p.m. ET, April 23, 2019
Sri Lanka to restructure security divisions in wake of attack
Changes in top positions in Sri Lanka's security divisions will be made within 24 hours, President Maithripala Sirisena said Tuesday in a video message to the nation. 
"I expect to conduct a complete restructuring of security divisions," including the army and police, in the coming week, he said.
"Mainly within the next 24 hours I expect to make changes in top positions of security divisions," Sirisena added.