Sri Lanka attack death toll rises to 290
7:44 a.m. ET, April 21, 2019
Facebook and Instagram blocked amid false news reports
The Sri Lankan government has temporarily blocked social media sites including Facebook and Instagram, according to officials.
The Presidential Secretariat said in a statement that the decision to block social media was taken in reaction to false news reports spreading on social media.
The statement added that security forces were conducting comprehensive investigations into the explosions, and that the social media block would continue until investigations were concluded.
8:39 a.m. ET, April 21, 2019
Curfew takes immediate effect amid ongoing attacks
A 12-hour curfew has been implemented across the country as the government tries to prevent more injuries in ongoing attacks.
The curfew will be in place until further notice, according to Ruwan Gunasekara, Attorney-at-law Superintendent of Police. Schools will also be closed for the next two days.
The Sri Lankan government is now trying to keep people away from areas where they could be targeted, with police called back from their Easter breaks to help manage the situation.
"This is still an active and unfolding situation, with reports of the eighth bombing coming in the last hour -- so they're not out of the woods yet," said CNN's Will Ripley.
"We don't know who's responsible because no one is yet to come forward. But it was clearly a coordinated attack on multiple fronts."
Of the eight explosions:
4 targeted hotels
3 targeted churches
1 targeted a house
Whoever is behind the attacks, was "targeting Christians who are celebrating Easter and foreigners who are in hotels," added Ripley.
The government is now "trying to get to grips with the situation and prevent more people being hurt," he said.
7:43 a.m. ET, April 21, 2019
President Trump corrects his tweet on Sri Lanka death toll
US President Donald Trump has issued a new tweet saying 138 people have been killed in the explosions in Sri Lanka. In an earlier tweet on Sunday he misstated the number as 138 million.
CNN is currently reporting that at least 140 have been killed and more than 560 injured.
 Sri Lanka has a total population of around 21.7 million.
12:00 p.m. ET, April 21, 2019
Pope offers condolences for Christians targeted "while gathered in prayer"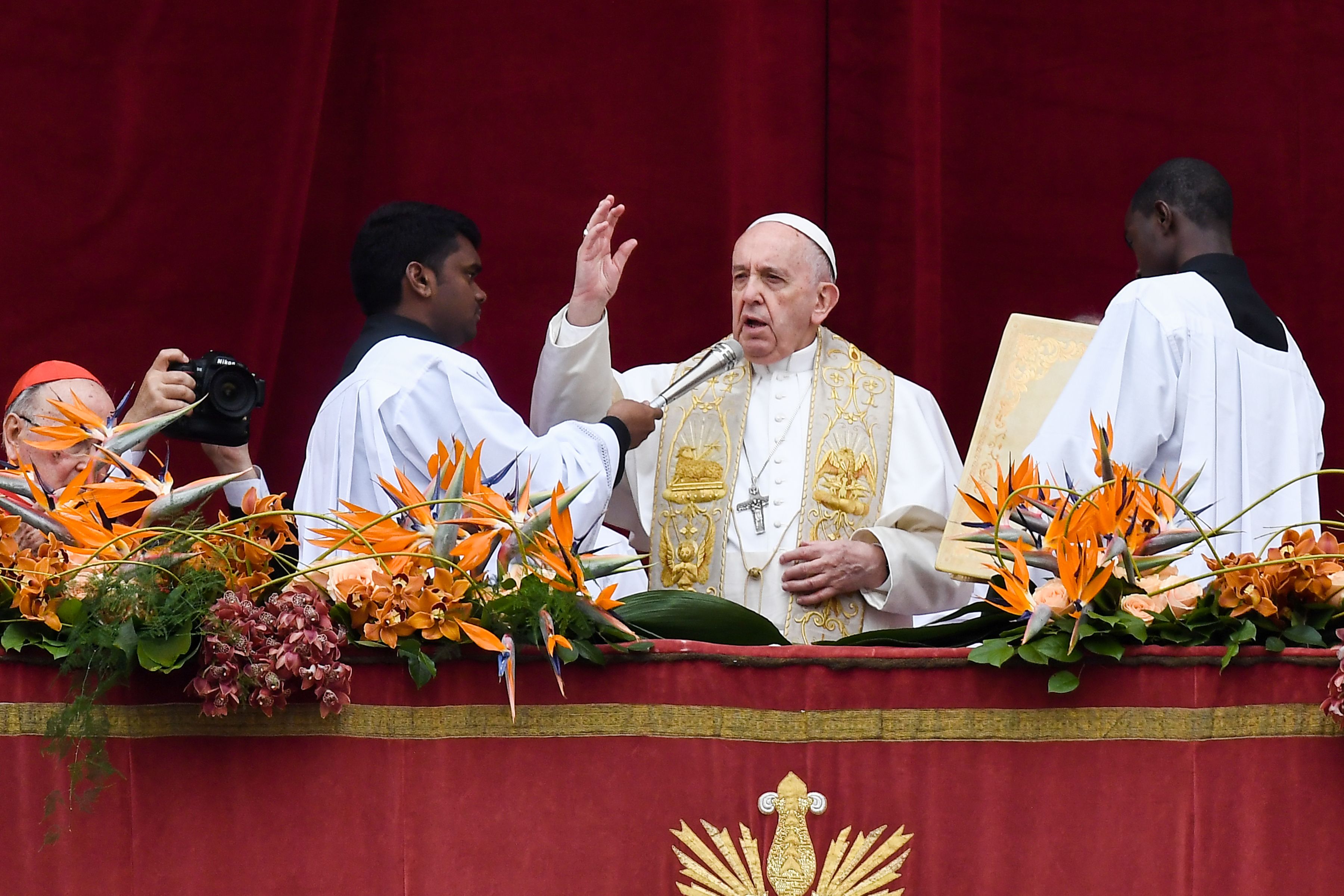 The first wave of attacks struck at the heart of Sri Lanka's minority Christian community during busy Easter services at churches in the cities of Colombo, Negombo and Batticaloa on Sunday morning.
Pope Francis condemned the attacks during his Easter Sunday address in Rome, offering his condolences to "the victims of such cruel violence."
"I learned with great sadness the news of the serious attacks that, today, on Easter they brought mourning and pain to some churches and other Sri Lankan hangouts," he said.
"I wish to show my affectionate closeness to the Christian community, hit while gathered in prayer, and to all the victims of such cruel violence. I entrust to the Lord those who have tragically been lost and I pray for the wounded and all those who suffer because of this dramatic event." moment of silence for prayer."
See here:
6:43 a.m. ET, April 21, 2019
Where the attacks happened
Eight blast sites have been reported across Sri Lanka, including four in central Colombo.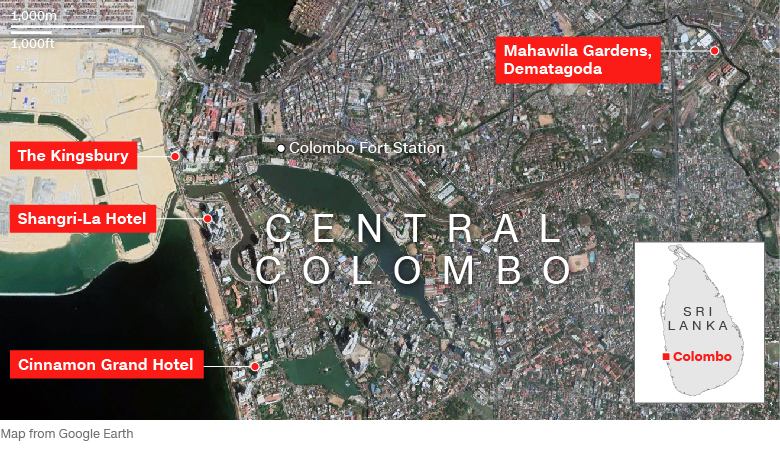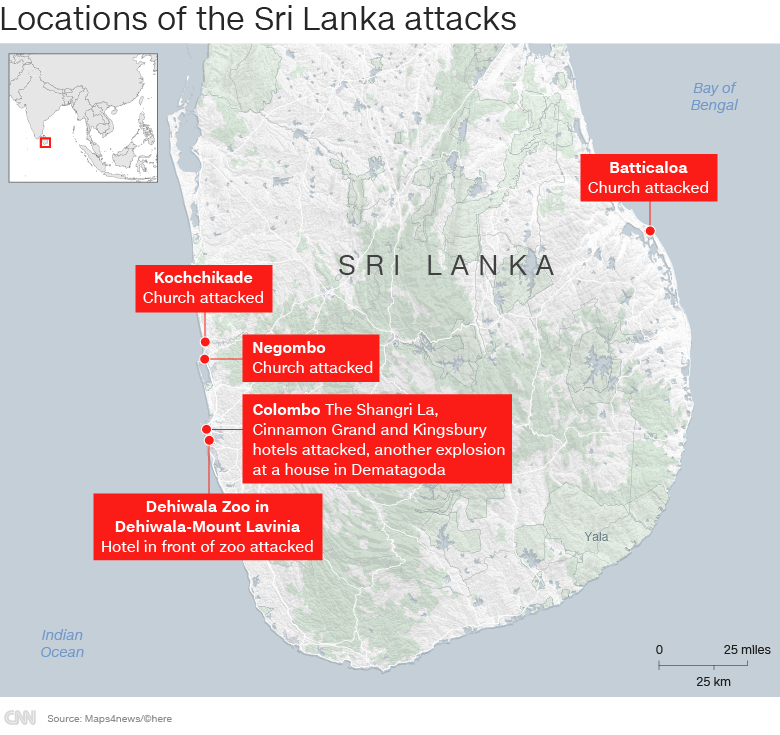 6:18 a.m. ET, April 21, 2019
"We're thinking of our brothers in Sri Lanka," says Archbishop of Paris at Easter Sunday mass
The Archbishop of Paris, Michel Aupetit, referenced Sri Lanka as he began Easter Mass in Saint Eustache church this morning.
"We're thinking of our brothers in Sri Lanka, who were slaughtered this morning," he said.
The French capital suffered a devastating fire to its iconic Notre Dame cathedral earlier in the week. Donations have poured in to restore the 850-year-old structure.
6:21 a.m. ET, April 21, 2019
BREAKING: Eighth explosion confirmed
Another explosion -- the eighth of the day -- was reported at a house in Mahawila Gardens, Dematagoda, where a fire was also reported.
Defense Minister Ruwan Wijewardene told press that action will be taken to stop the activity of all extremist groups in the country. 
The seventh and eighth explosions, which took place in the Dehiwela and Dematagoda areas, seemed to be committed by "those responsible for the attacks running from the law," according to Minister of Economic Reforms and Public Distribution Harsha de Silva.
6:10 a.m. ET, April 21, 2019
BREAKING: 12-hour curfew announced
Police in Sri Lanka will impose an island-wide curfew starting Sunday from 6 p.m. local (8:30 a.m. ET Sunday), finishing at 6 a.m. local (8:30 p.m ET Sunday) on Monday morning, according to the President's secretary, Udaya R. Seneviratne. 
5:44 a.m. ET, April 21, 2019
Politicians worldwide condemn attacks on churches, hotels in Sri Lanka
European President Jean-Claude Juncker has expressed his "horror and sadness" upon learning of the blasts. He said the European Union stood "ready to support" Sri Lanka.
UK Prime Minister Theresa May also condemned the Sri Lanka bombings.
"The acts of violence against churches and hotels in Sri Lanka are truly appalling, and my deepest sympathies go out to all of those affected at this tragic time.
"We must stand together to make sure that no one should ever have to practise their faith in fear," May said on Twitter.
Meanwhile, the governments of the United Arab Emirates and Bahrain denounced the bombings as "terrorist attacks."
"The UAE affirmed its firm stance against all forms of violence, terrorism and extremism, targeting all without distinction between religion and race," the UAE Ministry of Foreign Affairs and International Cooperation said.
Both countries expressed solidarity with the government of Sri Lanka.