Sri Lanka attack death toll rises to 290
6:10 a.m. ET, April 21, 2019
BREAKING: 12-hour curfew announced
Police in Sri Lanka will impose an island-wide curfew starting Sunday from 6 p.m. local (8:30 a.m. ET Sunday), finishing at 6 a.m. local (8:30 p.m ET Sunday) on Monday morning, according to the President's secretary, Udaya R. Seneviratne. 
5:44 a.m. ET, April 21, 2019
Politicians worldwide condemn attacks on churches, hotels in Sri Lanka
European President Jean-Claude Juncker has expressed his "horror and sadness" upon learning of the blasts. He said the European Union stood "ready to support" Sri Lanka.
UK Prime Minister Theresa May also condemned the Sri Lanka bombings.
"The acts of violence against churches and hotels in Sri Lanka are truly appalling, and my deepest sympathies go out to all of those affected at this tragic time.
"We must stand together to make sure that no one should ever have to practise their faith in fear," May said on Twitter.
Meanwhile, the governments of the United Arab Emirates and Bahrain denounced the bombings as "terrorist attacks."
"The UAE affirmed its firm stance against all forms of violence, terrorism and extremism, targeting all without distinction between religion and race," the UAE Ministry of Foreign Affairs and International Cooperation said.
Both countries expressed solidarity with the government of Sri Lanka.
6:21 a.m. ET, April 21, 2019
This is where the attacks happened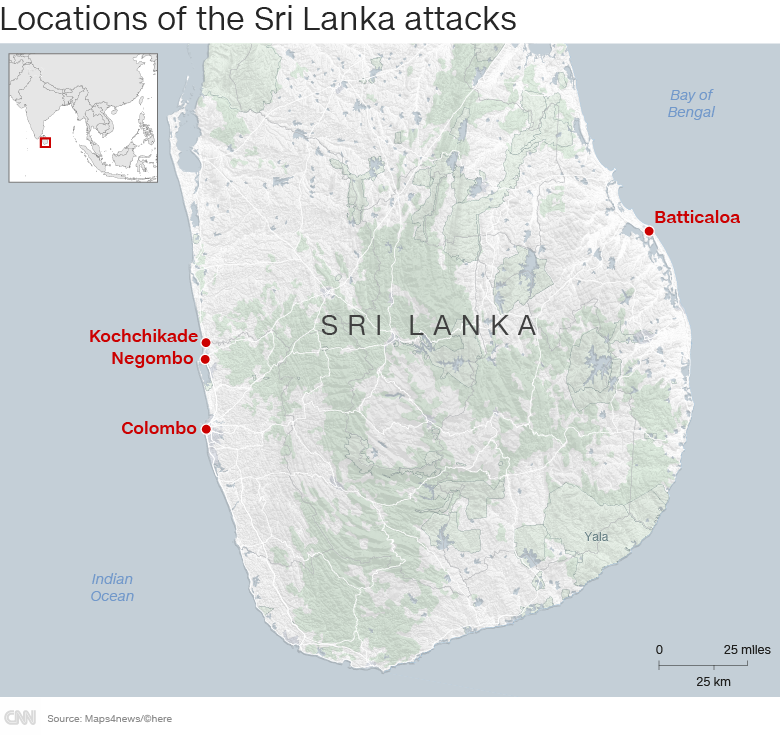 The seven bombings that occurred on Easter Sunday took place in locations across the country, largely in the capital, Colombo, but also in churches and hotels in other Sri Lankan cities.
The three churches that were attacked are St. Anthony's Shrine in Kochchikade, St. Sebastian's church in the nearby city of Negombo and Zion Church in the eastern city of Batticaloa.
Three of the hotels, the Shangri-La, Cinnamon Grand and Kingsbury hotels, are located in Colombo. A fourth bomb went off later in the day in front of the Dehiwala Zoo in Dehiwala-Mount Lavinia, 20 minutes outside of the capital.
6:16 a.m. ET, April 21, 2019
Eyewitness describes aftermath of seventh blast
Asela Waidyalankara, who witnessed the aftermath of the explosion at the hotel in front of the Dehiwala Zoo in Dehiwala-Mount Lavinia, said that he heard the explosion and went to his rooftop to check.
He said he saw two helicopters pass over the site, followed by the sound of ambulances and fire trucks. He told CNN that the smoke has stopped now.
Two people reportedly died in the seventh explosion, taking the death toll to at least 140.
5:18 a.m. ET, April 21, 2019
Dashcam footage shows moment of Colombo church blast
Local media are reporting that the dashcam video below captured this morning's explosion outside St. Anthony's church in Colombo.
5:08 a.m. ET, April 21, 2019
Sources say a seventh explosion has occurred
Multiple sources are reporting another explosion at a hotel in front of the Dehiwala Zoo in Dehiwala-Mount Lavinia, 20 minutes outside of Colombo.
The explosion comes on the heels of bombings at three churches and three hotels in cities around Sri Lanka this morning.
5:10 a.m. ET, April 21, 2019
State media: Airline passengers required to be at airport four hours ahead of their flights
Official government news portal News.lk has reported that passengers departing from Bandaranaike International Airport (BIA) will need to be present at the airport at least four hours prior to their departure time, to account for extra security processes.
Sri Lankan Airlines, which is the ground handling agent for all airlines, added that only passengers will be allowed inside the airport terminal.
The airport is located to the north of the capital Colombo, on the outskirts of the city of Negombo, which was the site of at least one bombing today.
6:22 a.m. ET, April 21, 2019
BREAKING: Hospital official updates number of foreigners among the dead
At least 20 foreigners have now been counted among the dead at Colombo National Hospital, according to hospital Director General Anil Jasinghe.
4:48 a.m. ET, April 21, 2019
Sri Lanka schools closed for two days
All schools across Sri Lanka will remain closed until Wednesday due to security concerns, according to official government news portal News.LK