Sri Lanka attack death toll rises to 290
1:50 p.m. ET, April 21, 2019
Facebook say it's working to remove content that violates its standards
No one has claimed responsibility for the attacks yet, and the Sri Lankan government blocked social media sites, including Facebook and Instagram, while investigations are taking place.
Facebook has been working to identify and remove content that violates its standards, according to a statement from a company spokesperson. The company also said it was working to support law enforcement and first responders.
Here's the statement in full:
"Our hearts go out to the victims, their families and the community affected by this horrendous act. Teams from across Facebook have been working to support first responders and law enforcement as well as to identify and remove content which violates our standards. We are aware of the government's statement regarding the temporary blocking of social media platforms. People rely on our services to communicate with their loved ones and we are committed to maintaining our services and helping the community and the country during this tragic time."
1:40 p.m. ET, April 21, 2019
Hotels are being asked to heighten security
Sri Lanka's Tourism Development Authority has requested that hotels in the country take maximum measures to strengthen security.
Three luxury hotels in Colombo, the Cinnamon Grand, Shangri-La Hotel and The Kingsbury, were targeted in the blasts on Sunday morning. By the afternoon, a hotel in front of the Dehiwala Zoo in Dehiwala-Mount Lavinia had also been attacked.
The agency also urged the public to refrain from sharing unverified information about the attacks.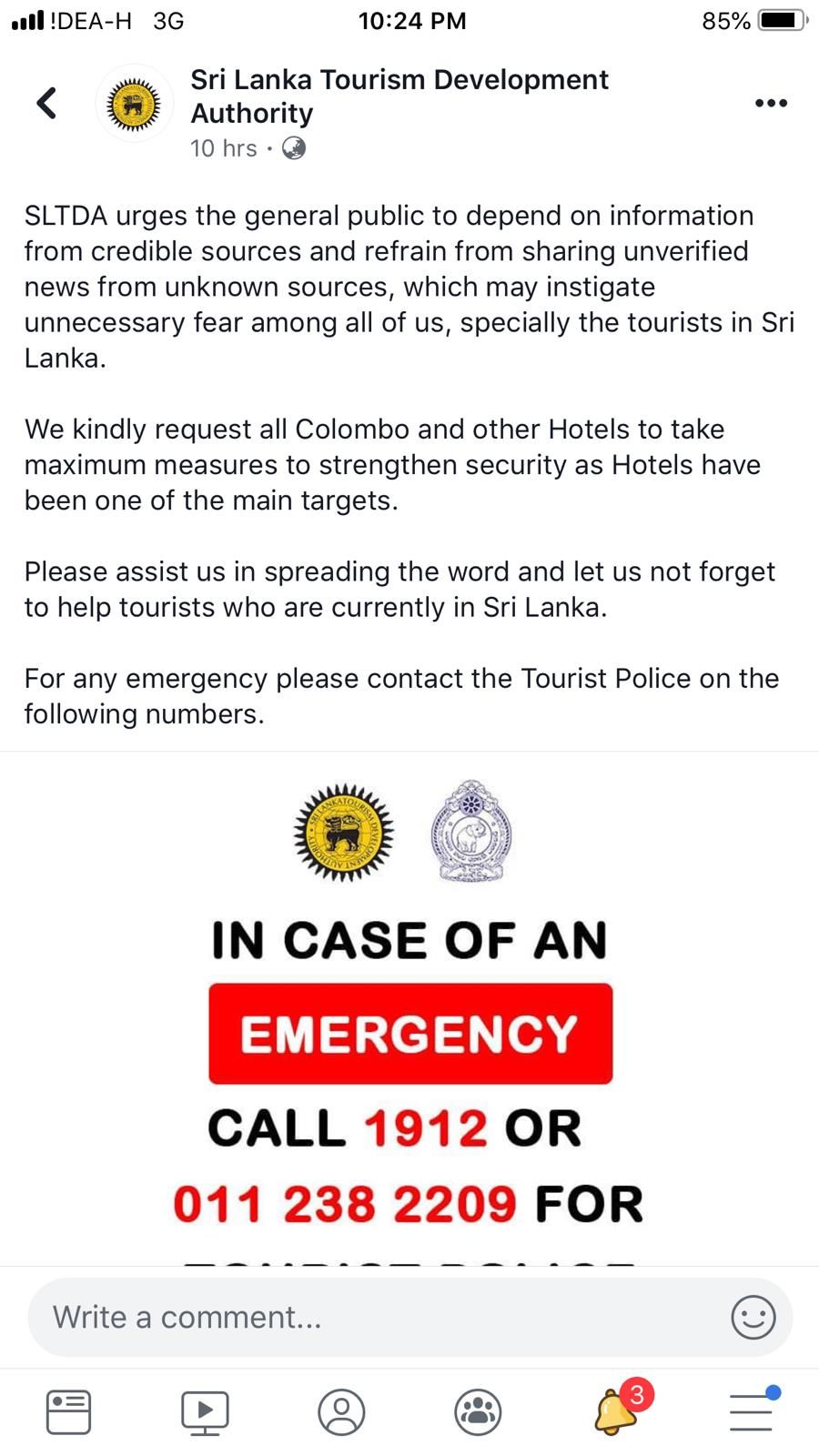 1:18 p.m. ET, April 21, 2019
The Eiffel Tower will go dark in honor of the victims
The Eiffel Tower will turn off its lights starting at midnight tonight to pay tribute to the victims of the attacks in Sri Lanka.
1:12 p.m. ET, April 21, 2019
This photo captures the horror during this holy weekend
The first wave of attacks in Sri Lanka struck at the heart of the country's minority Christian community during busy Easter services at churches in the cities of Colombo, Negombo and Batticaloa on Sunday morning.
This photo taken at St. Sebastian's Church in Negombo is a snapshot of the horror that many experienced during this holy weekend. Blood stains are splattered across the walls and on a statue of Jesus Christ.
1:29 p.m. ET, April 21, 2019
The victims include citizens from at least 8 countries
People from at least eight countries were killed in the series of attacks on churches and hotels in Sri Lanka, including:
5 British citizens, including 2 US-UK dual citizens
3 Indians
3 Danes
2 Chinese
2 Turkish citizens
1 Dutch
1 Portuguese
Secretary of State Mike Pompeo said that several US citizens were among those killed, though he did not say how many.
In addition, the Sri Lankan Foreign Ministry said in a statement earlier that nine foreign nationals were reported missing and that 25 unidentified bodies at the Colombo Judicial Medical Officer's mortuary were believed to be foreigners.
At least 207 people have been killed and hundreds more are injured.
12:17 p.m. ET, April 21, 2019
Several US citizens were killed, Pompeo says
Several US citizens were among those killed in the Sri Lanka attacks, US Secretary of State Mike Pompeo said in a statement.
He did not offer any more details on the victims, but said that the US Embassy was working to provide possible assistance to the Americans affected by the attacks.
Here's his statement:
The United States condemns in the strongest terms the terror attacks in Sri Lanka on Easter morning. Attacks on innocent people gathering in a place of worship or enjoying a holiday meal are affronts to the universal values and freedoms that we hold dear, and demonstrate yet again the brutal nature of radical terrorists whose sole aim is to threaten peace and security.
The United States offers our deepest condolences to the families and friends of those killed and wishes a quick recovery to all who were injured. While many details of the attacks are still emerging, we can confirm that several U.S. citizens were among those killed. The U.S. Embassy is working tirelessly to provide all possible assistance to the American citizens affected by the attacks and their families.
These vile attacks are a stark reminder of why the United States remains resolved in our fight to defeat terrorism. We stand with the Sri Lankan government and people as they confront violent extremism and have offered our assistance as they work to bring the perpetrators to justice.
12:00 p.m. ET, April 21, 2019
Five British citizens have been killed
Five British citizens, including two dual US-UK nationals, were killed in the bombings, according to a statement from Sri Lanka's Foreign Ministry.
The UK Foreign Office has not yet confirmed the deaths. Earlier, Britain's High Commissioner to Sri Lanka said he spoke with injured Britons in hospital.
Additionally, nine foreign nationals are reported missing, and there are 25 unidentified bodies believed to be of foreigners at the Colombo Judicial Medical Officer's mortuary.
As of 6 p.m. local time, 19 foreign nationals were receiving treatment at the Colombo National Hospital.
No foreigners have been admitted with injuries or declared dead at the Negombo and Batticaloa General Hospitals or the Colombo North Teaching Hospital, the directors of those hospitals said.
11:54 a.m. ET, April 21, 2019
Have you been affected by the attacks in Sri Lanka?
If you or someone you know has been affected by the explosions, and if it's safe to do so, send us an SMS at:
+1 347-322-0415
11:46 a.m. ET, April 21, 2019
Evening Easter services have been canceled in Sri Lanka
All Easter services scheduled for Sunday evening have been canceled, Archbishop of Colombo Cardinal Malcolm Ranjith's House said.
Ranjith condemned the explosions and offered condolences for the victims' families, calling the attacks unacceptable.