Sri Lanka attack death toll rises to 290
12:36 a.m. ET, April 24, 2019
Our live coverage of the Sri Lanka Easter Sunday bombings and developing investigation has moved here.
2:55 p.m. ET, April 22, 2019
It's just past midnight in Sri Lanka. Here's what we know now.
The deadly blasts in Sri Lanka on Sunday killed at least 290 people and left hundreds more injured. Monday has been a day of search and rescue, victim identification, and grief and condolences expressed worldwide.
Earlier today, we caught you up on what happened, who the victims are and where the investigation stands.
Here's what we've learned since then:
There were six suicide bombers involved in the explosions. So far, 24 people have been arrested in connection to the attacks.
The government may have had information about the attacks prior to the bombings. A Sri Lankan government minister claimed that US and Indian governments had warned of "something terrible," but it's unclear if any action was taken.
More victims' names and faces are emerging: a fifth-grader from Washington, DC, a British mother and her two children, an education publishing employee from Colorado, the three children of a Danish retail billionaire.
Where things stand now: It's now past midnight in Sri Lanka, and people are off the streets under an emergency island-wide curfew.
The investigation will continue on Tuesday, which has been declared a national day of mourning.
2:41 p.m. ET, April 22, 2019
British firefighter and his wife killed in bombings
A retired Manchester Fire and Rescue Service borough commander and his wife were among the victims of the bombings in Sri Lanka, the UK Fire Service said Monday.
"Sadly, retired GMFRS Borough Commander Billy Harrop and has wife Sally were both killed this weekend in the terrible bombing in Sri Lanka. RIP," the agency said on Twitter. 
The Manchester Evening News said Harrop had been "celebrated for his heroism during the IRA bombing of Manchester" in 1996. The newspaper said Harrop was 56 and believed he had recently retired to Australia.
The Harrops bring the number of identified British victims to five. The Met Police say there are eight British victims total: two dual US-UK nationals and six British nationals.
2:35 p.m. ET, April 22, 2019
Trump tweets about call with Sri Lankan prime minister and deletes tweet about call with president 
President Trump has deleted a tweet about speaking with the Sri Lankan president — and replaced it with a tweet about talking to the Sri Lankan prime minister.
"Spoke to Prime Minister Ranil Wickremesinghe of Sri Lanka this morning to inform him that the United States stands by him and his country in the fight against terrorism," Trump tweeted this afternoon. A White House readout also said he spoke to Wickremesinghe.
Trump's earlier, now-deleted tweet said he spoke to Sri Lanka's President Maithripala Sirisena.
CNN has asked the White House for an explanation. 
2:08 p.m. ET, April 22, 2019
US and India warned Sri Lanka of imminent attacks, official says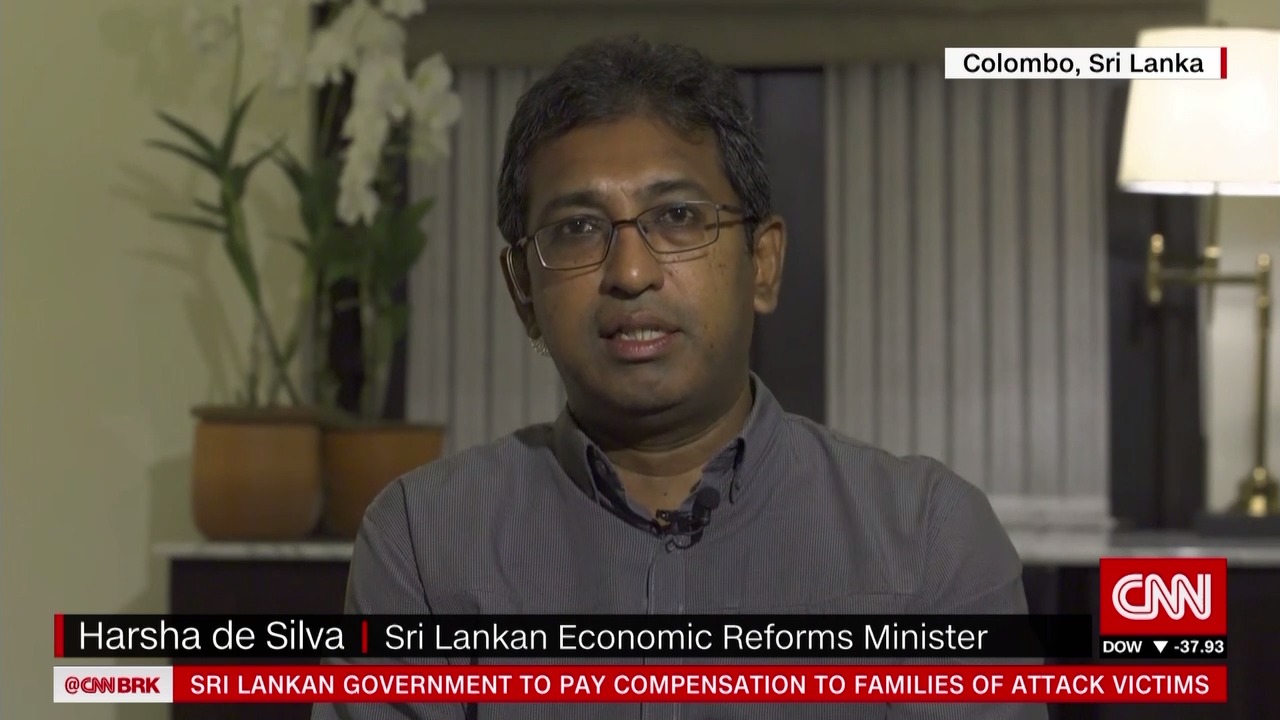 US and Indian intelligence agencies had warned the Sri Lankan government of imminent attacks, said Harsha de Silva, the Sri Lankan Minister of Economic Reforms and Public Distribution.
Speaking to CNN's Christiane Amanpour on Monday, de Silva said the Sri Lankan government "did receive information from overseas that something terrible was to happen" but the prime minister "was kept in the dark."
De Silva, an ally of Prime Minister Ranil Wickremesinghe, argued that "it wasn't a failure of the intelligence apparatus" but "a failure of implementing" an appropriate response.
Wickremesinghe had said on Sunday that there may have been prior information about the attacks. He said he was not kept informed and it is one of the issues that must be looked into. 
"For now the priority is to apprehend the attackers," he added.
1:33 p.m. ET, April 22, 2019
British mom and two children killed in bombing shared "priceless ability to light up any room," husband says
British father Ben Nicholson said Monday that his wife Anita, his 14-year-old son Alex and his 11-year-old daughter Annabel were killed Sunday in the bombing of the Shangri-La Hotel restaurant bombing in Colombo, Sri Lanka.
"Anita was a wonderful, perfect wife and a brilliant, loving and inspirational mother to our two wonderful children," Nicholson said in a statement released by the UK Foreign Office.
The statement continued: "Alex and Annabel were the most amazing, intelligent, talented and thoughtful children and Anita and I were immensely proud of them both and looking forward to seeing them develop into adulthood. They shared with their mother the priceless ability to light up any room they entered and bring joy to the lives of all they came into contact with."
He asked for the media to respect his privacy "and allow us to grieve together."
1:16 p.m. ET, April 22, 2019
Easter bombings are just the latest chapter in Sri Lanka's history of violence
Sunday's violence punctured a decade of relative peace in Sri Lanka following the end of its civil war in 2009 — where attacks were common during the struggle.
Since the country gained independence from Britain in 1948, sporadic conflicts had broken out between minority groups and the government. The most damaging period of violence was from 1983 to 2009, with large-scale battles between separatist Tamil rebels and the military.
Though Colombo has remained largely free of violence since the war's end, there have been rising tensions between Muslim groups and the majority Sinhalese Buddhist community.
In March 2018, a state of emergency was imposed across the country for the first time since the civil war, following days of violence between Buddhist and Muslim communities in the central city of Kandy.
The violence, which was sparked by the death of a Sinhalese Buddhist youth, allegedly at the hands of a group of Muslim men, resulted in riots and arson attacks on scores of Muslim businesses and mosques.