January 22 coronavirus news
10:05 p.m. ET, January 22, 2020
Our live coverage of Wednesday's coronavirus outbreak has ended, but you can read more about the ongoing crisis here.
9:32 p.m. ET, January 22, 2020
US officials in Washington state are monitoring the health of a US patient's "close contacts"
From CNN's Jen Christensen
Washington state health officials said Wednesday that investigators have identified 16 "close contacts" of a 30-year-old man who is the first confirmed case of coronavirus diagnosed in the United States.
The Snohomish County resident, who has not been named, identified people that he has interacted with since returning from Wuhan. Those named will be actively monitored for signs of any illness by local health officials.
Health officials said that they consider a "close contact" to be anyone who is within 6 feet of an infected person, like having a meal or meetings together, but that they are not asking those contacts to isolate themselves unless they have symptoms.
Health staff will reach out to the contacts daily to see if they have a fever or cough and to check if they develop any symptoms. Dr. Chris Spitters, the health officer for the Snohomish Health District, said there is also a call center set up to take resident's questions about the virus. 
6:26 p.m. ET, January 22, 2020
People seen queuing for train tickets in Wuhan ahead of a transport lockdown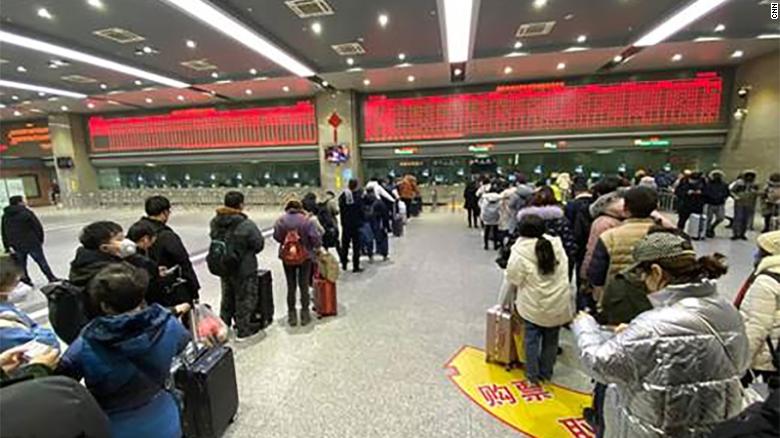 Above, a photograph shows queues at Wuchang train station in Wuhan, China. Starting on Thursday morning local time, all city transportation will halt, including local buses, ferries, long-distance buses and subways. Wuhan's airport and railway stations will be "temporarily closed" for departing passengers.
4:41 p.m. ET, January 22, 2020
US concerned about Chinese transparency over coronavirus, says senior official
From CNN's Jennifer Hansler
The United States is concerned about transparency inside the Chinese government on the Wuhan coronavirus, said a senior State Department official Wednesday. 
"I do believe that the concern you see both inside China and internationally is a reflection of what we've seen in the past. 2003 was SARS, and a number of issues, where the government has been slow to respond out of fear of embarrassment or making things look worse than they are. And that reluctance to respond in a rapid manner doesn't give the global community a secure feeling for this being managed inside China," the official said.
However, there have been encouraging signs that China understands the gravity of the problem, the official added, which is particularly important in the lead up to the Spring Festival period, when millions of Chinese travel both at home and abroad. 
The US is in contact with "the folks in Wuhan and the Ambassador in Beijing," said the official. There have been discussions about raising the travel advisory in response to coronavirus but nothing has been formally announced yet, they added.
4:34 p.m. ET, January 22, 2020
UK Foreign Office warns against all but essential travel to Wuhan
From Anastasia Graham-Yooll in London
The UK Foreign Office is warning people against traveling to Wuhan in China in all but essential cases.
In its latest advice to the outbreak of coronavirus, the Foreign Office says "enhanced monitoring" is in place for all flights arriving in the UK from Wuhan.
"In light of the latest medical information, including reports of some person-to-person transmission, and the Chinese authorities' own advice, we are now advising against all but essential travel to Wuhan," a Foreign Office spokesperson said.
There are currently three direct flights from Wuhan to the UK. The Foreign Office says a health team will be on hand to meet each plane as it arrives and to assess anyone feeling unwell.
3:49 p.m. ET, January 22, 2020
China is sharing information on coronavirus, says Chinese Embassy in US
From CNN's Pierre Meilhan in Atlanta
China's National Health Commission is sharing information on the Wuhan coronavirus with the World Health Organization (WHO) and other countries, tweeted the Chinese Embassy in the United States.
"The genetic sequence of the new coronavirus has also been offered to WHO," said the embassy.
"The National Health Commission has organized four meetings with WHO experts and invited them to Wuhan for first-hand info."
Information is also being shared with Thailand, Japan, the Republic of Korea, the United States and other countries as well as their embassies in China, according to the embassy.
3:08 p.m. ET, January 22, 2020
WHO needs more evidence to determine outbreak status
From CNN's Jack Guy
Top officials from the World Health Organization (WHO) will meet again Thursday to decide whether to declare the Wuhan virus a "public health emergency of international concern."
The WHO's Emergency Committee met Wednesday in Geneva but decided more information was needed to declare the status of the outbreak and what recommendations should be made regarding it, including potential cross-border screening, greater surveillance and rolling out treatment programs.
"There was an excellent discussion during the committee today, but it was also clear that to proceed, we need more information," said Tedros Adhanom Ghebreyesus, WHO director-general.
"The decision about whether or not to declare a public health emergency of international concern is one I take extremely seriously, and one I am only prepared to make with appropriate consideration of all the evidence."
3:14 p.m. ET, January 22, 2020
Wuhan announces transportation lockdown 
From CNN's Steven Jiang in Beijing 
Public transportation will be suspended in Wuhan starting tomorrow, according to an announcement from the city's coronavirus command center.
All city transportation will halt, including local buses, ferries, long-distance buses and subways. Wuhan's airport and railway stations will be "temporarily closed" for departing passengers.
When these services will re-open remains to be determined.
The command center also advised residents not to leave Wuhan unless they have a "special reason."
The measures aim to keep the virus from spreading, and to ensure public safety and health, according to the announcement. They take effect at 10 a.m. local time Thursday (9 p.m. ET Wednesday).
1:18 p.m. ET, January 22, 2020
CDC testing several people in US for possible Wuhan virus
From CNN Health's Elizabeth Cohen
Amid an international outbreak of the deadly Wuhan coronavirus, the US Centers for Disease Control and Prevention has received specimens from several people in the United States who've traveled to Wuhan, China, or who've had close contact with "someone under investigation," according to CDC spokesperson Kristen Nordlund. 
Nordlund did not say whether these tests have been completed and the results are still unknown. 
The Wuhan coronavirus has killed 17 people and sickened more than 500, mostly in China but also in other countries such as Thailand, Japan, South Korea and the United States.
The CDC has the only laboratory in the United States that can test for this new virus.
On Tuesday, the CDC announced that the United States had its first case of the Wuhan coronavirus, a man in his 30s who lives in Washington, where he is hospitalized. The man recently returned from Wuhan.