Volcanic tremor "significantly increased" after New Zealand eruption: Live updates
12:55 a.m. ET, December 10, 2019
All New Zealand's burns units are at full capacity with patients
Almost all patients who were evacuated from White Island after the eruption have extensive burns to their bodies, a spokesman for the Ministry of Health said.
Spokesman Pete Watson said all of New Zealand's burns units are at capacity.
Out of the 31 people who are still in hospital after the eruption, 27 have burns to at least 30% of their bodies, Watson said.
He said many also have inhalation burns, which will require airway support. The ages of the victims are between 13 and 72, he said.
"It's possible not all of the patients will survive," Watson said.
1:42 a.m. ET, December 10, 2019
BREAKING: New Zealand police to open criminal investigation into deaths
New Zealand Deputy Commissioner John Tims has announced a criminal investigation will be opened into the deaths in the White Island eruption.
"I can confirm now that we will commence criminal investigation into circumstances of death and injuries on White Island. Terms of reference developed over next few days," Tims said at a press conference this afternoon.
He said it would be conducted in parallel with a workplace health and safety investigation conducted by regulator WorkSafe New Zealand.
Tims described the investigation as "absolutely heartbreaking."
Update: Police later clarified that a criminal investigation would not be opened yet.
11:19 p.m. ET, December 9, 2019
Rim camera footage taken down from New Zealand government website
Footage which might have shown the final moments of visitors inside the rim of the White Island volcano has been removed from a New Zealand government website.
The images were taken at 2:10 p.m. local time (8.10 p.m E.T. Sunday) by the website's Rim Crater camera and showed what appeared to be a small group of people inside the volcano.
It erupted a minute later -- and the next picture was black.
As of Tuesday morning local time, New Zealand's official geological hazard information site GeoNet had removed the images.
GeoNet has not responded to requests for comment on the pictures.
10:51 p.m. ET, December 9, 2019
Somber mood on board Ovation of the Seas cruise ship after eruption
Passengers on board the cruise liner Ovation of the Seas said the mood has been somber since the eruption which killed five people on nearby White Island yesterday.
There were believed to be at least 30 passengers from the ship taking a tour of the island when the eruption took place.
There has been no word on how many have returned or were injured.
Passengers Martin Lulofs and Sharon Johnson said that the captain had made an announcement about the disaster on Monday night. "I've never heard the ship go quiet so fast," Johnson said.
She said that Royal Caribbean, the owners of the ship, had offered counselling services to any passengers who needed it, and was providing free WiFi so people can let their families know they are safe.
The cruise ship is supposed to be heading to New Zealand's capital, Wellington, next but it could be delayed, passengers said.
10:37 p.m. ET, December 9, 2019
PM Jacinda Ardern: Questions around deadly eruption must be answered
The White Island volcano is one of New Zealand's most active and had a level 2 alert rating when a group of tourists visited the crater on Monday.
And with five people confirmed dead and eight still missing, questions are being raised over how safe it was for the visitors to be so close when it erupted.
Prime Minister Jacinda Ardern told Parliament on Tuesday that there will be "bigger questions" around the eruption in the coming weeks.
She said such questions "must be asked and they must be answered" -- however the immediate priority must be caring for victims.
"Our focus now is on discharging our duty of care to those affected," she said.
Ardern also praised the bravery of rescuers after four helicopters -- including two that are privately owned -- were dispatched to the island straight after the eruption.
"I want to acknowledge their courage ... those pilots made an incredibly brave decision under extremely dangerous circumstances," Ardern said.
10:02 p.m. ET, December 9, 2019
Paramedic describes "overwhelming" eruption scene
Intensive care paramedic Russell Clarke has told local media of his shock after arriving at White Island on Monday and seeing the landscape blanketed in ash.
"It was quite an overwhelming feeling," he told TVNZ.
"There was a helicopter on the island that had obviously been there at the time, and its rotor blades were off it. It's quite a shocking experience."
Clark said he had heard reports a multiple casualties before he landed on the island.
"We were already hearing reports over the ambulance radio that there were multiple patients on boats already. We were getting status updates so we knew there were high acuity patients, very very critical patients," he said.
 "It was quite devastating by the sounds of it. We didn't find any survivors on the island."
9:39 p.m. ET, December 9, 2019
New Zealand hospital: We are completely full
A hospital in the city of Hamilton, on North Zealand's North Island, has told residents its beds are completely full as it deals with the aftermath of Monday's deadly volcano eruption.
Hamilton is 170 kilometers (105 miles) west of White Island -- the site of the eruption.
In a Facebook post on Tuesday, the city's Waikato Hospital said it was "extremely busy."
"As we care for patients from the White Island event, some planned procedures (clinics and elective surgeries) might be affected," the post said.
The hospital asked that residents leave the emergency department "for emergencies."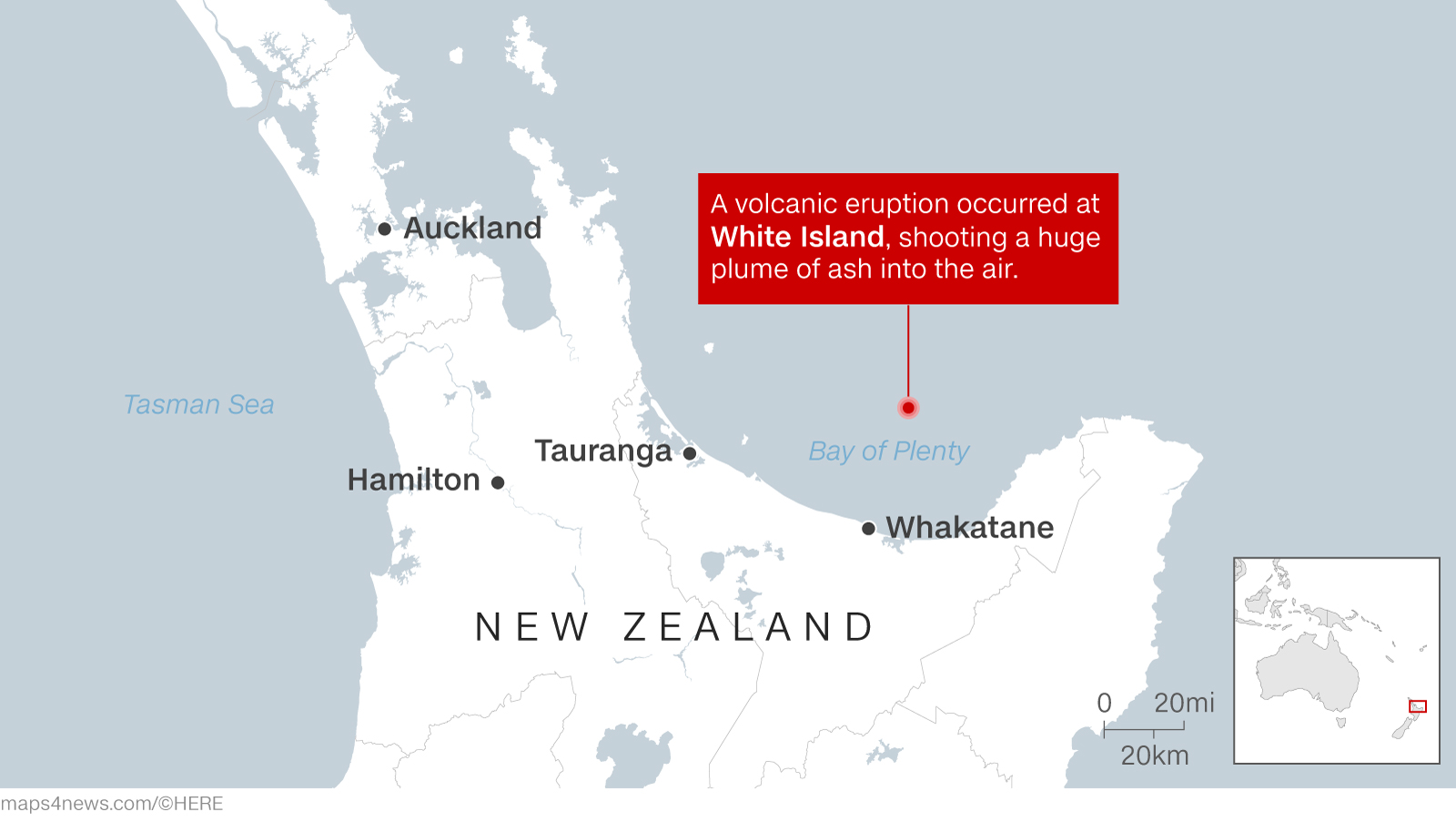 9:13 p.m. ET, December 9, 2019
US tourist leaves voicemail for his mother after being "badly burned"
It was supposed to be the honeymoon of their dreams. On Monday, it became a nightmare.
Matthew Urey was touring White Island's volcano with his new wife Lauren when it erupted with little warning.
In a voicemail left for his mother Janet Urey and provided to CNN, Urey said he had made it off the island alive but been "pretty badly burned."
"We're at the hospital in New Zealand so I just wanted to let you know, if you don't hear from me, we're fine. But my hands are burned so I can't use my phone," he said in the voicemail.
"I don't know how long I'll be here but I'll try and keep you updated."
The pair were honeymooning on the Ovation of the Seas cruise liner after getting married on October 18.
Urey was one of nine US tourists believed to be on the island when the volcano erupted. Police have said that everyone who was evacuated suffered some degree of injuries.
Speaking to CNN's Anderson Cooper, Janet Urey said her heart "just stopped" when she heard the voicemail from her son.
"(But) there's people who did not have that luxury of knowing that their loved one got off of the island, so I count my blessings for that," she said.
8:47 p.m. ET, December 9, 2019
Here's what we know so far
New Zealand authorities are conducting search, rescue and relief operations in the aftermath of yesterday's volcanic eruption on White Island, off the northern coast of the country's North Island. Details of the victims, injured, and missing are beginning to emerge as the identification process continues.
Here's what we know so far:
Who was on the island: Police say 47 people from 7 countries -- New Zealand, Australia, the United States, China, Malalysia, Britain, and Germany -- were on the island at the time of the eruption.
Injuries: 31 people are in hospital, and three others have been treated and discharged.
Death toll: Five people have been confirmed dead so far. Their nationalities are not yet known. Authorities warned earlier today that they don't believe there are any survivors left on the island.
Missing: Eight remain unaccounted for. Their nationalities are not yet known.
The volcano: After erupting yesterday afternoon around 2 p.m. local time, the volcano has had low seismic activity -- but experts warn there is still a chance of another eruption in the next 24 hours. The volcanic alert warning remains at Level 3 from a maximum of 5.
Official response: Authorities worked overnight to respond to the eruption, flying aircraft over the island for aerial reconnaissance. Prime Minister Jacinda Ardern is meeting with emergency services in Whakatane.