Four tech titans go before Congress
By Brian Fung, Rishi Iyengar and Kaya Yurieff
Updated
7:00 p.m. ET, July 29, 2020
6:53 p.m. ET, July 29, 2020
That's a wrap
7:00 p.m. ET, July 29, 2020
These are the new Rockefellers and Carnegies
From CNN Business' Brian Fung
Chairman Cicilline closed the hearing by comparing the four CEOs to historical monopolists like John Rockefeller and Andrew Carnegie, and saying some of the companies should be broken up.
This hearing has made one fact clear to me — these companies as they exist today have monopoly power," Cicilline said. "Some need to be broken up. All need to be properly regulated and held accountable."
"Their control of the marketplace allows them to do whatever it takes to crush independent business and expand their own power," Cicilline added. "This must end."
6:27 p.m. ET, July 29, 2020
Bezos defends how Amazon handled shipping non-essential items during pandemic
From CNN Business' Brian Fung
Rep. Scanlon cited testimony from Amazon employees who said that Amazon continued to ship non-essential items during the pandemic even after the company said it would prioritize essential items.
Did Amazon designate its own products as essential during the pandemic? Scanlon asked. "I don't know the answer to that," Bezos said.
"What I can tell you is there was no playbook for this," Bezos said. "We had to make a lot of decisions very rapidly; our goal was to limit it to essential supplies, but I'm sure we did not do that perfectly."
6:23 p.m. ET, July 29, 2020
The four most powerful CEOs in tech have some thoughts on cancel culture
From CNN Business' Brian Fung
Jeff Bezos took a swipe at social media, calling it a "nuance destruction machine" as Rep. Jordan pressed the four CEOs to address "cancel culture."
It appears to me that social media is a nuance destruction machine, and I don't think that's helpful for a democracy," Bezos told Jordan.
Zuckerberg reiterated a point he has long articulated, which is that he sees "forces of illiberalism … in this country that are pushing against free expression." Facebook has been criticized for failing to moderate its platform enough, and also criticized for allegedly censoring conservatives.
Jordan raised a famous 1984 Apple Super Bowl ad urging consumers to "Think different," invoking the ad to argue that "mob think, cancel culture, group think is not what this country is about, and we are seeing it play out every single [day]."
"I remember it very well," Cook said, referring to the ad and steering clear of the political discussion. "It was Apple versus IBM at the time."
Pichai, for his part, said he had a "momentary difficulty hearing" Jordan's question, but said Google builds platforms that allow for freedom of expression.
You can watch some of the Apple Super Bowl ad if you skip to 2:15 in the video below.
6:01 p.m. ET, July 29, 2020
Facebook tool for gathering intel on potential competitors comes under scrutiny
From CNN Business' Brian Fung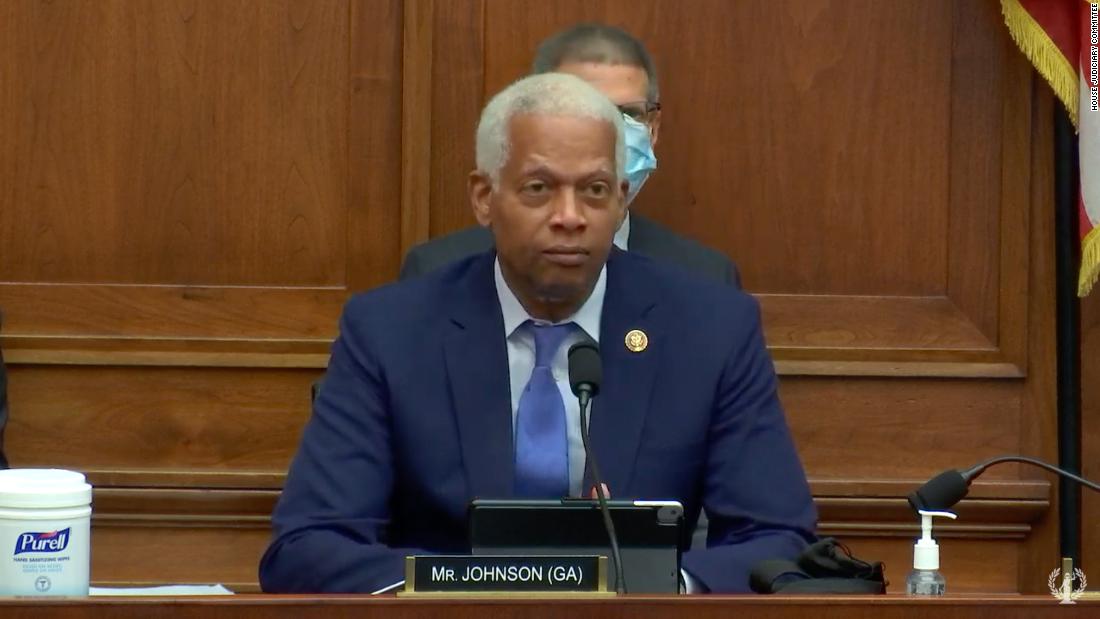 Rep. Johnson zeroed in on Facebook's use of Onavo, a VPN app that Facebook acquired in 2013, to gather competitive intelligence on potential future competitors. Critics have said the tactic could have given Facebook the information it would need to identify and snuff out new threats to its business.
Zuckerberg defended the practice as merely an attempt at consumer research.
"Every company engages in research to understand what their customers are enjoying so that they can learn and make their products better," he said. "That's what we were trying to do, that's what our analytics team was doing, and I think in general, that allowed us to make our services better for people… which is our goal."
"Did you use that capability to purchase WhatsApp?" Johnson asked.
"Congressman," Zuckerberg replied, "it was one of the signals that we had about WhatsApp's trajectory, but we didn't need it — without that, it was pretty clear that WhatsApp was a great product."
6:21 p.m. ET, July 29, 2020
'Mr. Bezos, I believe you're on mute'
From CNN Business' Brian Fung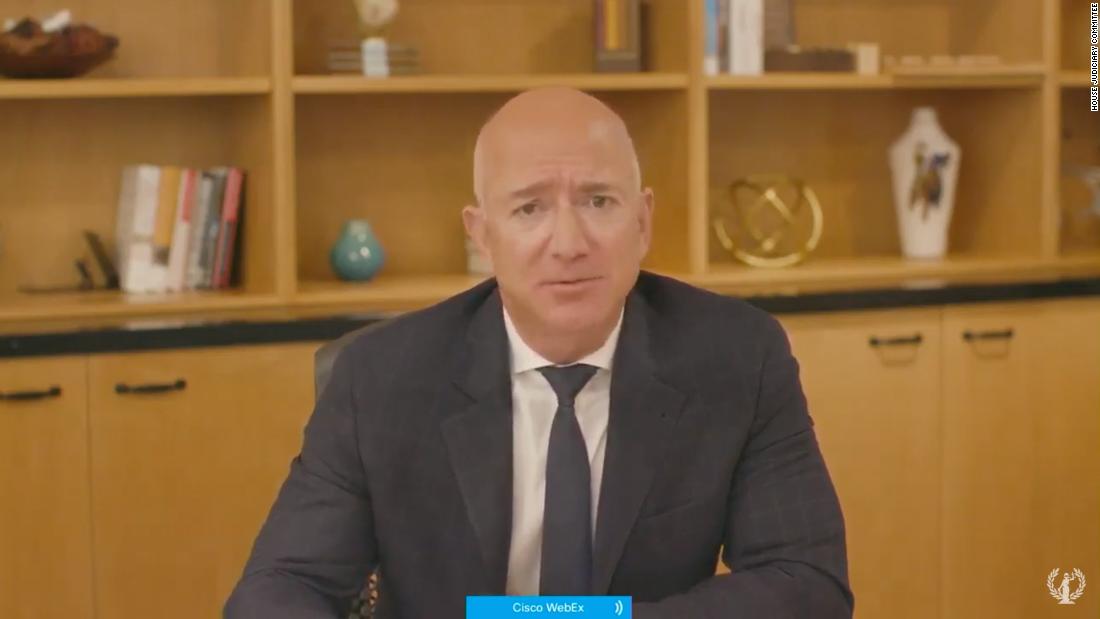 It only took four and a half hours, but as the hearing neared its close, it finally happened: "Mr. Bezos, I believe you're on mute."
Tech titans, they're just like us!
5:55 p.m. ET, July 29, 2020
Zuckerberg grilled over viral video with false coronavirus claims
From CNN Business' Brian Fung
Zuckerberg was pressed on a video that went viral this week containing false and misleading claims about coronavirus. Though Facebook eventually took it down, the video racked up millions of views.
"Doesn't that suggest, Mr. Zuckerberg, your platform is so big that even with the right policies in place, you can't contain deadly content?" Rep. Cicilline asked.
Zuckerberg said he didn't think so.
"We have, on Covid misinformation in particular, a relatively good track record of fighting and taking down lots of false content," Zuckerberg said, "as well as putting up authoritative information. We have built a Covid information center with authoritative information from health officials."
A Facebook spokesperson acknowledged on Tuesday that it took "several hours" for the company to enforce its standards and remove the video. The spokesperson said Facebook will conduct "a review to understand why this took longer than it should have."
5:49 p.m. ET, July 29, 2020
Zuckerberg pressed on how Facebook grants competitors access to its platform
From CNN Business' Brian Fung
Rep. Demings cited an employee who said: "I am 100% in favor of removing [Facebook's API access] from Pinterest, but I am not recommending removing it from Netflix going forward."
"Why would Facebook product managers want to restrict Pinterest's access to Facebook, but not Netflix?" Demings asked Zuckerberg.
Zuckerberg responded that Facebook "used to have a policy that restricted competitors from using our platform, and Pinterest is a social competitor with us."
Demings said Zuckerberg's reply seemed to indicate that Facebook is willing to use its platform policies to discriminate against and undermine competitors.
5:09 p.m. ET, July 29, 2020
Amazon defines data as aggregated -- even when there are only two sellers involved
From CNN Business' Brian Fung
Rep. Kelly Armstrong asked Jeff Bezos a series of important questions about how Amazon uses data from third-party sellers.
While Bezos had previously said it is against the rules for employees to give Amazon's own products an advantage using data from individual sellers, they are not prohibited from using "aggregate" data — that is, data compiled from multiple sellers.
Armstrong drilled down, getting Bezos to concede that "aggregate" could mean as few as two sellers — implying that it might be possible for employees to guess at which data was whose when trying to position Amazon products more advantageously.