What's happening at Berkshire Hathaway's annual meeting 2019
12:45 p.m. ET, May 4, 2019
'We blew it' by not investing in Google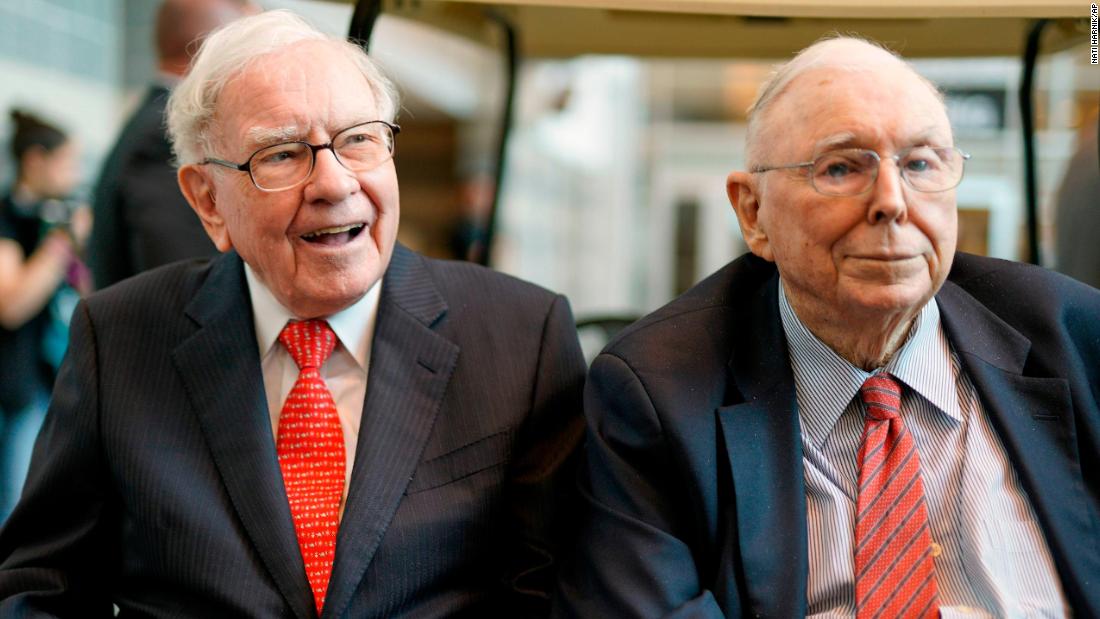 Warren Buffett was asked about whether Berkshire Hathaway's (BRKB) investing philosophy is changing now that the company has bought a stake in Amazon (AMZN) -- a company with a very high price-to-earnings ratio.
The "Oracle of Omaha" defended the purchase, which he noted was made by one of his two investing lieutenants -- Ted Weschler and Todd Combs. Buffett said that Berkshire is still a value investor.
Interestingly though, Buffett and Charlie Munger both said that one of their biggest regrets was not buying shares of Google owner Alphabet (GOOGL). They said they each saw how great SEO was for Berkshire-owned Geico but that they still didn't buy Google.
Munger joked they were just "sucking their thumbs" and that he feels like a "horse's ass" for not identifying it as a great investment earlier.
"He's saying we blew it," Buffett quipped.
11:21 a.m. ET, May 4, 2019
Warren Buffett isn't becoming a socialist any time soon
Politics just came up at the meeting. One line from Buffett that got applause from the crowd:
I'm a card carrying capitalist."
That's a surprise to no one. Berkshire just posted $21.7 billion in overall profit.
11:08 a.m. ET, May 4, 2019
Buffett says Wells Fargo did 'crazy things'
Warren Buffett is Wells Fargo's largest and most powerful shareholder. (Berkshire Hathaway (BRKB) owns nearly 10% of the troubled bank.) So it's not a surprise that shareholders wanted to hear his thoughts on what's going on there.
In April, Buffett weighed in on what kind of CEO Wells Fargo should hire next. Now Charlie Munger shares his thoughts:
Buffett also said he wished CEOs wouldn't go away "so rich" after doing dumb things. That got applause from the crowd.
10:50 a.m. ET, May 4, 2019
First question for Buffett is about buybacks
The great thing about the Berkshire Hathaway (BRKB) shareholder meeting is that it is devoted almost entirely to questions from investors. The first one lobbed at Buffett on Saturday was about Berkshire's latest flurry of stock buybacks. Will that continue or is the company looking for acquisitions?
Buffett said that he has "no ambition to spend a dime" on more buybacks unless he thinks Berkshire shareholders will be better off. But as long the stock trades at what he believes to be a discount to the broader market, "we could easily spend very substantial sums" on more repurchases.
12:21 p.m. ET, May 4, 2019
Attendance at Berkshire's annual meeting is breaking a record
Interest in what Warren Buffett has to say isn't slowing down. Attendance at this year's Berkshire Hathaway's (BRKB) shareholders meeting is setting a new record, Buffett told the crowd.
10:56 a.m. ET, May 4, 2019
Warren Buffett and Apple team up for a new app
Buffett is famous for being a bit of a technophobe. But that hasn't stopped him from launching a new app -- with the help of Apple (AAPL) CEO Tim Cook.
If you go to the App Store, there is now a new game called Warren Buffett's Paper Wizard. It's a nod to Buffett's childhood job of delivering newspapers. Buffett used to do a live paper toss at the shareholder meeting, but he's now doing it virtually instead.
In an amusing video promo at the start of the shareholder meeting Saturday, Buffett was shown trying and failing to come up with ideas for an app, including a Time Machine where Buffett tells a kid version of himself to buy Apple stock -- which is now Berkshire's largest holding.
Cook then comes up with the idea for a newspaper toss.
10:47 a.m. ET, May 4, 2019
Yes, Warren Buffett still hates Bitcoin
Last year Warren Buffett called Bitcoin "rat poison" that "will come to bad endings." He hasn't changed his mind.
Buffett told reporters in Omaha that cryptocurrencies are worth about as much as the button on his jacket.
11:20 a.m. ET, May 4, 2019
Berkshire Hathaway posts quarterly profit, but it has a Kraft Heinz problem 
Berkshire Hathaway's latest earnings came out in conjunction with the company's annual shareholder meeting this weekend. Here's a quick look at the numbers -- and an unusual admission about its investment in Kraft Heinz (KHC).
Net income was $21.7 billion, compared to a loss of $1.1 billion
Operating income up 5.5% from a year ago to $5.6 billion
Cash rose 2% from December to $114.1 billion
But Berkshire (BRKB) disclosed a bit of a bombshell in its 10-Q filing with the SEC about its nearly 27% stake in troubled food giant Kraft Heinz. Berkshire said that it did not report any income from Kraft Heinz because it doesn't have enough data from the company.
"As of May 3, 2019, Kraft Heinz has not filed its 2018 Form 10-K with the Securities and Exchange Commission. In addition, Kraft Heinz has not made its financial statements for the first quarter of 2019 available to Berkshire. Accordingly, Berkshire does not have the necessary financial information to determine its share of the earnings and other comprehensive income of Kraft Heinz for the first quarter of 2019. As a result, Berkshire's first quarter 2019 earnings and other comprehensive income exclude such amounts."
During a walk-around with CNN's Poppy Harlow and other reporters Saturday morning before the Berkshire shareholder meeting, Buffett said that the news is "very unusual" and suggested that it may be due to a dispute that Kraft Heinz is having with its auditor PwC.
9:35 a.m. ET, May 4, 2019
Warren Buffett makes the rounds
The "Oracle of Omaha" got a rock star's reception before he and Berkshire vice chair Charlie Munger answer questions from investors.