What's happening with the US economy
7:00 p.m. ET, August 23, 2019
5:09 p.m. ET, August 23, 2019
Trump announces new round of tariffs on China
President Trump announced a new round of tariffs on China, set to start Oct. 1.
The President tweeted that "the 250 BILLION DOLLARS of goods and products from China, currently being taxed at 25%, will be taxed at 30%."
"Additionally, the remaining 300 BILLION DOLLARS of goods and products from China, that was being taxed from September 1st at 10%, will now be taxed at 15%," Trump wrote.
The announcement came after Beijing unveiled a new round of retaliatory tariffs on about $75 billion worth of US goods. China will place additional tariffs of 5% or 10% on US imports starting on Sept. 1, according to a statement posted by China's Finance Ministry.
Read Trump's tweets:
5:22 p.m. ET, August 23, 2019
Trade tensions slam stocks
US stocks finished deep in the red on Friday, falling sharply amid worries about the worsening relationship between the United States and China.
China announced this morning it would impose tariffs on $75 billion worth of American goods. President Trump expressed his frustration about the developments, tweeting the US didn't "need" China and urging American businesses to "immediately start looking for an alternative to China."
The Dow finished down 2.4%, or 623 points. At its worst, the Dow was down more than 700 points.
The S&P 500 closed 2.6% lower.
The Nasdaq Composite finished down 3%.
It was the worst day for stocks since August 14. All three indexes ended the week in negative territory, marking their fourth down-week in a row.
Shares of companies sensitive to the trade tensions, such as Apple (AAPL), Intel (INTC) and IBM (IBM), led losers in the Dow. Boeing (BA) was the only Dow component that ended the day in the green.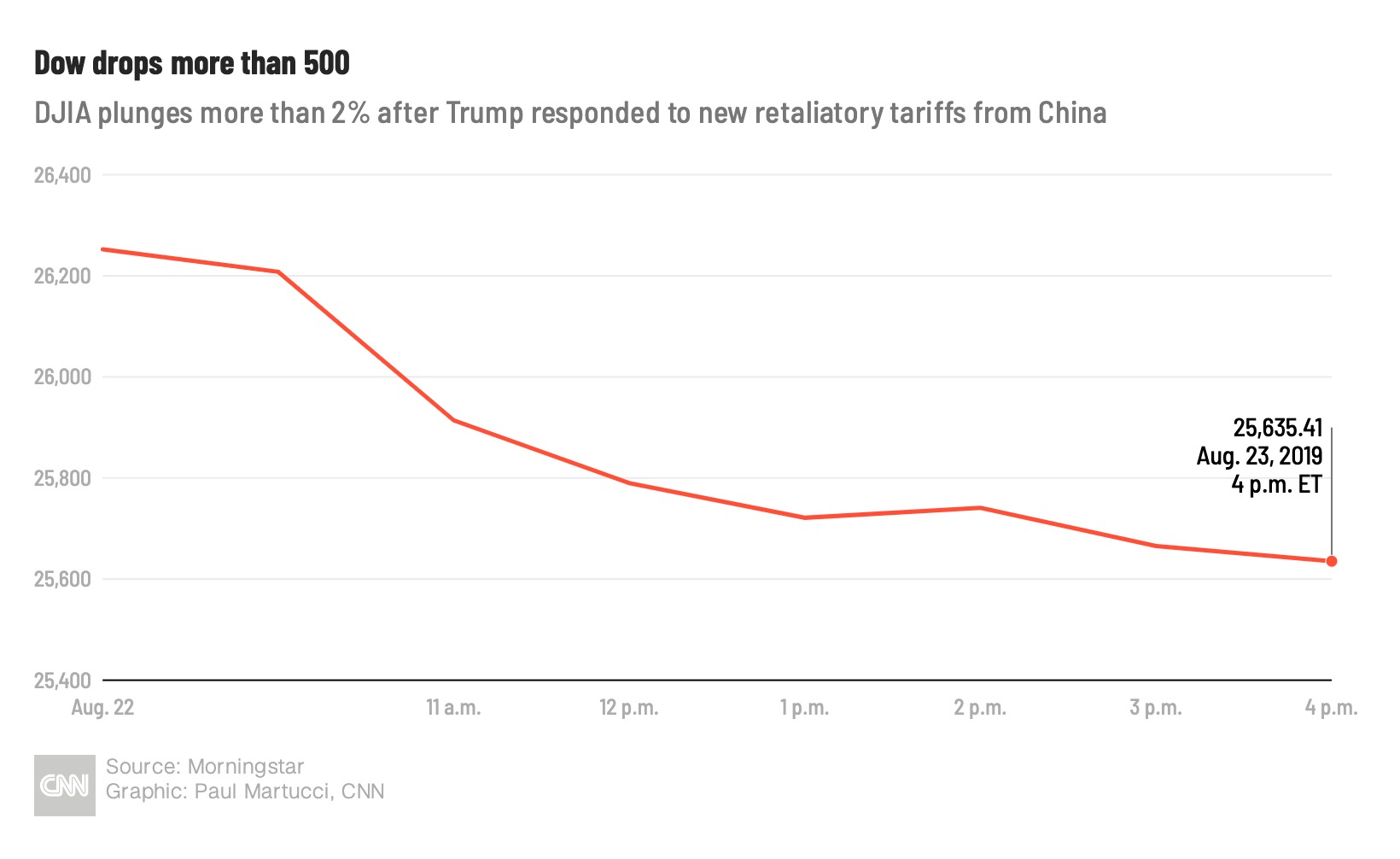 3:57 p.m. ET, August 23, 2019
Dow plunges 700 points
The Dow fell 700 points, or 2.8%, on Friday as the market selloff intensified following an escalation in the US-China trade war.
3:36 p.m. ET, August 23, 2019
Dow drops 600 points
The Dow fell 600 points, or 2.3%, today with less than half an hour left in the trading day as the market selloff intensified.
3:13 p.m. ET, August 23, 2019
What China's new tariffs mean for you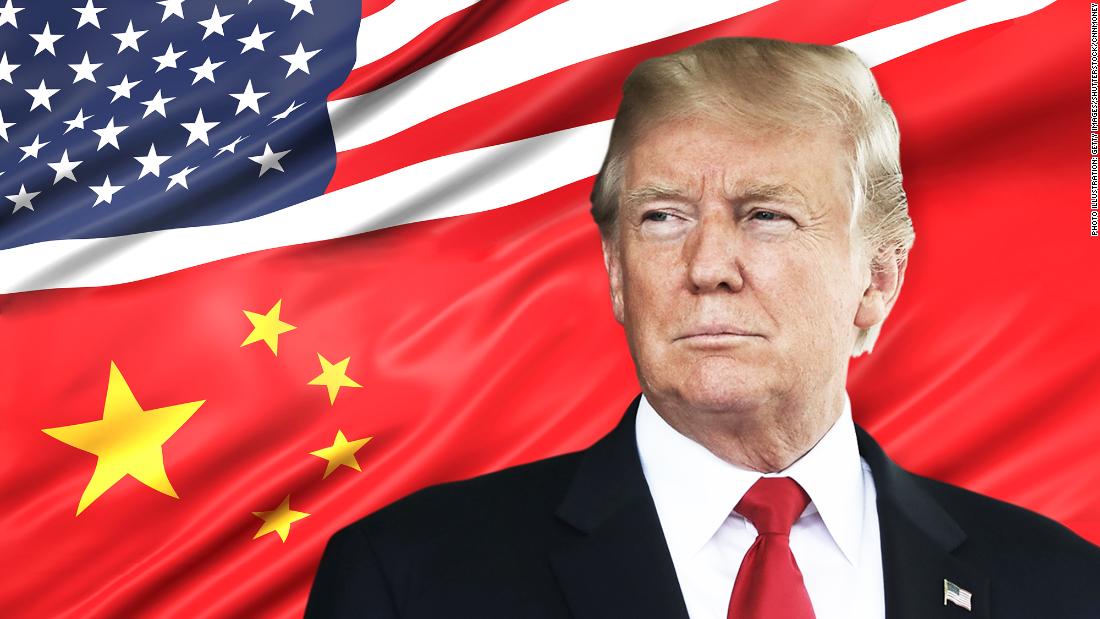 China threatened another round of tariffs today on $75 billion of US-made goods.
The move was in response to President Tump's promise earlier this month to impose tariffs on $300 billion of Chinese goods — though he relented and agreed to hold off on most of that until December to avoid hitting Christmas shoppers in the United States.
Here's how China's tariffs will affect the US:
The auto industry: Tariffs on American-made cars and trucks are back. They won't be a major blow to the US industry. Ford (F) and General Motors (GM) make the majority of the cars they sell to Chinese customers in China, so the tariffs won't apply to them. The tariffs will, however, ding companies that send cars and trucks they make in the United States to China. 
American businesses: The tariffs imposed by Beijing make it more expensive for Chinese consumers to buy certain products made in America. The tariffs aim to hurt American businesses that export to China.
Farmers: Some agricultural products are on the new list, but it would be difficult for China to inflict any more pain on American farmers than it already has. Sales of US-grown soybeans to China have essentially stopped since Beijing first put tariffs on them last year. As a result, farmers are getting a much lower price for their beans and ended up putting a record amount in storage at the end of last year's harvest.
2:42 p.m. ET, August 23, 2019
National Retail Federation exec: It makes no sense for American retailers to bail on China
David French is a government relations executive at the National Retail Federation, the powerful Washington trade organization representing America's biggest sellers. He had this to say about President Trump's tweet calling on companies to stop doing business in China: 
"It is unrealistic for American retailers to move out of the world's second largest economy, as 95% of the world's consumers live outside our borders. Our presence in China allows us to reach Chinese customers and develop overseas markets. This, in turn, allows us to grow and expand opportunities for American workers, businesses and consumers." 
2:31 p.m. ET, August 23, 2019
National Farmers Union: Trump is "making things worse, not better"
The National Farmers Union issued a statement today regarding China's tariffs on US goods.
Roger Johnson, president of the National Farmers Union, said President Trump was making things worse for farmers.
Read Johnson's statement:
"It's no surprise that China is slapping even more tariffs on American products. Every time Trump escalates his trade war, China calls his bluff — and why would we expect any differently this time around? And it's no surprise that farmers are again the target. In just the past three years, US soybean exports to China have fallen nearly 80 percent, and once these tariffs kick in, things are likely to get worse. Things have been difficult for farmers long before this trade war rolled around. Farmers are making half of what they were in 2013, and they've taken on record levels of debt just to keep their doors open. Chronic overproduction continues to push commodity prices down, and extreme weather events and higher temperatures caused by climate change have made the job of growing food just that much more challenging. But instead of looking to solve existing problems in our agricultural sector, this administration has just created new ones. Between burning bridges with all of our biggest trading partners and undermining our domestic biofuels industry, President Trump is making things worse, not better." 
2:07 p.m. ET, August 23, 2019
Stocks are way up, year to date. Today not so much
With two hours left at the end of another long week, US stocks are down about 2%. It's been another rough day. But look at the year-to-date performances of three primary indices: