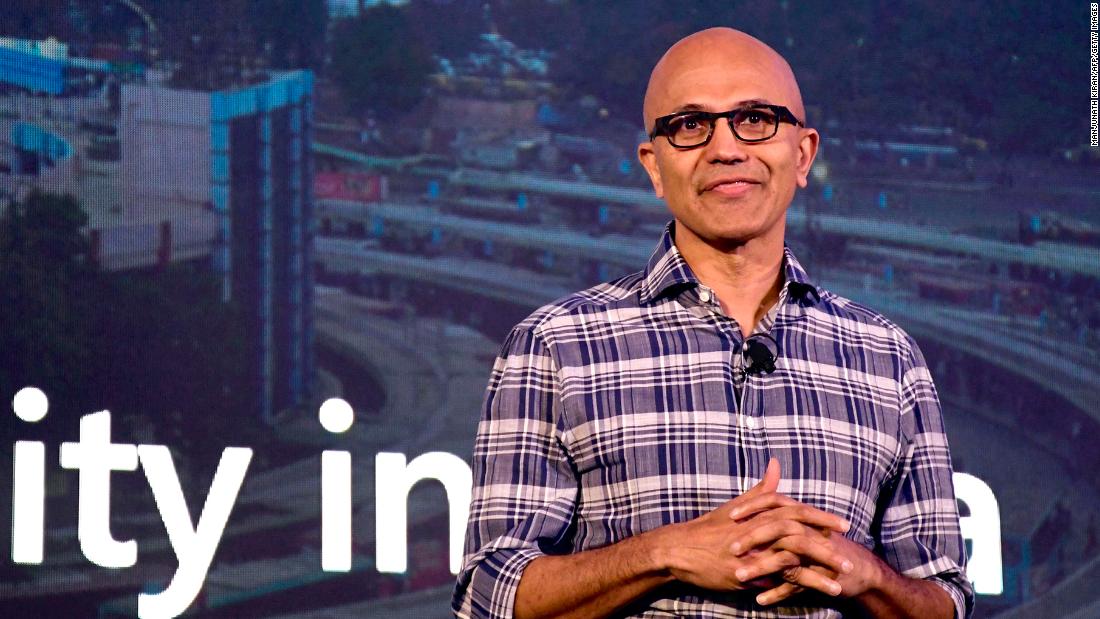 Microsoft's pandemic bump still isn't over.
The tech giant on Tuesday reported revenue of $41.7 billion for the three months ended March 31, up 19% from the same period in the prior year and slightly ahead of the $41 billion Wall Street analysts had projected. It also beat on the bottom line: posting profit of $14.8 billion, or $1.95 per share, compared to analysts' projection of $13.5 billion.
Over a year into the pandemic, digital adoption curves aren't slowing down," CEO Satya Nadella said in a statement. "We are building the cloud for the next decade, expanding our addressable market and innovating across every layer of the tech stack to help our customers be resilient and transform."
Despite the earnings beat, Microsoft (MSFT) stock tumbled as much as 4% in after hours trading Tuesday. Microsoft's stock has been inching higher for much of the past week as the company's market cap nears $2 trillion.
Wedbush analyst Dan Ives called the after hours selloff a "knee jerk reaction" by investors who were hoping for an even bigger revenue beat. However, the earnings report contained quite a bit of good news.
Microsoft's cloud platform, Azure, posted revenue growth of 50%, maintaining its strong growth rate from the December quarter. And its cloud growth is expected to continue, as companies accelerate adoption of the technology to help manage hybrid remote and in-office workforces following the pandemic.
Microsoft's commercial bookings — which point to future revenue opportunities — grew 39% during the March quarter, and included an increase in the number of "larger, long-term Azure contracts," the company said.
Ives said in an investor note last week that he expects global cloud spending to approach $1 trillion over the next decade, and that longtime market leader Amazon Web Services and Microsoft Azure will likely be the two biggest players competing for that business. 
"We strongly believe the tide is shifting in the cloud arms race," Ives said, adding that Microsoft is "clearly taking market share vs. AWS based on our analysis."
Gaming was another highlight from the quarter, thanks to the popularity of Microsoft's new Xbox S and X consoles and increased demand because the pandemic. Quarterly Xbox hardware sales grew 232%, and Xbox content and services sales were up 32%.
The earnings report comes two weeks after Microsoft announced a $16 billion acquisition of Nuance, an artificial intelligence developer for health care, an industry that's expected to be a major customer for cloud providers.
"This deal allows Microsoft to gain wider access to the health care industry and potentially sell  additional services to Nuance's customers," Edward Jones senior research analyst Logan Purk said in a note to investors ahead of the earnings release.
Correction: A previous version misstated Microsoft's total quarterly revenue. It is $41.7 billion.