Live updates from the 2019 Frankfurt Motor Show
8:01 a.m. ET, September 10, 2019
Bentley is selling 12 copies of its 1929 'Blower' — its most valuable classic car today
Bentley is truly making them the old fashioned way. In fact, a dozen people will be able to buy a brand new, freshly built 1929 "Blower" Bentley.
The 12 cars, built by Bentley's Mulliner customization division, will be copies of four original supercharged Bentley race cars from the 1920s.
The original cars were modified by Sir Tim Birkin, one of the renowned "Bentley Boys" racing drivers of the 1920s. The cars are commonly known as "Blower" Bentleys because "blower" is a slang term for a supercharger, a mechanical device that increases power by pumping air into the engine. Those four original race cars, which have 240 horsepower 16-cylinder engines, are considered the most valuable Bentleys in the world today.
To make the new copies, Bentley will completely disassemble the one original "Blower" Bentley the company still owns and digitally scan all the parts so exact copies can be made. New tools and manufacturing techniques, as well as original 1920s-era tools, will be used to make new parts. It will take Bentley about two years to build the cars, the company said. Prices will be negotiated individually with buyers but will, presumably, be very, very high.
3:03 a.m. ET, September 10, 2019
VW finally reveals its new electric car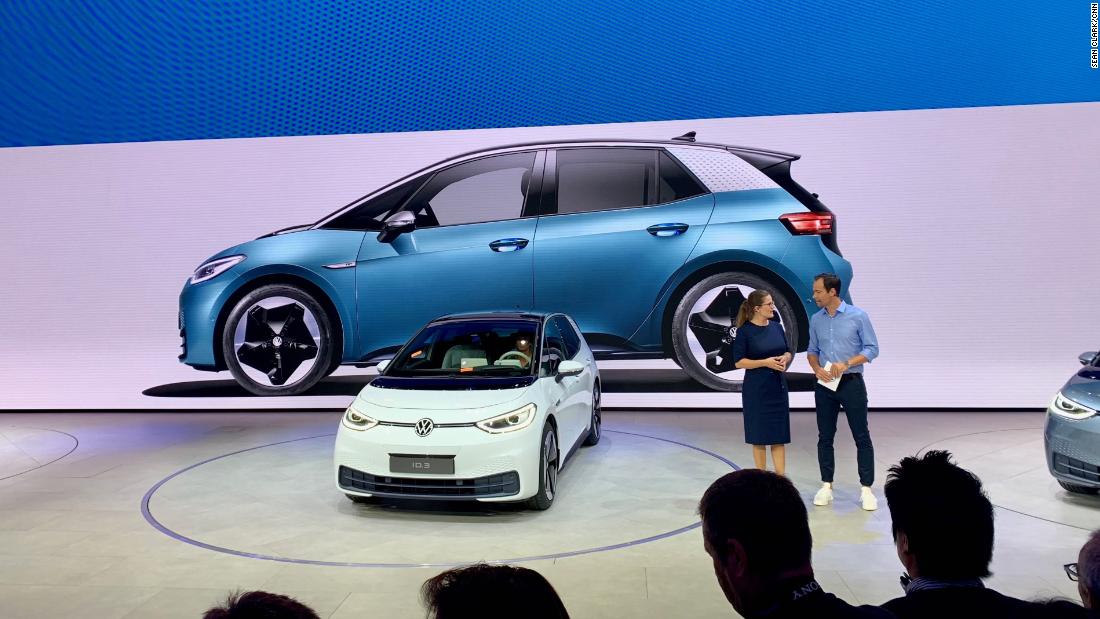 After unveiling a new brand identity and logo, Volkswagen revealed a new electric car to go along with it.
The ID.3, a compact hatchback, is the first in a planned family of ID electric cars from the automaker. It's roughly the size of a Golf on the outside, but with a shorter hood — since there's no engine — and a larger, roomier passenger area.
At the event in Frankfurt, Germany, VW executives spoke a lot about how the ID.3 needs to represent Volkswagen's return to its early days as a likable maker of fun cars like the Beetle. So designers gave the ID.3 a gently smiling "face" up front, with headlights that will turn on and flutter like eyes as the driver approaches. The brake and gas pedals are also decorated with pause and play icons like an MP3 player. VW also promises it will be fun to drive, but we'll have to see about that later.
The base car will start at under €30,000 euros. The first cars will be delivered to customers in Europe in the spring.
3:06 a.m. ET, September 10, 2019
Volkswagen unveils its 'new' logo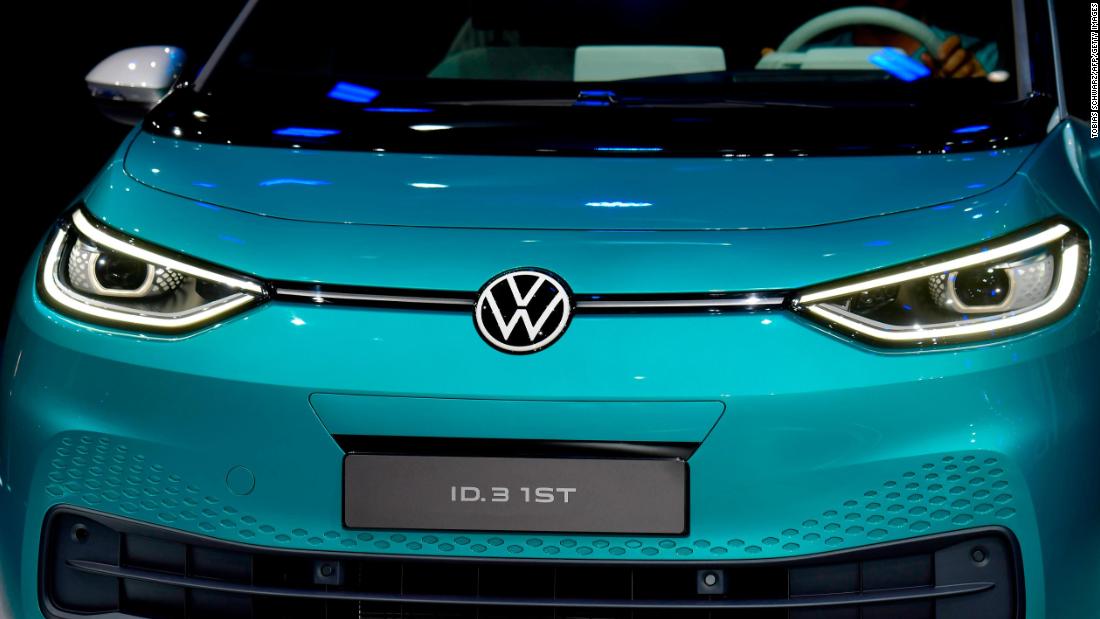 Volkswagen unveiled a "new" logo Monday evening that looks a lot like its previous logo, just more stark and two-dimensional.
The new logo comes as the company, badly tarred by the emissions cheating scandal, tries to reposition itself as a more likable, eco-friendly automaker. The unveiling comes during a Volkswagen Group event being held in Germany the night before the start of the Frankfurt Motor Show.
"The new brand design marks the start of the new era for Volkswagen," says Jürgen Stackmann, the VW head of marketing and sales. "Now is the right time to make the new attitude of our brand visible to the outside world."
Also during the event was the official unveiling of the Volkswagen ID.3, the brand's first car designed from the start to be electric. Volkswagen's earlier electric cars, the e-Up! and e-Golf, were built on platforms made for petrol and diesel cars.
1:57 p.m. ET, September 9, 2019
Bugatti will sell a car that can go 300 miles per hour
Some of Bugatti's best customers will soon be given the chance to own a car that can go over 300 miles an hour, assuming they can find somewhere safe to go that fast.
Not long after announcing that a modified Bugatti Chiron prototype had hit nearly 305 miles (490 km) an hour on a test track. Bugatti told some of its best customers that it would make a similar version of the car for them to buy. Bugatti says it is the first production auto manufacturer to make a car that has exceeded 300 miles per hour. 
Only 30 of the cars will be made. The Bugatti Chiron Super Sport 300+ will cost $3.9 million. That's less than $1 million more than the standard Bugatti Chiron, which costs about $3.2 million. It's also much less than some of the brand's recent limited edition models, such as the Divo, which costs $6 million, and the Centodieci, which goes for $9 million. Then there was the one-off La Voiture Noire, which costs almost $19 million, including taxes. 
The 16-cylinder engine in the Super Sport 300+, although largely the same as the one in the Chiron, is tuned to produce 1600 horsepower, 100 more than the base car. To optimize aerodynamics, the Super Sport 300+ has a longer body than the standard Chiron. The exhaust pipes have also been repositioned to improve air flow past the back of the car.
2:51 p.m. ET, September 9, 2019
Indians have stopped buying new cars
The slump in India is getting worse. Car sales plunged 41% in August compared to the same month last year, according to the Society of Indian Automobile Manufacturers. That's the biggest monthly drop in two decades, and a tenth straight month of declines.
India had been a bright spot for carmakers until recently, with annual sales of passenger vehicles rising by about 33% over the past five years.
Global players, like Hyundai and its subsidiary Kia, invested billions to expand in India, and new players like Chinese state-run carmaker SAIC have also tried to grab a slice of business.
Before the slump hit, India was predicted to overtake Germany and Japan to become the world's third largest car market by 2020 — behind only China and the United States.
But the country's biggest carmakers are now struggling. New safety and emission regulations have driven up prices, troubles at India's consumer finance providers have hit lending, and a broader economic slowdown has made people reluctant to spend on big items.
Maruti Suzuki, India's biggest carmaker, suspended production at two of its main plants on Saturday and Monday.
Read more about the downturn in India's car industry here.
1:59 p.m. ET, September 9, 2019
We'll finally get a closer look at VW's new electric car
Volkswagen hasn't even unveiled the new ID.3, the brand's new mass-market electric car, but all 30,000 of the special "First Edition" models have already been spoken for. VW has been accepting €1,000 refundable reservations since May. Prices for the cars will start at less than €40,000. At least initially, the ID.3 is only being offered in Europe.
Volkswagen has said the new ID.3 will look sort of like a Golf on the outside, but will have the roominess of a Passat on the inside. After years of concept cars, we'll finally get a look at the car all these people have already agreed to buy at the Frankfurt Motor Show.
2:13 p.m. ET, September 9, 2019
Porsche will have its first electric car on display, too
Porsche will be bringing its first all-electric car to the show, too. The Taycan was already officially unveiled last week, but this will be our chance to see it up close. 
Porsche insists the Taycan will offer better overall driving performance than anything on the road now. It will corner and handle better -- plus, it can be driven harder for longer -- than any electric car out there, they say. 
I'll be most interested in the Taycan's "glass cockpit" with its heavy reliance on touchscreens. Those screens look great, but they could be awful to use. 
2:13 p.m. ET, September 9, 2019
Is Lamborghini's hybrid supercar the next wave in electric car technology?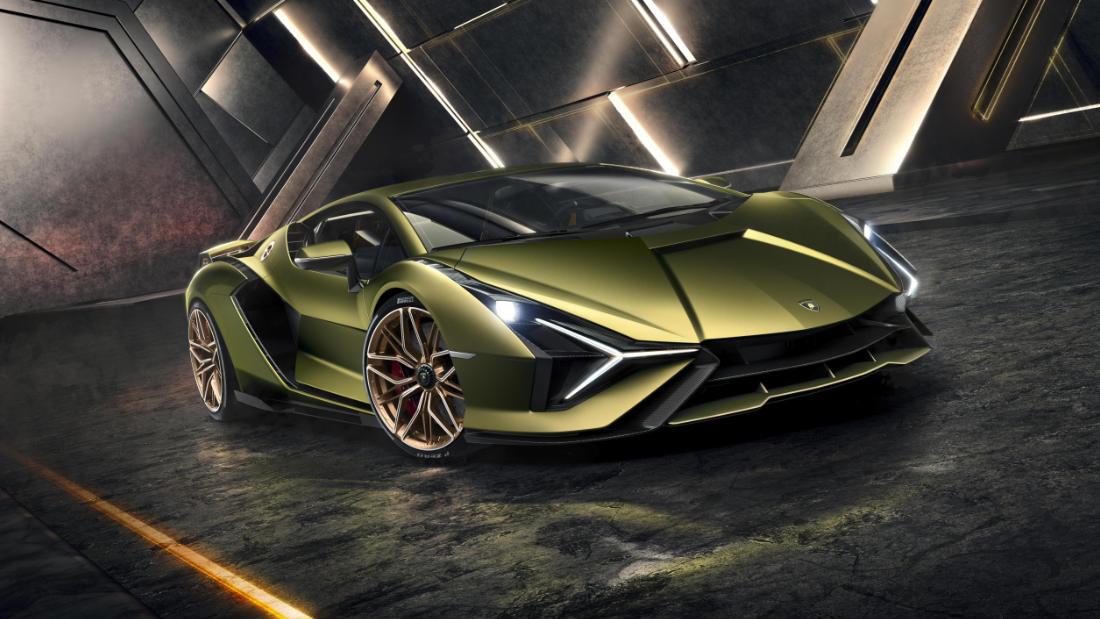 It's not like hybrid supercars are a new thing -- Ferrari and McLaren have made them before -- but the new Lamborghini Sián represents a big step, and not just for supercars. This is one of those cases where the technology appearing in a car that only the super-wealthy can afford today could, just maybe, end up in everyone's cars years from now.
You see, the Sián doesn't store energy in a battery pack like other hybrid and electric cars. Instead, it's got a supercapacitor, an entirely different way of storing electricity.  Supercapacitors are lightweight and can absorb and release energy very quickly. But they have some downsides, one being they're expensive, but Lamborghini engineers love them.
The Italian automaker has teamed up with the Massachusetts Institute of Technology to develop these supercapacitors. Together, they revealed a fully electric concept car in 2017 with a body described as being made from supercapacitors.
The ultimate goal of this work is lightweight, powerful supercapacitors that can drive electric cars. For now, a small supercapacitor in a super-expensive hybrid is a step toward that goal. The 63 people paying millions of dollars each for a Sián are helping Volkswagen Group, Lamborghini's parent company, come up with what could be a revolution in the way cars are powered someday.
12:51 a.m. ET, September 9, 2019
There are some dark clouds hanging over Frankfurt
The Frankfurt Motor Show, one of the largest in the world, should be a time for the industry to celebrate. But there are a lot of problems looming over the industry, making this the most nervous time for the auto industry since the financial meltdown a decade ago.
Number one is weakening auto sales. China, the driver of growing auto sales for most of this century, has become a major problem. Sales are down 11% so far this year, due to the weaker economy there. And economic slowing could hurt sales in other major markets. Sales are down in the US and UK and flat in Germany, as recession worries mount in all three markets.
Then there's the problem of Brexit and what that might do to supply chains for the auto industry throughout Europe.
And while the show will highlight lots of new offerings in electric cars and the promise of self-driving vehicles, automakers have had to invest billions developing that next generation of vehicles long before there is a major global market for them.