What to watch at the Milken Institute conference
4:51 p.m. ET, May 1, 2019
How sports and entertainment will look different in 10 years
On Wednesday morning, five of the most powerful executives in sports business were asked to talk about the tech gizmos they're developing to keep fans coming back to their stadiums, TV programming, and video games. Here are a few.
The death of the ticket: Casey Wasserman, chairman of the Los Angeles 2028 Olympic Games, is pretty sure that by the time his events start, the box office will be a thing of the past — along with security checks, since everyone will be background checked beforehand. "Everything will be facial recognition, you'll walk right into the building, and there won't be lines." 
Even trippier concerts: Dan Beckerman, president and CEO of the sports and entertainment company AEG, said he's working on integrating augmented reality into events like Coachella. "This food stand is interesting, what's the history there?" he said. "Here's an interesting piece of art, where did that come from? What's the next concert I want to go to, how do I get there? We want to use tech to enhance it."
Real-time wagers on random questions: Carl Mergele, CEO of the sports data company STATS, is working on technology that will allow fans to get odds on events that might happen in a game, like how many free throws a player will make. "You can sit in a stadium and actually ask a question," Mergele said. "Having thousands of people betting simultaneously on something." 
11:29 a.m. ET, May 1, 2019
Private equity is trying to repair its slash-and-burn image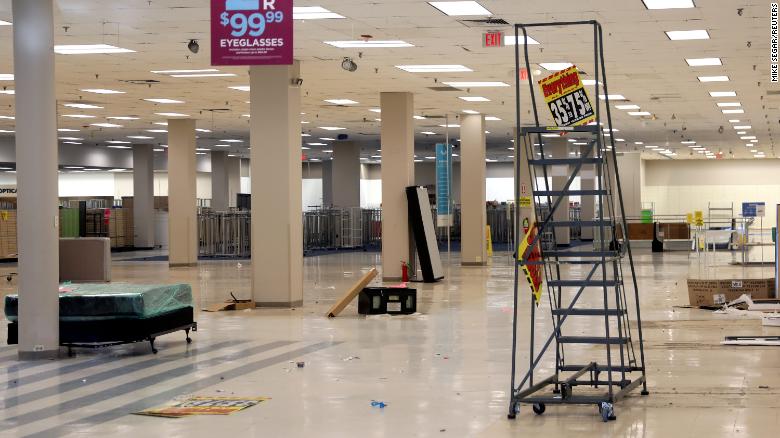 Private equity funds haven't had a good public reputation in recent years, given their habit of buying companies, loading them up with debt, and often laying off thousands in the name of "synergy." Sears and Toys 'R' Us are just the most recent examples. 
People who work in the industry know they're not popular, and say they're trying to at least seem less rapacious. 
At a panel about mergers and acquisitions, EY's head of transaction advisory services Steve Krouskos said that companies are focusing on how mergers will help the company expand rather than simply gain efficiencies.
"In the last 12 months, you're seeing a bigger emphasis on revenue and growth synergies rather than cost synergies," he said. 
The panelists agreed that ultimately that's a better approach both for the bottom line and public perception. 
"Private equity is trying to change the view that it's buying an asset to cut a lot of cost, get the margin up, and sell it for a higher multiple," said Kevin Sherlock, co-head of Global Financial Sponsors Investment Banking at Bank of America Merrill Lynch. "Making sure that you grow the business through acquisition is what really drives multiple growth." 
That's probably a good thing, given the growing role that private equity is playing in the capital markets, as companies wait longer to go public if they ever do at all.
"Whether or not [private equity shops are] good stewards of capital, it's a fait accompli that they are going to grow as a percentage of the pie," said Jason Greenberg, managing director of the investment banking firm Jefferies. "The amount of capital sitting as dry powder is at an all-time record high. For better or worse, these funds have five or six years to spend a lot of capital."
10:16 a.m. ET, May 1, 2019
Middle eastern finance types say they don't have a gender problem  
The Milken Conference is certainly no paragon of gender equality, with most panels heavily skewed towards men, and suits far outnumbering skirts in the audience. 
But at least it's made more progress than the Middle East, right? 
But some of the region's largest financiers and diplomats argue that they don't have a problem.
On her panel about investment in the region — which featured entirely male speakers — CNBC's Hadley Gamble asked, "Where are all the women?" The response was vehemently defensive. 
"We are very proud of what we have achieved so far," said Ibrahim Saad Almojel, director general of the Saudi Arabia Industrial Development Fund, a state-owned financial institution. From a base of zero, he said, half of the fund's hires have been women since the beginning of 2018, including a female Vice President of strategy and business development. 
Likewise, the United Arab Emirates' Ambassador to the United States Yousef Al Otaiba emphasized that a third of his country's cabinet members, the vast majority of college graduates, and a third of members of Parliament were women. "I don't think of this as an issue at all," he said. Even if the current panel was all-male, he joked, that might be because "men are more eager to visit LA than women." 
Finally, Bahrain Economic Development Board chief Khalid Al Rumaihi said that his agency is working to institute a paternity leave policy to help women continue their careers after having children. "If you're hiring on competence, you are going to hire more women than men," he said. "In terms of women, I don't think we have any issues." 
One wonders whether women in their countries would say the same thing.  
11:34 a.m. ET, May 1, 2019
Don't make us choose between the US and China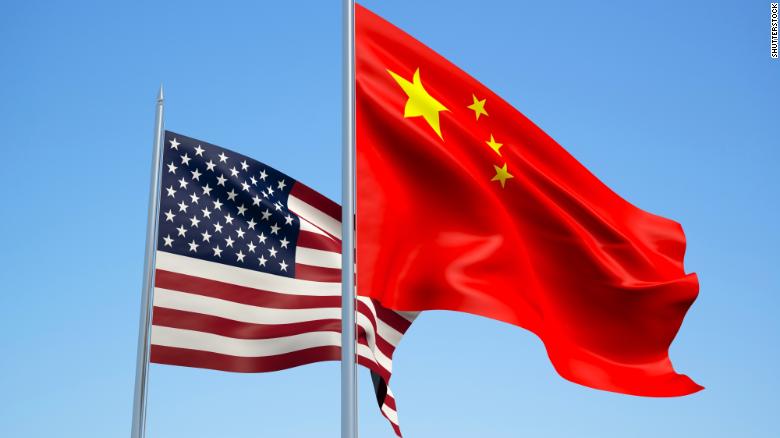 As the Milken conference stretched into its third afternoon on Tuesday, the country most on everyone's minds seemed to be China. Indeed, US Treasury Secretary Steven Mnuchin canceled a scheduled appearance so he could conduct another round of trade talks in Beijing. 
With rhetoric between the two countries often running hot, the question for everyone else becomes: Do we need to align one way or the other? 
Yousef Al Otaiba, the ambassador of the United Arab Emirates to the US, said his country wasn't interested in doing that. 
"You look at the rise of China, and you say 'I have to do more business with them,'" he said at a panel on investment in the Middle East. "The more we work with China, even if it's just an economic thing, is starting to get people in Washington nervous. But we don't look at China as a threat." 
The UAE had just inked $3.4 billion worth of investment deals with China over the weekend during the larger country's Belt and Road Initiative summit, and China is a key export market for the UAE's agricultural and marine projects. Prime Minister Sheikh Mohammed bin Rashid al Maktoum tweeted that his country would be a "vital station on the new Silk Road." 
It's Al Otaiba's job to smooth that over in Washington.
"I'm trying to get our colleagues to understand we want to do business with the United States, but we also want to do business with China," he said. "This is going to become an increasingly difficult conversation." 
"As the US and China increasingly look at each other as competitors, do not make us choose sides," he finished. "We don't want to choose sides, we want to work with everyone, because it's in our national interest." 
11:45 a.m. ET, May 1, 2019
To secure the future of food, install plant sensors and eavesdrop on shrimp
If the United States wants Americans to have food in the future, in needs to reduce food waste and invest in agriculture tech.
That's what Stephen Censky, deputy secretary of the US Department of Agriculture, said during a panel called "Ag Tech: Food security as national security," on Tuesday afternoon.
Food tech will help increase productivity, which is crucial, he said. He said it runs the gamut from sensors that can tell when a crop needs more water to gene editing that can prevent disease in animals.
"In some countries, they want to keep the food system exactly as it is," he noted. "I think that's absolutely at mankind's peril."
Fellow panelist Devry Boughner Vorwerk, chief communications officer and head of global corporate affairs at Cargill, shared a surprising way that her company fights waste: Listening to shrimp eat.
You can hear when the shrimp are done eating, and stop feeding them accordingly — rather than simply guessing how much they consume, she explained. That prevents waste and lowers costs, she explained.
11:23 a.m. ET, May 1, 2019
The best Milken event was a 'human performance workshop' in the pool
On Monday afternoon, about three dozen Milken conference attendees swapped out their regular suits for wetsuits to participate in a "human performance workshop" at the Beverly Hilton's outdoor pool.
Led by human performance expert Andy Walshe, the exercise was a departure from the other Milken events  — mostly panels, with a few yoga and meditation sessions (and, I should add, puppy parties).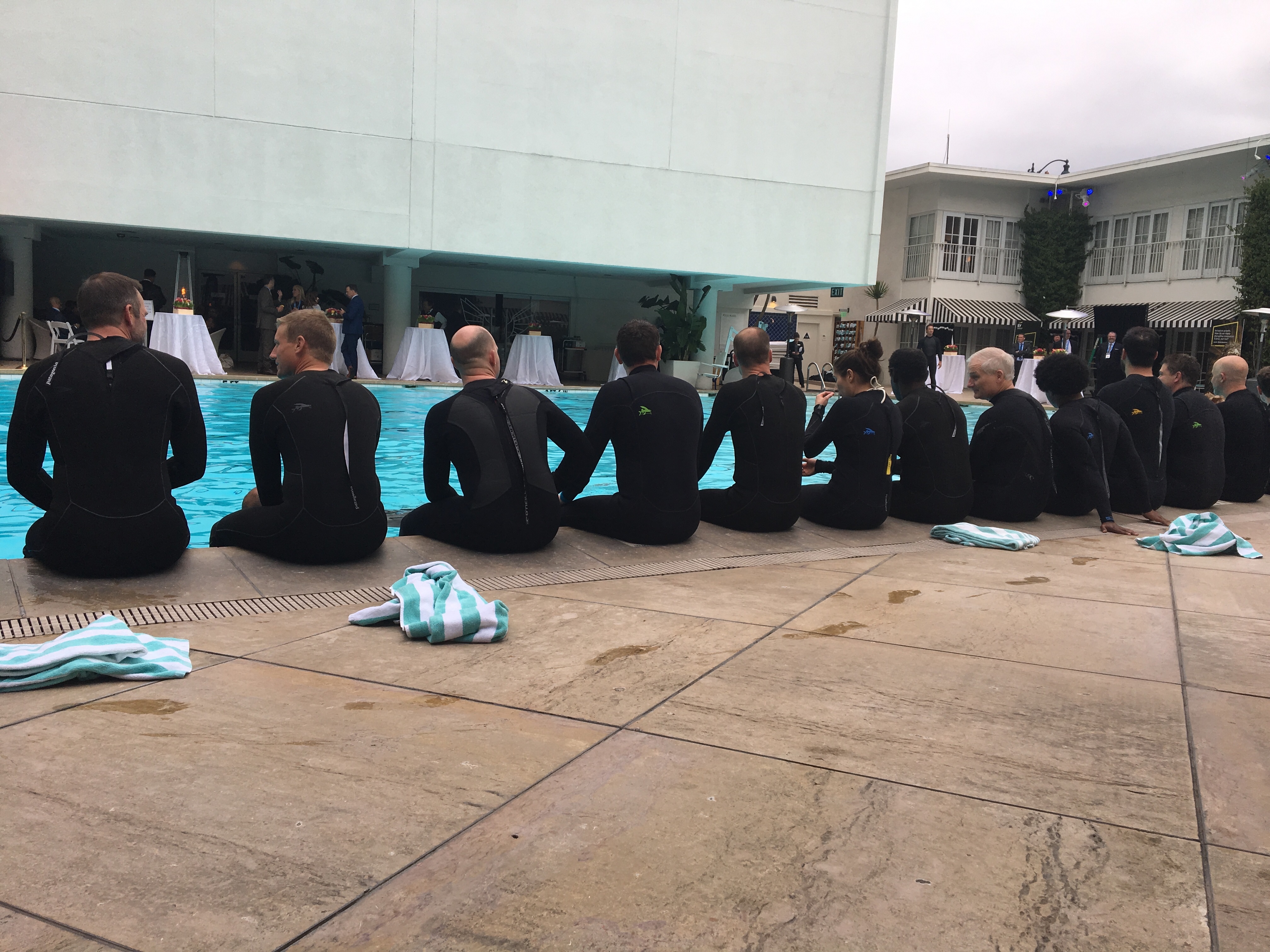 Walshe was the performance manager for Red Bull Stratos, the energy drink's space diving project. He helped skydiver Felix Baumgartner jump from the edge of space in a breathtaking 2012 stunt. On Monday, the task was less daunting: The goal was to hold your breath underwater for, perhaps, a bit longer than you thought you could.
Before instructing the crowd to change into wetsuits, Walshe guided them through some breathing exercises and told listeners not to think of the activity as a competition. The idea was to remain calm, push beyond your fear, and focus.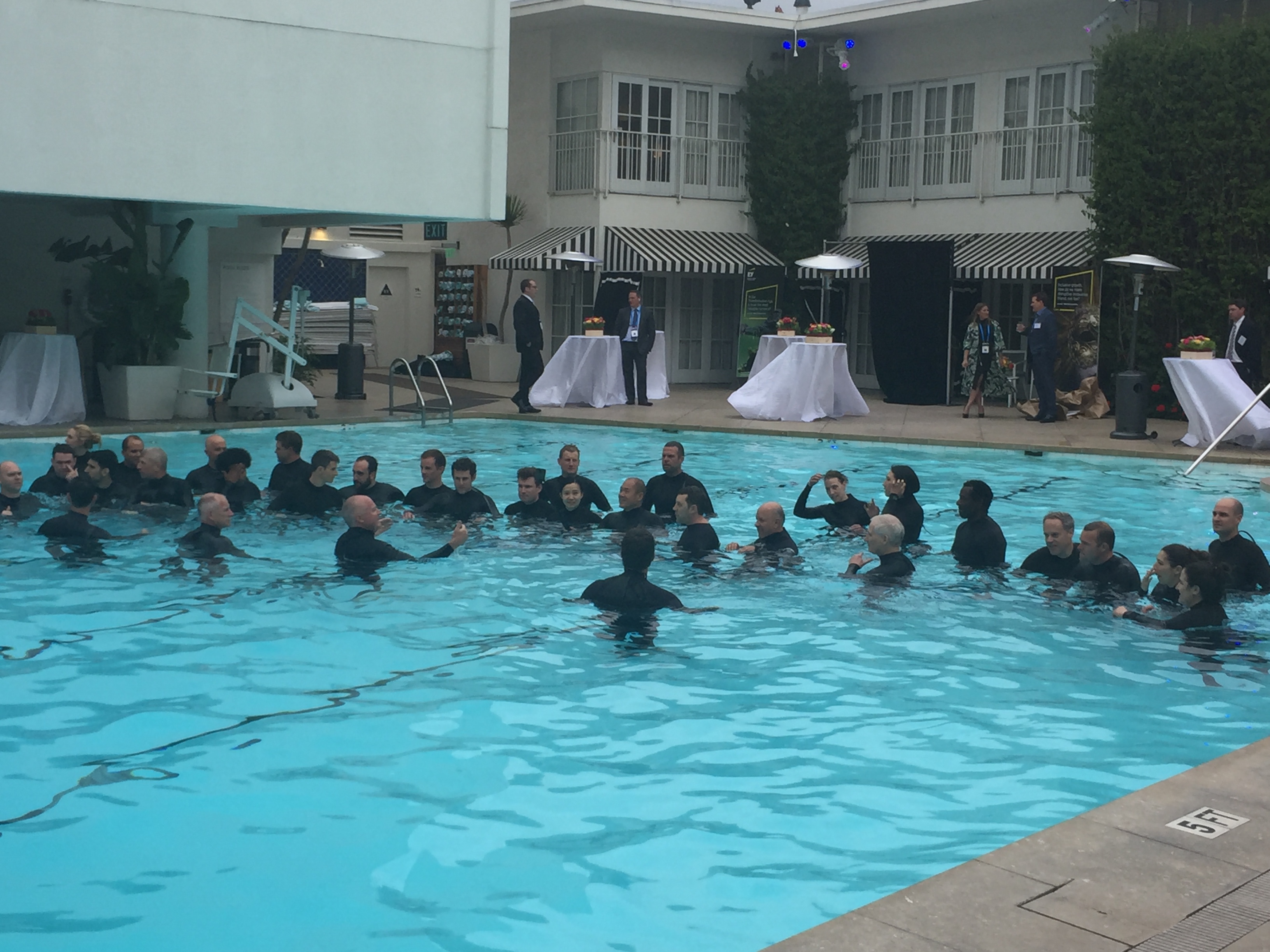 Participants buddied up, changed and hopped in the pool. After a series of breathing exercises, one participant would go into a dead-man's float, while still maintaining physical contact with their partners, and communicating their well being through hand signals. Participants repeated the sequence, trying to increase their time spent underwater.
Maggie Chen, who works for Junson Capital, had heard about this type of exercise before she saw Walshe's session in the Milken program, so she decided to check it out. "I just wanted to see it for myself," she said.
"I was a bit nervous in the beginning," she said. But once she put her head in the water, she just focused on counting and controlling her breathing. For Chen, the experience was something like skiing. "You control your speed, you try not to get off track."
For John Parker, founder and principal at Springhood, the appeal was similar. "I like trying new things," he said. Plus, by Monday afternoon, he was ready for something different. And the session got people talking — which can be rare at such a massive conference, he said.
Parker was disappointed that he didn't get to try to hold his breath himself. The session ran out of time before half of the participants had their turns, and just as happy hour attendees started sipping drinks and sampling canapés under heated lamps surrounding the pool.
7:45 p.m. ET, April 30, 2019
That's it for Tuesday at the Milken Conference
We've concluded our Milken coverage for today, but check back here tomorrow to follow Wednesday's discussions and events.
We're looking forward to a discussion about the American dream with hedge fund billionaire Ray Dalio and learning about the Final Frontier XPrize CEO Peter Diamandis.
12:08 p.m. ET, May 1, 2019
Treasury Department official: We're not getting back into TPP
On a panel about international investment and trade, former Rep. Eric Cantor — who was swept out of office four years ago on a wave of tea party anger and then became an investment banker — did not seem worried about rising protectionism.
"You hear this president rattling off about the potential for tariffs in Europe, but you don't see the imposition of those," he said. "You have to separate the rhetoric and the politics from what's actually happening."
He wasn't the only one with that feeling. Ian McKay, the CEO of Invest in Canada, even expressed confidence that the United States would re-enter the Trans-Pacific Partnership. That's the enormous trade deal negotiated by Barack Obama that President Trump pulled out of almost immediately after taking office, and which the 11 remaining countries have picked up and carried on without the United States.
But the actual administration representative, Treasury's acting under secretary for international affairs Heath Tarbert, poured cold water on that idea.
"I am not aware that that is on the agenda for the US," Tarbert said. "It could be sometime, but given where we are, we finished an agreement with South Korea and just started negotiations with Japan, so that's where we're headed in the next couple of years."
Of course, the deals the White House is negotiating with other countries — such as the yet-to-be-ratified US-Mexico Trade Agreement — look very much like TPP, with chapters on issues like intellectual property protection and digital trade. But Trump has stated his preference for bilateral deals over multi-country ones, so the United States stays out for now.
6:49 p.m. ET, April 30, 2019
Wilbur Ross echoes Ivanka Trump's remarks on education, talks immigration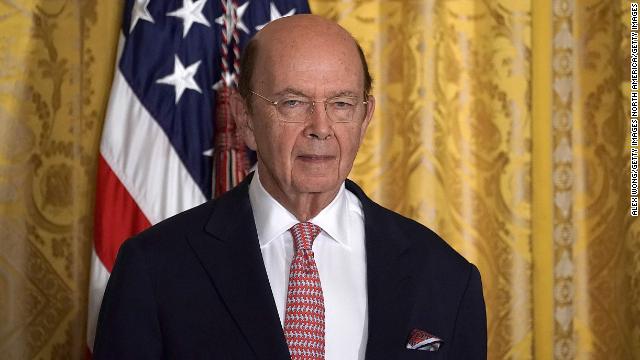 "There's this terrible fiction that you must go to college to be successful," said Commerce Secretary Wilbur Ross in a Tuesday panel about the American workforce. Ross said that about 40% of college graduates work in jobs that don't require a secondary degree.
"The tragic truth is the American educational system is failing the young people," he added.
Ross' comments will be familiar to anyone who listened to Ivanka Trump speak on Monday.
"Education and learning generally needs to be rebranded," Trump said. "This idea that to achieve the American dream you need a 4-year degree is so steeped in American education that it's taking people off very viable career pathways." 
As my colleague Lydia DePillis noted, workforce development advocates generally agree the administration's goal is a fine one. But they have voiced concern that White House budgets have so far proposed reducing the total amount of federal funding that goes into workforce development.
Ross was joined on the panel by Bernard Harris, Jr., CEO of the National Math and Science Initiative, Barbara Humpton, CEO of Siemens USA, and Jonathan Sokoloff, a managing partner with Leonard Green & Partners, L.P., who discussed how to get the most out of the American workforce.
The panelists talked about elevating science, math, technology and engineering education in order to make sure that people's skills match job needs. Sokoloff noted that companies can offer attractive perks to try to keep workers from jumping ship.
One thing that could help attract talent is opening the door to immigrants, moderator Gerard Baker, Wall Street Journal editor-at-large, said to Ross.
The "administration is not against immigration," Ross said. "It's for lawful immigration, and especially for lawful immigration of people who have skill sets." Ross said the administration is looking for immigrants to earn entry into this country by merit. It's "much more sensible to ... have a rating system of some sort."